Chesky JD381
Format: 24-bit/192kHz download
Music:











Sound:











Overall:










Because this is the first in a series of reviews of binaural recordings, I'll begin by describing the format.
Binaural recordings have been around since the birth of stereo. In this recording technique, a small microphone is placed in each ear canal of a Kunstkopf -- an artificial human head with anatomically correct outer ears. Then the music is recorded through only those two mikes. When that recording is then played back through headphones, you should hear exactly what the dummy head "heard" at the recording session. Spatial effects, ambience, even three-dimensional surround-sound -- all are possible in a natural manner. In the past, binaural recordings didn't catch on because headphones weren't in common use, and such recordings don't sound very good when played through loudspeakers. Sales were slow, and the format was dropped by all but a few aficionados of binaural sound.
Today's situation is very different. In fact, we could call it the Age of Headphones -- most people own at least one pair, many have several pairs, and new headphone models seem to appear every day. But so far, Chesky Records seems to be the only major producer of binaural recordings. A year or so ago, the company decided to start recording everything binaurally. Hopefully, other companies will make the same move. Meanwhile, there's a trickle of recordings from small labels, most of them having to do with meditation, sleep, and ambient aural environments.
One thing I like about binaural recordings is that they're entirely back-compatible. You don't need any special equipment -- just a pair of headphones. Your source can be a system preamplifier, or even a small digital music player. You can get binaural sound from any pair of headphones, but of course, the better the headphones -- especially those with good passive or active noise canceling -- the better the results.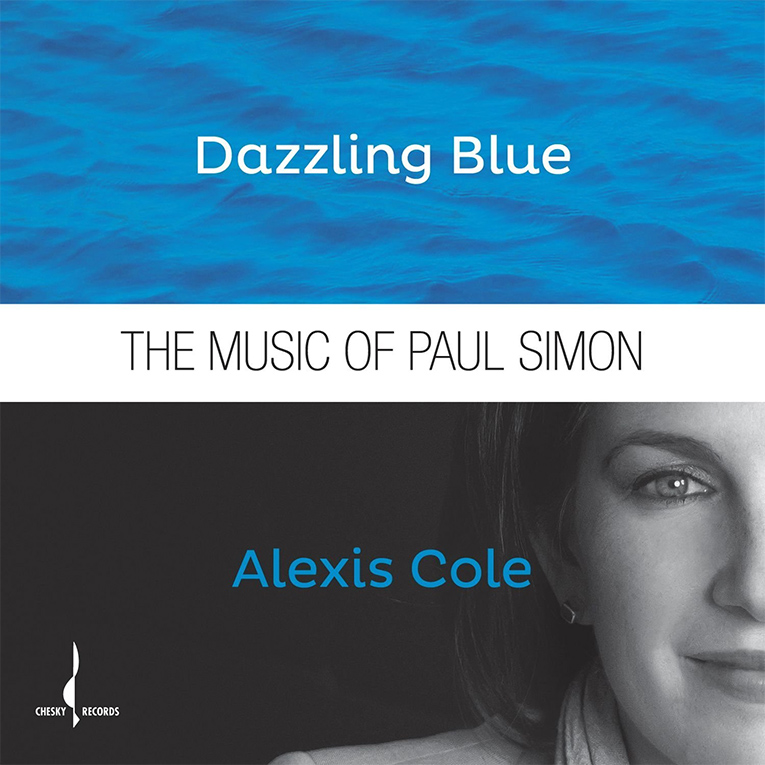 Alexis Cole has a warm, smooth, voluptuous voice, and she knows how to use it. There are no tricks or gimmicks -- she sings everything relatively straight, her band throwing in little instrumental comments that give the music a jazz feel. On Dazzling Blue she turns to lesser-known songs by Paul Simon; the most familiar tunes here are "Jonah" and "Something So Right" -- less so are "That's Where I Belong," "Another Galaxy," "St. Judy's Comet," and "Love." A tribute album can fail when an artist tries too hard to make it sound different, but Cole trusts Simon's compositions, and projects natural meaning with every note she sings. And every member of her band is worthy of being called a star.
Chesky likes to record in large spaces, with plenty of reverberation and ambience. When I listened to Dazzling Blue through my MartinLogan speakers, I heard a well-balanced, clean-as-a-whistle recording -- in short, the very good sound I expect from this jazz-oriented label. But when I then listened to it through my HiFiMan HE400S headphones, I had a quite different experience. I was now immersed in the recording space, and instantly believed that I was hearing exactly what Chesky's Kunstkopf had heard at the session. Producer David Chesky affectionately calls the Chesky dummy head used for this recording Lars -- the space was large and fairly resonant, yet Lars was placed close enough to the musicians that there was absolute clarity.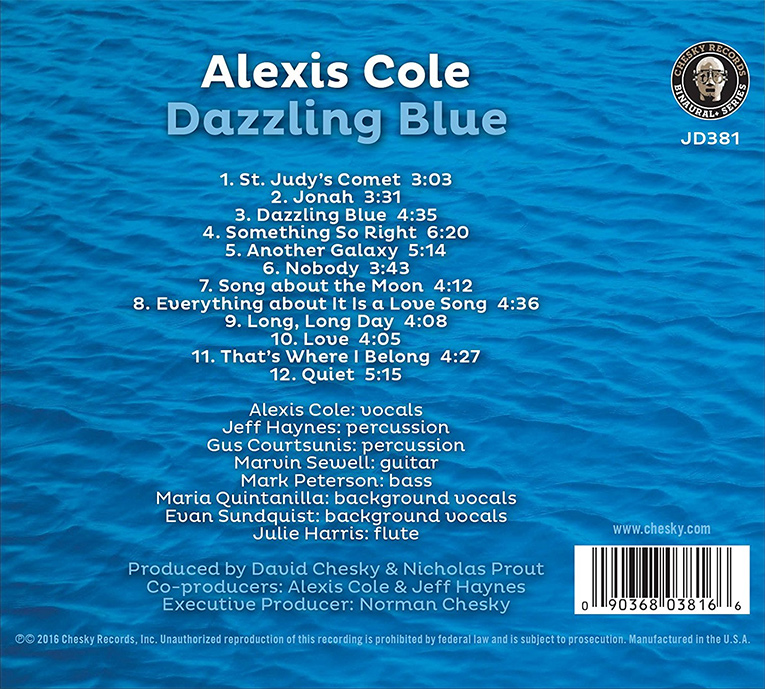 The position of the various instruments were astoundingly precise. First, none of the sounds seemed to be coming from inside my head, as they usually do through headphones -- every instrument was firmly anchored to its position. In "Song about the Moon," Marvin Sewell's acoustic guitar was well to the left, Mark Peterson's bass well to the right, and percussionists Gus Courtsunis and Jeff Haynes (who also coproduced) were spread center left and right, with Cole's voice dead center. In the closing minutes of the song there are backing vocals (Maria Quintanilla, Evan Sundquist) and finger snaps that seemed to come from behind me. As I said -- immersive sound. Not only that, this was sound without dynamic or frequency limitations, especially if you buy one of the high-resolution downloads from HDtracks, a division of Chesky Records. (I listened to the 24-bit/192kHz version.)
Perhaps we'll see a rebirth of binaural recording in the 21st century. The artistic and audio excellence of Dazzling Blue sure makes a good case for it.
. . . Rad Bennett
This email address is being protected from spambots. You need JavaScript enabled to view it.