Originally published on SoundStage! Xperience
Compact, portable DACs that plug into a laptop's USB port, extract up to 24-bit/96kHz digital audio using the jitter-eliminating asynchronous protocol, and provide amplified output for headphones and line-level output for preamps, are common enough these days. But in 2012, when AudioQuest introduced its first DragonFly DAC, the concept turned heads. The most attention-grabbing element was no doubt that the DragonFly was the size and shape of a USB memory stick. That such tiny hardware could make possible the playback of high-resolution audio through headphones -- not to mention a high-end audio system -- seemed nothing short of amazing.
At the time, the only other thing you could have asked of AudioQuest's DAC was to make possible enhanced mobile listening by connecting it to Apple's then-new iPad Camera Connection Kit. An external adapter designed to bridge the gap between the 30-pin connector used by iOS devices and the wider USB world, the Camera Connection Kit made possible plenty of activities on an iPad, including transferring photos and videos from a digital camera and connecting to a USB keyboard for typing. But the iPad's USB output wasn't powerful enough to drive an external DAC-headphone amp, so the DragonFly remained stuck in laptops.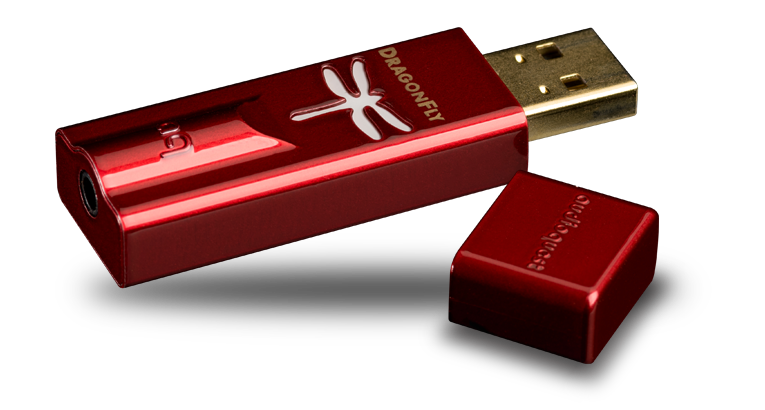 Now, in 2016, AudioQuest has launched two new DragonFly DACs: the Red ($199 USD) and the Black ($99). Both benefit from an improved USB microcontroller that draws 77% less power than previous versions, making the new DragonFlys iOS- and Android-compatible when used with the appropriate adapters. The new microcontroller also has a low-noise power supply that improves the sound quality by minimizing the effects of radio-frequency interference (RFI).
Price and color aside, a key difference between the new DragonFlys is that the Black has a 1.2V output, while the Red supplies 2.1V to support a wider range of headphones, including low-efficiency models. Both use ESS Sabre DAC chips, but AudioQuest maintains that the higher-end ES9016 chip used in the Red provides better sound than the ES9010 used in the Black. Also, while the Black has an analog volume control that's digitally controlled by the host computer or device, the Red's DAC chip includes an integral 64-bit, bit-perfect digital volume control.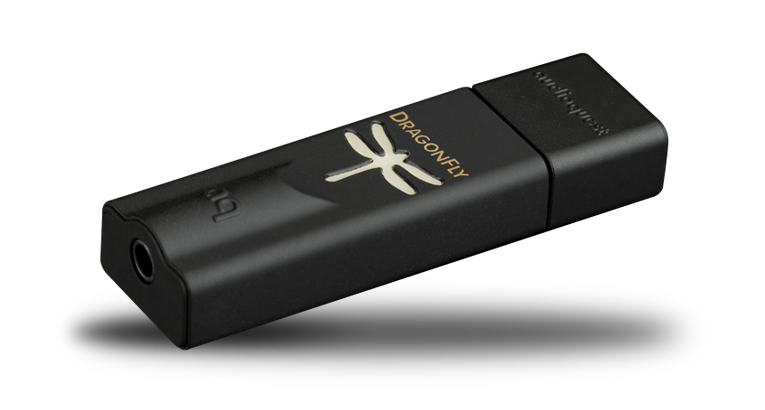 In the box
Like their predecessors, the Red and Black DragonFlys look like USB memory sticks. Aside from a protective cap that fits over the USB plug and a leatherette travel pouch, the only other accessory is a printed manual to help with setup.
Use
I plugged the DragonFly Red into my MacBook Pro's USB port, then connected Sennheiser HD 598 headphones to the 3.5mm RCA analog stereo output located at its opposite end. I also switched off the computer's analog output to a pair of KEF Egg powered desktop speakers, and dug out my Camera Connection Kit to resolve the question of whether or not the new DACs could be powered by my second-generation iPad's USB output. Short answer: they could.
Next, I opened the Audio Devices window of my Mac's Audio MIDI Setup utility and, following AudioQuest's instructions, configured it so that only alerts and sound effects played through the computer's built-in output, and all other audio signals would be routed through the DragonFly. The final step was to select the audio format for Tidal music streaming: 16-bit/44.1kHz. For local playback, I used JRiver Media Center 21, which automatically switched output for standard 16/44.1 and hi-rez audio formats.
A cool feature of the DragonFlys is their LED display, which glows different colors depending on the sample rate of the file played: green for 44.1kHz, blue for 48kHz, amber for 88.2kHz, and magenta for 96kHz. The magenta glow emitted by the DragonFly Red looked particularly nice during late-night listening sessions at my desk, making a convincing if superficial case for hi-rez audio.
Sound
Being a sucker for jazz interpretations of Beatles songs, especially early ones, I was glad to discover the Brad Mehldau Trio's version of "And I Love Her," from their Blues and Ballads (24/88.2 FLAC, Nonesuch/HDtracks). In its ten minutes, this epic take on the McCartney ballad from A Hard Day's Night shifts through a wide range of styles, covering everything from lounge to hard bop to fusion. Listened to through the DragonFly Red, Jeff Ballard's cymbals sounded crisp and clean, Larry Grenadier's double bass taut and controlled. I took particular note of the energetic attack of Mehldau's piano in the track's more up-tempo sections, which sounded detailed without being the least bit bright or edgy.
Sticking with hi-rez, I next played Vaughan Williams's overture to The Wasps (24/88.2 FLAC, Chandos/HDtracks). The Red managed to easily convey the texture of the swirling masses of strings while delivering a solid sense of hall ambience. Dynamics were precise, and the sound of the orchestra was full and panoramic.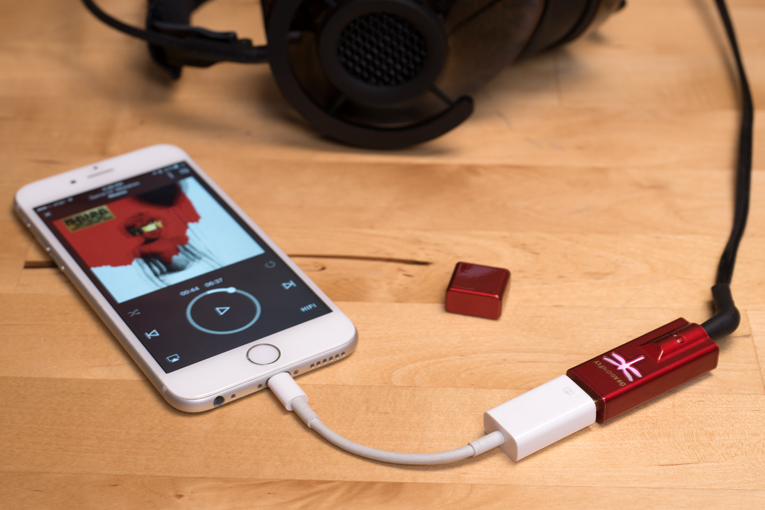 Switching to streaming, I played "Beneath Fields," from West Coast psychedelic band Heron Oblivion's eponymous album (16/44.1 FLAC, Sub Pop/Tidal). The drums sounded resonant yet fully controlled, while Meg Baird's wide-panned voice came across as smooth and spacious. The Red also did an excellent job of revealing the crisp, trebly tone of the band's Fender Jaguars. I was most impressed, though, by how well everything held together during this song's explosive middle section -- the loud, squalling guitars sounded clean, and the thrashing drums retained their dynamic quality.
The same ability to maintain cool through chaos was also in evidence when I played "B," from Norwegian electronic musician Prins Thomas's Principe del Norte (16/44.1 FLAC, Smalltown Supersound/Tidal). The Red managed to convey strong detail and separation between the various elements as thick layers of pulses, drones, and electric guitar steadily accumulated through the course of this track's 12 minutes.
Comparison
I pitted the DragonFly Red against the less expensive DragonFly Black ($99) and Meridian Audio's Explorer portable USB DAC, launched in 2013 and since replaced by the Explorer2 (both $299).
The DragonFly Black proved thoroughly impressive in its own right -- in many cases, I was grasping at straws to detect any differences between it and the Red. Its sonic signature was similar to the Red's, with loads of up-front detail. The one time it lagged behind its costlier big brother was during "And I Love Her" -- there seemed to be slightly less separation among instruments than through the Red.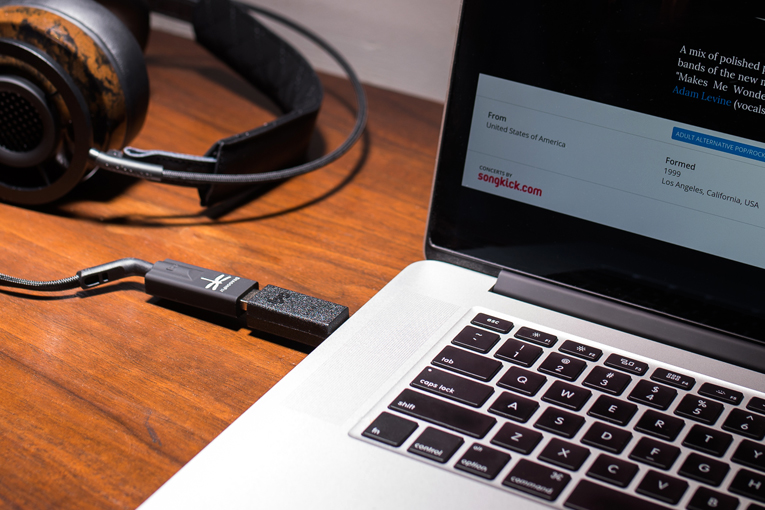 Through the Meridian Explorer, this jazzed-up Beatles track sounded more warm and liquid. The DragonFly Red, in contrast, conveyed detail with greater precision, and presented a more solid and coherent soundstage.
Vaughan Williams's Wasps Overture was a tougher call. I appreciated the Explorer's ability to convey the density of the orchestral sound, and its reproduction of hall ambience was spot-on. But the Red was no slouch in these departments either, and I found that its crisp rendering of the textures of massed strings and pounding percussion gave it an edge over the competition.
Voices have always sounded perfectly right to me through the Explorer, and Meg Baird's, in Heron Oblivion's "Beneath Fields," was no exception. It had a solid yet silky presence, a touch of reverb letting it seep easily across the soundstage. Through the Red I heard the same pleasing characteristics, but the more accurate, more detailed bite of the guitars ultimately made for a more engaging listening experience.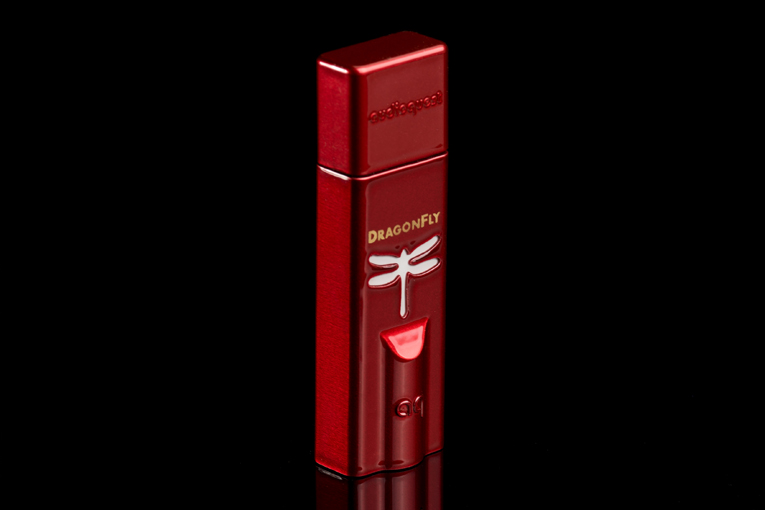 Conclusion
AudioQuest's new Red and Black DragonFly DACs represent solid advances in sound quality over the original DragonFly, and provide the further benefit of compatibility with iOS and Android devices. At $199, the Red is a great value. But if you're strapped for cash, or don't expect to experiment with exotic headphones any time soon, you'll be well served by the $99 Black -- with most music, it sounded about as good as the Red. Whichever you choose, AudioQuest's new DACs make a strong statement for affordable, portable high-end performance.
. . . Al Griffin
This email address is being protected from spambots. You need JavaScript enabled to view it.
Associated Equipment
Sources -- Apple MacBook Pro, Apple iPad 2, JRiver Media Center 21, Tidal music-streaming service
Headphones -- Sennheiser HD 598
Speakers -- KEF Egg
AudioQuest DragonFly Red USB DAC-Headphone Amplifier
Price: $199 USD.
AudioQuest DragonFly Black USB DAC-Headphone Amplifier
Price: $99 USD.
Warranty: One year parts and labor.
AudioQuest
2621 White Road
Irvine, CA 92614
Phone: (949) 585-0111
E-mail: This email address is being protected from spambots. You need JavaScript enabled to view it.
Website: www.audioquest.com