Sound:











Value:










Measurements can be found by clicking this link.

With so many audio formats out there, audiophiles may be reluctant to invest in a new DAC-headphone amplifier. What if some download service starts releasing 16x DSD files or 64-bit PCM files? What if a company conjures up a new technology that promises to . . . I dunno, automatically search the Internet to find out who the mastering engineer was on a recording, then tune the sound to compensate for the phase shift of his mastering compressor? If we buy a new DAC-headphone amp today, and someone comes out with some "must have" technology tomorrow, we face the shame of having a hopelessly out-of-fashion component in the gear list in our online audio forum profiles. The iFi Audio xDSD ($399 USD) seems built specifically to qualm such fears.
The iFi xDSD squeezes a lot of audio technology into its cigarette-pack-sized chassis. It supports DSD files up to 512MHz (8x) DSD and PCM files up to 32-bit/768kHz resolution. It has MQA compatibility, which some audiophiles consider a sonic miracle (and some don't). It also works as a Bluetooth receiver, and its Bluetooth codecs include aptX (although not aptX HD) and the somewhat rare AAC. It has a single digital input that accepts coaxial and TosLink optical signals, and its headphone output has a fixed, 2V line output mode so it can be used as a DAC in a regular stereo system.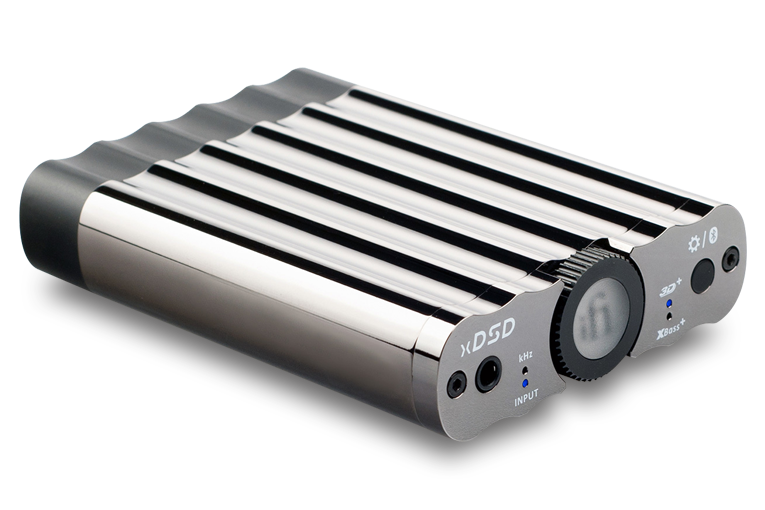 The xDSD's USB input connects to computers or smartphones. It has a rechargeable internal battery rated at six to eight hours of play time, so you won't suck your smartphone's battery dry every time you use the xDSD. The internal amp is rated at 500mW into 16 ohms, 270mW into 50 ohms, or 24mW into 600 ohms, so it should be able to drive almost any headphones on the market. The output is balanced if you connect a 3.5mm tip/ring/ring/sleeve plug, and unbalanced if you connect a standard tip/ring/sleeve 3.5mm plug. According to iFi, the xDSD uses an exclusive FET input, low-noise op-amp, and employs a digitally controlled stepped attenuator rather than a conventional volume potentiometer.
In the box
The xDSD comes with a drawstring carrying pouch as well as various cables and adapters. The primary cable has a USB Type-A female connector on the computer end and a USB Type-A male connector on the end that attaches to the amp. There's also a USB Type-A male to USB Type-B male adapter for use with standard USB DAC cables, a USB Type-A to Micro-USB cable for charging, and a TosLink to 3.5mm adapter for optical digital connections. The xDSD is said to work with Android and iOS smartphones and tablets, but the cables for those connections are not included.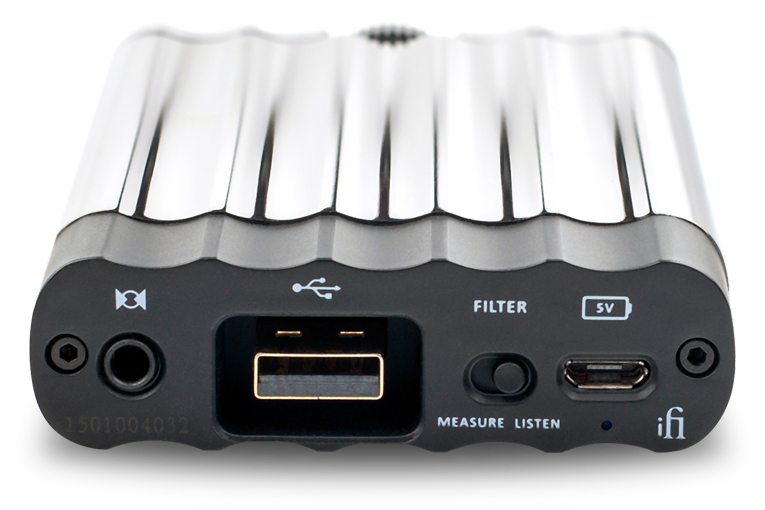 Use
The controls on the xDSD are intuitive. There's just a volume control that you push to turn power on and off, and also to activate Bluetooth mode and Bluetooth pairing. A small button on the front activates the unit's XBass+ and 3D+ processing modes, which iFi says are implemented entirely in the analog domain with no DSP.
There's also a Measure/Listen switch on the back. The Measure position activates a digital filter that the manual says is "frequency response optimized," while the Listen position activates a filter said to be "transient optimized minimum phase." While I approve of having listening options, the way these filters are labeled seems to pander to the repeatedly disproved, utterly groundless notion of some audiophiles (and even worse, reviewers) that audio products that measure well sound bad.
I used the xDSD with a Lenovo laptop running the JRiver Media Center 24 and foobar2000 music players. I was able to get it to play PCM in resolutions up to 24/192 (the highest-res PCM files I have), as well as a quad-DSD file that iFi's engineers sent me. An indicator LED on the front shows you what resolution and file type you're listening to. I was also able to connect my iPod Touch using an Apple USB-to-Lightning adapter, and my Samsung Galaxy S9 Android phone using a USB Type-A to USB Type-C OTG adapter.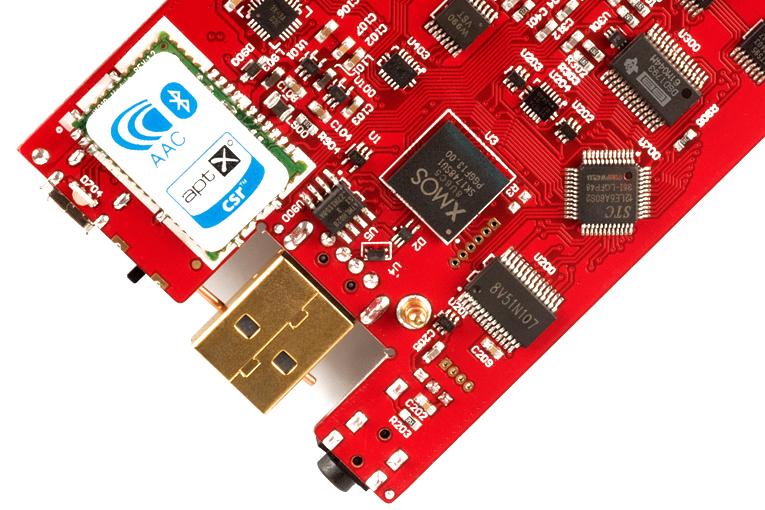 The xDSD has only one ergonomic downside: its dark but shiny finish attracts fingerprints. But they don't show the way they would on a chrome or gloss-black surface.
Sound
I tried five different headphones with the xDSD: the Audeze LCD-Xes, the Beyerdynamic Amiron Homes, the Monoprice Monolith M650s, the HiFiMan HE1000 V2s, and a pair of high-end, closed-back headphones whose name and model I can't share because they won't be announced until a few days after this review posts.
With all of these headphones, the xDSD delivered very good sound. The only headphones that seemed to challenge the amplifier were the HE1000 V2s, which the xDSD was able to drive to satisfying levels but not to the point where it was uncomfortably loud. Even though it was, in this case, running at full volume, the xDSD didn't sound strained at all. With all the other headphones, the xDSD was able to deliver extremely high volumes. So it's not a great choice for notoriously insensitive headphones such as the HiFiMan Susvaras and HE6es, but for 99 percent of all headphones, the xDSD will deliver more power than anyone needs.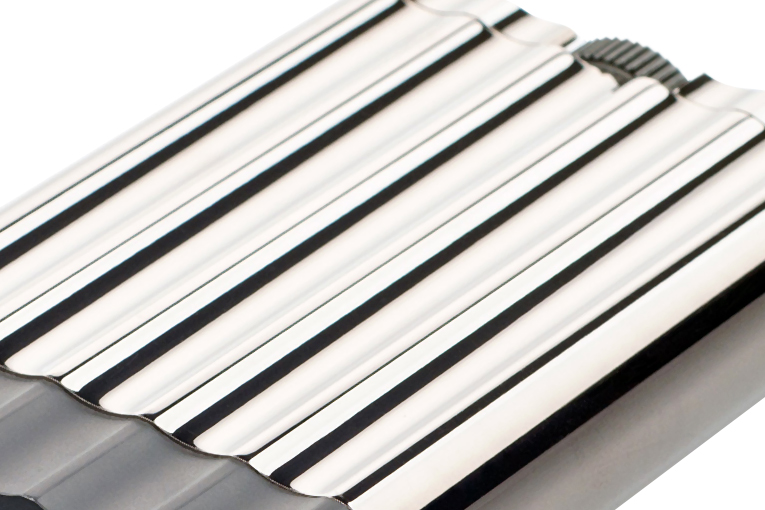 The functions of the XBass+ and 3D+ buttons were so subtle that it was hard for me to hear their effects -- although if you check the measurements accompanying this review, you'll see that the effects of XBass+, while not extreme, are easily measurable. Same goes for the Measure/Listen switch, which appears to be mislabeled. (Again, see the measurements for more details.) With high-resolution audio files, I could hear no difference in the two modes. With 16/44.1 WAV files, I could hear an extremely subtle difference: just a hair less treble in the Measure mode, which meant mainly that cymbals sounded ever-so-slightly softer.
Comparison
I had only one DAC-headphone amp of similar size and configuration around with which I could compare the xDSD: the Oppo HA-2SE, a battery-powered unit that has a larger footprint but slimmer profile than the xDSD. The HA-2SE was recently discontinued when Oppo fled the audio market, but it originally cost $299 and lacks most of the xDSD's features, so it seems a pretty fair comparison. I connected both to my custom speaker switcher, using 3.5mm-to-banana-plug adapters, and used my NTI Minilyzer ML1 analyzer to match the levels to within ±0.13dB, the tightest match I could achieve given the resolution of the two units' volume controls. Initially, I scrambled the cables to make the test blind, and then I listened at length knowing which model was which on the switcher control. I connected each DAC-headphone amp to a Windows laptop running foobar2000, so I could cue up identical files and start them both at the same time.
No matter what I played on the two DAC-headphone amps, the sound quality of both was good, and it was extremely difficult to tell them apart. When I played Camille Thurman's rendition of "Detour Ahead" (from Inside the Moment, 16-bit/44.1kHz WAV, Chesky), the brushed snare drum -- which I think generally sounds too bright on this recording -- sounded very subtly softer through the xDSD when it was in Listen mode, and slightly softer still in Measure mode. On "The Night Has a Thousand Eyes," from the same album, Thurman's tenor saxophone sound seemed just a little bit more detailed through the xDSD, no matter which mode I used. But when I played Holly Cole's version of "I Could Write a Book" (from Holly, 16/44.1 WAV, Rumpus Room / Universal Music Canada), I couldn't hear a difference between the two DAC-amps.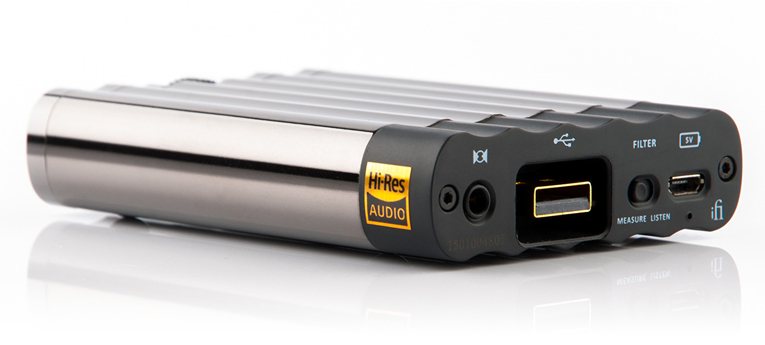 The xDSD competes with a few other portable DAC-headphone amps, including the Alpha Design Labs Cruise ($380), the Meridian Explorer2 ($299), and the CEntrance BlueDAC ($399.99). The only one of these I've spent significant time with is the Explorer2. The xDSD certainly has a very competitive feature package for its price, and it has a more compact design than most of its competitors, which makes it more practical for portable use. I can't say which one sounds the best; unfortunately, reviews of these products almost always involve only casual, sighted comparisons with unspecified level matching and no measurements, so I can't put much stock in them.
Conclusion
I think the xDSD is a great bargain for anyone who wants high-quality sound to go. It'll get the best performance from all but the most difficult-to-drive headphones, it's compatible with practically every digital format I can think of, it has all the digital inputs you could want, and it has balanced output. And the intuitive controls and compact design should make it a cherished travel companion for any audiophile or headphone enthusiast.
. . . Brent Butterworth
This email address is being protected from spambots. You need JavaScript enabled to view it.
Associated Equipment
Headphones -- Audeze LCD-X, Beyerdynamic Amiron Home, Monoprice Monolith M650, HiFiMan HE1000 V2
Sources -- Lenovo Windows PC running JRiver Media Center 24 and foobar2000, Apple iPod touch (sixth generation), Samsung Galaxy S9 smartphone
iFi Audio xDSD DAC-Headphone Amplifier
Price: $399 USD.
Warranty: One year repair or replacement.
iFi Audio
Southport, Merseyside
England, UK
Phone: +44 (0)1704-227-204
Website: www.ifi-audio.com