Sound:











Value:











(Read about our ratings)
Measurements coming soon.
It's amazing how many choices we have in headphone amps these days. I've covered portable amps, portable DAC-amps, component DAC-amps, amps with programmable digital signal processing, and more. The new EarMen TR-Amp ($249, all prices USD) fits into the portable DAC-amp category, with a twist: a rechargeable battery. The advantage of the battery is that the amplifier section isn't dependent on the limited current available through the USB output of a computer or smartphone; the battery provides about ten hours of power.
What's also different about the TR-Amp, relative to most of the DAC-amps on the market, is that it's manufactured in Europe rather than Asia. In fact, it's designed by the engineering team from Auris Audio, creators of the Euterpe headphone amp. The TR-Amp shares almost none of the Euterpe's characteristics, though -- it's a portable unit in an extruded-aluminum chassis, using a Texas Instruments TPA6120 class-AB amplifier chip, while the Euterpe is an exotic, wood-sided model with a single-ended tube output stage.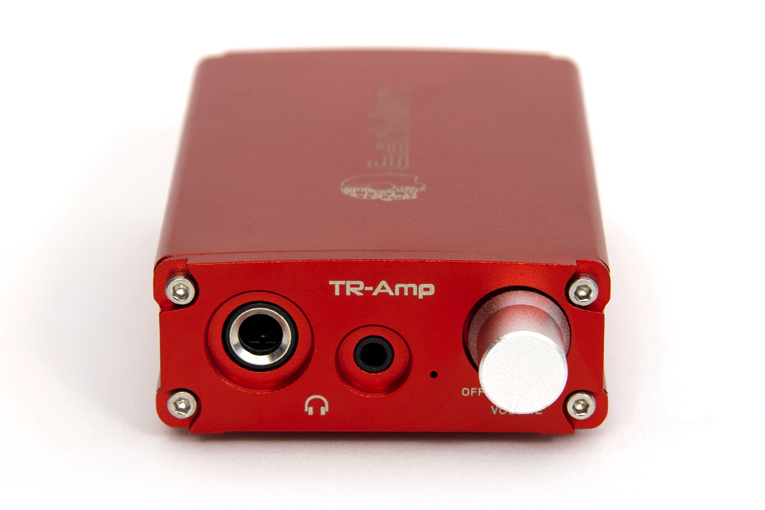 Unlike most DAC-headphone amps, the TR-Amp is designed just as much to be a DAC as to be a headphone amp. It has RCA line outputs for connecting to a preamp; the volume control affects the level of these, so you can also connect straight to an amp or a set of powered speakers. It also has separate USB-C inputs -- one for charging, one for data -- so you can leave the charger plugged in all the time if you wish.
The TR-Amp has 1/4" (6.3mm) and 1/8" (3.5mm) unbalanced headphone jacks, both controlled by an old-school analog volume potentiometer. Both are active simultaneously, so you can power two sets of headphones. Output power is rated at 350mW into 32 ohms -- pretty good for a portable, and adequate to power almost any headphones. Output impedance is unspecified, but we got measurements to figure all that stuff out.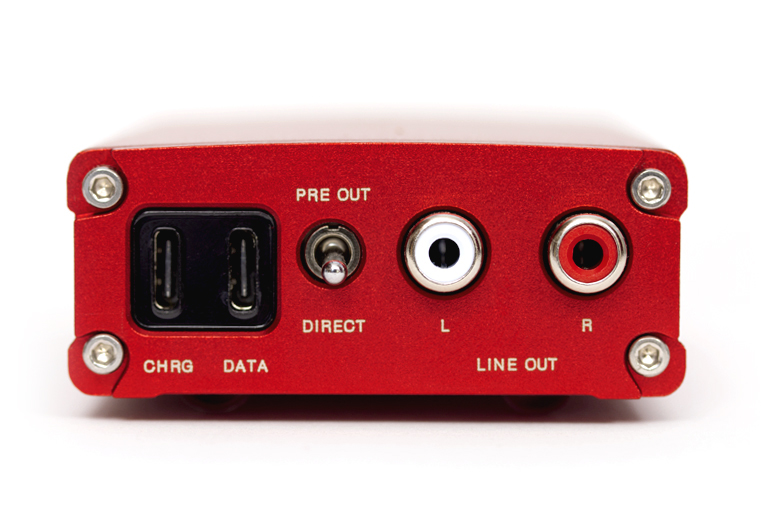 The DAC section handles PCM signals in resolutions up to 32-bit/384kHz, DoP (DSD over PCM) DSD256, native DSD128, and MQA.
In the box
You get the TR-Amp and a USB-A to USB-C cable, plus a slim fabric drawstring case that seems intended mainly to prevent scratches.
Use
There's not much to mess up with the TR-Amp. Plug in your audio source, set the volume, and go. Battery life is rated at ten hours, so it'll run more or less all day (or through a flight from North America to Europe) without a recharge.
One thing I like about the TR-Amp's design is that, unlike some other portable DAC-amps, it doesn't require an unusual cable. A plain old USB-A-to-USB-C cable, like you can find at any 7-Eleven, will get the job done. I bet there's at least one in every room of my house except the bathrooms.
I also like that the TR-Amp is a simple design. Just turn the volume knob to power it up, and set the level wherever you want it. There are no special mode switches other than the pre out / direct switch, which headphone users can ignore.
Sound
As I always do when I test a headphone amp, I started by listening to the HiFiMan HE6se headphones, which are among the most demanding headphones on the market. And I started with a demanding recording: bassist/singer Casey Abrams's fantastic version of "Take the A Train" (Put a Spell on You, 24-bit/96kHz AIFF, Chesky). Not only is this one of Chesky's super-spacious-sounding Binaural+ recordings; it's conservatively mastered with (apparently) no dynamic range compression, so it demands perhaps 6dB more gain than a typical pop recording would.
The TR-Amp did muster enough power to get the HE6se headphones up to a satisfying listening level, but without a dB to spare. Still, that's a tough recording with a pair of the industry's toughest-to-drive headphones, so it's almost certain that the TR-Amp will have enough power for your headphones and your music.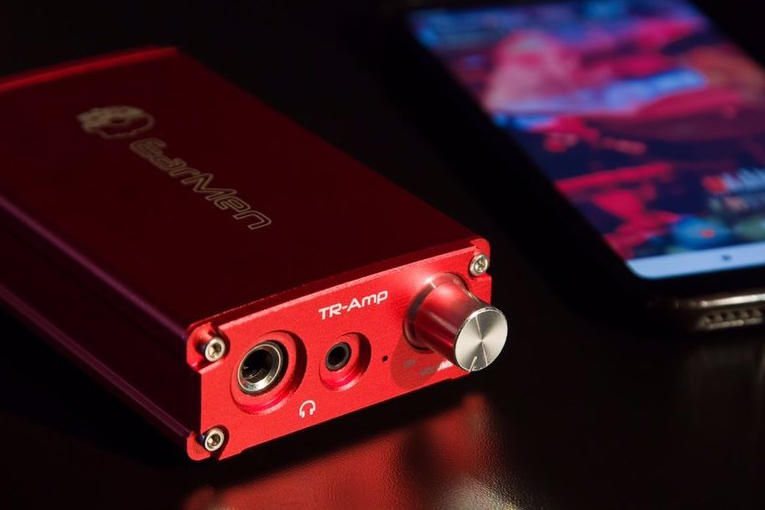 That said, I thought the combination of the TR-Amp and the HiFiMans sounded absolutely wonderful on "Take the A Train." It sounded detailed and airy, as I could hear when the tenor saxophonist accompanying Abrams walked around the recording space, "lighting up" the reverberance of different parts of the room. Abrams's double bass sounded full and punchy, with a nice kick in the midrange that made the notes sound clear -- and clear, punchy bass is not something that's easily coaxed from the HE6se headphones. I also liked that Abrams's loud (and again, apparently uncompressed) vocal peaks, which definitely pushed the amp within a dB or two of its maximum output, sounded unrestrained and undistorted.
I heard a similar sense of effortlessness and robustness when I switched to the Beyerdynamic T5 closed-back headphones and put on Carly Rae Jepsen's irresistible pop tune "Window" (Dedicated Side B, 24/44.1 FLAC, Schoolboy-Interscope/Qobuz). This tune has a wonderful series of abrupt, start-stop rhythmic hits that tend to overhang a bit if the bass isn't completely under control, but with the T5s and the TR-Amp, it was. The bass frequencies in the piano chords sounded precisely defined with no bloating or booming when the notes were released, and Jepsen's voice -- which isn't exactly what I'd call robust -- sounded smooth and natural with no blaring or grating on the ears.
Comparison
Although there are loads of headphone amps out there and I've tried only a small fraction of them, I did happen to have on hand what I consider an obvious competitor to the TR-Amp: the iFi Audio xDSD ($399). Both are battery-powered DAC-headphone amps capable of playing practically any digital format, including MQA. They have similar output capabilities; measured with my NTi Minilyzer ML1 analyzer, the TR-Amp offers 0.6dB more maximum gain. The big differences are that the xDSD is about half as large by volume, and half as heavy, and it includes bass boost and 3D sound virtualizer functions.
On Branford Marsalis's recording of "Three Little Words" with double-bass legend Milt Hinton (Trio Jeepy, 16/44.1 FLAC, Columbia/Qobuz), heard through the Technics EAH-TZ700 earphones, both amps produced loads of detail in Hinton's rapid-fire triple-slaps, and both captured the contrast between the huge-sounding reverberance of Marsalis's tenor sax and the intimacy of Hinton's close-miked bass. The difference I heard was that the TR-Amp sounded a little more robust in the midrange, which made the tenor sound a little more energetic and direct, and the bass notes sound punchier. It reminded me of the difference between a Fender Stratocaster guitar and a Fender Telecaster: both sound good and can make great music, but the latter, like the TR-Amp, has a fuller and more powerful sound.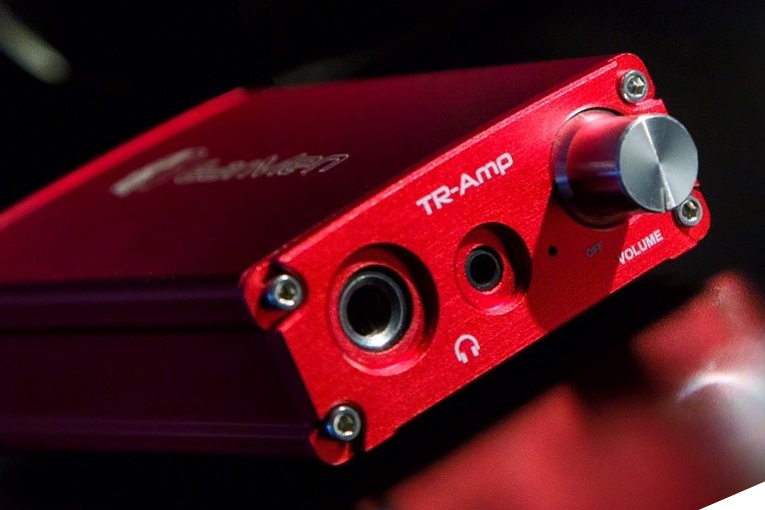 I heard much the same thing when I played the Casey Abrams recording through the HE6se 'phones, too -- the TR-Amp had a subtly more present midrange, and it seemed to muster a bit of extra reserve power that kept Abrams's vocal peaks sounding smooth and (almost) effortless. The xDSD, with its restrained midrange, did seem to have a little more relaxed sound and a more delicate top two octaves, but I preferred the overall slightly ballsier sound of the TR-Amp -- although I would definitely notice its greater bulk in my laptop bag.
Conclusion
For such a little DAC-amp, the TR-Amp has a full, robust sound that worked great for me on all the music I played through it, no matter the genre. I love its simple design and operation, too. Its bulk, to me, makes it less of a dedicated road warrior and more of a desktop amp that can go on the road if needed, but that's fine. Someday, when we get back to traveling again, just toss it in your suitcase with a decent set of audiophile headphones, and you'll have a terrific sound system you can enjoy while recovering from a long day of meetings.
. . . Brent Butterworth
This email address is being protected from spambots. You need JavaScript enabled to view it.
Associated Equipment
Headphones -- AKG K371, Beyerdynamic T5, HiFiMan HE6se
Earphones -- Technics EAH-TZ700
Smartphone -- Samsung Galaxy S10
Laptop -- Lenovo IdeaPad Flex 5-1470
EarMen TR-Amp DAC-Headphone Amplifier
Price: $249.00 USD.
Warranty: One year.
EarMen
Chicago, IL
Website: www.earmen.com