Sound:











Value:











(Read about our ratings)
Measurements can be found by clicking this link.
When a boutique, audiophile-oriented headphone company like HiFiMan releases true wireless earphones, you know it's a thing. And it's a thing for very good reason. When the design is right, people love the convenience and comfort of being able to enjoy their music and podcasts with just a couple of little earpieces -- and no cables, headband, etc., to get in the way when you're moving from machine to machine at the gym. With the TWS600 earphones ($199 USD), HiFiMan seeks to deliver that convenience to audiophiles and headphone enthusiasts.
The TWS600s claim an advantage I haven't seen in other true wireless earphones: a rated range of "up to 150m (490')." This is an extraordinary claim -- the best Bluetooth range I've gotten from any product is about 100', which a few Bluetooth speakers I've tried can achieve. To their credit, HiFiMan has a video on their site demonstrating the product's range. Personally, I don't think more than about 50' of range is a significant advantage, but I hoped that this extra range would help fix one of the annoying things about true wireless (and many other Bluetooth) earphones: if I put my smartphone in a pocket opposite that of the earphone with the main receiver in it (i.e., if the receiver is in the right earphone and I put the smartphone in my left pocket), I tend to get a lot of dropouts as I'm walking my Shih Tzu. That's as first-world a problem as I can imagine, but still . . .

HiFiMan's website says the TWS600s employ a "topology diaphragm," in which a nano-particle coating is applied to the usual polypropylene diaphragm. I assume this coating stiffens the diaphragm, which should reduce distortion.
The earphones are IPX4-rated, which makes them splashproof and, more relevant to this application, sweatproof. Run time on the internal batteries is rated at 5.5 hours, and the case is said to provide 33 hours' worth of additional charges, for a total of 38.5 hours between charges of the case. The embedded Bluetooth codecs are not specified.
In the box
The TWS600s come with a compact case that stores and recharges them. They include eight pairs of eartips: single-flange silicone tips in two sizes, double-flange silicone tips in three sizes, and foam tips in three sizes. A USB charging cable is also included.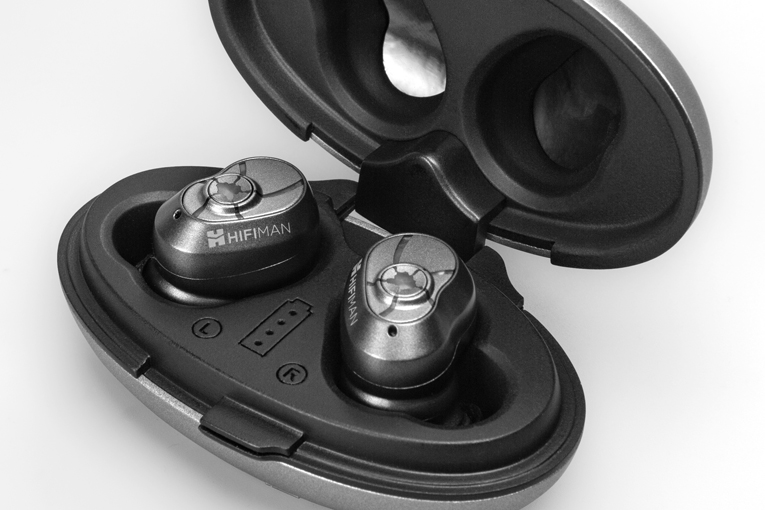 Use
Some pros here, and some cons. The big pro is that the earphones, while looking rather clunky, go into your ear canals much more easily than most, and they actually proved at least as secure in my ears as my Jabra Active Elite 65t earphones, which are renowned for their secure fit. I'd say these are probably the most comfortable true wireless earphones I've worn to date.
The pairing process wasn't especially difficult, but I did find myself having to manually power-up the right earpiece before I could use it. With most true wireless models, both earpieces power up as soon as you pull them from the charging case.
With so many sizes and styles of tips provided, it's likely almost everyone will get a great fit with the TWS600s. However, even the largest of the supplied eartips weren't adequate for me to get a tight seal in my ear canals. So I substituted some Periodic Audio Hydrogen single-flange large silicone eartips, which were actually about the same size as the HiFiMan tips, but are slightly more compliant. They gave me a good seal with less fussing than I often have to go through with true wireless earphones. Wisely, HiFiMan used 5mm soundtubes, so it's easy to find aftermarket tips that will fit the TWS600s. However, the large HiFiMan tips and the Periodic Audio tips both tended to get stuck in the charging case, and sometimes pulled off the earphones entirely. A minor inconvenience, but one that just an extra millimeter of space would likely have eliminated.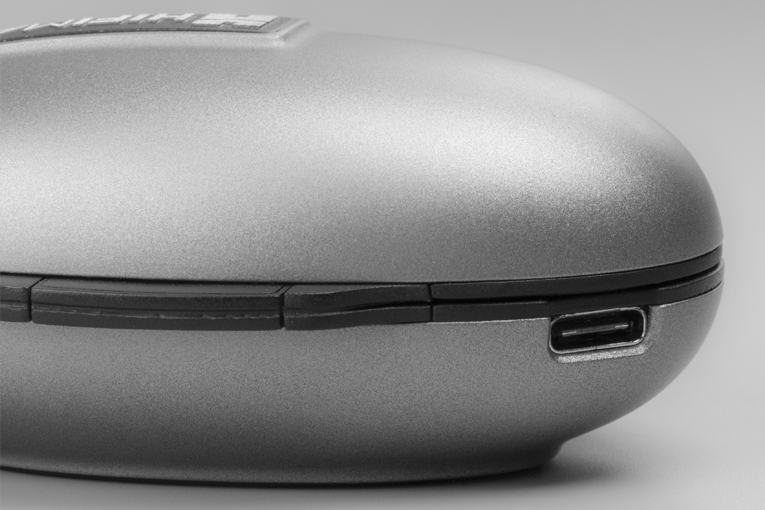 I didn't feel like trekking out to my nearest soccer field to verify HiFiMan's range claims, but I did get about 100' of range (through one window) before I started to get dropouts. More importantly, I experienced no dropouts while walking my dog, no matter which pocket I put the phone in. That's impressive and useful.
Sound
Right on the packaging, HiFiMan states that the TWS600s need at least ten to 20 hours of break-in. My observations about the necessity (or lack thereof) of break-in are documented, but still, I ran the TWS600s with music for 30 hours before listening, just to be on the safe side.
It's obvious on first listen that the TWS600s have a fairly broad bump in their response centered somewhere around 2kHz. When I listened to AC/DC's "Shot Down in Flames" (Highway to Hell, 320kbps Ogg Vorbis, Atlantic/Spotify), the mids and lower treble sounded clear and open, but the overemphasis of the lower treble proved too fatiguing for me to listen to for long. I know that some enthusiasts prefer a strongly treble-heavy (if unnatural) tonal balance, and I heard that the TWS600s did have some bass, so not wanting to simply dismiss the TWS600s, I almost immediately got into experimenting with the EQ settings in my Samsung Galaxy S9 phone. In the course of the evaluation, I went back and forth between the EQ'd and non-EQ'd sound.
Although I experimented with the phone's nine-band graphic EQ, I got the best results with the EQ in basic mode, where it presents only two knobs: one that tilts the balance toward bass or treble, and another that optimizes the sound for instruments or vocals. To me, the TWS600s sounded best with the bass/treble knob set two notches toward bass, and the instruments/vocals knob centered.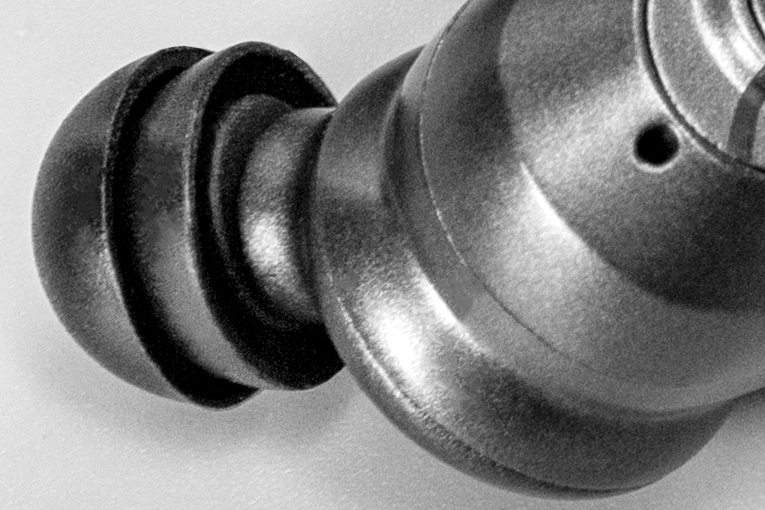 When they reviewed a pre-publication version of this article, HiFiMan suggested that the earphones needed EQ because I didn't have a good seal. However, with the Periodic tips, I got at least as good a seal as I've gotten from any other true wireless earphones. Also, my measurements confirmed the TWS600s' unusual voicing.
So what did I have once the EQ was dialed in to my liking? The best part was a very clear midrange -- even Bon Scott's notoriously gravely vocals on "Shot Down in Flames" sounded smooth, clear, and largely uncolored. The guitars sounded similarly clear -- and gratifyingly full and kick-ass, too. There still wasn't a ton of bass, but there was enough bass guitar and kick drum present to provide a solid and satisfying groove. The downside was that the treble sounded fairly crude, with a rather coarse coloration that reminded me of soundbars with metal grilles spaced far from the drivers, although that coloration is fairly common in inexpensive dynamic-driver earphones.
On my all-time-favorite audio test track, the stereo version of "Shower the People" from James Taylor's Live at the Beacon Theatre DVD (256kbps MP3, ripped from a 16/44.1 WAV file copied from the DVD, Sony), my chosen EQ setting gave the acoustic guitar in the intro a strange, "cupped hands" coloration (as if someone cupped their hands in front of the guitar's soundhole), which made it sound like a small travel guitar. But the vocals, again, sounded clear, with just a trace of sibilance -- and the backing vocals and glockenspiel sounded exceptionally clear, too. When I set the EQ back to flat, the guitar sounded more open and natural, but the voice got too bright-sounding, and the glockenspiel and background vocals suddenly jumped to the forefront of the mix.
Holly Cole's version of "It Could Happen to You" (Holly, 16-bit/44.1kHz WAV, Universal Music Canada) never quite sounded natural through the TWS600s no matter what EQ setting I used. Cole's voice still sounded overemphasized and coarse even with the EQ kicked in. Frustrated, and knowing I was hearing some good things in the TWS600s, I decided to try some random stuff on Spotify to see what might sound really good through these earphones. And I found a couple of things -- in fact, two recordings that couldn't have been more different.
Larry Coryell and Steve Khan's acoustic guitar performance of "Spain" (Two for the Road, 320kbps Ogg Vorbis, Wounded Bird / Spotify) sounded clear but way too trebly and thin with the EQ set flat -- again, Coryell and Khan's axes sounded like travel guitars, and the fleet single-note runs in "Spain" only made matters worse. But with my preferred EQ setting, "Spain" sounded great through the TWS600s, achieving a natural-sounding fullness in the guitars without sacrificing clarity. "Now this is starting to sound like a good set of earphones," I wrote in my notes.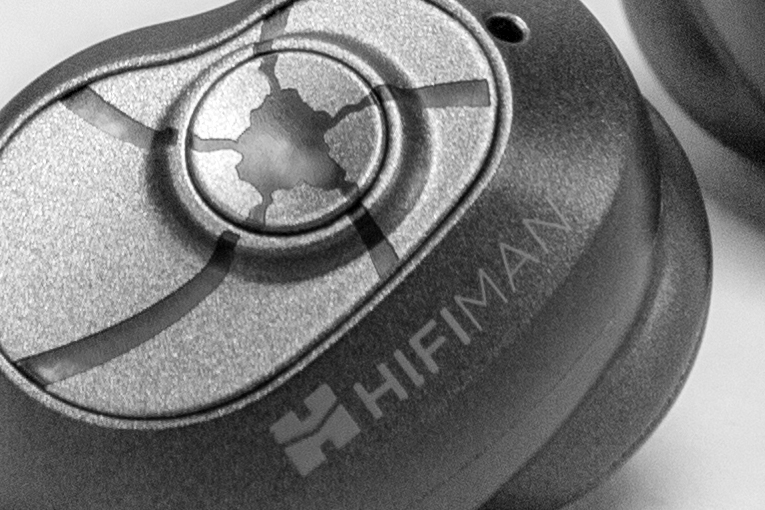 Weirdly, the hip-hop hit "Bad Bad Bad" by Young Thug featuring Lil Baby (So Much Fun, 320kbps Ogg Vorbis, 300 Entertainment / Spotify) also sounded really great from top to bottom once I dialed in the EQ. The raps sounded extremely clear and natural, and the tune's electronic sound effects seemed to fly around the room. The bass hits accompanying the tune surely didn't sound as big as the producers intended, but still, the overall balance was satisfying, and it proved impossible for me not to dig this tune through these earphones.
Instrumental acoustic music seems to be the most dependable genre for the TWS600s. Not only did the Coryell/Khan recording sound great, but I heard a spacious, detailed, and fairly well-balanced sound with most other acoustic jazz recordings, too, provided I used my preferred EQ settings. Likewise, with those EQ settings, Mstislav Rostropovich's recording of the Bach cello suites (J.S. Bach Cello-Suiten, 320kbps Ogg Vorbis, Warner Classics / Spotify) presented the cello in a moderately sized ambient space, with a natural tonality I enjoyed.
Comparison
I played the TWS600s for my usual listening panelists: John Higgins, who holds a master's in music performance from USC and has served as a frequent contributor to Wirecutter and Sound & Vision, and LeRena Major, a Los Angeles saxophonist who's held several positions in the music business and is a voting member of the National Academy of Recording Arts & Sciences.
LeRena's listening test took place after I'd had a chance to listen to the TWS600s, so I played them for her with and without my EQ settings. Without the EQ adjustments, she thought the lower midrange and bass were severely lacking. With the EQ, she liked the TWS600s about as well as she liked the Cambridge Audio Melomania 1s, which are among the best-sounding true wireless earphones we've heard. However, John's test took place after I broke the earphones in but before I'd had a chance to try them, and he was unforgiving when describing the earphones' sound without EQ: "The top end is edgy, the mids are super-forward and pushed, and the bass is unnatural in a way I can't quite put my finger on."
Conclusion
In terms of design, the TWS600s are among the most appealing true wireless earphones we've tried. I expect their "native" sound, without EQ, will be unnatural and fatiguing to anyone who's not a hardcore treble fanatic / bass hater. If you (like the vast majority of people) prefer a more neutral tonal balance, and you're willing to experiment with the EQ in your phone to get the TWS600s tuned to your liking, their outstanding ergonomics and rock-solid Bluetooth connection will make the effort worthwhile.
. . . Brent Butterworth
This email address is being protected from spambots. You need JavaScript enabled to view it.
Associated Equipment
Smartphone -- Samsung Galaxy S9
HiFiMan TWS600 True Wireless Earphones
Price: $199.99 USD.
Warranty: One year repair or replacement.
HiFiMan, Inc.
Phone: (201) 443-4626
Website: www.hifiman.com