Sound:











Value:











(Read about our ratings)
Measurements can be found by clicking this link.

There's only one inherent reason why true wireless earphones struggle to sound as good as high-end passive earphones. It's because most high-end passive earphones use a cable-over-ear design that fits snugly and seals tightly in the ears, as exemplified by numerous models from Shure, JH Audio, 64 Audio, Westone, and other companies. I expect it would be quite a design challenge to squeeze the circuitry and batteries needed for true wireless operation into such a design, but for the Aonic 215 Gen 2 earphones, Shure came up with an alternative: packing the electronics into a separate module that snaps onto each earphone and sits behind the ear.
The Aonic 215 Gen 2s ($229, all prices USD) are essentially Shure's $99 passive Aonic 215 earphones with a pair of Shure's True Wireless Secure Fit Adapters included instead of cables. The adapters are available separately for $189 per pair, and they also fit other Shure earphones of similar design. The Aonic 215s are essentially an updated version of Shure's iconic SE215 earphones, which have been a low-budget favorite among audio pros and audiophiles for as long as I can remember. All of the 215 variants use a single dynamic driver per earphone.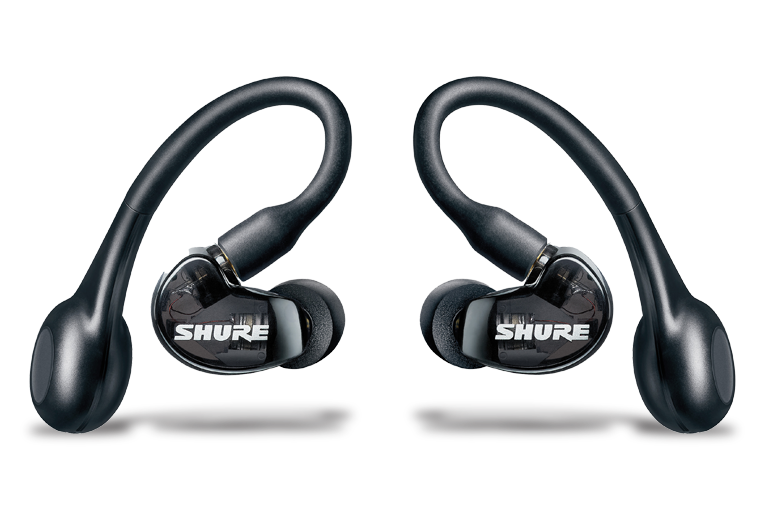 The adapters attach to the earphones using standard MMCX connectors, so you can use the earphones with MMCX-compatible cables if you need a wired connection. The adapters incorporate all the standard convenience features of typical true wireless earphones, such as built-in microphones for taking calls and buttons that control volume and playback. There's also an Environment mode that lets sound in through the microphones, so you don't have to remove the earphones to have a conversation. In addition to the standard SBC Bluetooth codec, the Aonic 215 Gen 2s include AAC and the standard version of aptX. Battery life is rated at eight hours, and the charging case provides three additional recharges before it needs recharging itself.
The ShurePlus Play app, available for iOS and Android, lets you customize the button functions and the audio prompts, as well as monitor the battery level. It also offers seven EQ presets plus a manual mode that accesses a four-band parametric EQ. The parametric controls let you pick the center frequency of the filter, the bandwidth of the filter in octaves, and the amount of the boost or cut (-10 to +10dB). With an EQ like this, if you have the patience, you can dial in the sound pretty much exactly as you like.
In the box
The Aonic 215 Gen 2 package includes the earphones, the adapters, and a rather large charging case that measures about 1.5″ thick by 4″ in diameter. It also includes six sets of tips—three sizes in foam, three in silicone—plus a cleaning tool and a USB-A-to-USB-C charging cable.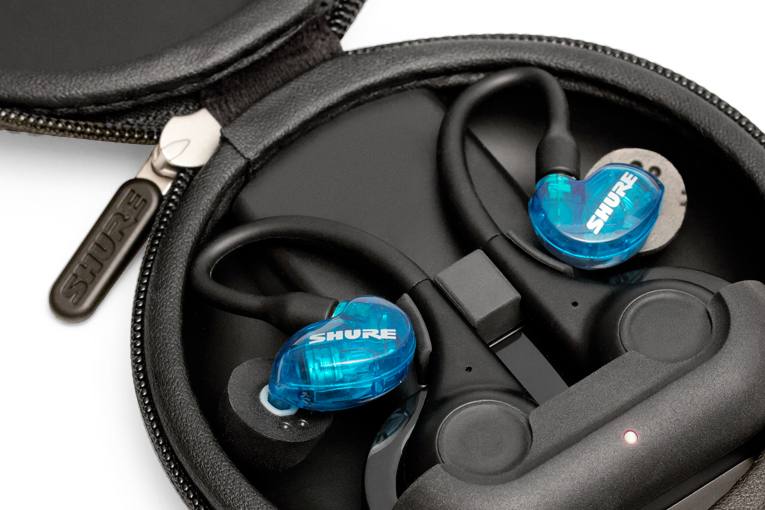 Use
I have to confess that I've always had a problem getting a good fit with the SE215s; they do fine in my left ear, but my right ear canal's slightly larger, and the tube that holds the tip isn't long enough to get the tip far enough into my ear to get a seal on most of my attempts. I often end up pressing lightly on the right earphone to ensure a good seal. There's absolutely zero reason it should be this much work, and because the Aonic 215s use a small, 3mm sound tube, there's a much slimmer selection of aftermarket tips available. C'mon, Shure, I know the SE215s are kinda legendary, but please start beta-testing with a wider range of people. I've got numerous off-brand, $49-ish true wireless earphones that fit me just fine. Meanwhile, dudes with large ears beware! (Note: see the postscript at the end of this review for a potential fit fix.)
One big plus about this design is that the earphones are way more secure in your ears than any conventional true wireless design could be, which would make them pretty good for jogging or the gym. They're also IPX4-rated, so they can withstand a certain amount of moisture.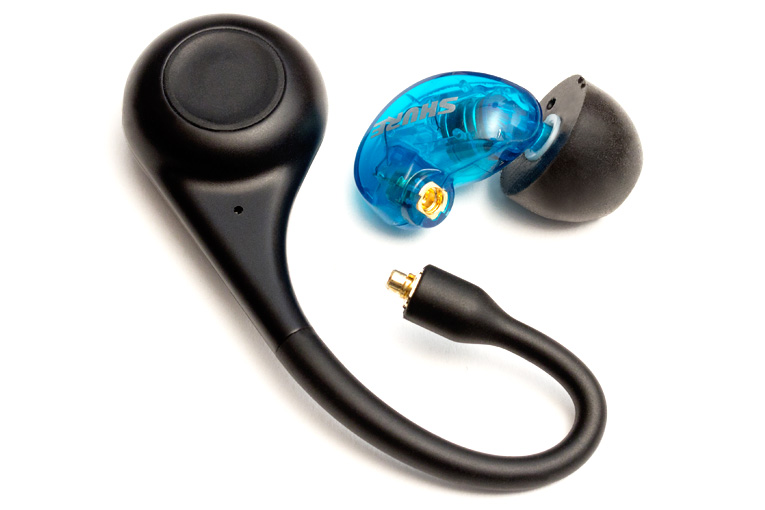 But one big minus about the design is that the control buttons are more difficult to push than with typical true wireless earphones—most of which have touch-sensitive controls that require only a tap. The Aonic 215 Gen 2s have a pushbutton on each adapter, covered with a rubber membrane. It takes a lot of pressure to get the button to work, and the bulbous end part of the adapter on which the button is mounted doesn't stay in place when you're pressing on it.
Sound
The irresistible cover image of Mammoth WVH, Wolfgang Van Halen's solo debut album (24-bit/48kHz FLAC, EX1 Records / Qobuz), sucked me right in—which is a good thing, as it turned out to be good tonal-balance test material because it's a big, full-sounding recording that commands almost the entire sonic spectrum. On "You'll Be the One," probably the album's hardest-rocking tune, the Aonic 215 Gen 2s sounded just like a well-balanced set of affordable dynamic-driver earphones. They weren't bassy, but there was enough bass. Nothing in the mix sounded out of balance, and most important, Van Halen's vocals sounded wonderfully clear and natural. Although what recording by someone with the surname Van Halen didn't sound fantastic on pretty much any set of transducers you managed to dredge up?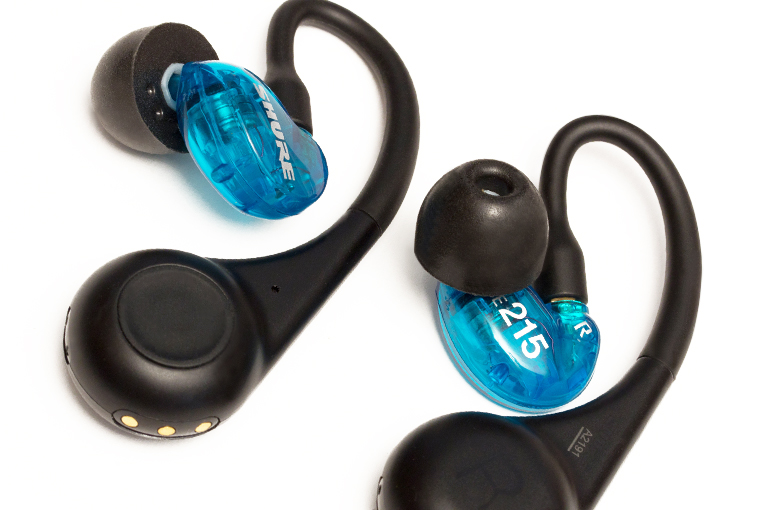 OK, time to move on to something that probably sounds not-so-amazing on certain transducers: Patricia Barber's Clique (320kbps Ogg Vorbis, Impex Records / Spotify—i.e., still not on Qobuz, and why?). On "Trouble Is a Man," I had a hard time finding a fault with the Aonic 215 Gen 2s' sound. I can't say it had quite as much air/delicacy/detail as earphones with balanced-armature drivers, and it definitely didn't have the big, full, punchy bass some listeners like. But in a lot of ways—most ways, in fact—the sound had that "neutral enough that it gets the hell out of the way of the music and just lets you enjoy listening" character, which is what I value above anything else in audio gear.
Having heard how neutral the Aonic 215 Gen 2s sounded, I started to think about what recording might trip them up—so I was thinking about a recording with of a lot of acoustical instruments with lots of space, and instantly I remembered John McLaughlin's wonderful My Goal's Beyond (16/44.1 FLAC, Douglas Music / Qobuz), a meditative, all-acoustic album he recorded just before he started the fire-breathing Mahavishnu Orchestra. On my favorite tunes from the album, "Peace One" and "Peace Two," I loved everything about the sound except one thing. The instrumental tones—of the tanpura, acoustic guitar, tabla, soprano sax, double bass, violin, and percussion—all sounded authentic and natural through the Aonic 215 Gen 2s. The only thing missing was the sense of "air" and spaciousness that I know this album can deliver if given the chance, but those qualities are immensely difficult for inexpensive dynamic-driver earphones to achieve. (And how really expensive dynamic-driver earphones do it, I haven't yet figured out.)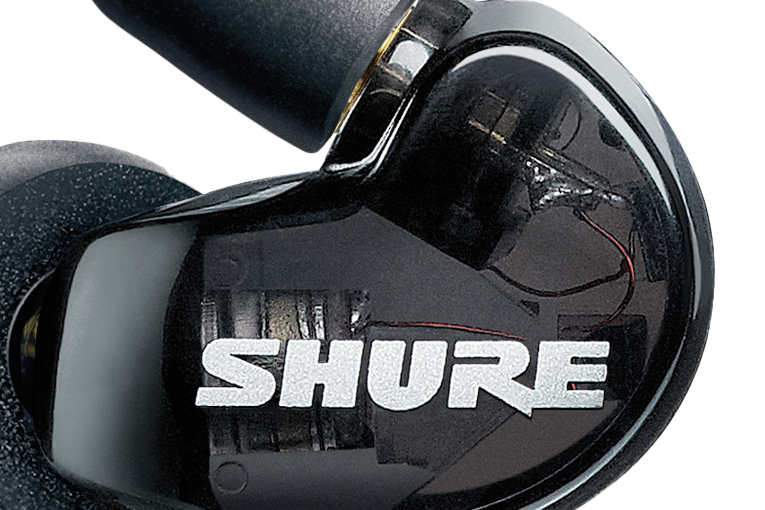 Neither were the Aonic 215 Gen 2s tripped up by a state-of-the-pop recording like the title track from Ariana Grande's Positions (24/44.1 FLAC, Republic Records / Qobuz). I'm about 100% certain that a faithful reproduction of "Positions" requires more deep bass than the Aonic 215 Gen 2s can muster, and I know from hearing this tune on other earphones that it can sound more spacious. Yet I was content in hearing no notable tonal colorations, an extremely clear rendition of Grande's vocals, and excellent delineation of the many components of this complex mix.
Comparison
I compared the Aonic 215s with the only true wireless earphones I had in my possession that can plausibly claim audiophile-grade sound: the Status Audio Between Pros ($149) and the new Technics EAH-AZ60s ($229.99).
Diana Krall's recording of "Almost Like Being in Love" (This Dream of You, 24/44.1 FLAC, Verve/Qobuz) gave me a pretty good appreciation of the differences among these earphones. The Technics EAH-AZ60s were spacious-sounding and pretty well balanced tonally, but they definitely had a noticeable peak in the lower treble—I guessed around 4kHz—which made them sound just a little bright. The Status Audio Between Pros tilted a little more to the warm side, with a couple of dB more bass and slightly softer treble, although I thought their reproduction of Krall's voice had a subtle coarseness compared with the smoother-sounding EAH-AZ60s.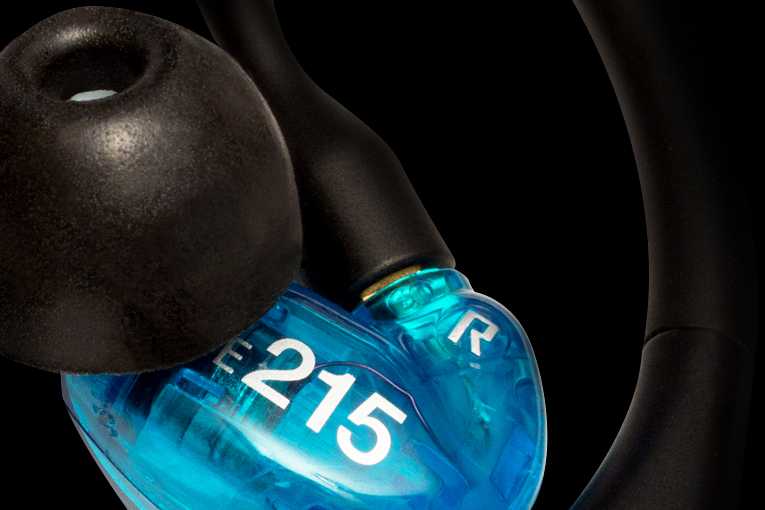 Those who've read my reviews a lot know I don't sloppily sling phrases like "Product X blows product Y away!" Such hyperbole is rarely the result of a serious evaluation. But in this case, I have to say the Aonic 215s blew away the other earphones. They just sounded clearer, more detailed, and more natural. I could detect the other earphones' colorations almost instantly, but with the Aonic 215s, I really had to listen deep—and even so, I found very little to complain about.
Conclusion
OK, try to parse this fine bit of fence-sitting: if these things fit me better, and if they had controls that were as easy to use as those on other true wireless earphones, I'd buy them immediately and use them every day. I really like the sound; I think it's about as good as it gets for true wireless earphones right now. So if you have average-size ears, and you don't use the controls on your true wireless earphones much, the Aonic 215 Gen 2s are a terrific buy.
Postscript: A reader tipped me off to the SpinFit CP240 double-flange eartips—not to actually use them with the Aonic 215s, but to use the cylindrical adapters that come with them, along with whatever standard-size tips I prefer. I tried the adapters with the SpinFit CP200 tips I usually prefer, and the combination fit the Aonic 215 Gen 2s, although the design of the earphones prevented the CP200s from sealing deeply and securely in my ear canals. So while this still doesn't solve my fit problem, it may present some readers with a workable alternative to the tips now available for the Aonic 215 Gen 2s.
. . . Brent Butterworth
This email address is being protected from spambots. You need JavaScript enabled to view it.
Associated Equipment
Smartphone: Samsung Galaxy S10
Shure Aonic 215 Gen 2 True Wireless Earphones
Price: $229.
Warranty: Two years.
Shure, Inc.
5800 W. Touhy Ave.
Niles, IL 60714
Phone: (800) 516-2525
Website: www.shure.com