Sound:











Value:











(Read about our ratings)
Measurements can be found by clicking this link.

I first got excited about high-end audio in the hospital. I was on an IV for a week, and a fellow editor at Video magazine brought me copies of The Absolute Sound, Stereophile, and HiFi Heretic magazine. The first two I had a hard time relating to, but HiFi Heretic hooked me with its passion and its real-world attitude; the mag's name referred to the founder's rejection of the notion that you have to spend a fortune to get good sound. My recent reviews of affordable "Chi-Fi" earphones—the CCA C10s, KZ x Crinacle CRNs, and now the NiceHCK DB3s—have brought back some of that excitement I felt 30 years ago.
Like those other earphones, the DB3s pull off something almost unimaginable: packing multiple drivers per earpiece into earphones priced in the double digits. Except the DB3s are the least expensive of the bunch; on the website of the brand's parent company, Linsoul, they're priced at $19.99 (all prices USD), although I got mine for $17, and I've seen them priced as high as $29. Each DB3 earpiece contains two dynamic drivers and one balanced armature. Normally, we might expect to see two balanced armatures for the treble and upper mids, and one dynamic driver for the bass and lower mids, but I guess that's not practical at this price.
Par for the Chi-Fi course, the DB3s have an ear-filling design with over-the-ear cable routing, and use a standard two-pin cable connector to make replacing the cable easy. You can order a cable with an integral microphone for phone calls for $1 extra. Rated impedance is 16 ohms, and rated sensitivity is 106dB with a 1mW signal, so the DB3s should be easy to drive.
In the box
As usual for Chi-Fi earphones, the DB3s' accessories are sparse. There's a 50″ (1.3m) cable with two-pin connectors on the earphone ends and a 3.5mm (1/8″) stereo plug on the source end. Silicone tips are provided in three sizes (one of which is double-flange), along with a fabric carrying sack, and that's it. But if you need more or different tips, a different cable, or a good case, you can get any and all of them off Amazon for a few bucks.
Use
None of the supplied tips fit my extra-large ear canals, so I substituted SpinFit CP100 XL tips—but I do that with most of the earphones I test now, anyway. I ended up with a comfortable, secure fit, and often forgot the DB3s were in my ears. They fit my ears even more securely and comfortably than the KZ x Crinacle CRNs did, mainly because they didn't stick out as much.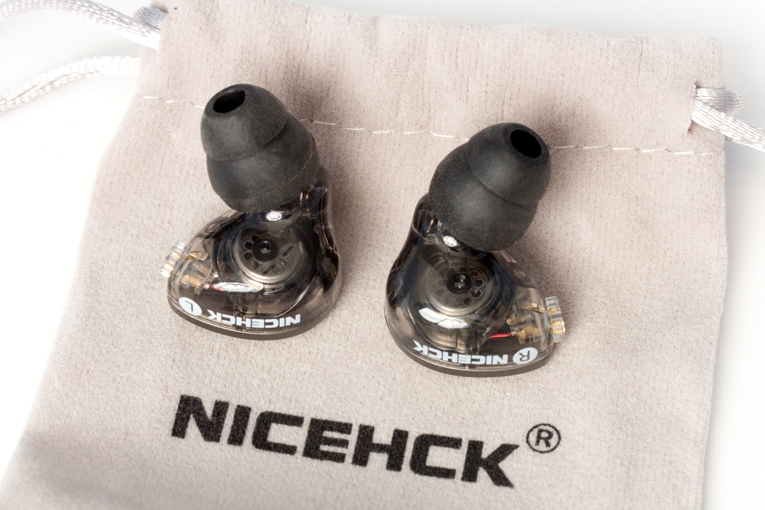 I got plenty of volume from the DB3s plugging them straight into the headphone jack of my Samsung Galaxy S10 phone, although I used an EarMen Eagle DAC-headphone amp for most of my testing.
Sound
I can't say the DB3s sounded amazing, but they definitely sounded good. Especially for less than $20. Everything else I've heard under about $35 uses a single dynamic driver, and the DB3s' mids and treble sounded clearer than with any of those models. The bass also sounded tighter, better defined, and more in balance with the rest of the audio range.
Listening to Johnny Hartman's rendition of "For the Want of a Kiss" (Unforgettable, 16-bit/44.1kHz FLAC, Impulse/Qobuz), I was astounded by how much of the vibe of high-end earphones the DB3s were able to achieve. Hartman's deep, rich voice sometimes sounds bloated through earphones, many of which are intended more for hip-hop and pop music, but it sounded extremely clear and detailed through the DB3s. The tune—a live recording with a jazz orchestra playing gorgeous arrangements by Oliver Nelson—had a wonderfully spacious sound, and all of the instruments were easy to distinguish, even though some were playing at very soft levels. The double bass sounded just about perfect: tight, tuneful, and full—although I wondered if it might be lacking just a bit of heft in its bottom octave, which is from 41 to 82Hz.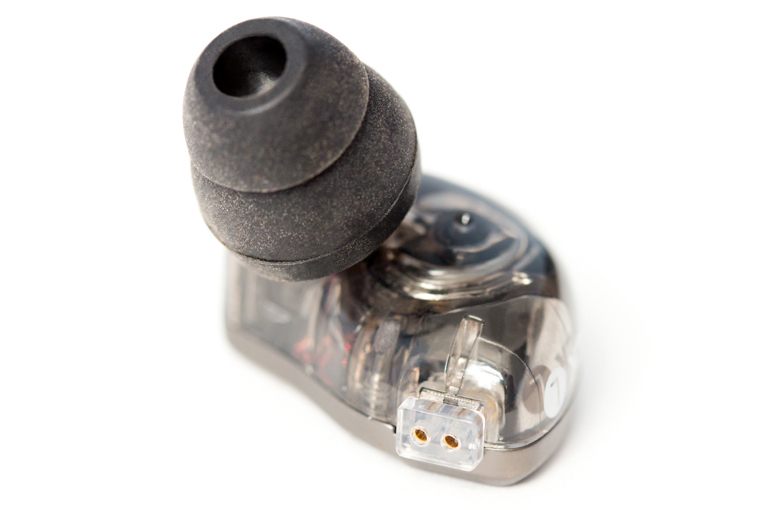 So what don't you get for $20? Hartman's voice sounded a little exaggerated in the mid-to-upper midrange, making him sound a little edgy—which everyone who's heard the classic John Coltrane and Johnny Hartman album knows is not what Johnny Hartman sounds like.
The Middle Eastern-influenced guitar riff of Led Zeppelin's "Dancing Days" (Houses of the Holy, 24/96 FLAC, Atlantic/Qobuz) has a tendency to sound a little blarey, so I wondered if that little upper-mid boost I heard in the Johnny Hartman recording might make "Dancing Days" sound even more grating. I wouldn't say the guitars in "Dancing Days" sounded more blarey than I'm used to hearing, but John Bonham's hi-hat sounded hissy and harsh. The electric bass and kick drum both sounded full, fat, and gratifyingly grooving. I love this tune and the arrangement, but I can't recall ever hearing this recording sound smooth; I'd say overall, the DB3s sounded a little less smooth than average, although better than anything I've heard in this price range.
Ariana Grande's voice tends to sound unpleasant through any audio system that boosts treble, so I didn't expect the title track of Thank U, Next (24/44.1 FLAC, Republic/Qobuz) to please my ears when heard through the DB3s—but it did. That upper-mid boost nearly disappeared; I could hear it in her voice just a bit, but it sounded like the subtle "presence peak" that a lot of vocal microphones have. The rest of this fantastic production sounded detailed and dense; all the subtleties of the instrumental samples and the meticulously structured reverb came through as well as they would have with just about any earphones I could think of. The bass—a sample that sounds like a mix of synth bass and fretless bass guitar—sounded super-tight and perfectly defined.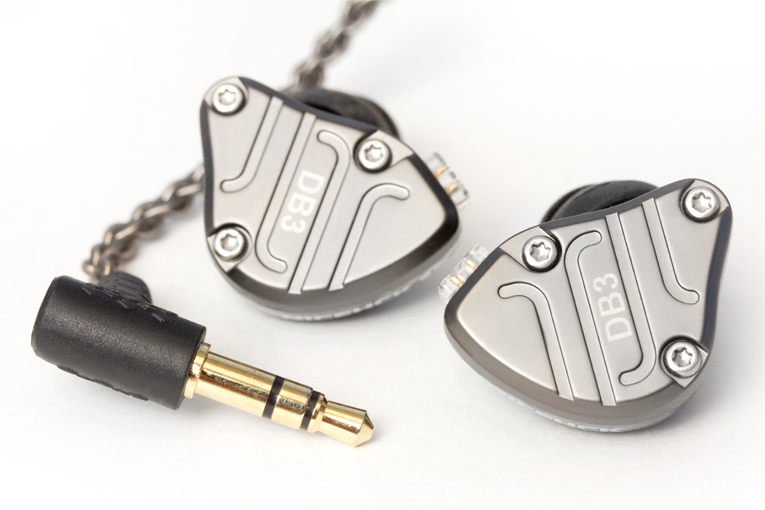 So often my headphone and earphone reviews go this way: I hear one flaw and spend a lot of time trying to aggravate it. My last attempt at DB3 aggravation was "Peace One," from John McLaughlin's acoustic album My Goal's Beyond (320kbps Ogg Vorbis, Douglas/Spotify). I gotta say, it sounded really good through the DB3s. I could hear that upper-midrange emphasis when McLaughlin played loud, high-pitched chords on his guitar, but I didn't hear it in the percussion or even in Jerry Goodman's rather frantic violin solo. When the band hit its loudest peaks, the DB3s' midrange did start to sound a little coarse, but the effect was only fleeting; the moment the volume went down a few dBs, the sound smoothed out.
Comparison
I compared the DB3s mostly to the two earphones I had that were obvious competitors: the KZ x Crinacle CRNs and the CCA C10s, both of which are priced under $50. Just for kicks, I also threw in the Campfire Audio Holocene earphones ($649). All of these earphones sounded good. And the three inexpensive models were close enough in performance that I'd hesitate to predict which one you'd prefer.
The Holocenes definitely sounded the smoothest on Camille Thurman's version of "September in the Rain" (Waiting for the Sunrise, 320kbps Ogg Vorbis, Chesky/Spotify); I'd say they sounded a hair on the soft side, but they didn't have any apparent colorations in the lower treble or upper mids, where the human ear is most sensitive. They also got the double bass the most right, with a full, airy sound that made me feel like I could hear the soundbox "breathing."
But I have to say, the Chi-Fi trio came close. Each one had its own coloration. The KZ x Crinacles had a little extra brightness overall—not something I heard as a troublesome coloration, just a shelving-up of the treble (or maybe a shelving-down of the bass). The CCAs sounded flatter in the bass, mids, and lower treble than the KZ x Crinacle earphones, but they had a pronounced peak in the mid-treble that made Thurman's voice sound a little sizzly. Personally, I slightly preferred the DB3s, just because they seemed to have the most balanced sound—they didn't sound as trebly as the KZ x Crinacle and CCA models, although because of that, they sacrificed some sense of space.
Conclusion
The DB3s are as comfortable and user-friendly as any earphones I've tried. They also sound really good. I wouldn't call them refined sounding, or delicate, but they're detailed and balanced enough to make just about any recording sound pretty good—and maybe even great.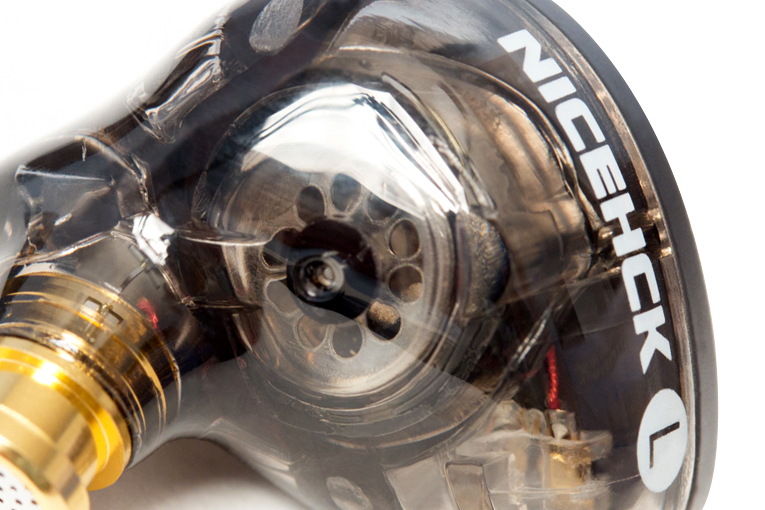 Look, why not just buy these? They cost about the same as the plate of nachos I had this evening, and they'll leave you feeling a lot better in the morning. You might find them an amusing detour in your audio journey, or you might even find them a step up from whatever you've been listening to.
. . . Brent Butterworth
This email address is being protected from spambots. You need JavaScript enabled to view it.
Associated Equipment
Smartphone: Samsung Galaxy S10
DAC-headphone amplifier: EarMen Eagle
NiceHCK DB3 Earphones
Price: $19.99; $20.99 with microphone.
Warranty: One year on earphones, three months on cables.
Linsoul
Website: www.linsoul.com