Sound:











Value:











(Read about our ratings)

I feel bad for the old guard of the headphone biz. They spent decades honing their expertise in acoustical tuning of headphones and earphones, only to find themselves competing with mega-companies that can afford to hire dozens, maybe hundreds, of code-slinging engineers to work their magic through digital signal processing. But Beyerdynamic is definitely not throwing in the towel—the Free Byrd true wireless earphones ($249, all prices USD) are a full-on assault on the Apples, Amazons, Sonys, and Samsungs of the world.
It's hard to think of a feature the Free Byrds don't have. They've got active noise canceling with a Transparency mode that lets you hear what's going on around you. They include the aptX Adaptive and AAC Bluetooth codecs; the former gives you better or lower-latency sound (depending on what's needed for the program material) if you have a compatible Android device, and the latter gives you somewhat better sound if you have an Apple device. (OK, so they don't have LDAC. A small demerit, in my view.) There's also a Low Latency mode that you can activate in the app.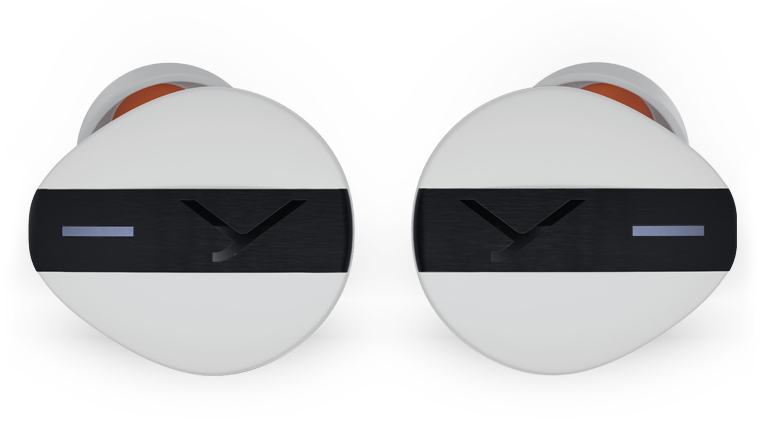 What will make a bigger impact on sound quality is the Free Byrds' inclusion of Mimi, a technology that automatically analyzes your hearing and compensates for any hearing loss. I've checked out the Mimi technology before and was initially impressed with the concept, although the quality of these hearing-compensation technologies is only as good as their target curve—the response they hope to achieve.
To me, though, what really separates the Free Byrds from the tech giants' offerings is the tip selection. Except for a few sports headphones that are designed not to seal, the seal of the eartip in the ear canal has as big an effect on the sound quality as the engineers' voicing decisions do. To make sure you get a good fit, Beyerdynamic includes silicone tips in five sizes (instead of the usual three) and foam tips in three sizes.
Battery life is long, too—rated at 11 hours, and you get two extra charges from the charging case, extending total life between recharges to a rated 30 hours. They're splash-resistant, too, with an IPX4 rating.
In the box
The package includes the earphones, the charging case, the aforementioned tips, and a USB charging cable.
Use
I was thrilled—but not too surprised—to find that the largest of the provided silicone tips gave me an excellent seal; with many true wireless models, even the largest of the three provided tips isn't big enough for me. I also found the Free Byrds comfortable for long listening sessions and enjoyed wearing them during a recent four-hour flight. The noise canceling proved effective, nearly eliminating the bassy drone of the jet's engines.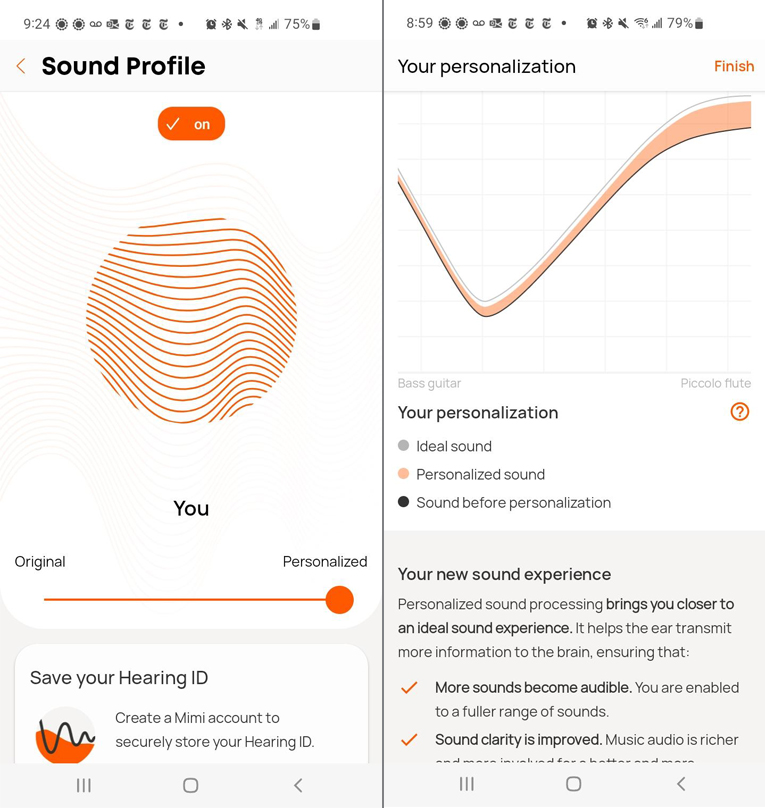 I've taken the Mimi hearing test before, so I could have used my previous results, but I decided to do it again to catch all the latest updates. The test is simple, and takes just a couple of minutes. It plays a cicada-like noise in each ear, then brings in beeps at different frequencies; you hold down an onscreen button for as long as you hear the beeps. I did the test twice and got consistent results. Although the app presents your results in a way that bears little resemblance to a real audiogram, so there's no way for me to tell how well they square with my most recent audiogram, they seemed from the graph to be reasonable, given what I know about my hearing. But . . .
Sound
I'm gonna say right off the bat that Mimi's target curve seems, to me, to be outside the range of what most audiophiles will like. It's very bassy, and the bass is extra-punchy. Whether I was listening to Tracy Chapman's "Fast Car" (Tracy Chapman, 16-bit/44.1kHz FLAC, Elektra/Asylum/Qobuz) or my own Take2 album (16/44.1 FLAC, Outrageous8 Records / Qobuz), the upper mids had an emphasis that made Chapman's voice and my bandmate Ron Cyger's alto sax sound nasal, and even emphasized the sounds of my double-bass strings slapping against the fingerboard. I tried for a while to get used to it, but the Free Byrds' "native" voicing always sounded smoother to me. Even though the app wisely provides a slider control that lets you mix between the compensated and uncompensated sound, I always preferred the Free Byrds au naturel. So I decided I'd evaluate them mostly without Mimi activated. Of course, your results and tastes may vary.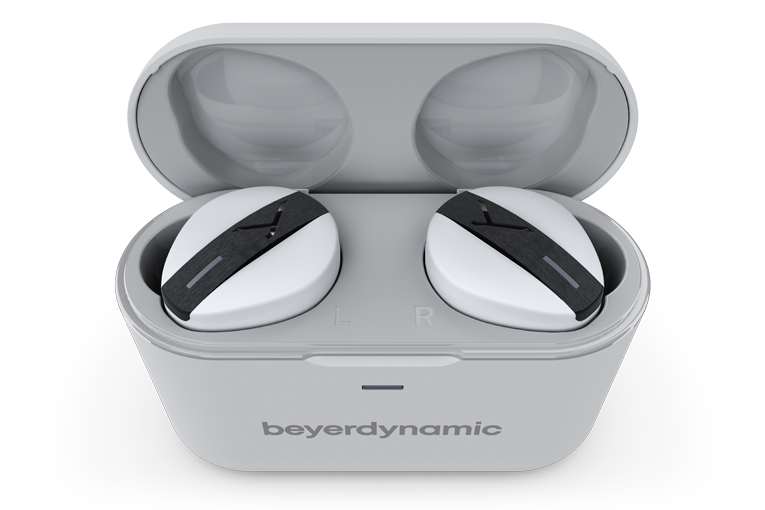 Fortunately, the Free Byrds don't, in my opinion, need EQ. When I grabbed them for a dog walk right after charging them the first time, and before I even tried Mimi, I liked them immediately; I could tell the balance of bass to midrange to treble was natural-sounding, and I didn't notice any obvious colorations.
(By the way, I went back and forth with noise canceling on and off, and there wasn't a dramatic difference in the tonal balance. The response did seem subtly "smilier" with noise canceling on—the bass and the upper mids / lower treble very slightly boosted—but it was hard to hear the difference even when I played pink noise.)
I thought the tonal balance of the Free Byrds was similar to what I heard when I was mixing Take2, but that's a simple, straightforward jazz production. I wanted to hear how the earphones worked with a non-simple, non-straightforward production—like Lizzo's mega-budget Special (24/44.1 FLAC, Nice Life-Atlantic / Qobuz), which features numerous famous producers and whose hourly production cost was surely larger than most jazz albums' total production cost. "About Damn Time" and all the other cuts sounded really solid through the Free Byrds—the lead and backing vocals, the '70s-style funk guitar chunking, and the piano all came through clearly, even though the bass was pumping. And the earphones' bass managed the tough trick of sounding fat and tight. Big soundstage, too.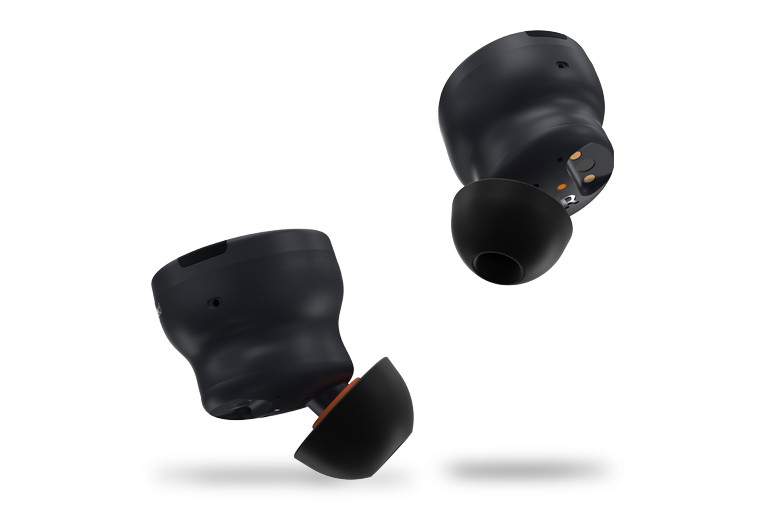 Next for my (and, I hope, your) listening pleasure was a piece of music that's more complex but far less produced: the recording of Berlioz's Harold in Italy by Yoav Talmi conducting the San Diego Symphony (Berlioz, 16/44.1 FLAC, Naxos/Qobuz). This, like Special, sounded balanced and well-defined through the Free Byrds. I think some audiophiles might like to hear a little more zip in the treble to bring out the strings, the cymbals, and the hall ambience, but to me, the Free Byrds' native, non-Mimi-ed voicing sounded just right on this recording. The highs were clear without sounding even slightly etched or edgy, and I heard a natural sense of ambience, as opposed to an exaggerated one. One thing I didn't like, though—through the Free Byrds, the maximum volume on this fairly conservative recording was about 3dB lower than I'd have preferred. It was fine for listening in my quiet home, but I think if I tried to listen to this on a plane, the volume would be too low, even with noise canceling activated.
It took a while to find a recording that didn't sound just right through the Free Byrds. The album I found was one that made my jaw drop when I first heard it about 40 years ago, and that I still listen to often: John Coltrane and Johnny Hartman (24/96 FLAC, Impulse/Qobuz). The music sounded great overall, but I do think the upper bass was a little amped-up, making Jimmy Garrison's bass sound a little muddier (although his sound was intentionally soft on top to begin with), and Hartman's voice sounded a little fuller than I'm used to. There also seemed to be a slight bit of extra energy in the upper mids that made Elvin Jones's snare drum sound a little snappier than usual. But the sense of studio space I heard was fantastic; it is a Rudy Van Gelder recording, after all.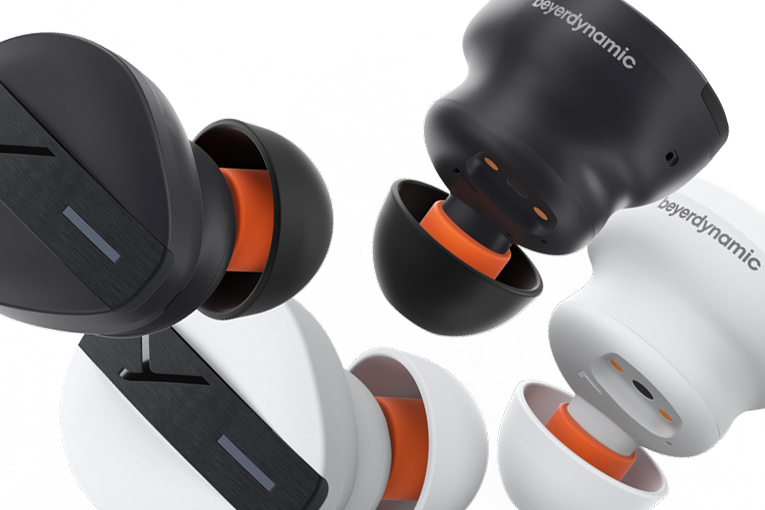 Wondering if I'd hear those same slight colorations on a somewhat similar recording, I put on the version of "Wives and Lovers" from Cécile McLorin Salvant's For One to Love (24/96 FLAC, Mack Avenue / Qobuz). Right away, the liveliness of the sound grabbed me. I wouldn't have guessed I was hearing true wireless earphones; they sounded to me more like the TinHiFi T3 Plus passive earphones. Maybe I did hear a little extra upper-mid zip in the vocal, and maybe a little extra oomph in the upper bass, but if I did, it didn't bother me, and I doubt it would bother most listeners. I'm looking forward to seeing the measurements (available from the link at the top of this page shortly) to see if my ears and brain figured this one out as well as my Audiomatica Clio 12 QC analyzer.
Comparison
I compared the Free Byrds—in their native, non-Mimi-ed voicing—to two other good sets of true wireless earphones I had on hand. First were the Beats Fit Pro earphones ($199.99), which are very similar to the Apple AirPods Pro model ($249.99). Next up was a surprise contender: the TinHiFi T3 Plus passive earphones ($79.99) paired with the KZ AZ09 true wireless adapters ($29.99, review in the works). Note that the Fit Pros have a feature set somewhat similar to that of the Free Byrds, while the TinHiFi/KZ rig has . . . well, no high-tech features of note.
"Rosanna," from Toto IV (24/192 FLAC, Columbia/Qobuz), is a great tonal balance test track because its sonic spectrum is broad and busy—kind of like pink noise. Like so many other tunes, this one just seemed to jump out of the Free Byrds, which gave me a sound that was subjectively pretty close to flat, yet exciting nonetheless. The detail and the sense of space were both spectacular, and the sound was well-balanced overall, although I did hear perhaps a little extra brightness in the snare, and the sound was, once again, a little full in the upper-bass region.
I like the Beats Fit Pros in general—they're a frequent companion on dog walks—but they were no match for the Free Byrds. While the balance was pretty natural overall, the Fit Pros had less bass and much less sense of drive. (BTW, can all those dunderheads on Facebook and various audio forums who keep saying that all Beats headphones and earphones sound boomy please sample the company's recent products, which for the last eight years have been voiced by Apple engineers, not by Dr. Dre?) The Fit Pros also seemed relatively blarey, with too much upper-midrange emphasis; the whole presentation just seemed a couple of steps down in fidelity.
The TinHiFi/KZ rig was a whole 'nother story. They really gave the Free Byrds a run for their money. I think I liked the Free Byrds better, despite that extra touch of whomp I kept noticing in the Beyerdynamic earphones' upper bass. The TinHiFi/KZ package sounded just as exciting, vivid, spacious, and detailed as the Free Byrds, but their bass didn't have quite as much drive, and perhaps as a result, the treble seemed a bit more emphasized, bringing out a subtle touch of buzz in the vocals.
Conclusion
The Free Byrds easily rank among the best true wireless earphones you can buy. They combine the pleasing balance of mass-market products with much of the detail and spaciousness we expect to hear in audiophile products. I'd say skip the Mimi feature, but for some people—maybe those with more hearing loss than my reasonably healthy 60-year-old ears present—it might be a huge plus.
. . . Brent Butterworth
This email address is being protected from spambots. You need JavaScript enabled to view it.
Associated Equipment
Smartphone: Samsung Galaxy S10
Beyerdynamic Free Byrd True Wireless Earphones
Price: $249 USD.
Warranty: Two years, limited.
Beyerdynamic, Inc. USA
56 Central Avenue
Farmingdale, NY 11735
Phone: (631) 293-3200
Fax: (631) 293-3288
Email: This email address is being protected from spambots. You need JavaScript enabled to view it.
Website: www.beyerdynamic-usa.com