Sound:











Value:











(Read about our ratings)
Measurements can be found by clicking this link.
A million years ago, in the before times, I worked at Circuit City. It was the golden age of Dolby Pro Logic and the dawn of the Dolby Digital era. Receiver manufacturers far and wide had decided, as if in exquisite concord, that what consumers really wanted was sound modes. Hall, Stadium, Big Room, Small Room, Bucket—the list was endless and somehow also growing. Every new model had yet more of these modes; nearly all just added reverb and ridiculous EQ. And yet, customers asked about them. Asked if they should get the genuine Panaphonics with 18 sound modes, or the Sorny with 20. Surely the uber-expensive and "overpriced" Harman Kardons and Onkyos were inferior with their minuscule sound-mode offerings.
Now, a lifetime later, 20-plus years reviewing consumer electronics, and for the life of me I still can't figure out why these modes exist or who wants/uses them. And yet . . . here they are in headphones. The LG Tone Free T90Q earphones ($229.99, all prices USD) have the standard EQ presets and adjustments, of course, but also sound modes that offer "expanded sense of space" and "immersive and surrounding sound." There's even a mode that tracks where you're looking and keeps the sound centered in one place.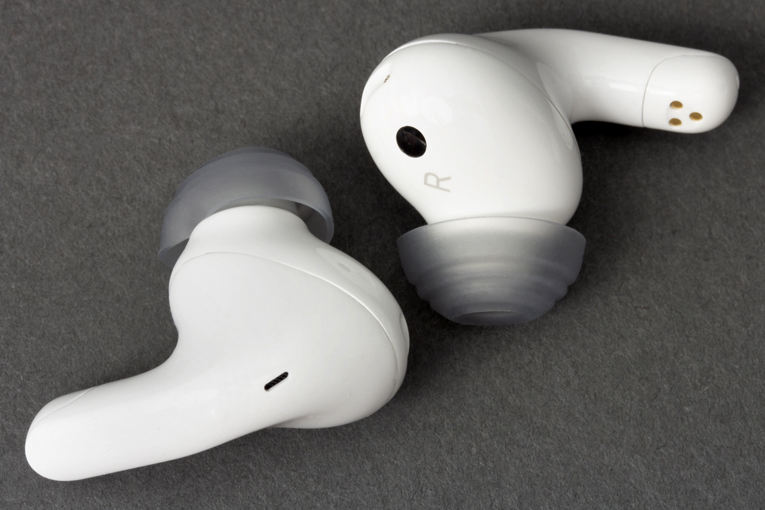 The T90Qs aren't lacking in other features, either: noise canceling, IPX4 water resistance, multi-point pairing, and fast charging. The case has built-in UV-C antibacterial LEDs and can be connected by analog or USB and act as a Bluetooth transmitter for the earbuds, letting you connect to older devices and airplane inflight entertainment. There's Bluetooth 5.3, AAC, Snapdragon 24-bit/96kHz audio, and AptX Adaptive.
So are the T90Qs feature-rich but performance poor, like so many audio devices of yore? Turns out, no. Well, not exactly. Here's why.
In the box
In the box you get three pairs of "medical grade" silicone tips. A USB-C cable is no surprise, but there's also a USB-C-to-headphone jack cable to aid connection to devices without Bluetooth.
Use
The T90Qs are unabashedly of the AirPod school of design. It's unlikely most people would know they're not Apple's ubiquitous earbuds. Well, unless you go for the black option.
Open the small storage case, and you're greeted by a lovely blue light emanating from below the earbuds. This is to hint at, but not actually provide, what LG calls UVnano+: "The LG TONE Free T90 includes a convenient UVnano+ charging case that harnesses the power of UV-C light (also called germicidal UV) to refresh the earbuds' eargels. It effectively kills 99.9% of bacteria on the eargels of the earbuds during the powered charging cycle. In just ten minutes, the eargels are sanitized and have power to go."
I'm skeptical. Not of the power of UV-C. There have been some fascinating advancements in using UV-C to help clean indoor air. UV-C light can do what LG describes, but UV-C can also be dangerous. This is why UVnano+ only works with the lid closed. The blue LEDs you see when you open the case are just for show.
Even if we assume the UVnano+ works as LG claims, were dirty earbuds really that big of a deal? Is there some kind of ear plague I missed? I've still got PTSD from the last (and ongoing) plague. I guess if this is something you worry about, who am I to judge? My current conclusion is that this is a thing LG says it has. One more feature on a feature-rich product.
A more useful feature, usually, is noise canceling. The T90Qs have three modes: Off, Ambient Sound, and Noise Canceling. These modes work as you'd expect, and similar to how most NC headphones work. If you want to hear the world around you, Ambient Sound does that without needing to remove the earbuds. There are two sub-modes for this. Listening mode just lets in ambient sounds. Conversation mode augments voices.
The noise canceling itself is average at best. Some low-frequency sounds were reduced a little, but lower-midrange sounds weren't reduced as much as is possible with the better NC headphones. The Soundcore Sport X10 earphones I reviewed recently, which are significantly cheaper, offer better noise canceling. As do a wide variety of other NC earbuds. Which is to say, I wouldn't put these on your list if you're specifically looking for noise-canceling headphones.
All of these features are accessible through LG's app. It's not particularly flashy, but that's fine. It lays out what you need, including the various sound modes and other features. You can adjust what pressing the earbuds' touchpads do, enable the ability for the earbuds to read your incoming messages, and more. In addition to the various sound modes, which we'll discuss below, there are two custom EQ settings, each with its own eight-band graphical EQ that you can use to adjust specific frequencies by +/-5dB. These EQ settings are mutually exclusive to the other modes.
Sound
Overall, the T90Qs sounded good. Real 3.6 roentgen energy, not great, not terrible. I really struggled, since I couldn't find anything to dislike about them, but I also can't point to any one thing I liked. They were exceptionally competent. The bass was well-controlled but not particularly deep. The treble was clear but not particularly revealing. I've reviewed earphones I liked more, and I've reviewed some I liked less. The Bass Boost EQ mode pumped up the bass to a degree that I found OK, so probably more than enough for most people. For the most part, I left it in Natural mode.
A revealing track for their overall performance was Stevie Ray Vaughan's "Little Wing" (The Sky Is Crying, MQA, Epic/Tidal). Throughout, SRV's ironic guitar certainly came through brilliantly, but the T90Qs lacked the openness possible with this material. At the other end, Tommy Shannon's bass was always there, driving along, but it was a bit more in the background than I generally prefer. Which is to say, probably fine for most people.
One of my personal theme songs, familiar to any fan of just about every production of The Hitchhiker's Guide to the Galaxy, is "Journey of the Sorcerer" by the Eagles (One of These Nights, MQA, Asylum/Tidal). When the band really gets going toward the end, the sound was big—but not as big as it should have been. This song should sound huge, with the banjo, fiddles, orchestra, and more. There was nothing wrong with how the song sounded in the LGs. It was just . . . fine.
Since the sound modes are such a prominent feature of the T90Qs, it seems only fair to discuss them in depth. LG partnered with Meridian, of MQA fame, for the five main sound modes. These include Natural, which I used for most of my testing, and the accurately titled Bass Boost and Treble Boost. Then there are Immersive and 3D Sound Stage modes. Immersive expands the soundstage, giving a sense of space that isn't in the original recording. It's not severe, and for some songs was actually quite pleasant. "Journey of the Sorcerer," for example, regained much of the hugeness the song deserves (and has on some other headphones and speakers). I'm not sure I'd use it over the Natural mode for most songs, but when it works, it works. 3D Sound Stage, on the other hand, added enough obvious reverb that I noped out immediately.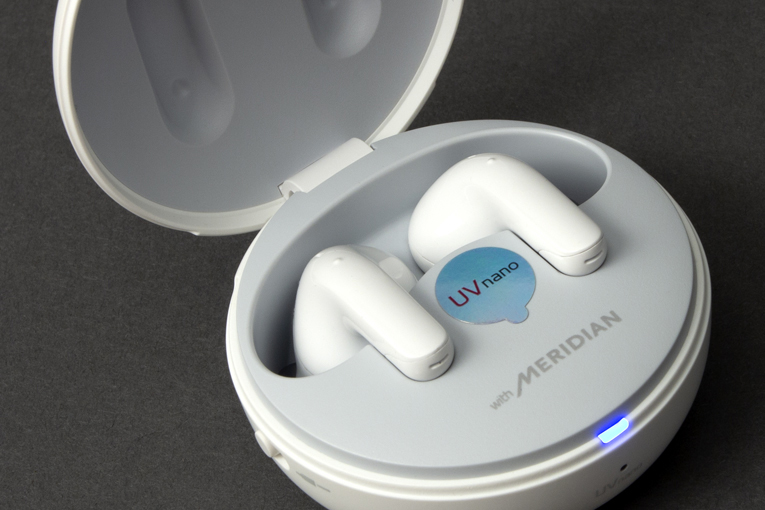 LG also paired with Dolby for Virtual Head Tracking and Virtual Sound modes. These are—and forgive my savage slander—very gimmicky. These are the Hall and Stadium receiver modes for the 21st century. That said, Virtual Head Tracking is, admittedly, a clever piece of engineering/programming. It locks the audio in place, spatially, separate from your head position. Sort of like you're listening to a pair of speakers. If you turn your head in a room with speakers, the sound doesn't turn with you. It just comes out of the speakers, and the speakers don't move. That's what happens here. You turn your head to the right; the sound "stays in place." Turn the other way, and it remains where it was. The center of the audio stays stationary while your head moves.
It's a neat trick, the kind of thing that you'd play with when you first get the earphones. You'd let other people use your earphones to check out the magic. Then . . . I can't imagine you'd use it ever again. I'm not sure what it adds to the audio experience. I suppose there's a use if you're watching a video on your phone or laptop; it's slightly more "natural" that the audio stays more-or-less locked to where the image is, despite you looking around. I've never found this to be a problem, but if you have, here's your solution, I guess. So if you primarily use your earphones for movie/game sound, this is a cool feature, but I'm not sure it's cool enough to justify buying these over other, better-performing earphones.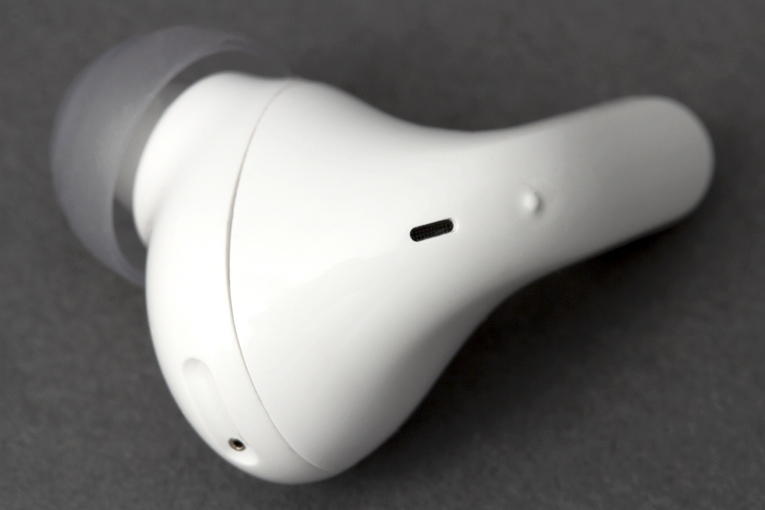 The Virtual Sound mode expands the soundstage much like the Immersive mode does, but a little less successfully. I could see myself using Immersive for certain songs—not so with Virtual Sound.
I used the LGs a lot, and after playing with all these different modes, I pretty much only ever used Natural, Bass Boost, or one of the Custom EQs I set up and saved.
Comparison
As usual, my first comparison earphones were my beloved B&W C5s. Price-wise, these are in the same ballpark, though quite different in execution. After all, the T90Qs are app-connected, noise-canceling, true wireless, audio-mode-processing marvels of modern headphone design. The C5s are exactly none of that. But I've compared them to countless earbuds, so they're my first go-to.
"It's a Shame" is one of my favorite tracks by the Swedish duo First Aid Kit (Ruins, MQA, Columbia/Tidal). It features not only the Söderberg sisters' incredible harmonies but also a solid backing band. The bass was better controlled with the C5s, one of the things I like most about them. The C5s were also more open, with a wider sound. Enabling Immersive in LG's app made an even wider soundstage, but the bass still wasn't as well defined as with the B&Ws. Bass Boost mode was, even by my bass-loving tastes, too much here, and it overwhelmed the vocals.
For something with a bit more kick, up next was "Up All Night" by Beck (Colors, MQA, Capitol/Tidal). I swapped in the Soundcore Sport X10 earphones. These are less expensive than the T90Qs, but they're also true wireless, and I mentioned their noise canceling above. With "Up All Night," the T90Qs offered far more definition, less of a muddled sound compared to the X10s. The drums hit with far more precision. Perhaps not too much of a surprise given their higher price. How much is "good for their price" damning with faint praise?
Conclusion
At $229.99, the LG Tone Free T90Q true wireless earphones are certainly not cheap, but also not overly expensive. They pack an impressive amount of features into that price and tiny size: noise canceling (some, anyway), UV-C light, head tracking, and more.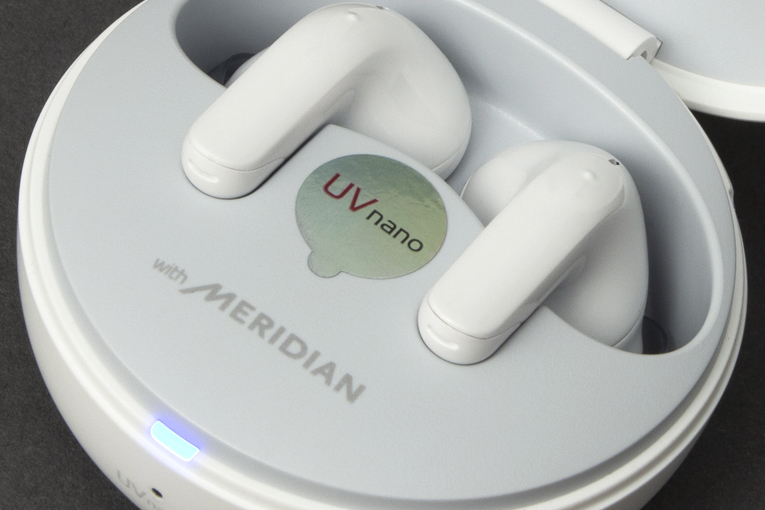 At the end of the day, though, is that enough? They don't sound bad, but they're not amazing either. Decent bass, decent clarity, but nothing that really "wows." Are the myriad features enough to justify the price? Hard to say. There are other earphones around the same price that sound better, and offer better noise canceling, but lack some of the LG earphones' bells and whistles. Maybe those bells and whistles will be enough, the same as it was for that Circuit City customer who wanted as many sound modes as they could buy.
I guess what I'm trying to say is that if someone came to me excited about the T90Qs and wanted to buy them, I wouldn't offer much in the way of dissuasion. However, these wouldn't be the first ones I'd recommend either.
. . . Geoffrey Morrison
This email address is being protected from spambots. You need JavaScript enabled to view it.
Associated Equipment
Smartphone: Google Pixel 5
Laptop: Microsoft Surface Pro 8
LG Tone Free T90Q True Wireless Earphones
Price: $229.99.
Warranty: One year.
LG Electronics
Website: www.lg.com