Originally published on SoundStage! Xperience
Phiaton MS 100 BA measurements can be found by clicking this link.
The new MS 100 BAs -- Phiaton's first earphones with balanced-armature drivers -- make me wonder once again why there's not more controversy or disagreement about balanced armatures. Look at all the stuff audiophiles do disagree about: tubes vs. transistors, the benefits (or lack thereof) of high-resolution audio, whether or not cables make a difference. Well, the audible difference between using balanced-armature and conventional dynamic drivers in earphones is much more significant than the differences you'd hear in any of the pairings just mentioned.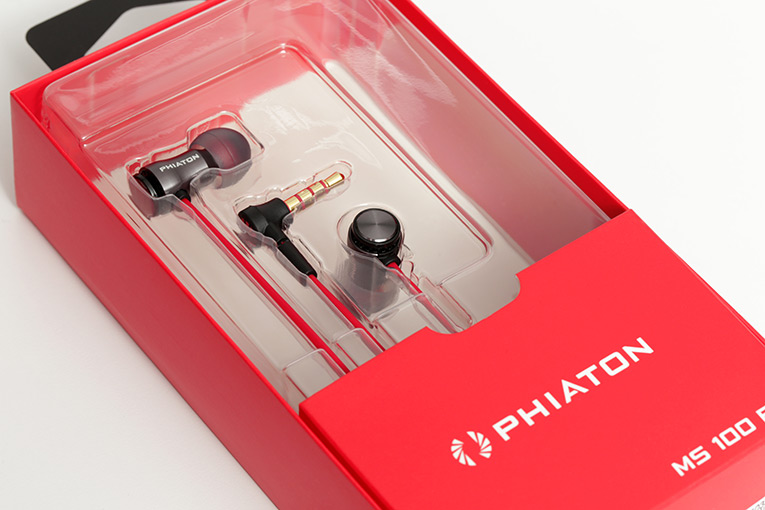 A balanced-armature driver works like a tiny, electromagnetic teeter-totter. The teeter-totter -- the armature -- is wound with a wire voice-coil and suspended in a magnetic field. One end of the armature is connected to a diaphragm. When an audio signal passes through the voice-coil, the armature moves back and forth, thus pushing the diaphragm back and forth. In comparison, a dynamic driver is a miniaturized version of a conventional speaker driver, with a voice-coil that directly drives a diaphragm.
The benefit of a balanced armature is generally considered to be a more delicate, detailed, spacious treble. But it has two big downsides. First, balanced armatures aren't known for great bass output, which is why many earphones use a dynamic driver or multiple balanced armatures for the bass. Second, balanced armatures exhibit huge impedance swings, often rising from 20 or 30 ohms in the bass to 100 or more ohms in the treble. This means that the same balanced-armature earphones can respond very differently, depending on whether they're used with source devices of high impedance (such as a typical laptop computer or cheap smartphone) or of low impedance (most headphone amps and iOS devices).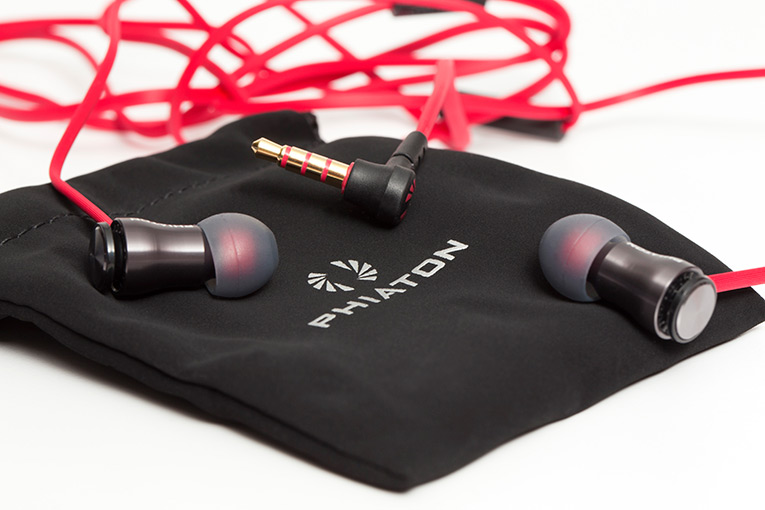 I've heard great earphones that use dynamic drivers, that use balanced armatures, or that use both -- and I'm annoyed that some balanced-armature earphones sound noticeably different when I switch source devices. Still, I find that well-made balanced-armature earphones have a smoothness, a natural character in the treble, that is exceedingly rare among dynamic earphones.
Phiaton's MS 100 BA earphones ($99 USD) have a single balanced-armature driver in each earpiece, housed in a double shell -- apparently, a plastic shell enclosed by a metal shell -- that's said to help aid acoustic isolation. An oval cable helps prevent tangling. An iOS/Android-compatible inline remote control and microphone let you take phone calls and pause the music.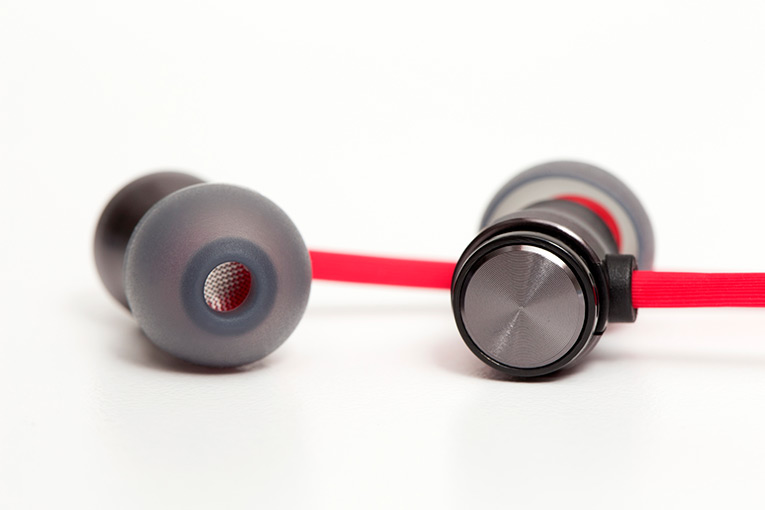 Like most of the Phiaton headphones and earphones I've tried, the MS 100 BAs come with any color cable you want . . . as long as you want red.
In the box
I've talked a lot about how important fit is with earphones -- it can affect the sound more than the design of the earphones themselves -- and am happy to report that the MS 100 BAs come with silicone eartips in four sizes. For $99 earphones, that's pretty good. (More expensive models often come with six sizes or types of tips.) You also get a cloth drawstring storage bag. And that's it. Not an embarrassment of luxuries, but what do you expect for $99? And do you actually need anything more than something to carry them in and eartips that fit?
No, you don't.
Use
The MS 100 BAs fit me just fine. The earpieces went far enough into my ears to feel fairly secure, though they did stick out a bit -- these wouldn't be my first choice for running on a treadmill, because they might work their way out. The cables didn't tangle, but did make thumping sounds in my ears as they banged against my clothes when I moved. However, the cable noise wasn't as bad as with the Marshall Mode EQs, which I recently reviewed.
Sound
I did most of my listening to the Phiaton MS 100 BAs using as the source device either my iPod Touch or my Samsung Galaxy S III smartphone -- I figured that $99 earphones probably wouldn't often be used with a high-quality amp. I did, however, connect the Phiatons to a higher-quality source, my Sony PHA-2 headphone amp-DAC, to stream tunes from Tidal through my Hewlett-Packard laptop.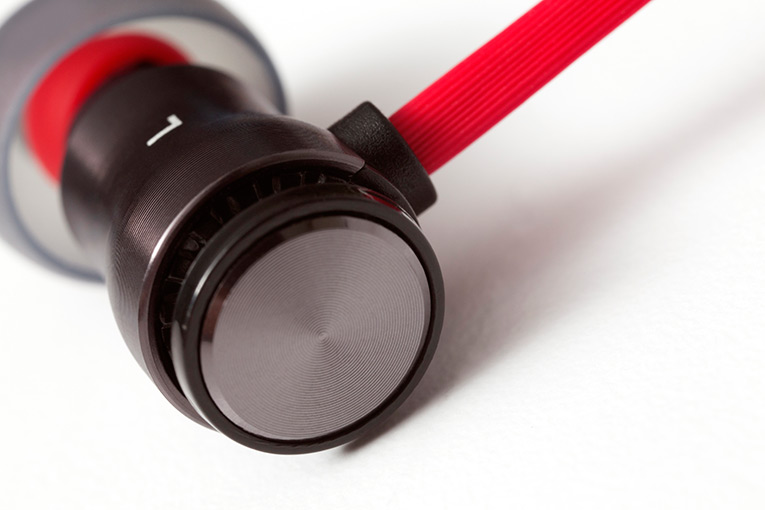 I listen to a lot of jazz, and would guess that whoever voiced the MS 100 BAs does, too. Most jazz recordings don't have a lot of bass, and the MS 100 BAs don't offer a lot. Yet they usually delivered reasonably full sound -- and the things they did well helped compensate for their somewhat attenuated bass.
When I played "Down by the Riverside," from pianist Hank Jones and double bassist Charlie Haden's Come Sunday (16-bit/44.1kHz FLAC, Tidal), I thought, "What more could you ask for $99?" The sound was exceptionally clean and well balanced. I noted just a slight upper-midrange peak -- the middle range of Jones's piano sounded ever so slightly bright -- but the sound was natural overall, easy to listen to, and very detailed.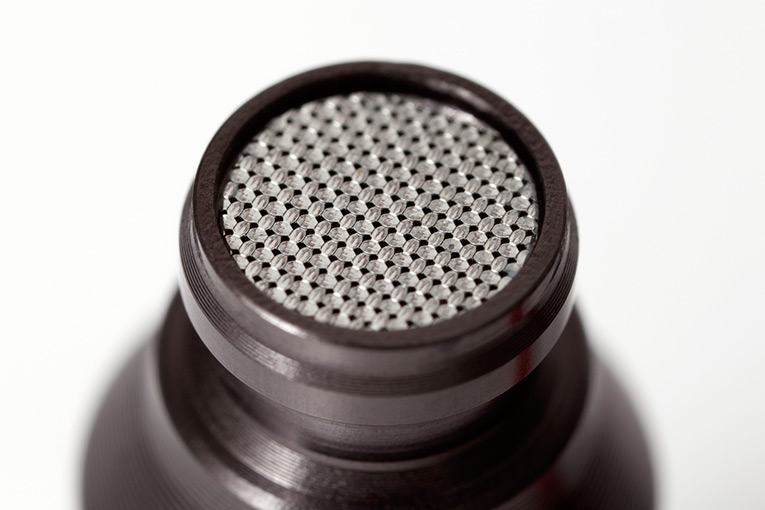 The MS 100 BAs just killed when I played Quincy Jones's arrangement of "Wives and Lovers," from Frank Sinatra and Count Basie's classic It Might as Well Be Swing (16/44.1 FLAC, Reprise). Except for maybe a tad more bottom end, what more could you want on a tune like this? Sinatra's voice sounded really, really smooth, and I loved the way the MS 100 BAs let me hear all the details of the various instruments in Basie's big band as they dropped in little accents all through the chart. I defy anyone to put on these earphones, listen to this track, and not snap their fingers.
With rock, the results were mixed. Even the same album -- R.E.M.'s EP Chronic Town (256kbps MP3, A&M) -- gave me mixed results. On the jangle-pop classic "Gardening at Night," the Phiatons sounded pretty wimpy, with not enough bass or drive and too much guitar. Michael Stipe's voice sounded clear but a tad thin -- that slight midrange peak again. The detail in the cymbals and the sitar (or sitar-like guitar playing) sounded pretty amazing, though. Surprisingly, the much more driving "1,000,000" sounded cleaner and smoother than it had through the Marshall Mode EQs, and while the bass wasn't powerful, the track didn't sound especially thin.
Yet the MS 100 BAs delivered rapper Wale's "Love/Hate Thing" (256kbps MP3, Atlantic) almost as well as they had the jazz tracks I listened to. "Definitely a higher level of fidelity," I noted when I compared them to a few other earphones in their price range, including the Marshalls. The voices of Wale and singer Sam Dew both sounded refreshingly natural -- not the way I'm used to hearing hip-hop reproduced. "Love/Hate Thing" didn't have a lot of bass power through the MS 100 BAs, but it had enough.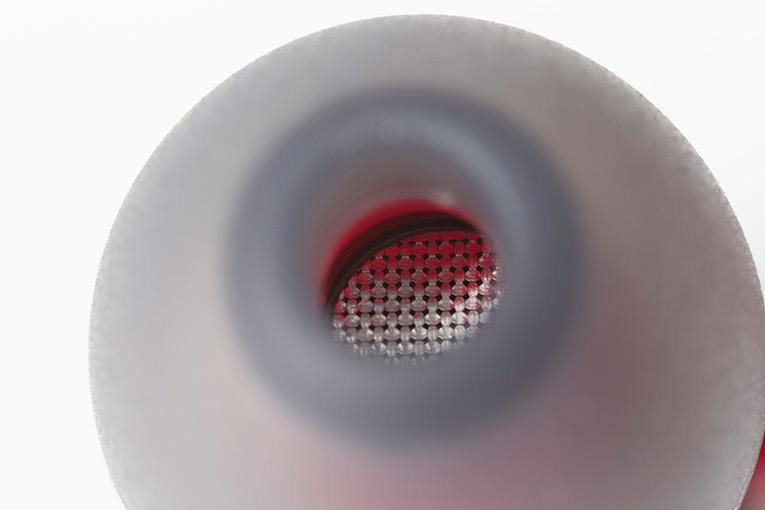 An obvious point of comparison for the MS 100 BAs was with Sony's XBA-H1 earphones, which I reviewed here last year and which have become the earphones I use most often. The XBA-H1s list for $149, but I've seen them selling online for as little as $99. Each earpiece of the Sonys has one balanced armature, and a 9mm dynamic driver for the bass.
Above about 300Hz, the two earphones sounded quite similar -- both gave me relatively flat, smooth-sounding mids and treble. Yet the MS 100 BAs' treble was subtly more refined; I could hear more of the decay of cymbals rather than just the loud attacks. In the bass, the Sonys delivered more output and much more impact, although the Phiatons' bass didn't sound weak. Overall, I slightly preferred the MS 100 BAs -- although your opinion may differ, in large part due to how much bass you like and what sort of character you want that bass to have.
Conclusion
If you want earphones that will slam you in the head with powerful bass, the Phiaton MS 100 BAs aren't the ones. But if you want earphones that deliver great reproduction of voices and exceptional treble detail -- and you want to pay less than $100 to get it -- I think the MS 100 BAs are the best thing going for the price.
. . . Brent Butterworth
This email address is being protected from spambots. You need JavaScript enabled to view it.
Associated Equipment
Apple iPod Touch (third generation)
Samsung Galaxy S III
Sony XBA-H1 earphones
Sony PHA-2 headphone amp-DAC
Phiaton MS 100 BA Earphones
Price: $99 USD.
Warranty: One year, replacement.
Phiaton Corporation
18662 MacArthur Boulevard, Suite 405
Irvine, CA 92612
Phone: (866) 313-3203, (949) 756-8918
Fax: (949) 756-8928
Website: www.phiaton.com