Originally published on SoundStage! Xperience

The relatively expensive ATH-DSR9BT headphones ($549 USD) are almost identical to Audio-Technica's ATH-DSR7BT model ($299), which I reviewed in July 2017. They employ A-T's new digital-transmission design, Pure Digital Drive. Instead of a traditional DAC feeding an analog amp, this method uses Trigence Semiconductor's Dnote technology, in which, A-T explains, "the digital pulses of the chipset move the voice coil and diaphragm [of the drivers] forward and backward to create soundwaves heard by a listener."
One can also see that the two models are from the same drawing board -- their cosmetic differences are slight. The main difference between the two is that the ATH-DSR9BTs use exclusive 45mm True Motion drivers, which feature four-core twisted DFC-7N voice coils, diaphragms with a diamond-like carbon (DLC) coating, and yokes of pure iron. By comparison, each driver in the ATH-DSR7BTs has a single, bobbin-wound voice coil and a diaphragm of less-advanced material. The ATH-DSR9BTs can accept signals of 24-bit/96kHz resolution through a wired USB connection, and 24/48 wirelessly.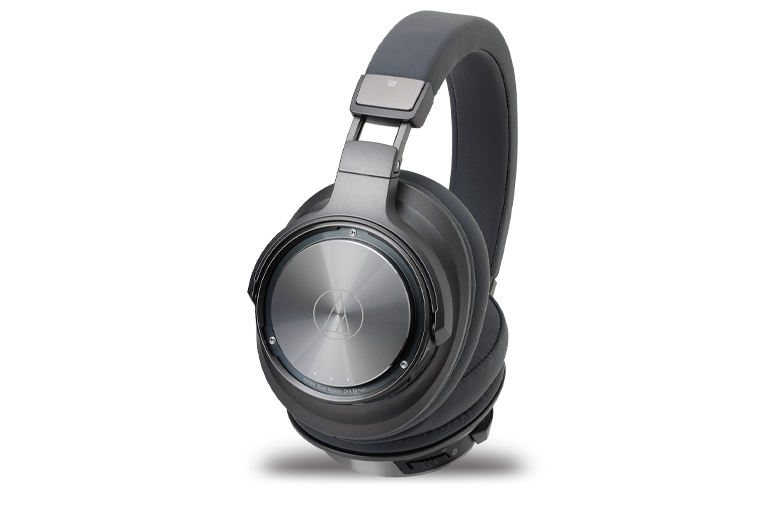 At almost twice the price, are the ATH-DSR9BTs that much better than their less expensive cousins?
In the box
The ATH-DSR9BTs' packaging is similar to the '7BTs': big, in-your-face earcup photo in front, a cutaway image of the digital path on the back, and lots of hype. And let's not forget that all-important Hi-Res Audio logo. Inside the colorful slipcover is a black box for the accessories: a heavy-duty USB-to-Micro-USB charging cord, a large instruction manual, and the usual warranty and warnings. Below that is a hard, zippered carrying case, and inside that are the headphones and a small, oval, zippered soft case for cables, etc. A small quibble: The Micro-USB end of the charging cord is proprietary. A regular Micro-USB cord won't fit these 'phones.
The construction is plastic and metal, with fake leather over the foam padding of the headband and earcups. The silvery, shiny discs to which both the armature and the earcups are attached sport a classy, right-sized Audio-Technica logo. The earcups' inner surfaces are discreetly labeled L and R, just below the driver apertures. Each earcup, oval to approximate the shape of a human ear, measures 4.0" x 3" and has an interior opening of 2.5" x 1.5". Build quality is solid overall, yet the weight is only 11.5 ounces.
The armatures are adjustable in click stops. Unlike the single plastic slider in the '7BTs, each earcup of the ATH-DSR9BTs has two metal sliders. The headphones fold flat to fit inside their carry case, but they don't fold at the hinge.
On the edge of the left earcup are three tiny LEDs to indicate various functions, including the level of battery charge. Lower on the edge is a multipurpose slider/tap switch for adjusting the volume or skipping to the next or previous track, depending how long it's pressed. Push it in directly for pause or play. Next to this switch is a covered port for charging and connecting the headphones to a computer. Also on the left earcup is a marked spot for NFC functionality, which enables Bluetooth touch pairing with NFC-compatible devices.
The ATH-DSR9BTs' Bluetooth implementation supports the aptX, aptX HD, AAC, and SBC codecs with profiles of A2DP, AVRCP, HFP, and HSP. Audio-Technica specifies a frequency response of 5Hz-45kHz, a sensitivity of 100dB/mW, and an impedance of 38 ohms, and claims that a full charge of the battery takes four hours and should last about 15 hours.
Use
The ATH-DSR9BTs fit securely and comfortably; they should be suitable for physical activity as well as armchair listening. Their range of wireless operation was about 24' -- normal for my house. The controls all functioned well, though it took me a while to get used to that multifunction slider. At first, I was never sure whether I was going to get higher volume or the next track.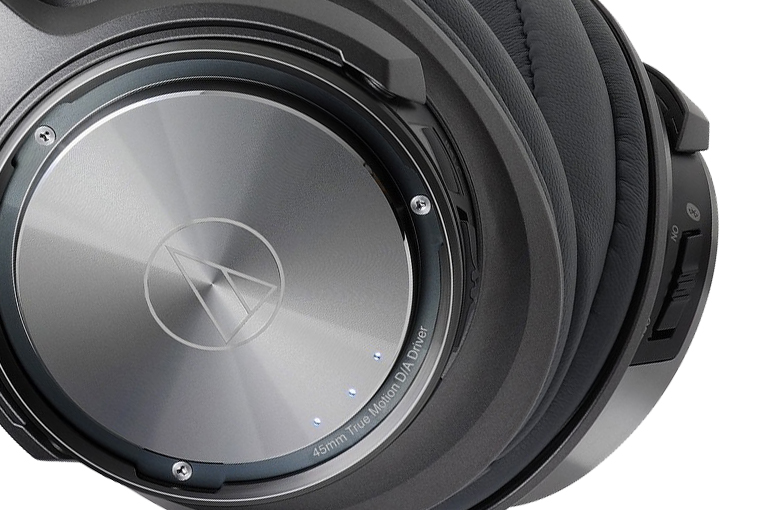 Sound
Of the ATH-DSR9BTs, I can only echo what I said last summer about the ATH-DSR7BTs: "very even sound from top to bottom of the audioband: solid bass, a nonaggressive midrange with great presence, and highs that were as even and pure as I've heard." The ATH-DSR9BTs' highs seemed just a tad brighter, and its mids and lows had a smidgen more focus. In other words, I'd be hard-pressed to hear any differences at all without direct A/B comparisons. I think the ATH-DSR9BTs will best shine when used with a top-of-the-line portable music player, something like one of the Astell&Kern or Pioneer models.
Benjamin Britten's opera Peter Grimes contains some of the most evocative, colorful instrumental writing ever composed for a stage production. In fact, Britten excerpted from it four symphonic passages, for concert performance as the Sea Interludes. Some months ago I mentioned that my favorite British orchestra these days is the BBC Philharmonic. Conducted by Edward Gardner, the BBCPO nails the Sea Interludes, as well as Britten's Cello Symphony and the symphonic suite from his opera Gloriana (16-bit/44.1kHz ALAC, Chandos/Naxos). The first Interlude opens with exposed high violins that lead to chirpy outbursts in the woodwinds, which in turn lead to somewhat sinister brass chorales. The pattern is repeated several times. As far as I'm concerned, the ATH-DSR9BTs reproduced all of these sounds perfectly. I was especially impressed that the highs were so crisp and clear, without distortion or even a hint of harshness. In Interlude IV: Storm, the timpani had notable presence and impact, and hearing the complex scoring presented so clearly, richly, and fully was a thrilling experience.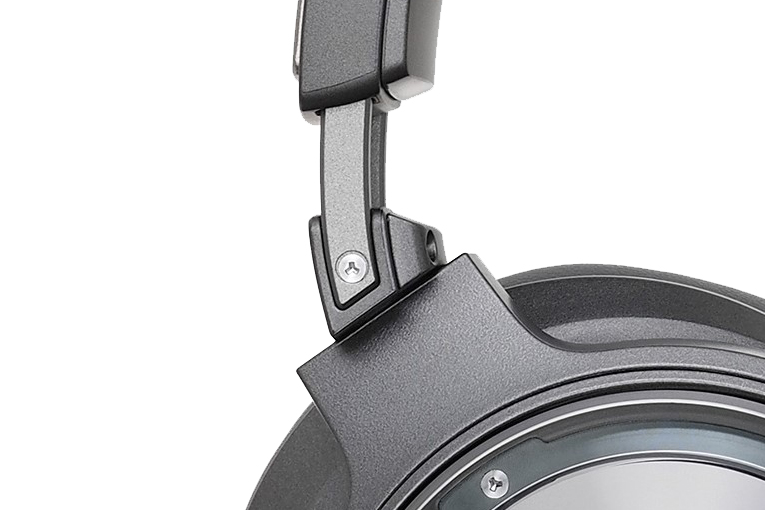 I then decided to check out the beginning of Britten's The Young Person's Guide to the Orchestra, with the composer conducting the London Symphony (16/44.1 ALAC, Decca). The scoring is often dense, especially when all sections of the orchestra are playing, and is punctuated at key points by the xylophone. The mallet strokes were clear, crisp, and hard, yet not harsh. The ATH-DSR9BTs reproduced this opening better than any other headphones I've heard.
John Williams has conducted his own music for many recordings. One of the best, with the Boston Pops Orchestra, is The Spielberg/Williams Collaboration: John Williams Conducts His Classic Scores for the Films of Steven Spielberg (16/44.1 ALAC, Sony). "E.T.: Adventures on Earth" is brilliantly orchestrated, with high string ostinatos and melodies, harp glissandos, and rich outbursts of brass and percussion, all of it ranging from pianissimo to fortissimo. Through the ATH-DSR9BTs I became fully immersed in this glorious music. When the violins play the main theme leading into the coda, it sent chills up my spine.
I'm an unabashed fan of the Nitty Gritty Dirt Band, and Hold On is one of my favorite albums of theirs (16/44.1 ALAC, EMI). "Keepin' the Road Hot" has very active bass and drums under the voices, and with these headphones I could hear it all with great transparency and good soundstage placement. In fact, whenever the recording was good enough and transparent enough -- and Hold On is -- I could follow whatever instrumental or vocal line interested me.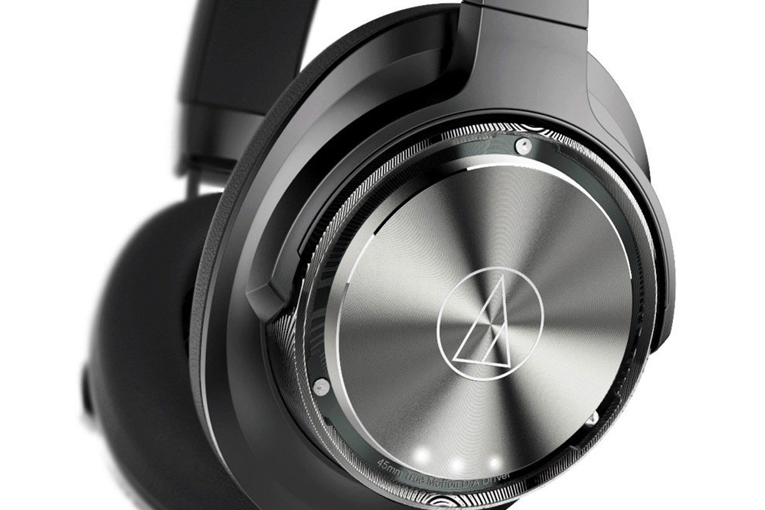 "One Angry Dwarf and 200 Solemn Faces," from the Ben Folds Five's Whatever and Ever Amen (16/44.1 ALAC, Epic), begins with Folds's raucous piano. Other instruments and vocals then crowd in, but rhythmic piano passages are audible all the way through. I found myself listening more deeply into this track than usual, because with these headphones, I could.
In sum
Tweaking an already successful design, Audio-Technica has come up with headphones that are truly outstanding. Though the ATH-DSR9BTs can serve as all-purpose headphones, they can also stand as an audiophile reference. If you already have the ATH-DSR7BTs, don't worry -- you're still getting remarkable sound. But if you have a higher-quality digital music player, or just insist on having the "ultimate" in sound reproduction, then the ATH-DSR9BTs are for you.
. . . Rad Bennett
This email address is being protected from spambots. You need JavaScript enabled to view it.
Associated Equipment
Portable music players -- Apple iPod Touch (fifth generation), Astell&Kern AK Jr, Apple iPod Nano (seventh generation)
Other sources -- Hewlett-Packard Pavilion computer, Realtek music-player software
Audio-Technica ATH-DSR9BT Bluetooth Headphones
Price: $549 USD.
Warranty: Two years, limited.
Audio-Technica U.S., Inc.
1221 Commerce Drive
Stow, OH 44224
Phone: (330) 686-2600
Website: www.audio-technica.com