Sound:











Value:











(Read about our ratings)
Measurements can be found by clicking this link.
I'd say that over the last ten years, there's been more innovation in headphones and earphones than in any other segment of audio—and there's a lot more coming. With the "wearables" and "hearables" trends, audio companies and tech companies are exploring new form factors, hearing-enhancement capabilities, and other new features that can turn headphones into a substantially different experience than what we're used to. Considering that SoundStage! Solo focuses on products targeted at audiophiles, I generally don't review these types of products here—but I decided to make an exception when I heard the Soundcore Frames.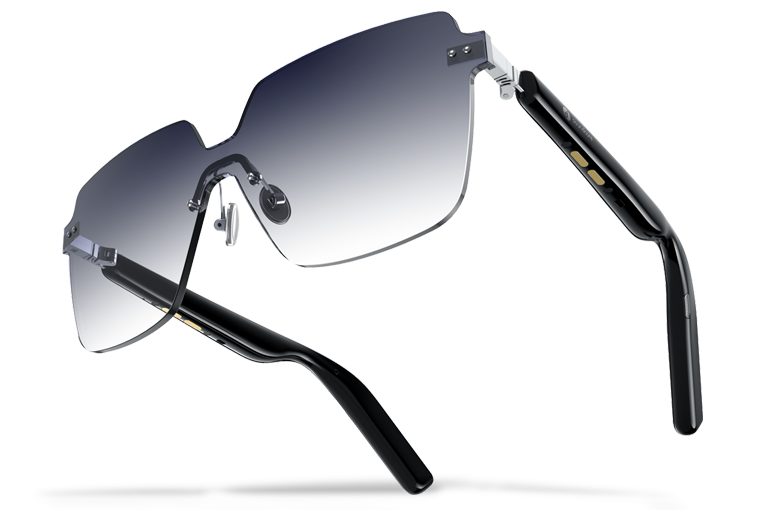 A while back, Soundcore's PR rep asked me if I was interested in any of the brand's new models. I originally turned him down when he mentioned the Frames—a set of glasses with Bluetooth audio built into the temples. But when he said he could throw a pair in for me to check out if I was curious, I decided I'd be shirking my duty as a reviewer if I didn't gain at least a little bit of familiarity with this category. After all, if a big name like Bose is doing it—and presumably investing millions of dollars in related product development—there's got to be some potential there.
The Frames ($199.99, all prices USD) are a pair of temples that work more or less like true wireless earphones. The temples attach to any of eight different choices of rims and lenses. (I used the Festival because it reminded me of early-1980s Miles Davis.) Two of the models allow the lenses to be replaced, so you can have prescription lenses made to fit them.
Each temple incorporates two micro-speakers—one positioned slightly above and forward of the pinna, firing down into the concha, and the other behind the pinna. Each speaker measures about 7mm by 2mm. On each temple, there's a pair of contacts for charging, as well as a touch-sensitive button near the Soundcore logo on the side.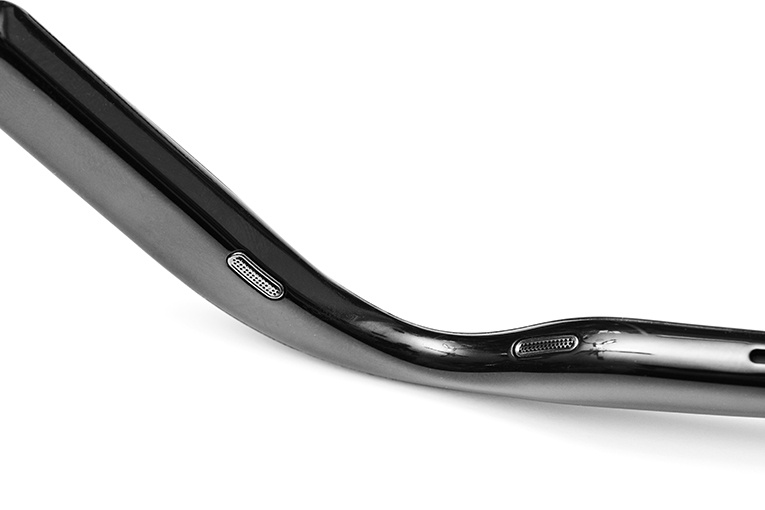 Of course, as in all true wireless products I'm aware of, there's digital signal processing onboard, which allowed Soundcore's engineers to manipulate and enhance the sound of the tiny drivers, and to achieve an effect they call OpenSurround. Having spent a couple of years working for Dolby Labs, and having heard all sorts of simulated surround-sound technologies, I'm always highly skeptical of them; they tend to introduce phasey-sounding anomalies and frequency-response aberrations. But the minute I got the Frames working and put them on—well, let's just say I heard something unusual enough that I had to write about it.
In the box
Soundcore supplies the temples, a proprietary charging cable with a USB-A connector on the charger end, and whichever set of rims/lenses you select. There's also a slim case that holds the glasses.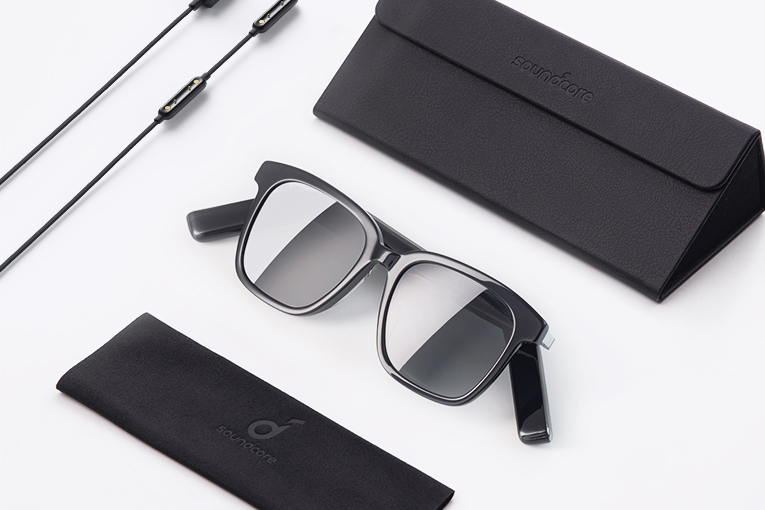 Use
I often didn't find using the Frames intuitive. They're supposed to power on when you unfold the temples, but frequently they didn't. It's obviously an issue, because the company taped a card into the package that explains how you can manually turn them on by grasping both temples at the spot where they curve down. The touch-sensitive buttons on the side also took a little bit of getting used to, but I was able to get them to respond reliably with just a bit of practice; the main problem was learning where to tap.
But in addition to the touch-sensitive buttons, the Frames also feature onboard voice command. Unlike, say, Amazon Echo devices, the Frames don't need to reach out to web-based servers to understand your commands—but that means you have to learn specific commands. Fortunately, they're pretty simple, like "stop playing," "next song," and "volume down." No wake word (e.g., "Alexa") is needed, but still, the Frames responded reliably to my commands.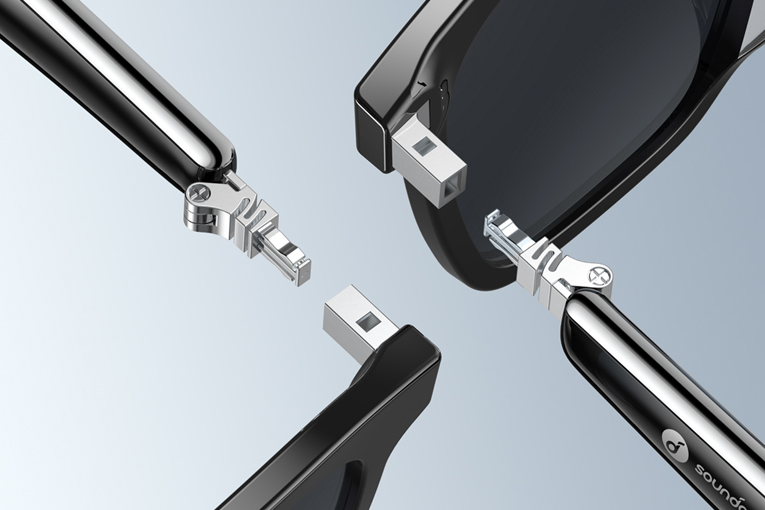 Another upside is the Frames aren't a whole lot clunkier than most Ray-Ban-style plastic frames, so I didn't find them uncomfortable, and it was a pleasure wearing them while I was walking the dog.
Another potential issue is that the Frames don't play as loud as typical true wireless earphones. In most cases, I had to play them full-blast, and with a lot of the music I listened to, that wasn't loud enough, especially when I was walking through a noisy area.
The onboard microphones for voice pickup are fantastic. When I was talking on the phone with Soundcore's PR rep, I complimented him on the clarity of his voice, and he told me he was using the Frames. I later spoke to an audio-industry-veteran friend—someone who's worked for multiple audio-technology companies and has decades of audio-production experience—through the Frames, and the voice quality blew him away. "Better than the AirPods Pro," he enthused, "some of the best phone voice sound I've ever heard." Likewise, the voice reproduction was quite clear (although without much body), which made listening to podcasts through the Frames a pleasure.
Sound
When I first heard the Frames, I was in my lab where I measure headphones. The lab is equipped with a quasi-surround system that produces six channels of uncorrelated pink noise, which I use to measure noise-canceling in headphones and earphones. As I hinted above, I had to fuss with the Frames some to get them working. When I finally got some music playing through them (I can't remember the specific tune or artist), I thought I'd messed up and accidentally connected my phone to the six-speaker system. It sounded like sound was coming from all around me, and I heard a fairly solid center image that appeared to be coming from in front of me.
I pulled off the Frames and was shocked to find that the "surround sound" I was hearing came from the glasses, not from the speakers spaced around the room. Clearly, through some combination of driver positioning and DSP, Soundcore's engineers have achieved something remarkable, similar in some ways to what I've heard from the very best headphone virtualizers, such as the Smyth Realiser.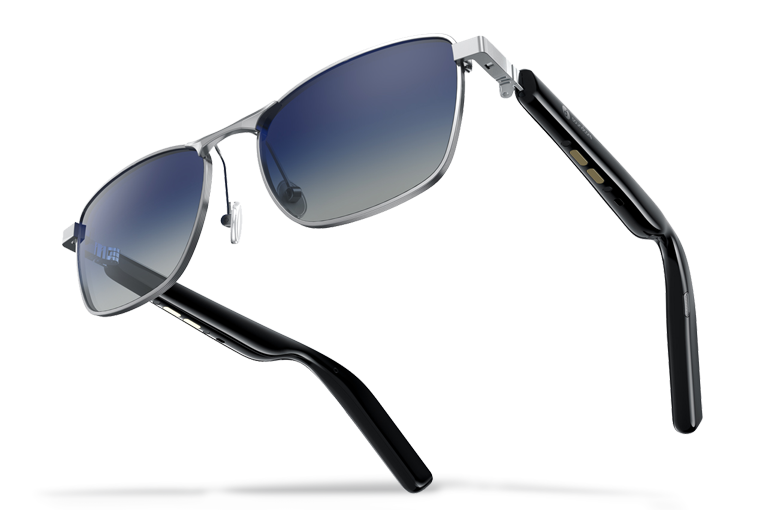 That said, the rest of my evaluation was something of a battle—on the one hand, I was enraptured by the Frames' spatial effects, but on the other, I struggled against the limitations of the tiny speaker drivers.
For example, on Cheap Trick's power-pop classic "Hello There" (In Color, 24-bit/44.1kHz FLAC, Epic/Qobuz), I heard a much more wraparound sound from the Frames than I've heard from conventional headphones or earphones. The guitar had plenty of bite and edge, with a spatial presentation that sounded more like a real electric guitar and amps, and in ways, more like a good stereo speaker system. However, the bottom end was barely there, so the drums (which already don't sound great on this recording) didn't have much body or resonance; the power of the snare drum was mostly lost, and the kick drum was absent in the mix—kind of like the bass I'm used to hearing from a small Bluetooth speaker.
Wanting a more balanced recording as a reliable tonal reference, I switched (of course) to "Fast Car" (Tracy Chapman, 16/44.1 FLAC, Elektra/Qobuz). Through the Frames, this tune—more conservatively mastered than "Hello There"—was only loud enough for very light listening. Chapman's voice was kind of centered in front of me, not as convincingly as it would be with speakers, but better than the "sound in the middle of your head" effect that conventional headphones or earphones give. The dual left/right acoustic guitars were the stars here—with acoustic guitars, at least on this recording, the body isn't so important, and the little drivers let all the twang and spaciousness come through. It reminded me of a nearfield monitoring experience, like a couple of studio monitors placed to either side of a mixing board. I did get a little bit of the bass, but not much, and the impact and specific frequencies of the bass notes were lost. Again, the snare sounded "thwacky," with little resonance.
By the way, Soundcore's app does offer five different EQ modes, but I thought the default Soundcore Signature mode was by far the best-sounding, so that's the one I used.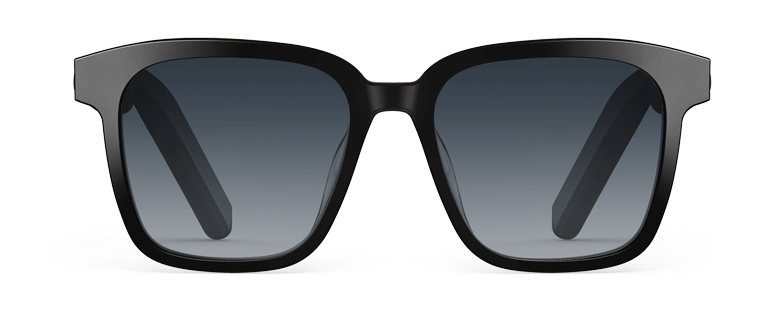 Eager to go back to some weightier mixes that might stress the Frames' tiny drivers, I put on one of the heaviest tunes ever: Led Zeppelin's "Immigrant Song" (Led Zeppelin III, 24/96 FLAC, Atlantic/Qobuz). The weird tape deck (?) noises that start the tune sounded positively creepy through the Frames, as the noises wrapped around my head. Again, there was a huge sense of space, the guitars had a big ambience, and the vocals sounded surprisingly realistic. But the kick drum sounded like someone tapping on the end of an empty Quaker Oats box. I heard only the upper harmonics of the electric bassline, as if John Paul Jones had turned the bass control on his amp all the way down, switched to the bridge pickup on his Fender Jazz Bass, and played with a pick very close to the bridge. (To my knowledge, John Paul Jones played with his fingers rather than a pick, but of course I don't know what he did on specific tunes he recorded.)
I was curious to hear what the Frames would do with Camille Thurman's version of "September in the Rain" (Waiting for the Sunrise, 320kbps Ogg Vorbis, Chesky/Spotify), which was recorded binaurally and allows even mediocre headphones to deliver a realistic sense of space. The imaging and soundstaging through the Frames were fantastic, giving me not just a hard-right image of the double bass and a hard-left image of the electric guitar, but actually letting me hear some sense of space around the instruments themselves. In this case, there's not much fundamental tone in the bass, so the bass sounded pretty realistic from a tonal standpoint. Thurman's voice seemed, as on the other recordings, to almost center in front of me. Once again, there was little impact with the drums, because all I heard was the upper harmonics of the snare and very little kick—but the cymbals sounded pretty great.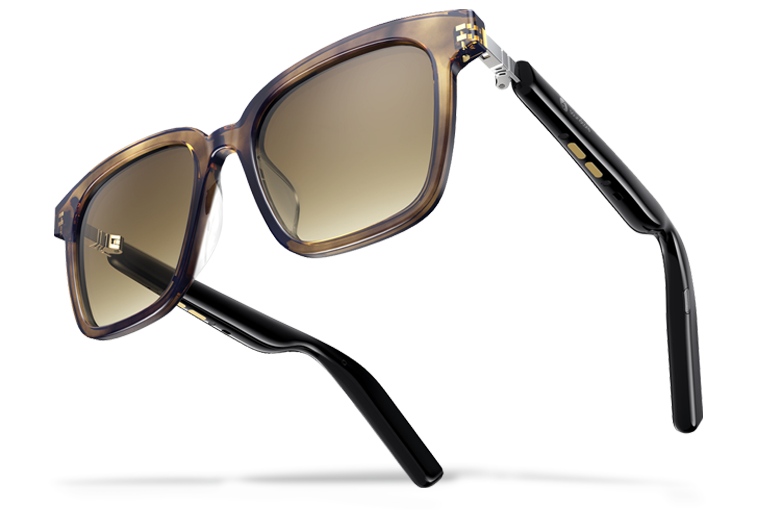 I got a similarly (mostly) appealing presentation when I put on Holly Cole's rendition of "Train Song" (Temptation, 16/44.1 FLAC, Blue Note / Qobuz), but with one interesting note—there's a high-pitched bell that follows the line ". . . that could never, never, never ring a bell," but it disappeared when I listened through the Frames, suggesting that their high-frequency response doesn't go as far out as good headphones or speakers can, or maybe their unusual configuration just didn't efficiently transmit the top octave-and-a-half of treble into my ear canals. But I never noticed any sense of softness or lack of air on this tune (or any other) when I was listening through the Frames.
Comparison
Unfortunately, I haven't heard any other Bluetooth glasses, so I didn't have anything I could fairly compare with the Frames. But I'm definitely eager to hear some more.
Conclusion
Obviously, this product category is in its infancy, and I don't know what its appeal will be. Will people want to wear a pair of Bluetooth glasses (whether sunglasses or prescription) instead of just using regular glasses with a set of true wireless earphones? If I knew the answer to that question, Apple or Google would probably be happy to pay me half a mill a year in consulting fees.
But with so much money being pumped into wearables, as well as virtual reality and augmented reality systems—and at least a couple of the sharpest audio minds I know now consulting behind the scenes on the design of these products—I think it's likely the Frames won't be the last Bluetooth glasses I review. Especially considering the impressive (and to my knowledge, unique) spatial effects they can already deliver at this early stage of development. This might actually be a category that, someday, with more development, will interest audio enthusiasts.
. . . Brent Butterworth
This email address is being protected from spambots. You need JavaScript enabled to view it.
Associated Equipment
Smartphone: Samsung Galaxy S10
Soundcore Frames Bluetooth Glasses
Price: $199.99.
Warranty: 18 months; 30-day money-back guarantee.
Soundcore
Phone: (800) 988-7973
Website: us.soundcore.com