Sound:











Value:











(Read about our ratings)
Measurements can be found by clicking this link.
The Periodic Audio Nickel is the gutsiest audio product I've seen in many years. It's a headphone amp that measures only 2" long, comes in a plastic enclosure, has no controls, no Bluetooth, no DAC . . . yet it costs $299 USD. I can't find a directly comparable product, but the FiiO A3 amp has about as much rated power, plus volume, gain and bass-boost controls, and costs only $49 on Amazon, although it is about three times the Nickel's size. The first time I encountered the Nickel at a CanJam headphone show, I had to wonder what kind of sonic juju this thing could have to justify its price.
Periodic Audio pitches the Nickel largely for its ratio of size to power. It's rated at 250mW into a 32-ohm load, but weighs only 20g (0.044lb), and it's said to nearly double that power into 16 ohms. An internal battery, chargeable via a Micro USB jack, is rated at "easily" eight hours of run time, and takes only 30 minutes to charge.
The Nickel is intended primarily as a way to give your phone a boost in volume and sound quality. Its only audio jacks are 3.5mm (1/8") ones for input from an audio source (likely a phone, tablet, or computer) and output. Plugging in a set of headphones turns it on. There are no controls, but there is an LED operating/charge indicator.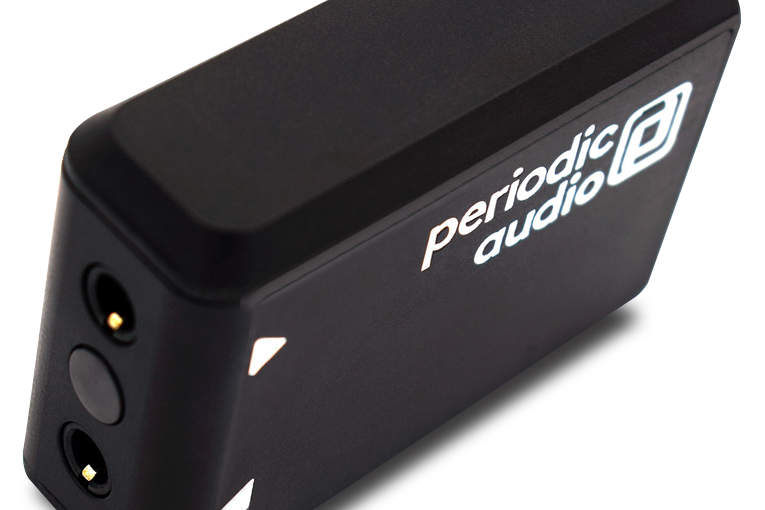 Hmmm . . . I guess there's nothing left to talk about, so I'll just listen.
In the box
The Nickel comes with a USB charging cable and an 8" cable tipped at each end with a four-conductor, 3.5mm plug.
Use
That four-conductor plug is there because the Nickel passes the microphone signal from a mike-equipped set of headphones or earphones through to the phone -- a nice feature for people who use their headphones or earphones to make phone calls.
Basically, though, there's nothing to talk about with the Nickel in terms of operation. You plug it in, listen to it, and recharge it when the battery runs down.
Sound
With the Nickel, it seemed to me that I should start with a simple test: using it to drive a set of HiFiMan HE6se headphones, the least sensitive, hardest-to-drive cans I have. First, I tried plugging the headphones straight into my phone, and listened to a few tunes from jazz pianist Ahmad Jamal's new Ballades album (16-bit/44.1kHz FLAC, Jazzbook Records/Qobuz). While the result was listenable, it was far too quiet for comfortable listening. I then connected the Nickel between the phone and the headphones and played the track -- but then prepared to yank the headphones off my ears because I'd forgotten to turn the volume down. I needn't have worried, though, as the Nickel has only 6.5dB of rated gain. The music was louder, but it wasn't dramatically louder.
It was much better, though. The Nickel brought the HE6se's up to a volume that was perfect -- comfortable -- for Jamal's music. The clarity was excellent, the soundstaging was broad, the detail was just right (neither accentuated nor diminished), and, most important to me, the Nickel had no problem getting solid, full, well-defined bass from the demanding HE6se heaphones, whether I was listening to Jamal's solo playing or his duets with double-bassist James Cammack.
I can't say the Nickel's modest gain was always enough for the HE6se's, though. On music mastered at a lower overall level, I sometimes wanted to go up a notch in volume, but couldn't. For example, when listening to "Police People," from the 20th-anniversary edition of the Pat Metheny/Ornette Coleman collaboration Song X (320kbps Ogg Vorbis, Nonesuch/Spotify), the music was loud enough that I didn't have to struggle to hear it, but it wasn't loud enough to really kick -- I wanted about 3dB more output than the Galaxy S9/Nickel combo could give me.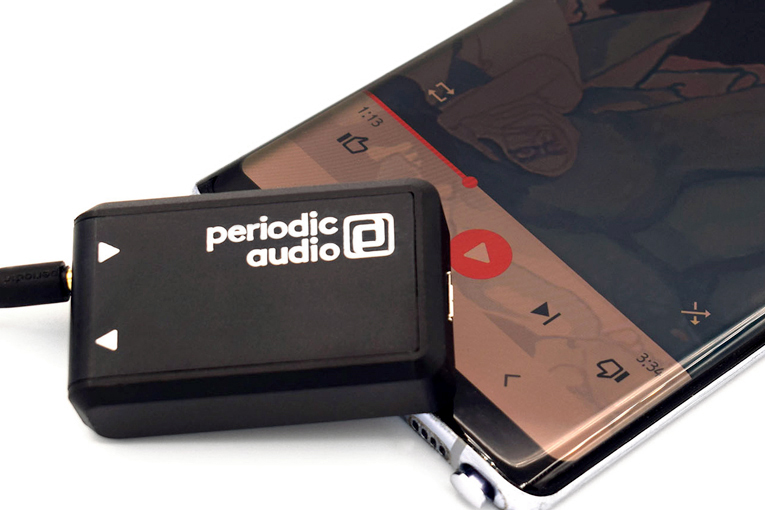 What about a set of headphones that wasn't so desperately thirsty for voltage -- such as Audeze's LCD-Xes? On the same Ahmad Jamal album, I got a satisfying listening level with the volume only two-thirds of the way up.
Of course, any device that boosts volume is likely to improve subjective sound quality, provided the headphones or speakers can handle the extra power, so the Nickel's volume increase alone would be enough to make someone think it improves the sound. That's still true even if they turn the volume down a couple of notches, because the higher initial volume raises the ear's baseline for what constitutes a comfortable listening level, and the listener is unlikely to lower the level to the same point it was before unless they have some way of measuring it -- which they probably don't.
I wanted to create some sort of level-matched comparison with and without the Nickel in the chain, and with a phone, tablet, or computer as the source. (I'd like to have done a level-matched comparison with another portable amp, but I don't have one -- all of the portable amps now in my possession have built-in DACs and are digital input only.) Despite my shelves full of test gear, I couldn't come up with an easy and reliable way to do this, as the headphone outputs on phones and computers tend to readjust their volumes when devices are connected and disconnected.
After about three hours of experimenting, I settled on listening to a music track on my computer through foobar2000, measuring the output of the connected headphones with pink noise using my GRAS Model 43AG ear/cheek simulator, connecting the Nickel into the chain, matching the level using pink noise, then listening to the music track again through the Nickel. The crudeness of the volume steps in foobar2000 gave me a level match within about plus/minus 0.3dB -- not adequate for serious technical analysis, but a lot more accurate than attempting to match the levels by ear. So here's what I heard . . .
On bassist/vocalist Casey Abrams's version of "L-O-V-E" (Jazz, 24/192 AIFF, Chesky), heard through the LCD-X headphones, the bass seemed a little more defined with the Nickel in the chain; there was a little less boom and somewhat better pitch definition. Abrams's voice also sounded a little clearer.
On jazz drummer Paul Kreibich's version of "Triple Play" (Thank You Elvin, 16/44.1 WAV, Blujazz Productions), again heard through the LCD-Xes, I noticed that the tune -- a high-energy, three-saxophone romp -- sounded a little more dynamic with the Nickel in the chain, and Kreibich's ride cymbal sounded smoother. Without the amp, the ride cymbal took on a somewhat crispy quality, almost as if it had a little piece of plastic taped to it, subtly buzzing in sympathy with the cymbal. I would normally be suspect of a subjective improvement that occurs when a device is added to a signal chain, but in this case, the LCD-Xes present a power demand that the computer's internal headphone amp wasn't designed to handle, so it's possible.
Substituting the Beyerdynamic Amiron Homes (dynamic-driver, over-ear headphones with rated impedance of 250 ohms), and listening to Holly Cole's version of "I Could Write a Book" (Holly, 16/44.1 WAV, Universal), I couldn't hear much, if any, improvement with the Nickel in the chain.
When I tried the Nickel with the Campfire Audio Solarises -- complex, hybrid earphones combining a single dynamic driver and three balanced armatures -- I heard differences similar to what I heard on the Paul Kreibich album when I played a 16/44.1 WAV recording of my jazz group Tonic Trio playing in a small wine bar in Beverly Hills. Without the amp in place, the flute in our version of "Mambo Influenciado" had that same crispiness I heard in Kreibich's ride cymbal -- and I heard the same effect in the sound of the bartender clinking silverware together. With the Nickel in place, the treble was notably smoother.
Comparison
Because I had no other portable amps on hand -- until now, no one's ever suggested that I review these products, and the last time I did so was eight years ago -- I can't compare the Nickel directly with anything on the market except from the specs. And not that I have an encyclopedic familiarity with the various offerings in this category, but I can't find an amp that combines the Nickel's small size and power output.
For example, the FiiO A1 is about the Nickel's size, but it's rated at 78mW into 16 ohms -- about one-sixth the Nickel's rated output into the same load -- and the A1 has a volume control and costs just $24.95 on Amazon. All the portable amps I can find with rated output in the same range as the Nickel are about three times the Nickel's size, and typically a third of its price.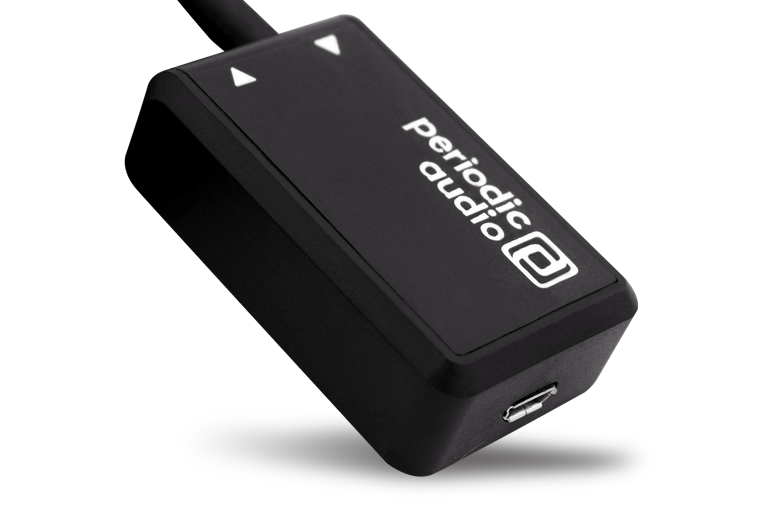 Of course, you can also get an amplifier-DAC like the AudioQuest DragonFly Red and use that with your phone; you'll get the benefit of a better DAC than your phone probably has, and a very capable headphone amp to boot. You can also get a decent high-resolution portable music player from Astell&Kern, FiiO, or Sony for the price of the Nickel (or less), although that's an extra piece of gear you'll need to configure, and it'll be a few times the size and weight of the Nickel.
Conclusion
The appeal of the Nickel is its simplicity. You can connect it to your phone, tablet, or computer (or in the case of phones without a headphone jack, to a Lightning or USB-C dongle) and rest assured that you've got enough amp to get optimum performance from your headphones. (That's assuming you aren't using ultra-demanding headphones such as the HiFiMan HE6se's or Susvaras, but who would draft those monsters into portable use?) You don't have to worry about compatibility of an outboard DAC with your source device, and there are no controls to adjust. There's not even a power button to deal with.
So while there are certainly more cost-effective (and possibly more effective, period) ways to get good sound on the go, the Nickel makes sense for listeners who seek the simplest solution, and who aren't at all price-sensitive.
. . . Brent Butterworth
This email address is being protected from spambots. You need JavaScript enabled to view it.
Associated Equipment
Headphones -- HiFiMan HE6se, Audeze LCD-X, Beyerdynamic Amiron Home, Campfire Audio Solaris
Laptop -- Lenovo Windows PC running foobar2000
Smartphone -- Samsung Galaxy S9
Periodic Audio Nickel Headphone Amplifier
Price: $299 USD.
Warranty: Five years repair or replacement.
Periodic Audio
4882 McGrath St., Suite 100
Ventura, CA 93003
Phone: (855) 724-4367 or (307) 683-4151
Website:www.periodicaudio.com