Sound:











Value:











(Read about our ratings)
Measurements can be found by clicking this link.
Many companies selling DAC-headphone amps snazz them up with every possible feature and a design that grabs attention. Lehmannaudio has a different approach. Its Linear USB II DAC-headphone amp ($2199 USD) is about as simple as it could be: basically one digital input, a stereo analog input, a volume knob, and two 1/4" unbalanced headphone outputs, all in a plainly designed rectangular chassis. I'm only mildly familiar with the company -- Lehmannaudio is a German brand that seems best known in Europe, and I'd previously encountered it only at Munich's High End show -- but I gather from reading around a bit on the Internet that elegant simplicity is the company's thing.
I can tell from the specs that, other than top-grade parts, there's nothing wildly exotic inside the 11"-long chassis, either. It's a solid-state amp with a rated 400mW of power into a 60-ohm load, plenty enough for practically any headphones. Rated output impedance is fairly low at 5 ohms; this should assure that the Linear USB II doesn't significantly interact with the reactance of your headphones, which would push them outside their intended frequency response.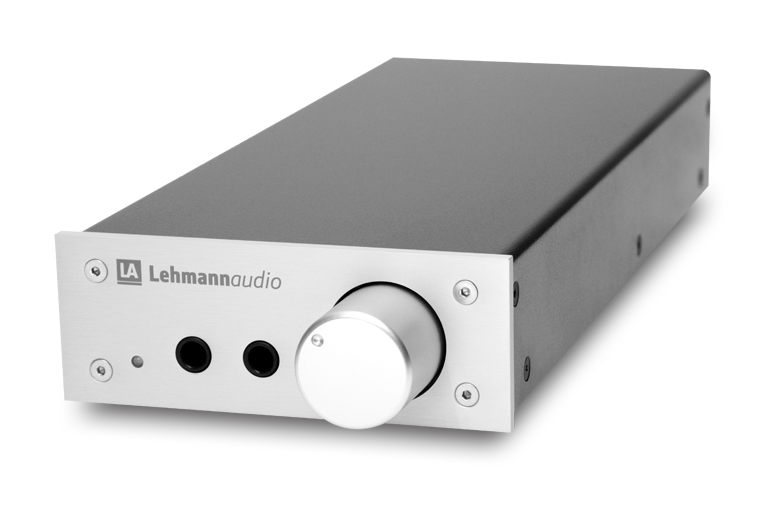 The 32-bit/384kHz DAC has only a USB input; when there's no USB signal coming in, the amp automatically switches to the RCA stereo analog inputs. It accepts PCM signals only, no DSD. Bottom-mounted DIP switches let you select 0, 10, 18, or 20dB of gain. There's a set of RCA line outputs for using the Linear USB II as a preamp and/or DAC; plugging in headphones mutes the signal at the RCA outputs. The only thing that seems out of the ordinary is the inclusion of three SSC damping feet.
In the box
The Linear USB II comes with just an AC cord and a manual.
Use
Almost nothing to discuss here. Plug it in, connect an analog and/or digital source, and play. If you have low-sensitivity headphones, such as the HiFiMan HE6se or Susvara planar-magnetic designs, you'll need to raise the gain using the switches on the bottom. Lehmannaudio has thoughtfully placed labels on the bottom that tell you how to use the switches and inputs -- basically, they're putting the manual right on the product, a solution so effective and so obvious that it's a wonder we haven't seen it before. (I haven't, at least.)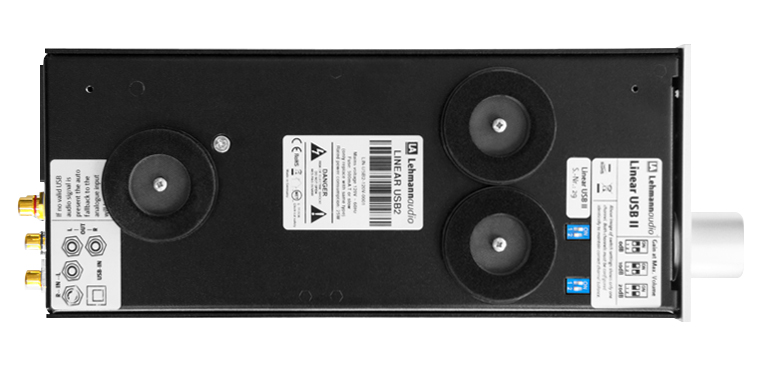 Sound
I tend to do most of my headphone amp reviewing using the HiFiMan HE6ses, because of all the headphones I have, they present the greatest demand on an amplifier. I also used the Beyerdynamic Amiron Homes, which have dynamic drivers with a rated impedance of 250 ohms, and the Campfire Audio Solarises, my favorite of all the earphones I've heard to date.
Thanks probably to the Linear USB II's relatively low output impedance and ample power, I had a similarly good experience no matter which headphones or earphones the amp was driving. I did have to bump the gain up by 10dB to get the HE6se headphones playing loud enough, and I might have had to kick it up still further had my listening included a recording mastered at a very low level, as even with the gain up 10dB I had to run the amp's volume close to full blast when using the HE6ses. But the amp never sounded strained or distorted when I pushed it -- in fact, its fundamental character never changed no matter how I used it. As I was coming off recent reviews of somewhat fussy tube and portable headphone amps, this was a welcome change of pace.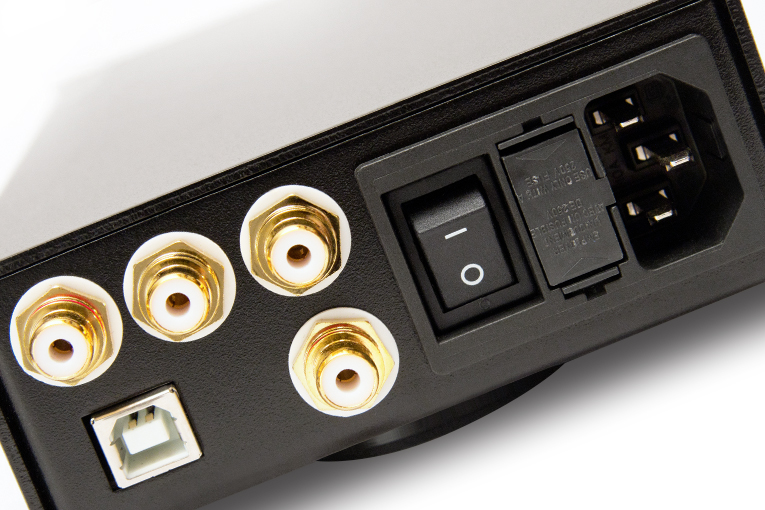 So what is that fundamental character? I don't want to get real elaborate with a description, as the differences among DACs and headphone amps are usually very subtle, but to put it simply, I'd say the amp section of the Linear USB II sounds just a hair on the mellow side, and the DAC section sounds just a hair on the bright side, at least compared to the gear I had on hand (an Audio-gd NFB1-AMP and a Musical Fidelity V90-DAC). Incidentally, all comparisons were made with the levels matched to within ±0.03dB, a precision that the Linear USB II's analog volume potentiometer and the NFB1-AMP's precision digital volume control made easy. (Again, a welcome change of pace.)
For example, on "Kazaru," from Los Angeles-based violinist/composer/producer Miguel Atwood-Ferguson's Unreleased Vol. 2 (16-bit/44.1kHz WAV, self-released), the high-frequency components of the recording -- mainly Atwood-Ferguson's violin and the cymbals -- sounded just a tad softer when I used the Linear USB II as the amp, and just a tad edgier when I used the NFB1-AMP. The bass of the Linear USB II also sounded slightly fuller and fatter, perhaps a psychoacoustical phenomenon caused by the subtly mellower top end. "Kazaru" sounded great through both amps, just a smidge different, and I enjoyed both.
It's interesting to note that while neither amp had any problem driving the demanding HE6se headphones, the Linear USB II is less than 20% of the NFB1-AMP's size, and the NFB1-AMP doesn't incorporate a DAC. The Linear USB II is definitely more desktop-friendly than most high-end headphone amps.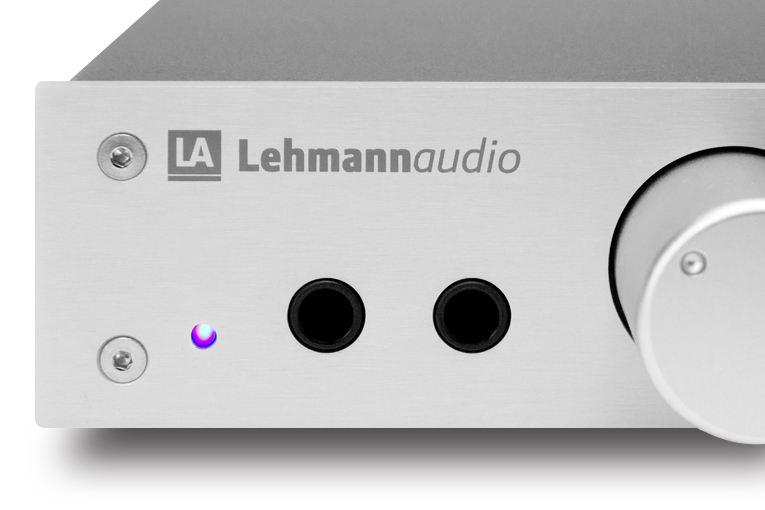 This impression held up when I played "Fly Me to the Moon" from Diana Krall's Live in Paris (16/44.1 FLAC, Verve/Qobuz). For whatever reason, the Linear USB II seemed to conjure a slightly more realistic sense of Krall sitting at the piano, with her voice seeming to come from a couple of feet above the keyboard and the instrument's soundboard ringing out from right in front of her -- yet the NFB1-AMP's slightly brighter sound gave it a subtly enhanced sense of space. The Linear USB II's somewhat rounder-sounding bass also gave the bass on "Fly Me to the Moon" a little extra heft.
I mentioned previously that the Linear USB II's internal DAC sounded very slightly brighter than the Musical Fidelity V90-DAC I often use. To describe it a bit further, when I played "Painting No.5," from David Chesky's Trio in the New Harmonic (24/96 AIFF, Chesky), the cymbals had a little more sense of air and space through the Linear USB II, but perhaps a little less of the brassy mellowness of typical cymbals used for jazz recordings. Otherwise, it was hard to hear a difference on this album, whether I used the Linear USB II's internal DAC or the V90-DAC fed through the amp's analog inputs.
Comparison
I've already mentioned comparisons with other gear I had on hand, but it'd be useful to talk about where the Linear USB II stacks up against other competitors.
Surprisingly, there really aren't that many direct competitors to the Linear USB II. Most of the solid-state DAC-headphone amps cost less than $1000, and most of the products in its price range are separate amps that don't include a DAC. One of the few clear competitors I could find is Sennheiser's HDV 820 DAC-headphone amp ($2399.95), which features-oriented headphone enthusiasts will likely prefer, as it adds DSD capability as well as three- and four-pin XLR balanced outputs, along with a 4.4mm balanced output.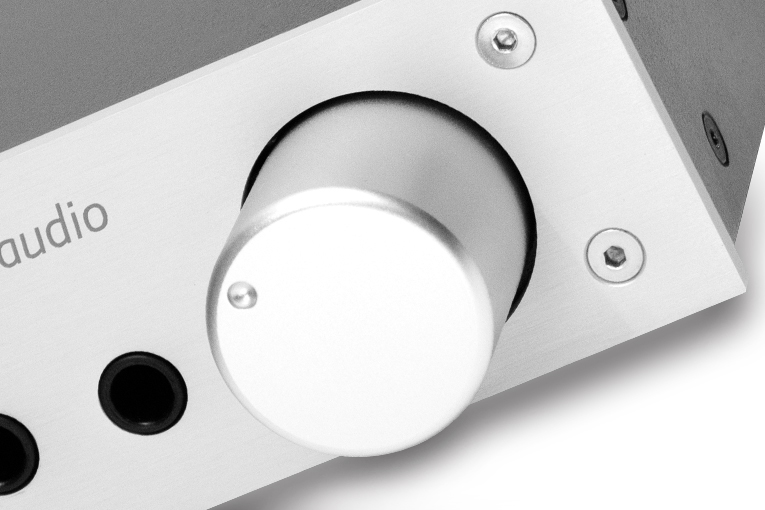 Of course, you could get a good separate amp and DAC for the price of the Linear USB II, although that would likely take up a lot more real estate on your desktop and would add at least one pair of cables plus an extra AC cord and maybe a separate power supply, too -- although you'd likely get balanced output in the bargain.
Conclusion
The Linear USB II is one of the few audio products whose looks nicely sum up its performance. It's a simple, straightforward, effective headphone amp, with very good sound quality, no performance quirks whatsoever (at least none that I encountered), and the ability to drive any headphones I've tested. Some enthusiasts may demand balanced headphone outputs (and perhaps balanced line inputs, too), or a more sophisticated DAC with coaxial or TosLink optical inputs and DSD capability. But if you just want to plug your headphone amp into your computer, plug in your headphones, and get great sound, the Linear USB II is an appealingly simple -- although pricey -- way to do it.
. . . Brent Butterworth
This email address is being protected from spambots. You need JavaScript enabled to view it.
Associated Equipment
Headphones -- HiFiMan HE6se, Beyerdyamic Amiron Home, Campfire Audio Solaris
Source -- Lenovo Windows PC running foobar2000
Lehmannaudio Linear USB II DAC-Headphone Amplifier
Price: $2199 USD.
Warranty: Two years parts and labor.
Lehmannaudio Vertriebs GmbH
Waltherstr 49 51 51069 Köln
Germany
Phone: +49 221 29 49 33 20
Website: www.lehmannaudio.com