Originally published on SoundStage! Xperience
Audiofly AF1120 earphones measurements can be found by clicking this link.

We audiophiles think of ourselves as sophisticated, discerning consumers, but the "more is better" trend in earphones makes me wonder. In this case, "more" means more drivers. You can now buy earphones, such as 64 Audio's A12s, with as many as 12 drivers per earpiece. Yet you can also buy high-end earphones, such as Sennheiser's IE 800s, with just a single driver per ear. And, of course, you can get models in between, such as Audiofly's six-driver AF1120 earphones ($699.99 USD).
It is possible to get full, accurate response from 20Hz to 20kHz using a single driver per earpiece -- something no single-driver speaker can even approach without seriously compromising the sound quality. Headphones with more drivers can have lower distortion, but distortion isn't generally a problem with earphones.
So what's the best way to go? We're left with personal taste and opinion to guide us. You wouldn't be reading this if you weren't interested in my opinion, so I'll say that I do believe that using two to four drivers per earpiece yields better sound -- assuming that the earphones have been well designed and wisely voiced. However, I'm not so confident that using more than four drivers per earpiece provides major benefits.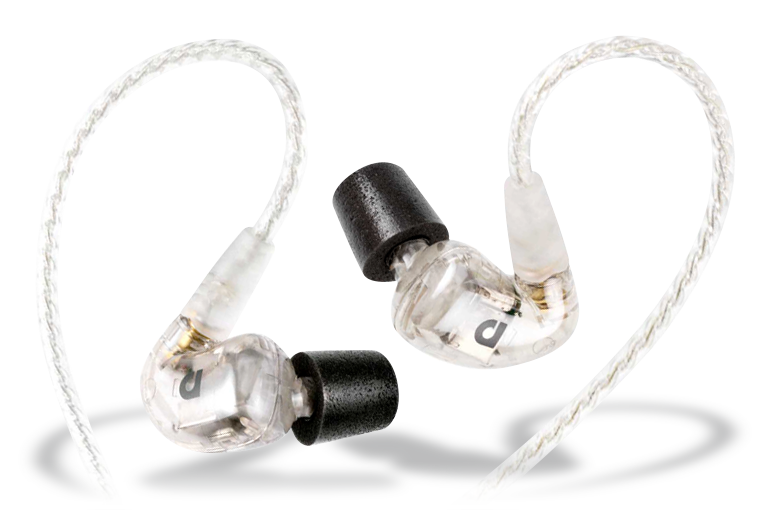 The AF1120s are a three-way design: two balanced armatures for the bass, two for the midrange, and two for the treble. The six drivers are packed into a modestly sized enclosure. Even though exotic materials such as titanium or ceramic are increasingly common in high-end earphones, and promoted as reducing resonance and vibration, the AF1120s' drivers are wrapped in plain old clear plastic. The removable cables snap on with industry-standard MMCX connectors, and the lower section of the cable is reinforced with Cordura fabric.
Like most high-end earphones, the AF1120s use over-ear cable routing, which makes it difficult to pull them out accidentally, and which also can make the earphones fit better into your ear and form a better acoustic seal.
In the box
The package includes nine sets of eartips: three sizes in plain silicone, three in triple-flange silicone, and three in Comply foam. A detachable 66" (168cm) cable tipped with a 3.5mm right-angle plug is included, along with a 1/8"-to-1/4" (3.5 to 6.2mm) adapter, a dual-mono airplane adapter, and a tool for cleaning the earpieces.
Although the AF1120s themselves are tiny, Audiofly supplies a carrying case measuring 5.5" by 4" by 1.5". It's way too big to fit in a pocket, so I put it aside and used a much smaller case from a set of earphones I long ago discarded. If the AF1120s' stock case is too bulky for you, too, you can get a smaller one for less than $2 on Amazon.
Use
If you're used to over-ear cable routing, I expect you'll find the AF1120s easy to use and comfortable enough for many hours of nonstop use. I felt not the slightest discomfort when I wore them almost the entire way on a round-trip flight from Los Angeles to London. I also got a good seal without much effort, which helped the AF1120s block outside sounds and also ensured the best possible sound quality. If you're not used to over-ear cable routing, I strongly recommend getting used to it. You'll get a better, more secure fit and more consistent sound quality. The AF1120s were a little easier to get used to than many earphones of this type, because the ends of the cables near the earpieces are shrouded in plastic tubes that mold them into an ear-fitting shape.
The AF1120s could easily play loud when connected to my Samsung Galaxy S6 phone, and even louder with my iPod Touch music player; they should deliver satisfying volume with any source device.
Sound
I began my experience with the AF1120s using the largest of the supplied Comply foam tips. Even with elemental mainstream rock, such as "King Contrary Man," from the Cult's Electric (16-bit/44.1kHz WAV, Beggars Banquet), I could hear that the AF1120s' midrange and treble reproduction were clear, lifelike, and nearly free of coloration. This clarity, combined with the AF1120s' comfort, made them my first choice for all of my travels in the two months leading up to my writing of this review.
The bass I heard from the AF1120s was tight and precise, but not the kind of thing that got my foot tapping when I played my favorite rock and jazz recordings. I've come to accept restrained bass as the norm in audiophile earphones, and the attenuation didn't leave the AF1120s sounding fatiguing, so I used them with the Comply tips for the first month or so. I began to wonder, though, if I might get a little better seal in my ear canals from the largest of the supplied silicone tips -- and, in the process, get more bass.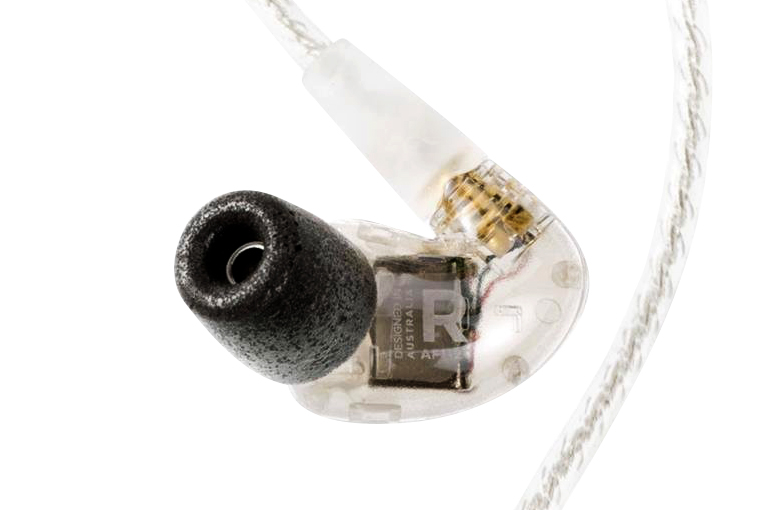 That worked. Listening to a more recent metal album, Metallica's Hardwired . . . to Self-Destruct (320kbps Ogg Vorbis, Blackened/Spotify), I could hear that the large silicone tips gave me plenty of extra bass without having the psychoacoustic effect of diminishing the treble, which often happens when headphones' bass output is increased. I didn't think the treble was quite as silky-smooth with the silicone tips -- I did hear just a slight trace of sibilance in voices and sizzle in cymbals compared with what I heard using the Comply tips -- but the sound was much more balanced and natural overall. I loved the way the AF1120s extracted James Hetfield's voice from the mix, making it crystal clear even as it emerged from a relentless speed-metal background.
Although I never went back to the Comply tips, that doesn't mean you shouldn't. An audiologist told me that my ear canals are about 10% wider than average, so they can present a fit challenge. The best sound I heard from the AF1120s was with the Comply tips when I held them in slightly to get a better seal. This gave me the slightly smoother treble of the Comply tips with the more powerful bass of the silicone tips. So start with the Complys. The fit of earphones greatly affects the sound, and I can't say for sure which option would work for you, but with nine sets of eartips in three sizes and three styles, the AF1120s offer an excellent chance of getting a combination that works great for you. Especially with the silicone tips installed, the AF1120s felt to me much as my NAD Viso HP50 over-ear headphones do: a reliable choice for giving me natural, uncolored reproduction of the music I wanted to hear.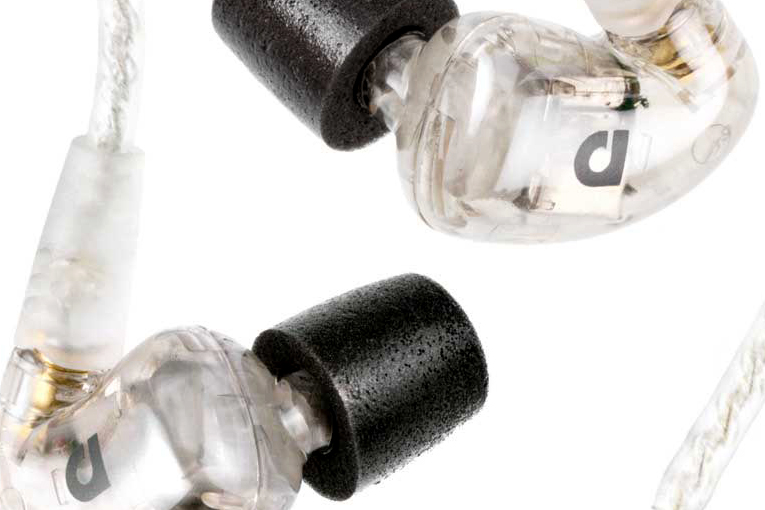 The AF1120s even made a recent pop hit, "Cold Water," by Major Lazer (256kbps MP3, Mad Decent PS), sound . . . I don't want to say "natural," but certainly balanced. The earphones' clarity also made the arpeggiated guitar and all the little electronic sounds that percolate through the recording seem . . . again, not natural, but delightfully lively and enveloping.
The one area where I felt the AF1120s gave up something in comparison to the other earphones I had on hand was in soundstaging. With "This Little Light of Mine," an a cappella vocal performance from Dr. Chesky's Ultimate Headphone Demonstration Disc (16/44.1 WAV, Chesky), I couldn't find a thing to complain about tonally, but I did notice that the sound had more of a hard-right/hard-left stereo effect than I'm used to hearing with this track. When I switched to the PSB M4U 4s, another set of multidriver audiophile earphones, I heard a more realistic sense of space -- voices seemed to be more spread out across the soundstage than isolated in the left and right channels. Spaciousness was a priority in the voicing of the M4U 4s, but they couldn't match the AF1120s' fuller tonal balance.
Conclusion
My experience with the AF1120s reminded me of Audiofly's AF140s, which I reviewed in June 2014. I liked the AF140s' sound, which I found easy to listen to for hours at a time. The AF1120s have that same character, but their bass is more natural and controlled, and their mids and treble are clearer and sound more detailed. Their combination of wear-'em-all-day comfort and superbly balanced sound makes the AF1120s one of the most appealing sets of earphones I've reviewed.
. . . Brent Butterworth
This email address is being protected from spambots. You need JavaScript enabled to view it.
Associated Equipment
Sources -- Samsung Galaxy S6 smartphone, Apple iPod Touch music player (sixth generation)
DAC-headphone amp -- Audioengine D3
Audiofly AF1120 Earphones
Price: $699.99 USD.
Warranty: Two years repair or replacement.
Audiofly USA
23421 South Pointe Drive
Suite 260
Laguna Hills, CA
92653 USA
Phone: (949) 945-2170
Fax: (949) 336-1807
E-mail: This email address is being protected from spambots. You need JavaScript enabled to view it.
Website: www.audiofly.com