Sound:











Value:











(Read about our ratings)
Measurements can be found by clicking this link.
According to market research firm Futuresource, true wireless earphones already account for 30 percent of earphone sales by volume and more than 60 percent in dollars, and by 2023 they're expected to account for more than half of all total headphone retail revenue. But almost all of them are rather plain when it comes to acoustics -- usually just a single dynamic driver per earpiece. The Soundcore Liberty 2 Pro earphones ($149.99 USD) use a unique driver arrangement to break out of the functional but uninspired engineering common to the category.
Soundcore calls its driver array the Astria Coaxial Acoustic Architecture. Its hybrid design places a balanced-armature driver in front of an 11mm dynamic driver, which the company says eliminates interference between the drivers. Typically, the balanced armature and dynamic driver would fire through tubes into a single soundtube, from which the sound travels to your ear.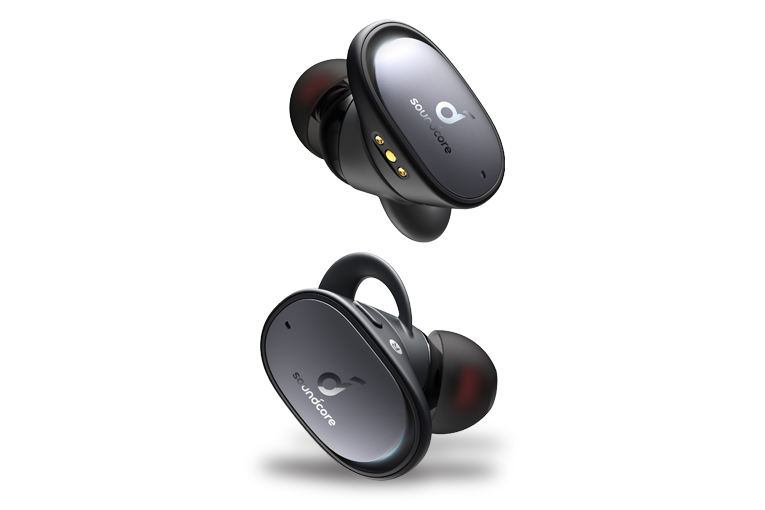 The Liberty 2 Pro earphones have a few other interesting features, too -- most notably an app that administers a hearing test and automatically optimizes the sound for your hearing, and also provides a selection of other EQ curves optimized for different types of listening material. The rated battery life is also impressive: eight hours, versus five or six for typical true wireless earphones. The included charging case is said to provide three more charges, for 32 hours of running time. The case charges through a USB-C connection or through a Qi wireless charger, and if you completely run out of charge, 15 minutes of charging will give you about two hours of playback.
The earphones are IPX4-rated, which means they're sweat-resistant but unlikely to survive a real soaking. Four internal microphones with noise reduction are said to make phone conversations clearer even in less-than-ideal conditions. They also include the standard version of the aptX Bluetooth codec.
In the box
As noted above, the Liberty 2 Pros include a charging case. That's typical in this category, but what's not typical is that the Liberty 2 Pros include a generous selection of silicone eartips: seven different varieties/sizes, to be precise. They also include silicone "ear wings" in three sizes, which could help the earphones stay put in your ears.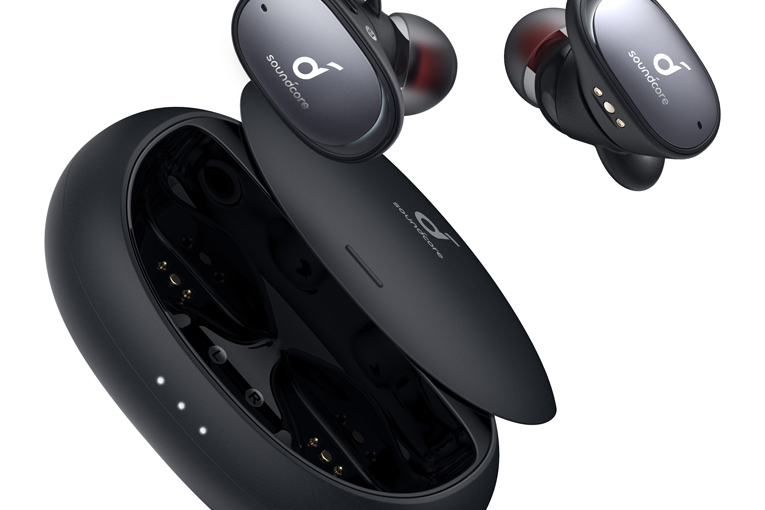 Use
The largest of the Liberty 2 Pros' tips fit my larger-than-average ear canals OK enough that I used them for a while that way and generally enjoyed the sound. Still, it wasn't tight enough that I trusted the seal to give me the intended sound, so I substituted Periodic Audio Hydrogen single-flange large tips, which I often use when I can't get an ideal fit. My listening panelists were delighted with the selection of tips and had no problem getting a good fit or figuring out how to insert them.
Instead of asking you to push buttons on the sides of the earpieces to adjust volume, skip tracks, etc. -- and mash the earphones deeper into your ear canals -- the Liberty 2 Pros have a button at the top of each earpiece. You can configure the buttons through Soundcore's app. This works fine for play/pause and skip forward, but I was never able to get the buttons to control volume up and down, even after updating the earphones' firmware. No big deal, as I haven't found a set of true wireless earphones yet that has a really good control system. Just use your phone.
The app's Hear ID test works well. It's similar to the test you'd get at an audiologist, but it takes only three minutes. The results squared pretty well with my latest hearing exam in determining that my hearing in my right ear is better than in my left. You can turn the personalization feature on and off after you take the test. For me, it worked fairly well, making the sound subtly more lively; without it, the earphones sometimes sounded a little dull. Most of the hearing-correction EQ systems I've heard in headphones gave me results that were way too trebly, so this is pretty impressive.
Sound
Listening to Steely Dan's "West of Hollywood" (Two Against Nature, 24-bit/96kHz FLAC, Warner/Qobuz), I thought the sound of the Liberty 2 Pros was pretty good, with what appeared to be a mild upper midrange emphasis, slightly dull treble, and not a whole lot of bass. The sound with the personalization on was much better, with somewhat fuller bass yet also with clearer treble, and no negative impact on the midrange. The sound still wasn't what I'd call mellow or smooth or relaxing, but working with a lot of listening panelists over the years, I've found that people generally like a vivid and lively sound like this, as long as it's not unnatural.
A similarly well-produced track, Tracy Chapman's "Fast Car" (Tracy Chapman, 320kbps Ogg Vorbis, Elektra/Spotify), gave me a similar result. The sound without personalization was fine but didn't especially thrill me; the upper treble seemed soft while the mid-treble was emphasized. The mid-treble was still emphasized with the personalization on, but the upper treble sounded much clearer. Still, it wasn't as smooth as I'd hoped, so I switched to the Soundcore Signature EQ curve, which deactivates personalization. This sounded more balanced to me. I can't say the treble had that delicacy and smoothness that I expect from a balanced-armature design, but it was certainly a more balanced sound overall.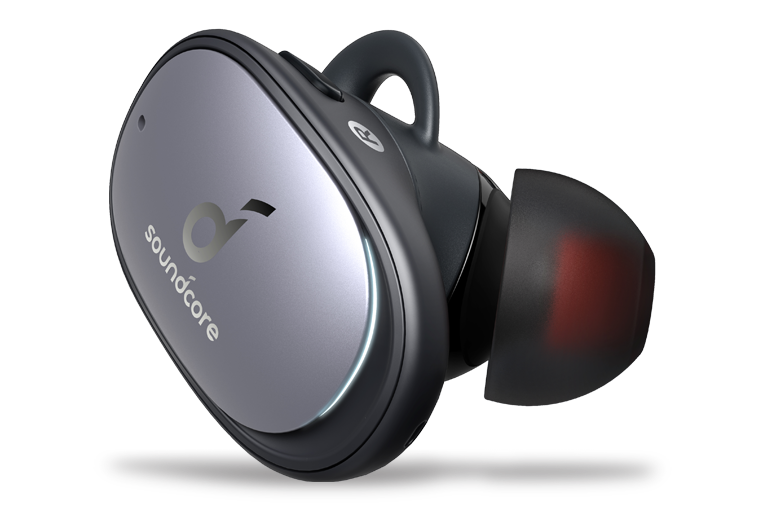 Soundcore Signature mode also gave me the most pleasing balance -- although the difference was less dramatic -- when I played "Detour," from the Who's fantastic new album Who (16/44.1 FLAC, Interscope/Qobuz). There was still just a bit of upper midrange emphasis, but I was fine with it because the treble and bass were in nearly ideal balance. The sound was spacious and lively. In Soundcore Signature the treble was a hair softer, and that's why I liked it better. The bass was full and grooving, yet tight and well-defined.
Saxophonist Joe Henderson's delicate jazz suite "Black Narcissus" (Power to the People, 16/44.1 FLAC, Milestone/Qobuz) still showed some upper mid emphasis no matter what mode I used, but I thought it sounded more exciting and dynamic with personalization on, even though Soundcore Signature mode sounded smoother. All the details in Ron Carter's wonderful improvised contrapuntal playing came through clearly, and I heard precise positioning of Herbie Hancock's electric piano, Jack DeJohnette's ride cymbal, Carter's notes, and Henderson's melody. Still a little bright for me, but nice overall. In comparison, the EarFun Free earphones sounded smoother and more relaxing to listen to long term -- not bringing out quite as much detail in Carter's plucking, but giving Henderson's tenor and DeJohnette's ride cymbal a smoother sound.
Comparison
I asked two outside listeners to give me their opinion of the Liberty 2 Pros: LeRena Major, a Los Angeles saxophonist who's held several positions in the music business and is a voting member of the National Academy of Recording Arts & Sciences; and Dan Gonda, a Los Angeles multireed player with a heavy gigging schedule including appearances with our group, Tonic Trio. They didn't run through the Hear ID process, but they did try a couple of the EQ modes in the app. They compared them with the EarFun Frees and with a few wired earphones I had on hand.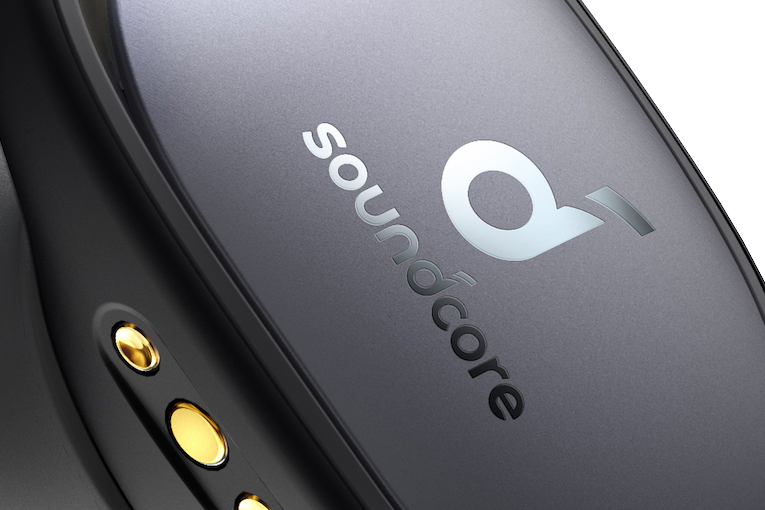 They described the sound much as I did above. "It's pretty full and balanced from low to high," Dan said, "but the upper midrange sounded too crisp for my taste. On 'Stolen Moments' [by saxophonist/composer Oliver Nelson, from The Blues and the Abstract Truth, 320kbps Ogg Vorbis, Blue Note / Spotify], the trumpet stood out and sounded bright, even though it's not a bright-sounding trumpet."
"I liked them overall, but they're a little midrangey. Voices stood out more than usual," LeRena said. "I like them better than the EarFuns, though, because they sound clearer."
Conclusion
I'm a little torn with the Liberty 2 Pros because, overall, I really like the design and the features, and my panelists did, too. There seems to be an inherent upper midrange push to the sound, which the Hear ID and the Soundcore Signature modes don't tame, at least not for us. However, bringing the 2 and 4kHz sliders down in my phone's EQ gave me a more balanced sound. So if you like the design and are willing to mess with the app and maybe a little EQ'ing with your phone's own app, these are a good choice, especially since they're currently selling at a substantial discount from the price listed here.
. . . Brent Butterworth
This email address is being protected from spambots. You need JavaScript enabled to view it.
Associated Equipment
Smartphone -- Samsung Galaxy S9
Soundcore Liberty 2 Pro True Wireless Earphones
Price: $149.99 USD.
Warranty: 18 months; 30-day money-back guarantee.
Soundcore
Phone: (800) 988-7973
E-mail: This email address is being protected from spambots. You need JavaScript enabled to view it.
Website: www.soundcore.com