Sound:











Value:











(Read about our ratings)
Measurements can be found by clicking this link.

When I first saw the EarFun Frees, I thought they might be the answer to a question I've had for a couple of years now: When will someone make good, cheap true wireless earphones? Once you've tried true wireless earphones that fit well and work reliably, you'll probably want a set. Even if you're a hardcore audiophile who listens through $3000 headphones powered by a tube amp, true wireless earphones are an irresistibly convenient choice for day-to-day activities, such as walking the dog or cleaning the house. But for such casual use, do you really want to spend $200 or $300?
Whether the Frees are good or not, we'll find out below, but they do borrow some of the basic form factor of the Jabra Elite Active 65t earphones, my current true wireless "daily driver." Like the Jabras, the Frees have a curved sound tube and somewhat short eartips, a combination I've found delivers a comfortable and secure fit as well as a tight seal in the ear canal. There's no doubt, though, that the Frees are -- well, not free, but certainly affordable, at just $49.99, in your choice of black or white.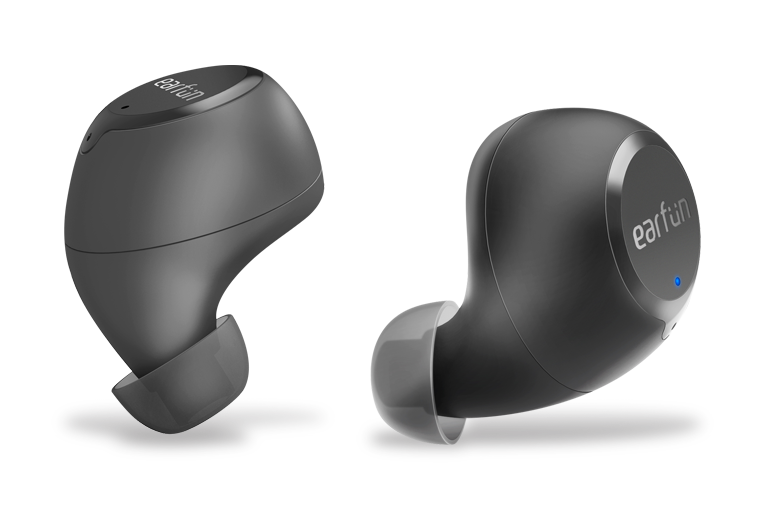 These don't seem to be cost-slashed earphones, though. They use 6mm drivers with diaphragms made from graphene, a material formed from a single layer of carbon atoms that's said to be 100 to 300 times stronger than steel, but much lighter. They're IPX7-rated, so they can survive submersion in water, and, more relevantly, sweat. And they have noise-canceling microphones to make your phone calls a little clearer.
In the box
Like almost all true wireless earphones, the Frees include a charging case. This one provides four additional charges of the earphones before the case itself has to be charged again. (The earphones are rated at six hours of battery life, so the charging case extends that to a rated 30 hours.) The case charges via USB-C and can also be charged through a Qi wireless charger. Ten minutes back in the case gives the earphones about two hours of extra play time.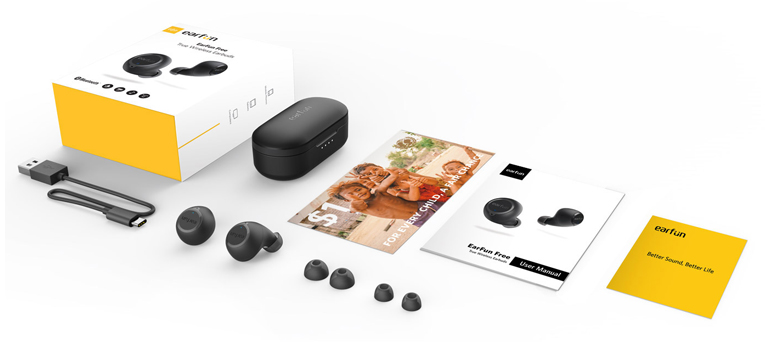 Silicone eartips in three sizes are also included. These tips are a little unusual in that they're relatively short: about 6.5mm long, versus about 8mm for typical silicone tips. This may make it challenging to find replacement tips.
Use
The largest of the Frees' tips fit my ears beautifully, and the earphones stayed secure in my ears as I walked my Shih Tzu, cleaned my living room, ran measurements on a bunch of subwoofers, dug through my home's stucco siding to repair a ruptured water pipe, and had long phone chats with my mom. While the Jabra Elite Active 65t earphones start to chafe in my ears after about 40 minutes, I found I could wear the Frees for about two hours with no discomfort.
The possible flaw in this product is that the Bluetooth connection can be a little dicey. I had no problem listening to music, but when having phone conversations, the other person's voice sometimes jumped into one earphone for a minute or two, then ping-ponged a bit, then played through both earphones for a while, etc. It reminded me of the end of Led Zeppelin's "Whole Lotta Love," where almost everything in the mix (including the drums) starts panning between the left and right channels. Disconcerting or cool? You decide.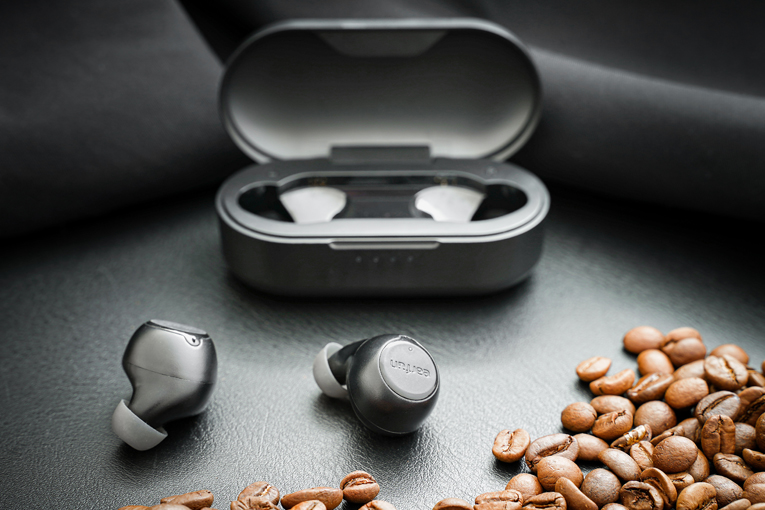 I've also heard about problems getting the Frees to pair reliably with each other and with the source device. I experienced no such problems, but still, I'd say make sure you buy these (or any other true wireless earphones) from a vendor with a generous return policy.
You can start or stop playback by pressing the side of either earphone. You can also skip to the next track by pressing the left earphone twice, or skip back by pressing it three times. I found the start/stop operation reliable, but my fingers never developed the finesse needed to get the track skip functions to work reliably.
Sound
I've tried a couple dozen true wireless earphones at this point, and the Frees rank among only three or four that haven't had me rushing to my phone's EQ app to fix the sound. I'd say they're close to neutral sounding, perhaps just a tad soft in the treble. For several weeks, they replaced my Jabras as my go-to true wireless earphones, and I always found myself enjoying the sound, no matter if I was revisiting 1970s Aerosmith albums, digging into more recent R&B and hip-hop tunes to learn for a gig, or just listening to my favorite podcasts.
Holly Cole's Night (256kbps MP3, Tradition & Moderne) is one of my favorite recordings of the 2010s, not just because I like the music but also because the contrast of Cole's clear, warm voice and the unusually full double bass makes for challenging audio test material. Through the Frees, the bass lick that opens "Good Time Charlie's Got the Blues" didn't bloat as it does with many earphones (and speakers), didn't obscure Cole's voice, and didn't sound thin or twangy. With one exception, Cole's voice sounded natural and even, with a just-right balance of low-frequency body and upper-frequency articulation and clarity. The exception is that, like almost all dynamic-driver earphones, the Frees show a bit of sibilance and congestion in the lower treble, but in this case it's less than I usually hear from even much-more-expensive wired earphones.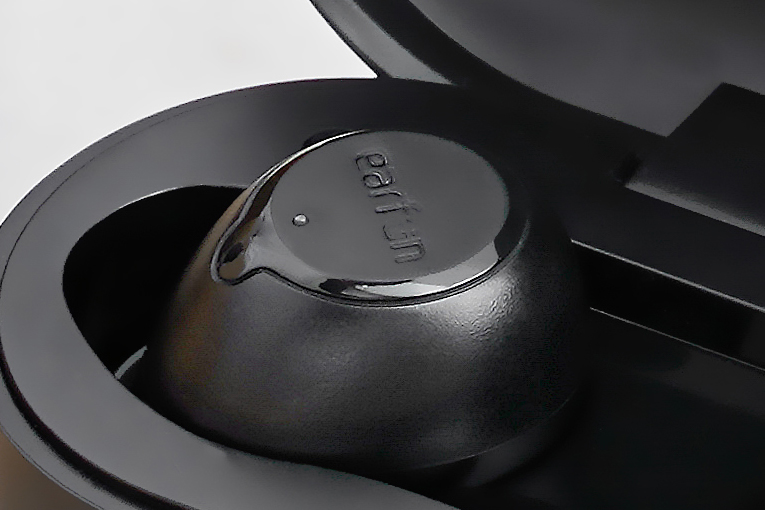 Perhaps even more challenging is keyboardist Jon Batiste's Chronology of a Dream (16-bit/44.1kHz FLAC, Verve/Qobuz), in which keyboardist Batiste (famous as the music director for The Late Show with Stephen Colbert) leads an ensemble through a live performance of complex and funky arrangements at Manhattan's famous Village Vanguard jazz club. "PRINCE" features a melody played simultaneously by multiple horns and double bass. I loved the way the Frees placed all the horns in a seamless soundstage, capturing the intimate ambience that has helped make the Vanguard so popular over the decades. They reproduced the bass notes evenly with no boom, and brought out all the detail in the tambourine and bongos that take the place of a snare and cymbals, without giving the tambourine the mid-treble edginess I often hear in inexpensive earphones (and which I heard when I played this tune through the Jabra Elite Active 65t earphones). The one thing I didn't like about the sound was that the Frees made the annoying punchy kick drum in this tune sound even more annoying.
I got that same nice combination of spaciousness and natural timbre when I listened to Bob Dylan's classic "Tangled Up in Blue" (Blood on the Tracks, 16/44.1 FLAC, Columbia/Qobuz). Many headphones and earphones either exaggerate or muffle the natural reediness of Dylan's voice, but the Frees seemed to get it just right. The three acoustic guitars -- one left, one right, one centered -- didn't blur or blend into each other, nor did they obscure the delicate and perfectly-in-time accompaniment of the hi-hat and snare drum. In many ways, this tune is a big, trebly racket that wraps all around you, balanced by sustained electric bass notes; it's a lot for any audio system, especially a $49.95 one, to sort out, but the Frees did it.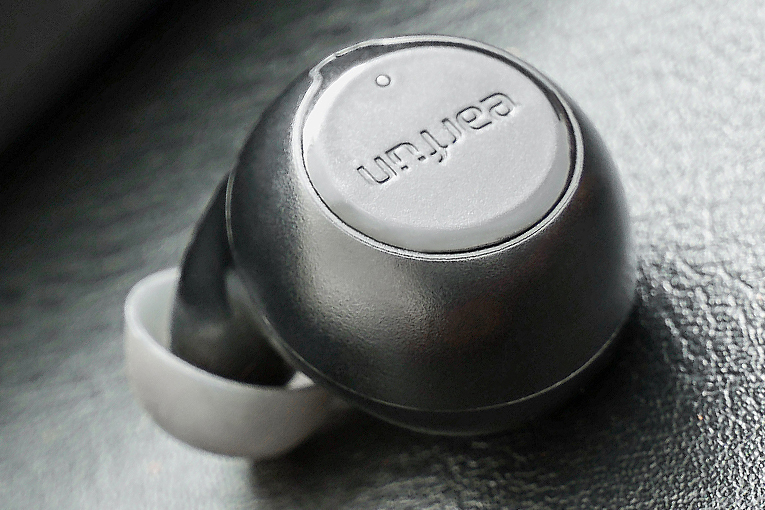 I encountered few recordings where the Frees seemed to deviate from natural sound. While I can't cite any particular genre or instrumentation that the Frees had a problem with, I'll give one stray example: Quatuor Hanson's recording of the Haydn String Quartet No.2 in C Major, Op.54 I. Vivace (All Shall Not Die: Haydn String Quartets, 16/44.1 FLAC, Aparté/Little Tribeca/Qobuz). On this recording, the Frees' lower treble seemed a little overabundant and slightly etched, with the violins sounding a little too present and glaring for my taste, almost as if they were performing in a room with wood paneling, floors, and ceiling. Through the Jabras, the violins sounded smoother and more pleasing to my ears, although I can't say for sure which earphones would be closer to the sound of a live performance in this case.
Comparison
Because of travel commitments, I was only able to get one of my L.A.-based listeners to give the Frees a spin: LeRena Major, a Los Angeles saxophonist who's held several positions in the music business and is a voting member of the National Academy of Recording Arts & Sciences. In her time doing listening tests with me, she's heard at least a dozen wireless earphones, and while she generally likes the form factor, a lot of them just sound OK to her.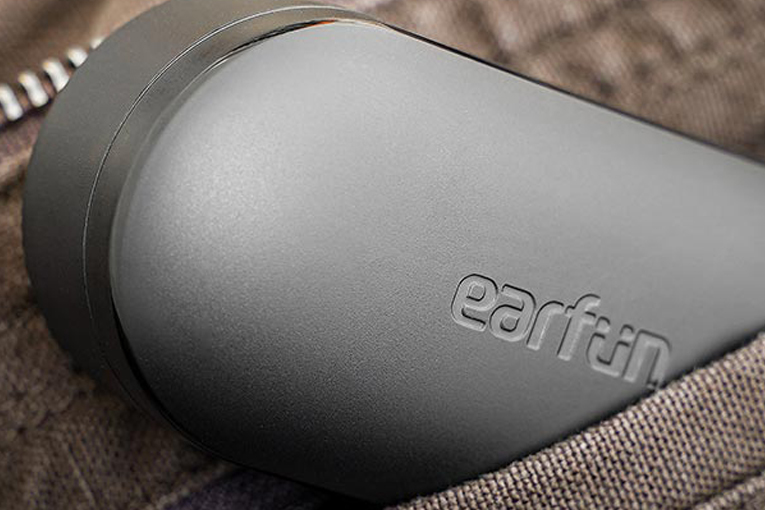 Not the EarFun Frees, though. Even before I told her how little they cost, she raved about them, especially when she compared them with the Jabra Elite Active 65t's (which rank among the best-reviewed true wireless earphones to date, I have to point out). "The Jabras are serviceable, but you notice the improvement with the EarFuns immediately," she said. "Whether it's a recent recording or a classic, they sound incredibly rich for wireless earphones, and there's a lot more detail than I've heard from most of these. Of all the wireless ones you've played for me so far, these are the best."
Conclusion
Although there are all sorts of advanced features (voice command, noise canceling, etc.) available in true wireless earphones, I find tremendous appeal in a simple set of true wireless earphones that are comfortable, good sounding, and affordable. I think the EarFun Frees are, at present, the best option for that. I think they're a great buy for anyone, even hardcore headphone enthusiasts -- after all, even the most dedicated audiophiles need something to wear while walking the dog.
. . . Brent Butterworth
This email address is being protected from spambots. You need JavaScript enabled to view it.
Associated Equipment
Smartphone -- Samsung Galaxy S9
EarFun Free True Wireless Earphones
Price: $49.99 USD.
Warranty: 18 months; 30-day money-back guarantee.
EarFun, Inc.
Phone: (323) 471-5868
E-mail: This email address is being protected from spambots. You need JavaScript enabled to view it.
Website: www.myearfun.com