Sound:











Value:











(Read about our ratings)
Measurements can be found by clicking this link.
Research shows that listeners' opinions of headphones don't vary as much as many audio publications would have you believe -- so voicing headphones to conform to the response most listeners prefer in blind tests is a pretty sure bet. But as anyone who's ever conducted a blind test of speakers or headphones can tell you, people's opinions about sound do differ substantially. So it wouldn't be a crazy idea to make the sound of your headphones variable, to accommodate different listener tastes. That's exactly what Simgot has done with the EK3 earphones ($359.99 USD) -- and they've done it in a way that makes it far easier to experiment with different sounds.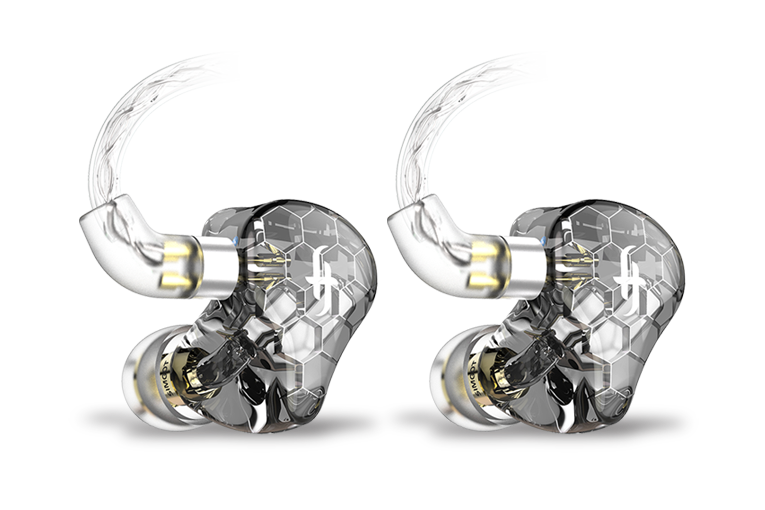 Each EK3 earpiece has two of the tiniest DIP switches I can remember seeing. These function as tone switches, providing a choice of four listening modes: Strong Bass, Bright Vocal, Exquisite Tone, and Balanced Tuning. Each switch is only about 0.6mm wide, and they are recessed by a like amount, so accidental switch-flicking seems unlikely. In fact, I found it impossible to change the settings by hand, with my fingernails, but a toothpick or nail file will work.
Inside each earpiece are three Knowles balanced-armature drivers: one for the bass, and two that handle both midrange and treble. They're housed in an enclosure made from 3D-printed resin. Like most earphones of this sort, the EK3s use over-ear cable routing, which generally allows a better and more secure fit, and also tends to provide better isolation from outside sounds. The cables use an industry-standard two-pin configuration, so it should be possible to find aftermarket cables if you wish. The earphones are available in clear or transparent black.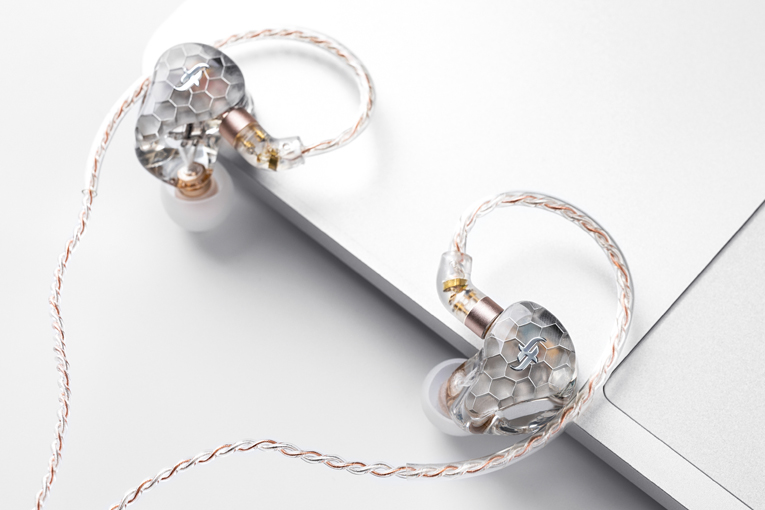 Simgot is a Chinese brand that's fairly new to North America. They're different from most Chinese brands in that they seem to be quite serious about performance, and the prices of their products are typically many times higher than we might expect to see from Chinese brands. I found Simgot's EN700 Pro earphones quite competitive in their price range -- but the EK3s are far more complex and about two-and-a-half times more costly.
In the box
The EK3s come with a nice (although somewhat bulky) leather-clad travel case, a 4' (1.2m) braided cable, and a cleaning brush. Two sets of silicone eartips are included, in three sizes each. One set is labeled Penetrating, the other Balanced.
Use
The EK3s fitted with the largest of the tips fit my ears well -- a nice change of pace from the EN700 Pros, which never really gave me a good fit with any tips I tried. For me, the earphones were easy to put in and didn't unseal themselves. Still, I got a better fit with Periodic Audio's Hydrogen single-flange silicone tips, so I used those for about 75% of my listening. The EK3s' 6mm soundtubes make them easy to use with aftermarket tips. The Penetrating tips sounded too bright to me, so we stuck with the Balanced tips for our listening and testing.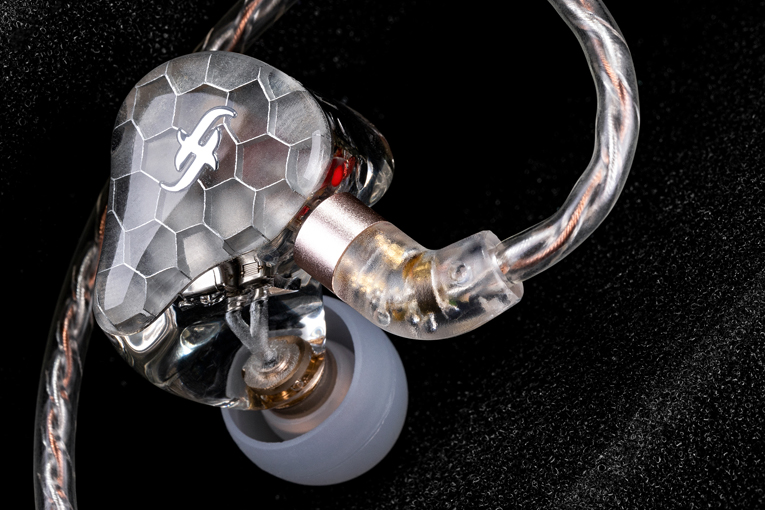 The DIP switches for tone control were far more user-friendly than the screw-in filters that some of today's earphones (such as the AKG N5005s and RHA T20s) use to alter their response. I found that because it's easy to change the settings (provided you have a toothpick handy), and there are no extra parts to carry around, I was more willing to experiment with different settings and change them to suit the music I was listening to.
My Samsung Galaxy S9 smartphone easily drove the EK3s to loud levels, so while you might get somewhat better sound from a separate amp or DAC-amp, it's not absolutely necessary to use one.
Sound
Of course, with four tone settings, the EK3s don't have just one sound I can describe, but the settings don't sound radically different, and they do share a general character: tight, well-defined bass, slightly elevated mid-treble (which gives an impression of greater clarity without making the earphones sound bright), and, I'd say, a subtly subdued midrange.
After casually messing around with the earphones and trying a few different settings, I put on Tracy Chapman's "Fast Car" (Tracy Chapman, 16-bit/44.1kHz FLAC, Elektra/Qobuz) to try to detail what the different modes sound like. I did this without looking at the descriptions, but added them below.
Exquisite Tone (both switches up): This is pretty well balanced between bass and treble, but the vocals sounded recessed and had a sort of narrow, buzzy resonance.
Balanced Tuning (switch 1 down): This sounded a little less trebly than Exquisite Tone, which gave a more natural balance, but voices still sounded recessed.
Strong Bass (switch 2 down): This mode had more powerful bass -- I really heard that "crawling" sense of the bass player playing slightly ahead of the beat. The voice still sounded a little recessed, but less so. The treble response sounded uneven and a little unnatural.
Bright Vocal (both switches down): This mode seemed the best balanced. The sense of the voices being recessed was almost gone (although voices did sound slightly buzzy), and the balance of bass to treble was preserved, and perhaps fell slightly on the mellow side.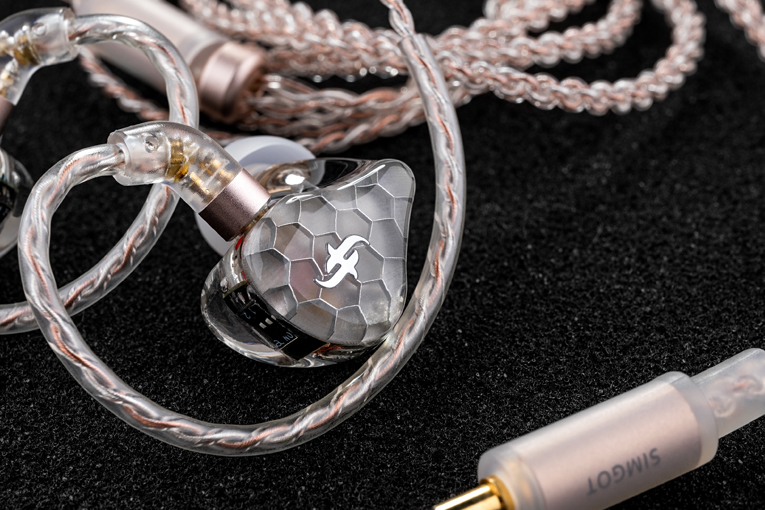 All that said, after more listening, I found that I generally preferred the Strong Bass mode, which gave the music more drive without sounding even the slightest bit boomy. For example, on Al Jarreau's "Rainbow in Your Eye" (Look to the Rainbow, 16/44.1 FLAC, Warner/Qobuz), the electric bass sounded super-tight, defined, and grooving without ever booming or obscuring the other instruments. Jarreau's vocals had just a slight trebly emphasis, but not to the point where it sounded sibilant, more along the lines of a subtle vocal emphasis. Simply put, I liked it a lot -- although honestly, I could have used another dB or so of bass, even in the Strong Bass mode.
So take the labels with a grain of salt -- they're not wildly inaccurate, but the modes don't necessarily deliver exactly the effect their labels promise.
My reaction to Mumford & Sons' "Guiding Light" (Delta, 16/44.1 FLAC, Island/Qobuz) was somewhat similar, although I found the lower treble to mid-treble a little too prominent for my taste. It certainly sounded lively, but it didn't sound naturally full; the voices sounded a little grating. Out of curiosity, I switched from Strong Bass mode to Balanced Tuning mode, and the voices definitely sounded smoother and more natural, although the mix didn't sound as full, and the tune lost much of the big, droning bass that gives it some of its character. I ended up going back to Strong Bass mode.
In order to get a better idea of how the EK3s stack up to other earphones, I grabbed a less expensive model (the 1More Quad Drivers) and a much more expensive model (the Campfire Audio Solarises). With the EK3s back in Strong Bass mode, I played several cuts -- and had the rare and delightful experience of actually liking the inexpensive earphones a little less and the expensive earphones a little more.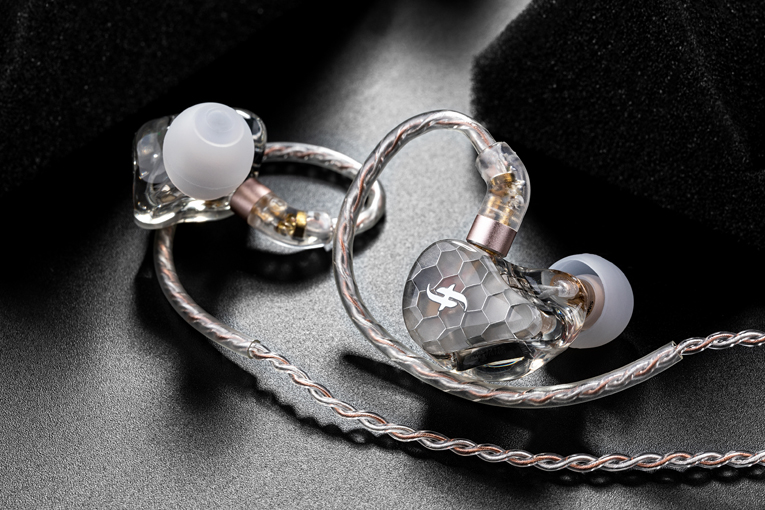 For example, when I played Quatuor Hanson's recording of the Haydn String Quartet No.6 in D Major, Op.50 "The Frog"" III. Menuetto (All Shall Not Die: Haydn String Quartets, 16/44.1 FLAC, Aparté/Little Tribeca/Qobuz), the EK3s in Strong Bass sounded very good, with a subtle mid-treble emphasis that really brought out the sense of the horsehair in the bows scraping across the strings. The EK3s made the strings sound more lively, but not bright. The 1More Quad Drivers had a somewhat more natural tonal balance, with no part of the sonic spectrum really standing out, but they sounded a bit coarser and less detailed than the EK3s. The Solarises sounded fuller, more natural, smoother, and flatter in response than either of their less costly competitors, which is why they're my favorite earphones to date. All three sounded good and worth their price. (I love it when that happens.)
Comparison
I auditioned the EK3 earphones for my usual listening panelists: LeRena Major, a Los Angeles saxophonist who's held several positions in the music business and is a voting member of the National Academy of Recording Arts & Sciences; and John Higgins, who holds a masters in music performance from USC and has served as a frequent contributor to Wirecutter and Sound & Vision.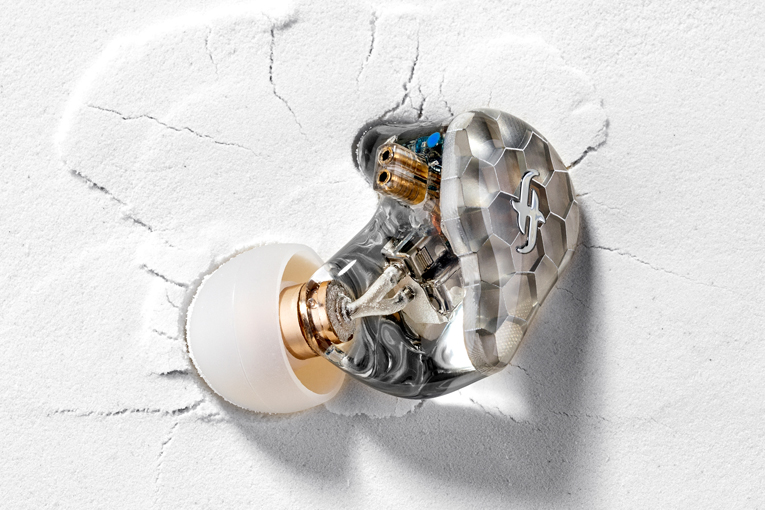 LeRena had more time to try the different tone modes. Not surprisingly to me, as she's a huge fan of 1980s R&B, she settled on the Strong Bass mode as her favorite, and she generally liked what she heard. "I feel fairly surrounded by these, and I like the way they bring out the voices," she said. "They also fit well and easily, once I got used to them. I would like a little more bass, though." My time with John was limited, so we tried only the Strong Bass and Balanced Tuning modes. He liked both pretty well, and remarked that the highs sounded clear in both modes, but he definitely preferred the fuller balance of the Strong Bass mode. He also liked the idea of the switch-actuated tuning modes. When I told him the price, he winced a little.
Conclusion
Although $359.99 isn't inexpensive for earphones, it's a reasonable price for earphones of this design with three balanced armatures, a nice case, lots of tips, etc. And that's not even taking into account the EK3s' different sound modes. Of course, different people have different taste in sound, but I'd bet you'd find at least a couple of the modes in the EK3 earphones very listenable, and a cut above most of what you'll find at lower prices. Just be sure to keep a toothpick handy.
. . . Brent Butterworth
This email address is being protected from spambots. You need JavaScript enabled to view it.
Associated Equipment
Smartphone -- Samsung Galaxy S9
DAC-headphone amp -- iFi xDSD
Simgot EK3 Earphones
Price: $359.99 USD.
Warranty: One year repair or replacement; extra three months warranty after registration; 30-day satisfaction guarantee.
Simgot
Phone: +086 0755-23206647
Website: www.simgot.com/en