Sound:











Value:











(Read about our ratings)
Measurements can be found by clicking this link.
These days, when someone tells me there's a new brand of true wireless earphones, I assume it's just a few people in an office somewhere in Southern California, getting their logo slapped onto a generic design from a Chinese factory, with barely a clue about how earphones are designed and tuned. Grell Audio is exactly the opposite. It was founded by Axel Grell, a guy with 30-plus years of experience designing headphones and earphones—most notably for Sennheiser, where he designed, among other models, the top-of-the-line HD 800s. The TWS/1 true wirelesses ($199.99, all prices USD) are the first earphones he's offered under his own name.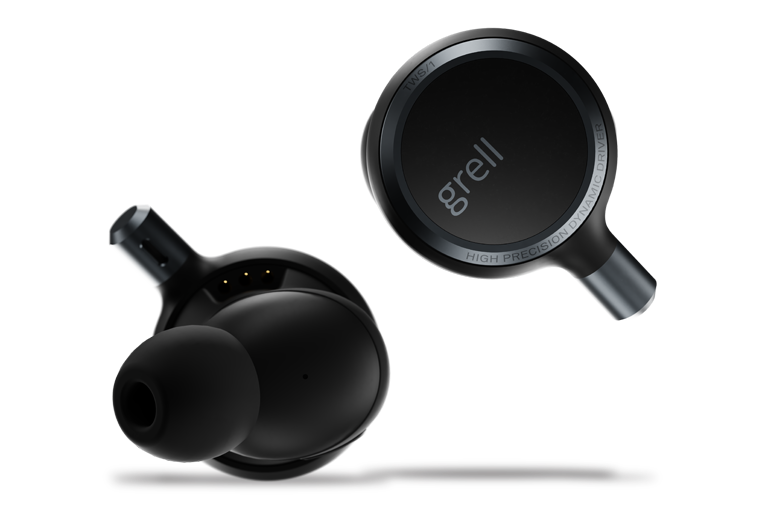 While many audio product designers like to dwell on past glories, Grell chose to create a singular product with an array of unusual design features. Most notably, the TWS/1s include SoundID, a technology created by Sonarworks that allows frequency-response optimization through a user-administered hearing test built into a smartphone app. Your SoundID correction curve is saved in the earphones, so you can get the benefits of SoundID even when using source devices that don't have the SoundID app.
As many true wireless models now do, the TWS/1 earphones incorporate noise canceling—but they also include Grell's Noise Annoyance Reduction (NAR) technology. While noise-canceling systems are canceling noise below about 1kHz, they often raise—or at least make more apparent—the level of high-frequency noises. NAR samples the surrounding noise and adjusts itself for, as Grell puts it, "minimum annoyance." There's also a Transparency mode that pipes surrounding noise into the earphones so you can hear conversations.
The TWS/1 earphones also incorporate an impressive selection of Bluetooth codecs: standard SBC, AAC, aptX, aptX Adaptive, and LHDC (low-latency and high-definition audio codec), a relatively new codec that supports bitrates of 400, 560, and 900kbps. I couldn't find a latency spec for LHDC, but YouTuber Kenneth Tanaka tested it and found its latency for gaming roughly double that of SBC and AAC, at least with the Edifier earphones and low-cost Xiaomi phone he used. But he also found that aptX Adaptive offered only a marginal reduction in latency versus AAC. Those results are specific to the conditions of his tests, and your results may vary, but in my book, audio technologies shouldn't require pristine testing conditions to reveal their claimed benefits. So put me on team Kenn here—especially considering that I don't have an LHDC-compatible transmitter, so I can't do my usual ultra-scientifical latency tests in this mode.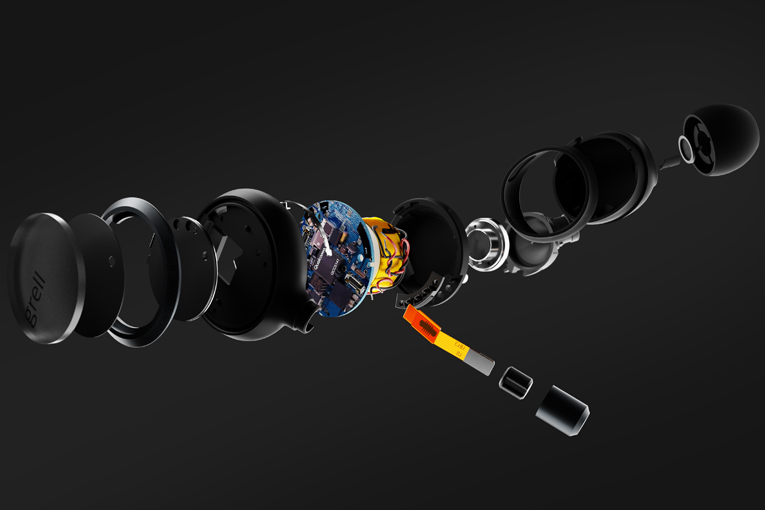 The earphones are rated for six hours of run time with noise canceling on, and they can recharge four times in the charging case, making the total rated run time 30 hours with noise canceling. Up those ratings to eight hours and 40 hours if you switch noise canceling off. The case can also be used with Qi wireless chargers.
The TWS/1s also carry an IPX4 water-resistance rating. The driver complement is one 10.5mm dynamic per ear.
In the box
Grell includes the earphones, the charging case, silicone eartips in three sizes, foam tips in two sizes, and a USB-C-to-USB-A charging cable.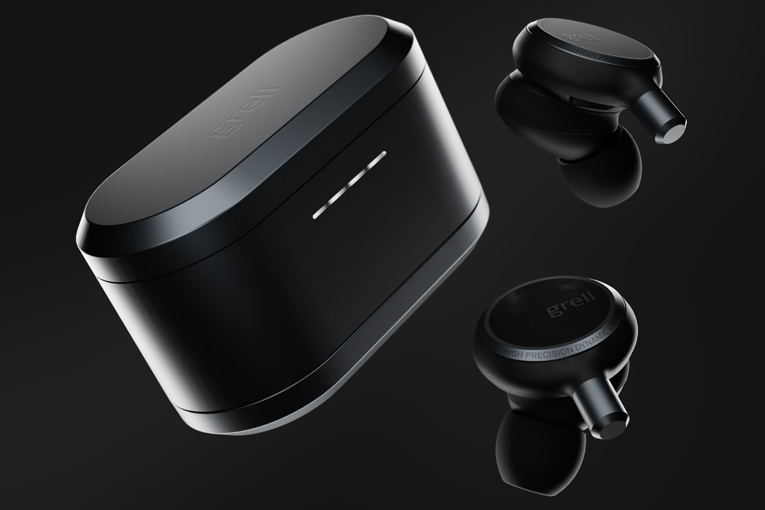 Use
The part of setting up the TWS/1 earphones that I expected to be a pain wasn't at all—just download the SoundID app, pair the earphones, and run the test. There are two parts, a hearing test and a preference test. The test is kind of fun because, for the preference part, it lets you listen to different clips of music chosen for the test, and for each round, you choose which of two sound profiles sounds better. It runs up to 16kHz, rather than just 8kHz as most audiologists' tests do. It's hard to tell exactly from the rather low-resolution graph that appeared in the app on my smartphone, but the results looked comparable to what I've gotten in tests administered by audiologists, and the tests incorporated into the Nuheara and Olive Union personal sound amplification products I've reviewed. In the app, you can turn SoundID on and off, and you can customize the sound with bass and treble sliders—although you have to use the supplied snippets of tunes to EQ the sound; you can't adjust it to suit the recording you're listening to.
However, without SoundID activated, the earphones sometimes struggled to give me an adequate volume level. I listen mostly to jazz, classical, and other artsy music, all of which tend to be conservatively mastered, but if you listen to R&B, pop, or rock from the last 20 years or so, the dynamic-range compression in those recordings should make the TWS/1 earphones plenty loud enough. But consider SoundID a must when you listen to lighter fare.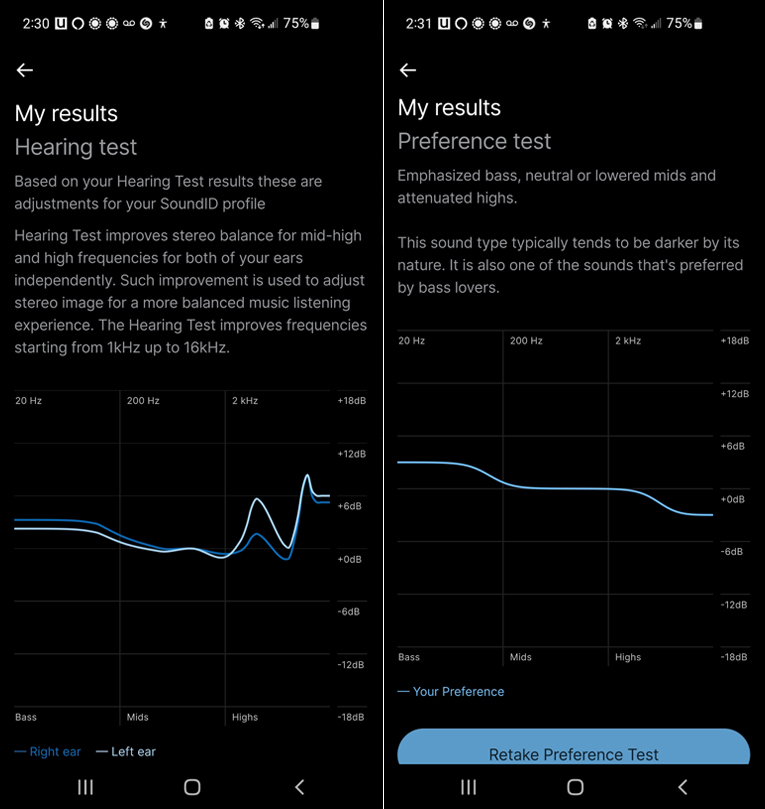 But this left me wondering about Sonarworks' motivations. SoundID's louder sound is likely to perform better in A/B comparisons against the unaltered sound, whether or not it's a real improvement. This is the kind of trick an effective but unscrupulous stereo salesperson would play, and honestly, I am disappointed that Sonarworks essentially prevented consumers from doing a legitimate A/B comparison with and without SoundID.
I had a tough time getting a good fit with the TWS/1 earphones. None of the supplied tips could seal my roughly ten-percent-larger-than-average ear canals, so I had to use SpinFit XL tips. Even with those in place, though, I had to play with the earphones a bit to get them to seal.
The large side panels of the earphones allow swipe-style control gestures for volume and track skip, and access to such functions as start/stop and turning noise canceling and Transparency on or off. They worked reasonably well, but I had a long learning curve memorizing all the different functions.
One weird thing about this design is that the earphones are reversed in the charging case—flip the lid up with the front of the case facing you, and the left earphone is on the right and the right earphone is on the left. This is the first time I've seen this in all my years of reviewing true wireless earphones. It's a strange design decision, but dealing with it is simple—just turn the front of the case away from you and open it backwards.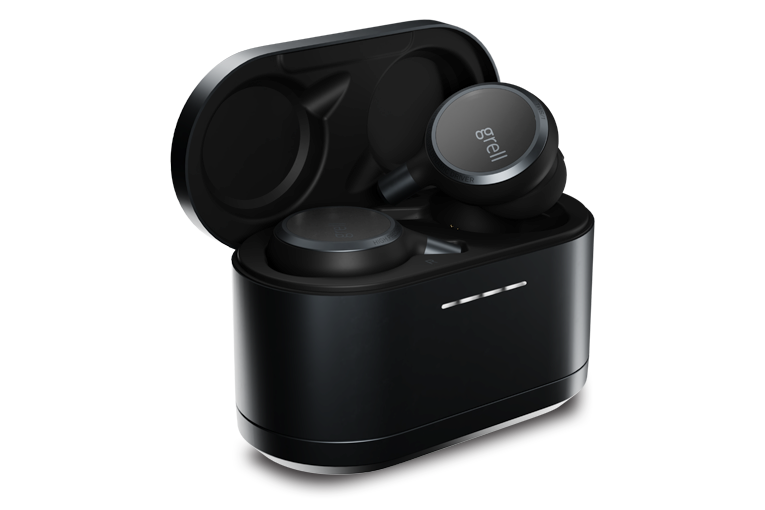 Grell claims 50m (164′) of Bluetooth range, but doesn't specify the testing conditions. That would be a truly extraordinary result. However, in my testing conditions—placing my smartphone in my pocket while wearing the TWS/1 earphones—the Bluetooth connection was far from robust. It often dropped out, sometimes necessitating I hold my phone in my hand while I was walking my dog. This performance reminded me of the true wireless earphones of four years ago. They also didn't pair as reliably with my phone as most of the other true wireless earphones I've tested of late, and they have to be paired again with the SoundID app if you want to use that, and that pairing was sometimes not as quick as I'd have liked. The TWS/1 earphones do have Bluetooth 5.2, but of course, the physical design of the earphones and the positioning of the antenna inside also have a big effect on Bluetooth reception.
I didn't have a good chance to try the noise canceling, but the measurements section—available from the link at the top of the page—should tell us what we need to know about that. However, I did note that in relatively quiet surroundings, the noise canceling had the elevated high-frequency hiss I often hear with noise-canceling headphones when there's not much noise present—but activating NAR almost completely eliminated the noise. Good job, Grell!
Sound
One of my favorite jazz recordings of 2022, so far, is tenor saxophonist Julieta Eugenio's Jump (24-bit/96kHz FLAC, Greenleaf Music / Qobuz). It's just sax, double bass, and drums, but it's so wonderfully played and beautifully recorded that I don't even slightly miss having a chordal instrument in the mix. With SoundID off, the title track sounded pretty good, with plenty of detail and a decent sense of space in the cymbals. But I'd call the sound quality "average good performance" rather than extraordinary—it sounded somewhat unclear and perhaps slightly distorted, and none of the instruments seemed to have much in the way of dynamics.
Engaging SoundID made the sound much better. Yes, the sound was several dB louder, but the instruments did seem more lifelike and punchy even when I turned the volume down a couple of clicks. (But was my perception preconditioned by the initial jump in volume?) I heard a much more realistic sense of space with all the instruments, but particularly with the cymbals; in fact, it sounded like I was sitting at the kit, with the crash cymbal on the left and the ride cymbal on the right, bracketing my head. Eugenio's saxophone took on a fuller, subtly breathier tone. The double-bass recording sounded absolutely first-rate, with loads of detail and dynamics, whereas before it sounded like a quickie recording made with whatever cheap vocal microphone the engineer happened to have lying around.
I hope I'm not being fooled here by a mere volume difference, but I can't be sure. I'm frustrated that Sonarworks didn't allow users to make an honest comparison with SoundID on and off.
Back to music—Holly Cole's version of Tom Waits's "Falling Down" (Temptation, 16/44.1 FLAC, Blue Note / Qobuz) sounded balanced with SoundID on, and the instruments sounded generally uncolored, each one standing out nicely in the mix while still blending in. The sense of space was pretty great, too. However, I felt there was something going on in the lower treble—maybe a little excess emphasis, or maybe a bit of distortion—because Cole's voice (which is quite powerful) sounded strained and somewhat edgy, as did the snare drum.
I had a similar experience when I played "Dimples" from James Blood Ulmer's Memphis Blood: The Sun Sessions (16/44.1 FLAC, Big Deal Records / Qobuz). Ulmer's voice certainly isn't smooth, but the dynamic peaks in the vocal track sounded rough no matter how I set my phone's volume—which got unpleasant at a moderate-to-loud level because the earphones seemed to distort. But I did enjoy the balance of the instruments, and the way the TWS/1 earphones made them all—the two electric guitar tracks, the vocals, the bass, the drums, the whistling at the end—easy to pick out of the mix. "I Love the Life I Live" from the same album was better, probably because the vocals weren't quite as dynamic; once again, the instruments sounded exceptionally distinct in the mix. But on the much heavier "Double Trouble," it again sounded like I was pushing the earphones too hard.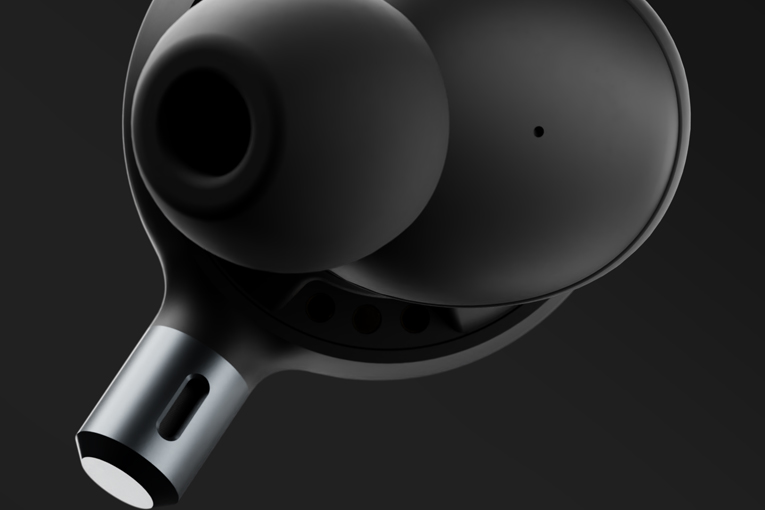 OK, I know I keep mentioning Hilary Hahn's excellent album Paris (24/48 FLAC, Deutsche Grammophon / Qobuz)—recorded with the Orchestre Philharmonique de Radio France, Mikko Franck conducting—but I have found it exceptionally useful in helping me figure out what's going on with a set of headphones or earphones. On Scherzo: Vivacissimo from Prokofiev's Violin Concerto No. 1 in D Major, Op. 19, the TWS/1 earphones sounded great. I have to say I'd have appreciated another couple dB of volume, even with SoundID activated, but otherwise that same clarity I heard made this intense orchestral performance a joy to listen to—it just sounded like the recording engineers somehow "made everything louder than everything else." And the triple-forte dynamic peaks that enter about two minutes into the movement didn't seem to distort or make the earphones sound strained or limited.
Comparisons
I compared the TWS/1s mainly with the Denon AH-C830NCW true wireless earphones, which I recently reviewed, and also with my Jabra Elite Active 65t earphones.
On the same Hilary Hahn track, the Denons definitely did not sound as flat and neutral as the TWS/1s. The bass seemed a bit overemphasized (something I complained about in the review of the Denons), and the violin sounded less open and perhaps a bit dull in comparison. While the Denons did deliver a somewhat fuller sense of spaciousness, the TWS/1s definitely made it easier to pick out the individual contributions of the different instruments. Through the Jabras, the track sounded pretty flat from bass to mids to treble, but it seemed overall a little less clear and vivid.
I decided to again use the version of "Shower the People" from James Taylor's Live at the Beacon Theatre DVD (16/44.1 WAV, copied digitally from the DVD's 2.0 soundtrack) that I used in the review of the Denons. The TWS/1s needed a couple dB more volume on this tune, too, but otherwise, I couldn't complain about the sound at all. The tonal balance seemed just about perfect, and the clarity was exceptional for true wireless earphones. Again, the Denons exhibited too much oomph in the upper bass and a somewhat zippy mid-treble range that made the snare drum, glockenspiel, and vocals sound a little more biting than they should. The flatter sound of the Jabras was nice on this tune, but again, the sound was a little dull.
Conclusion
In conjunction with SoundID, the TWS/1 earphones can, given the right recording, deliver some of the best sound I've heard from true wireless earphones. However, I wish they played a little louder—for that matter, a lot louder when SoundID is off. On certain recordings, they seemed to distort the upper range of the vocals a bit, and the Bluetooth connection was dicey. To me, they feel like an extremely promising but not-quite-finished product.
. . . Brent Butterworth
This email address is being protected from spambots. You need JavaScript enabled to view it.
Associated Equipment
Smartphone: Samsung Galaxy S10.
Grell Audio TWS/1 True Wireless Earphones
Price: $199.99.
Warranty: One year, 30-day satisfaction guarantee.
Grell Audio
Email: This email address is being protected from spambots. You need JavaScript enabled to view it.
Website: www.grellaudio.com