Sound:











Value:











(Read about our ratings)
Measurements can be found by clicking this link.
I get pitches to review new true wireless earphones almost every day. Most seem like perfectly fine products, but there's nothing special enough about them to warrant a review. The AXS Audio Professional Earbuds ($149, all prices USD) don't look any different from most other true wireless earphones, but their pedigree got me interested. They're made by a team who formerly led Riva Audio, which built some of the best Bluetooth speakers yet made.
The team's led by Rikki Farr, a music-biz professional who's worked with numerous artists through the last 50 years, and Don North, a veteran speaker engineer who's worked for Harman and Boston Acoustics. According to Farr, his main focus in developing the Professional Earbuds was sound quality, followed by battery life and comfort. Farr says they voiced the earphones for a subjectively flat response (which, sadly, isn't the norm but isn't all that unusual, either) and then added loudness compensation, to boost the bass and treble as the volume is turned down, so the sound should retain the same character at all volumes.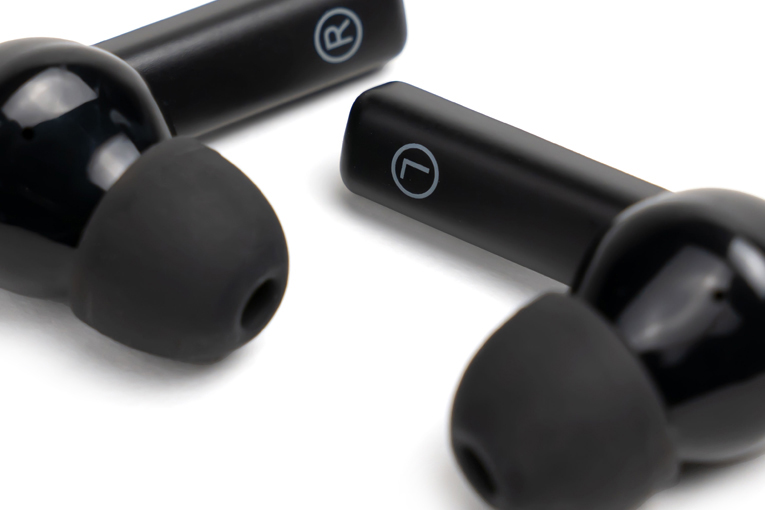 The earphones are officially called Professional Earbuds, but as with innumerable pro-titled consumer products like the Apple MacBook Pro, there's nothing about them that specifically tailors them to professional use. They also have a model number—AXSE01 is the general number, with the full model number of the white version being AXSE01-W and the full number of the black version being AXSE01-B.
The earphones are IPX4-rated, which means they can survive contact with moisture (like sweat) but not immersion in water. They include a charging case that adds another 38 hours to the total rated run time and is compatible with wireless chargers. Battery life is rated at more than ten hours when the earphones are used at a volume level of 60% without active noise canceling, and more than eight hours with ANC on. The press release talks about low-latency operation, but doesn't specify which Bluetooth codecs are included.
In the box
You get the earphones, the charging case, a USB-A-to-USB-C charging cable, and six pairs of eartips—"pillow-soft" tips in three sizes and stiffer, hypo-allergenic tips in three sizes.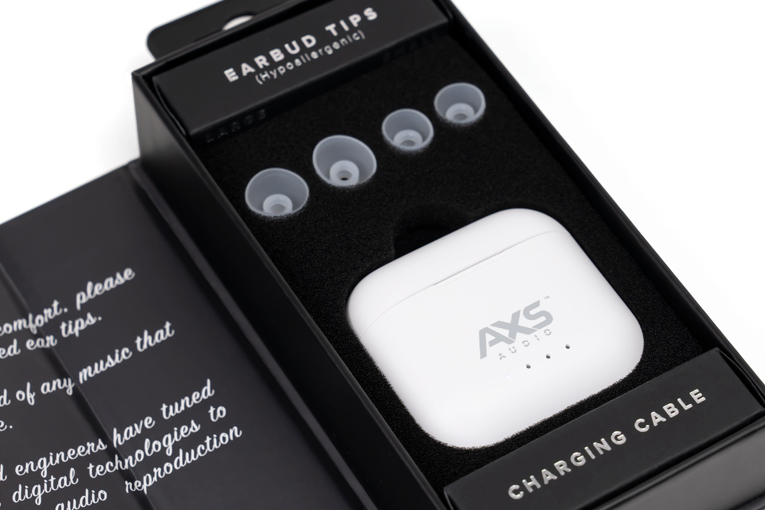 Use
I've gotten used to having to put SpinFit CP100 XL tips on most of the earphones I review, because most don't include tips large enough to fit me. But the largest "pillow-soft" tips included with the Professional Earbuds fit me just fine, and the earphones were comfortable to wear for at least a couple of hours.
The earphones have touch-sensitive controls on each ear, and they facilitate many functions, including play/pause, track skip, volume, voice assistant, and ANC mode (on / off / Voice Through). I found them fussy to use—for example, on the left earpiece, I often accidentally triggered the voice assistant or paused playback when I was trying to turn the volume down.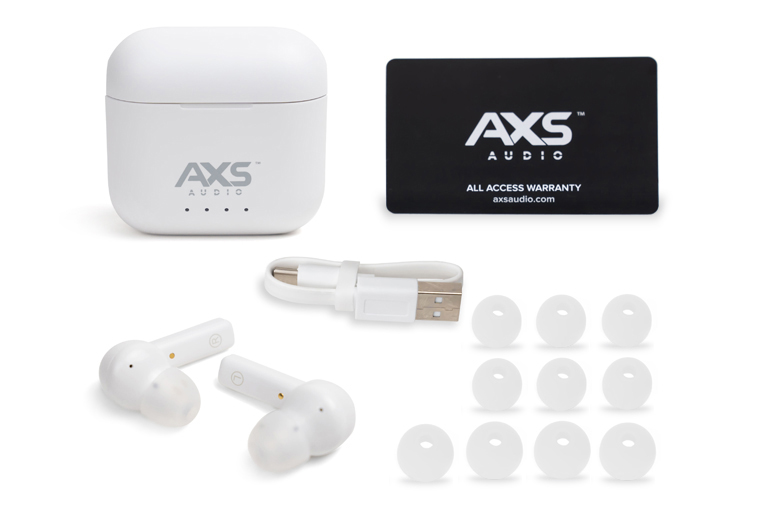 As far as the loudness compensation goes, I can definitely say I enjoyed listening to the Professional Earbuds more at lower volumes than I might usually; even at quiet levels, they had a satisfyingly full and subjectively flat tonal balance. When I turned the earphones' volume up louder, using the volume-up function on the right earpiece, the balance seemed to get a little brighter, although I don't know if that was due to the earphones' design or just my ears becoming more fatigued at the louder levels.
Because I was staying in various motels when I did this review, I didn't have a chance to put the noise canceling through its paces subjectively, but you can look at the measurements section, accessible through the link at the top of this page, to see how effective it is.
Sound
That ability to sound full at low volume was especially handy on hard-grooving sides like Christone "Kingfish" Ingram's 662 (16-bit/44.1kHz FLAC, Alligator/Qobuz). On "Another Life Goes By," I heard a full, tight electric bass groove even with the volume down at a level soft enough to listen to for hours—and I didn't lose a bit of the treble detail, as the soft rush of the wind chimes and the subtle taps on the ride cymbal came through beautifully, and Ingram's voice had the pretty-much-perfect blend of smoothness and edge that makes him so listenable. I can't say it sounded exactly the same when I cranked up the volume—as I suggested before, the voice sounded a little elevated in the lower treble, and Ingram's upper register didn't sound quite as smooth—but I enjoyed the sound at all the volumes I listened to.
The same combination of great bass and clear treble was evident on double bassist Brian Bromberg's version of "The Saga of Harrison Crabfeathers" (Wood, 16/44.1 FLAC, Artistry Music / Qobuz). Bromberg's solo intro, loaded with resonant deep notes, high-frequency harmonics, and subtle touches of string buzz, sounded just about perfect through the Professional Earbuds—any bassier and some of the treble detail would have been lost; any treblier and some of the groove would have been lost. The Professional Earbuds produced a better sense of space than I've heard through most true wireless earphones, especially in the cymbals and hi-hat; the instrument images were so real it felt like I was watching a live drummer. I did notice when the instruments came in, raising the overall average volume, that the treble was pushed just a bit, which made the cymbals sound a little less resonant than I'm used to hearing, but the enhanced sense of detail and space I got with the cymbals was worth the trade-off.
The old-school R&B of The Suffers also fared well with the Professional Earbuds. The first notes of "Don't Bother Me," from It Starts With Love (16/44.1 FLAC, Missing Piece Records / Qobuz), really jumped out, both dynamically and in the stereo imaging and spaciousness—I loved the precise placement and huge wraparound effect I heard from the handclaps, cowbells, electric guitar, and horns at the sides, and the bass had an especially tight, grooving sound. Again, at higher volumes, there seemed to be more emphasis in the lower treble (I guessed around 3 or 4kHz); it was brighter, but it also helped bring out the details more and made the vocals sound a little clearer. If I were to compare it to something headphone aficionados might be familiar with, it'd be about medium on what I've come to think of as the HiFiMan Scale of Treble Hotness—i.e., a little bright, but not annoyingly so, and clearly voiced that way intentionally. (I call it the HiFiMan Scale because that brand's headphones range from subjectively flat to very bright-sounding.)
Brightness tends to bother me most on string quartet recordings, so I did something of an "ultimate test" by putting on the Juilliard String Quartet's Beethoven—Bartók—Dvorák: String Quartets (16/44.1 FLAC, Sony Classical / Qobuz). On the vivacious first movement, Allegro, of Beethoven's String Quartet in E Minor, Op. 59, No. 2, I intently listened for excess brightness, but I didn't hear it; to me, it sounded much like a live string quartet in a small hall, from about the third row back. Yeah, the violins got a little edgy in the loudest peaks of the movement, but that's what they tend to sound like live at fairly close range. More importantly, it was easy to pick out each instrument on the soundstage, and to follow each of the fast-moving lines—and even to hear the subtle creaks and taps of the players as they moved their instruments around slightly and shifted their weight in their seats.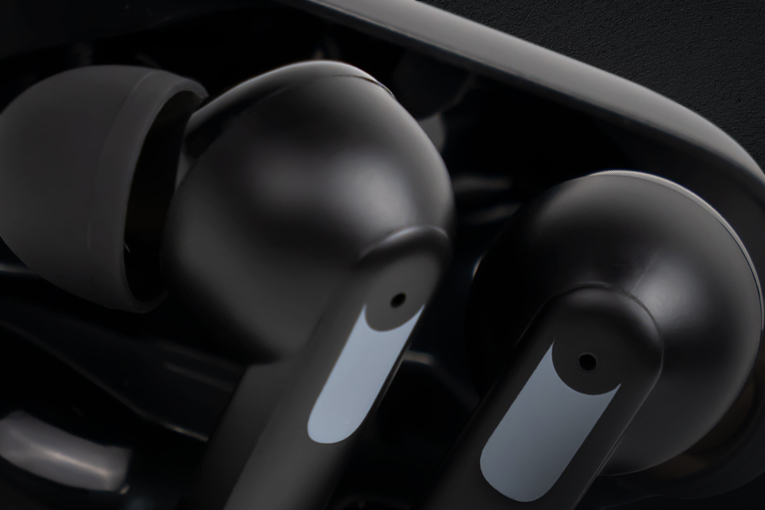 Just to enjoy the sense of space, I put on one of the most spacious-sounding recordings I know of: the title track of I Only Have Eyes for You by Lester Bowie's Brass Fantasy (16/44.1 FLAC, ECM / Qobuz). The sense of space was pretty remarkable for a relatively inexpensive set of true wireless earphones, and the horns all sounded especially clear in a way I don't normally hear with headphones of any type in this price range. But the rimshots and snare hits definitely sounded a little bright; this was partially because this recording is more conservatively mastered than the others I played, so I had to turn it up loud to hear all the low-level details—and those drum hits are the loudest part of this recording.
Comparison
I compared the Professional Earbuds ($149) to two other true wireless earphones I had on hand: the Denon AH-C830NCWs ($159) and the Beats Fit Pros ($199.99).
On one of my favorite recent test tracks, "Trouble Is a Man," from Patricia Barber's Clique (24/176.4 FLAC, Impex / Qobuz), comparing these earphones was mostly an exercise in gauging the treble response—and the treblier they were, the better sense of space I got. The Denon AH-C830NCWs sounded the softest of the bunch—Barber's voice lacked some clarity—and created a small, tightly imaged sense of space. The next step up, the Beats Fit Pros, probably struck the most realistic tonal balance; I thought maybe they needed a bit more bass, but the voice was clear with only a bit of sibilance, and they also created an in-your-face presentation that made everything seem super-punchy and immediate, as if I were sitting just six feet from Barber's band. The AXS Professional Earbuds had the trebliest balance, which gave me the biggest sense of space and the clearest sound on the drums and piano, although the voice sounded more sibilant than with the other two.
I got a somewhat different perspective from one of my favorite not recent test tracks, the version of "Shower the People" from James Taylor's Live at the Beacon Theatre DVD (16/44.1 WAV, ripped from the DVD's 2.0 soundtrack). The Beats, again, struck a nice balance of treble to bass, but seemed to exaggerate the punch of vocals, guitar notes, bass, and pretty much everything else. They added excitement . . . if that's what you're looking for when you're listening to James Taylor. Once again, the Denon earphones had a nice, mellow sound—pleasing on Taylor's vocals, although they made his acoustic guitar sound too soft. The AXS Professional Earbuds' extra bit of treble energy brought out the guitar a little more, and gave me the best sense of space, but this time, the vocals still retained much of that mellow vibe, with only a slight trace of sibilance.
Conclusion
The AXS Audio Professional Earbuds are a really nice set of true wireless earphones for the price. They have a nice, full sound even at low listening levels. The tonal balance is a tad trebly overall, which occasionally sounded a little bright, but also gave me a more spacious sound than I'm used to hearing from true wireless earphones; their tonal balance reminds me a lot of my favorite headphones in the HiFiMan line. And they even give you a decent selection of tips—which, sadly, almost never happens with true wireless earphones.
. . . Brent Butterworth
This email address is being protected from spambots. You need JavaScript enabled to view it.
Associated Equipment
Smartphone: Samsung Galaxy S10
AXS Audio Professional Earbuds True Wireless Earphones
Price: $149.
Warranty: One year.
AXS Audio, Inc.
Website: www.axsaudio.com