Sound:











Value:











(Read about our ratings)
My first reaction to the JBL Tour Pro 2 earphones was "They have a screen?" Then I thought about it for a bit and settled on "OK, they have a screen." Then I used them for a few weeks, and now it's "They have a screen!" I would not have guessed having a tiny touchscreen on an earphone case would be at all helpful, but it turns out it's surprisingly handy. Sometimes.
The screen wouldn't matter at all if the Tour Pro 2s weren't good. A gimmick on mediocre earphones is just a gimmick on mediocre earphones. Conveniently, the Tour Pro 2s sound great and have some impressive noise canceling.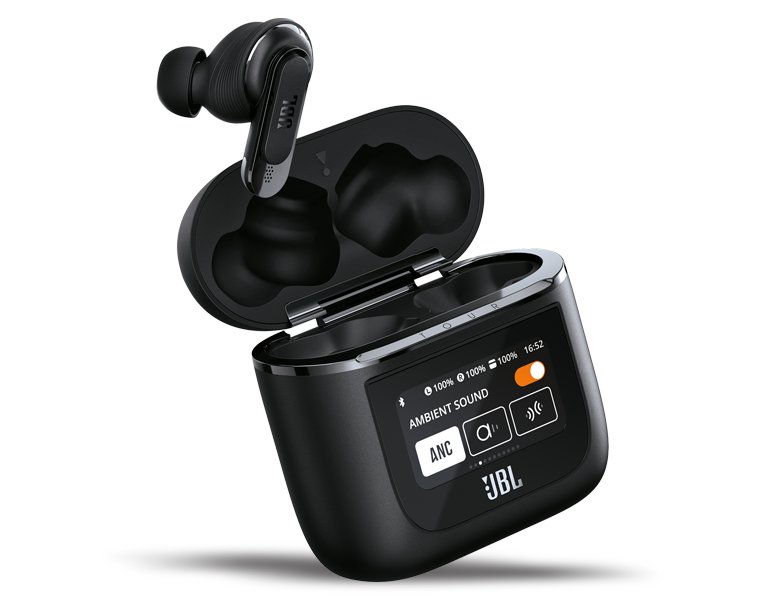 They're also a little cheaper ($250, all prices USD) than the Sonys and Boses of the world, with which they definitely compete. However, there's competing, and there's competing. Are they good because they're cheaper, or are they just flat-out good? Let's find out.
In the box
As is fairly typical with true wireless earbuds, there's not much in the box. There are three sizes of silicone eartips and a USB-C charging cable.
Use
The Tour Pro 2s have a "tail" design similar to the Apple AirPods. Personally, I don't mind this design, but I know some people with smaller ears who do, largely because they can get caught on things more easily. The earbuds, that is, not their ears. Overall, I found the JBL earbuds light and comfortable, and they fit securely. Everyone's ears are different, of course.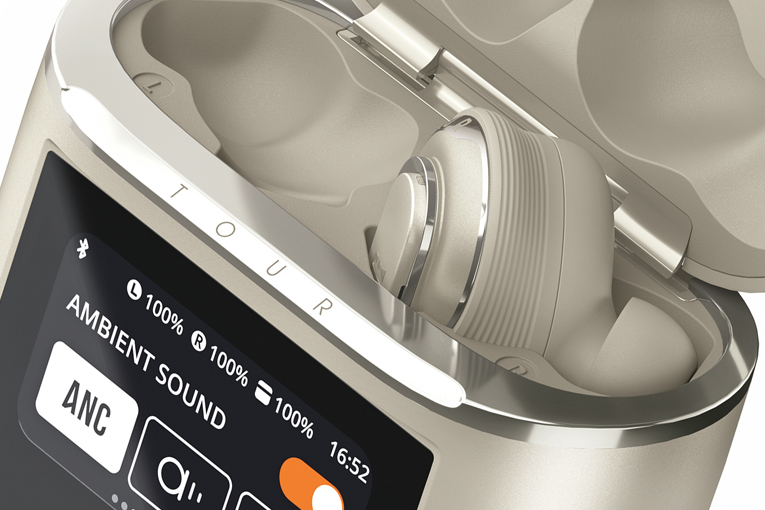 On the front of the case is the 1.45″ touchscreen. You swipe to access different sub-menus, like EQ, noise canceling, volume, track forward/reverse/pause, and more. There's even a "flashlight" mode that illuminates the entire screen. Handy to find something in a dark corner, though obviously it's not launching lots of lumens.
The screen doesn't seem to have any effect on battery life, at least in terms of what's in the case itself. The earbuds have an excellent claimed play time of eight hours with NC on, with the case adding an additional 32. That's as good or better than most 'phones in this category. In fairness, the case is a little larger than some of the competition. For instance, the Sony WF-1000XM4s' case can fit in that tiny useless sub-pocket on most jeans. The Tour Pro 2 earphones case is about 30 percent larger and doesn't fit in that pocket.
The main question, of course, is how useful is this screen? It's best to think of the case and screen as a remote control for your earbuds. Can you still do many of the same things using the touch-sensitive controls on the earbuds or accessing your phone? Of course. This just gives you another, potentially more accessible, option. Maybe you don't want to go through the process of unlocking your phone, finding the app, waiting for it to load, and then finding the setting you want to change—not when you can change settings with a few quick swipes on the Tour Pro 2 case.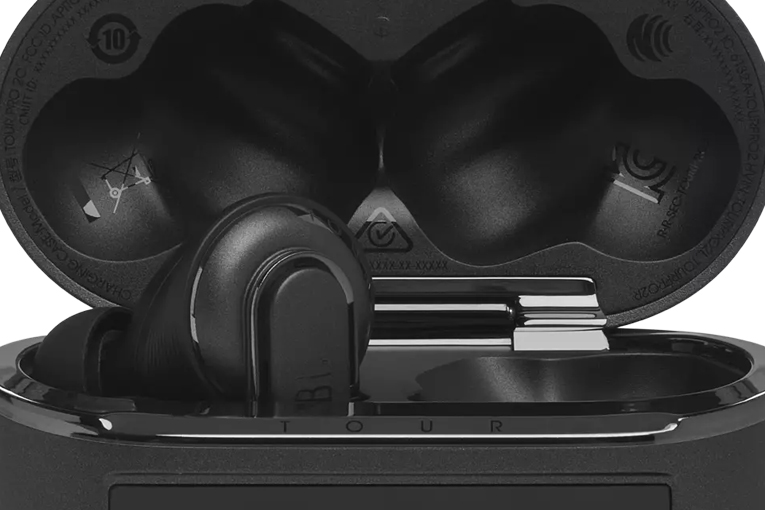 Does every pair of earphones need a screen from now on? Of course not. As I mentioned earlier, if the Tour Pro 2s weren't good earphones, these would be just an odd footnote in the history of earphones. Which is to say, I don't think you should buy the Tour Pro 2s because they have a screen, but the screen is a cool addition to earphones you should consider regardless.
Sound
Overall, I'd describe the JBLs' sound as fairly balanced, with a little extra bass and fairly flat treble. It's a pretty safe profile that I think most people will like.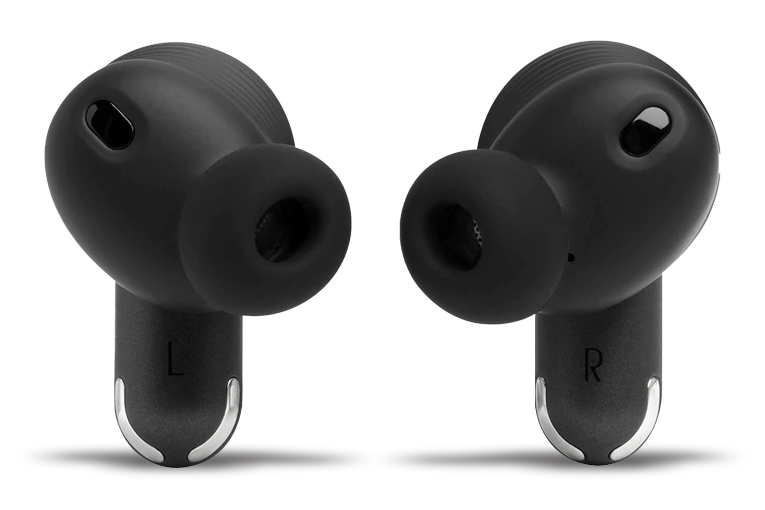 First up was the first solo release from Chvrches' Lauren Mayberry, "Are You Awake?" (single, 24-bit/48kHz FLAC, EMI Records / Qobuz). Mayberry's wispy soprano fits perfectly in this surprisingly not synthpop/techno track. It's predominantly her and a piano until the end, and the Tour Pro 2s placed her voice securely in the center of the soundstage. Near the end, some overdubbing and synths come in, and it all blended well without any edge or harshness to the treble. I've heard more open and airy earbuds for sure, but the Tour Pro 2s didn't sound dull.
Switching to something new from a slightly older band, I played Slowdive's latest, Everything Is Alive (24/96 FLAC, Dead Oceans / Qobuz), which has the lush sonic layers they're known for while sounding extremely new and contemporary. The lead track, "Shanty," piles layer upon layer of sound. This never got muddled through the JBLs. Each guitar had a place in the wide soundstage, never getting lost among the synths or the percussion.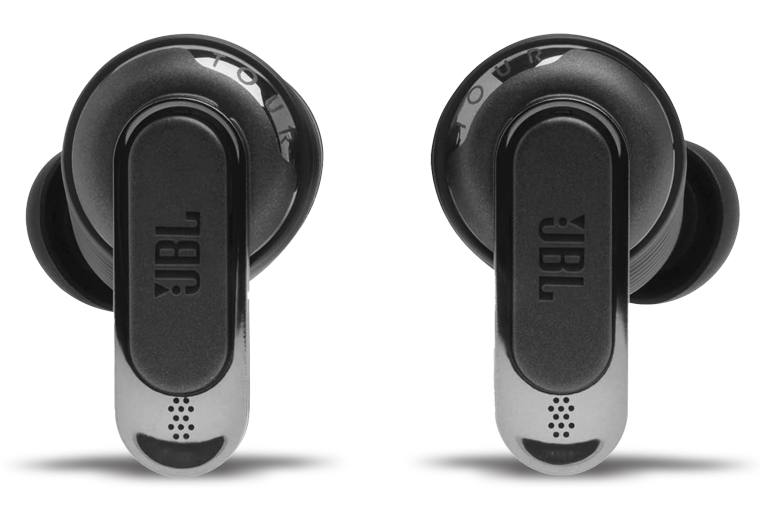 At the risk of inducing sonic whiplash, I next put on the title track of Moonscapes by Dangermuffin (16/44.1 FLAC, Dangermuffin / Qobuz). I described this track to SoundStage! Access editor Dennis Burger as "The Grateful Dead if they preferred coke over weed." Dennis felt it was like "David Gilmour playing Steely Dan." Through the JBLs, this track had an inviting, wide-open sound. The soundstage seemed to extend out beyond my ears, though I have heard wider from other earbuds. The vocals were well balanced against the instruments. The guitar solos had a powerful growl when they got going. I would have liked a little more bass, but such is my taste.
Comparison
I first compared the Tour Pro 2s to the Sony WF-1000XM4s, one of my favorite true wireless earbuds. With "Let's Go" from RAC's Strangers (16/44.1 FLAC, Cherrytree Records / Qobuz), the JBLs decently reproduced the strong bass beat from this track, but their strength was more midrange. With the Sonys, the bass was much more pronounced. There was also a little more treble. The Sonys offer a more "exciting" sound for sure, but if you don't like bass, you'll like the JBLs more.
I stuck with this track but swapped in Status Audio's Between 3ANC earphones (review forthcoming). These split the bass difference between the Sonys and the JBLs, though closer to the former than the latter. The 3ANCs had more upper midrange and treble than the JBLs or Sonys. To check out their high-frequency performance more, I put on guitarist Thibault Cauvin's "II. Fugue" from his Bach album (24/96 FLAC, Sony Music / Qobuz). On the 3ANCs this track sounded far more open, each pluck and strum having a more immediate attack. It sounded a bit more subdued through the JBLs. However, with non-classical music there were some tracks with the Status earphones that had a bit too much treble for my tastes. Also, even though the Between 3ANCs have a vaguely similar "tail" design, they are significantly larger than the JBLs, making them seem more perilous. Generally, the JBLs were more comfortable.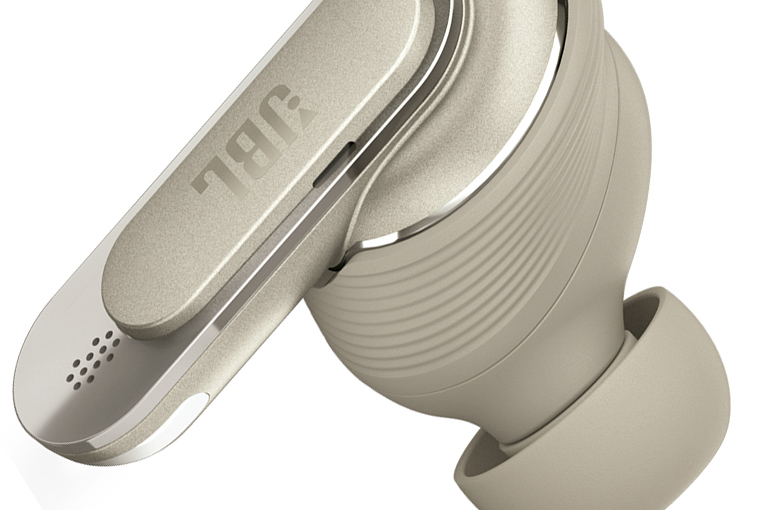 I tested the Tour Pro 2s' noise canceling against the Sony XM4s' and Bose QuietComfort Earbuds IIs' noise canceling on a trans-Atlantic flight, as well as on various trains and buses in Europe. The JBLs' noise canceling is very good. They greatly reduce ambient sound across a wide range of frequencies. There wasn't as much upper bass / midrange reduction compared to the Boses, which do that range better than anyone. They didn't drop quite as much low bass as the Sonys, but it was very close. These are well above average in terms of NC, and they definitely compete in the same rarefied (pun intended) air as the top options in the category.
I didn't get a chance to do my full testing of the newer Sony WF-1000XM5 earphones against the JBLs, but from what I did hear, I think I prefer the JBLs. I feel that, in an effort to make the XM5s more balanced than the XM4s, Sony made them a little too bright, which I don't particularly like. Don't get me wrong—the XM5s are great earphones. But I prefer the XM4s and Tour Pro 2s.
Conclusion
As you've probably figured, I really like the Tour Pro 2s. I'd mention them in the same breath as the Sonys and other top-tier true wireless earbuds. I like the flexibility offered by the touchscreen. They sound really good, have great noise canceling, and are really comfortable. Sound-wise, I prefer the Sony XM4s, but the Tour Pro 2s are in the same ballpark. They're a little cheaper, and I think their price tracks their performance. They're not quite as good as the best in the category—perhaps one step behind—and their price reflects that.
. . . Geoffrey Morrison
This email address is being protected from spambots. You need JavaScript enabled to view it.
Associated Equipment
Smartphone: Google Pixel 7.
Portable media player: Sony NW-A306.
PC: Microsoft Surface Pro 8.
JBL Tour Pro 2 True Wireless Earphones
Price: $250.
Warranty: One year.
JBL
8500 Balboa Blvd.
Northridge, CA 91329
Phone: (800) 336-4525
Website: www.jbl.com