Sound:











Value:











(Read about our ratings)
Measurements can be found by clicking this link.
I'm a fan of small companies that do their own thing, especially when it's a bit quirky. Big companies just don't have much room for individuality when they're designing products to appeal to millions in an organization with 300 vice presidents of corporate interdepartmental proactivity synergy. Campfire Audio designs its earphones in Portland, the west one. It's not exactly the first city that comes to mind when you think "audio," and its legendary quirkiness is echoed in the Orbits, the brand's first true wireless earphones.
The case and IPX5-rated earbuds feature an angular design, and inside are 10mm dynamic drivers. The case lets you charge wirelessly or via USB-C.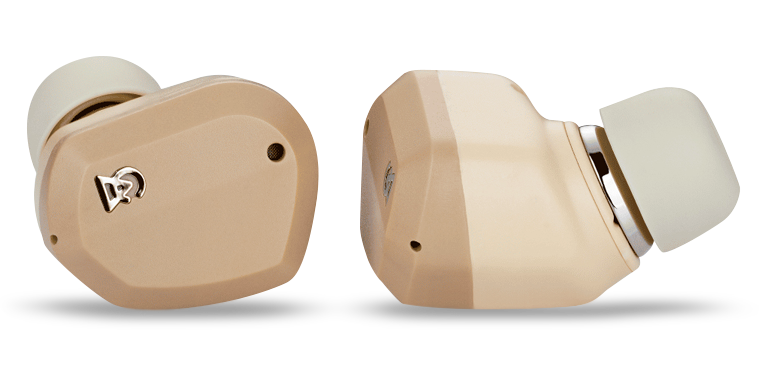 Priced at $249 (all prices USD), the Orbits face some strong competition from some of the biggest names in personal audio. Does their sound and $30 to $50 of savings keep them competitive against the likes of the Sonys and Boses of the world, despite their lack of noise canceling? We shall see.
In the box
The box is a rather gorgeous piece of cardboard origami. It opens like a flower, revealing another box of blue and gold inside. It feels special in a way that you wouldn't expect from $250 earphones. I was kinda hoping for yet another box within this one, Matryoshka-ing my way down until I found the earbuds. Inside this blue box are the earbuds and their case (I guess that is technically another box), along with three pairs of silicone tips, three pairs of "marshmallow" foam tips, a short USB-C-to-USB-C charging cable, and a lapel pin with the "probably not a secret society" Campfire Audio logo.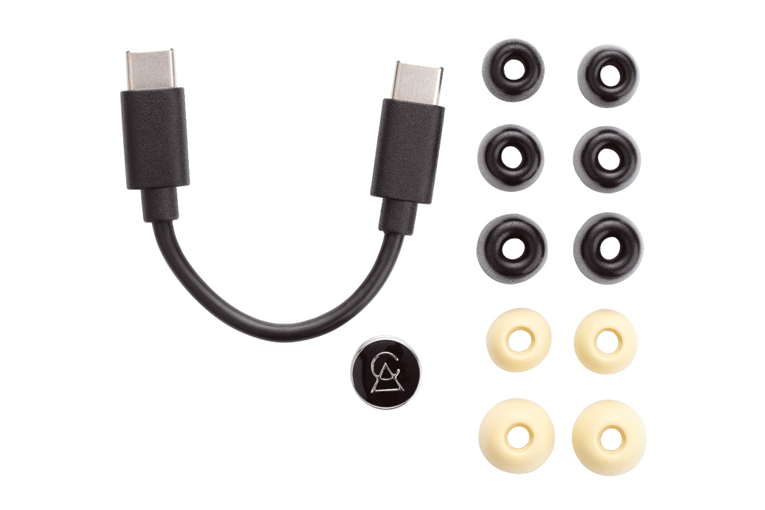 In a particularly clever piece of marketing, the box also includes several "baseball cards" featuring other Campfire Audio earphones. Instead of batting averages and on-base percentages, there's a blurb about the earbuds and some key specs. Whoever thought up this idea deserves a raise.
Use
To be honest, I'm not sold on the colors. Beige-on-brown is definitely different, and certainly a change from an endless sea of glossy Apple whites and everything-else glossy blacks. The inside of the case is a lime green I like a lot. A highlight of that on the earbuds would have been a solid improvement in my book.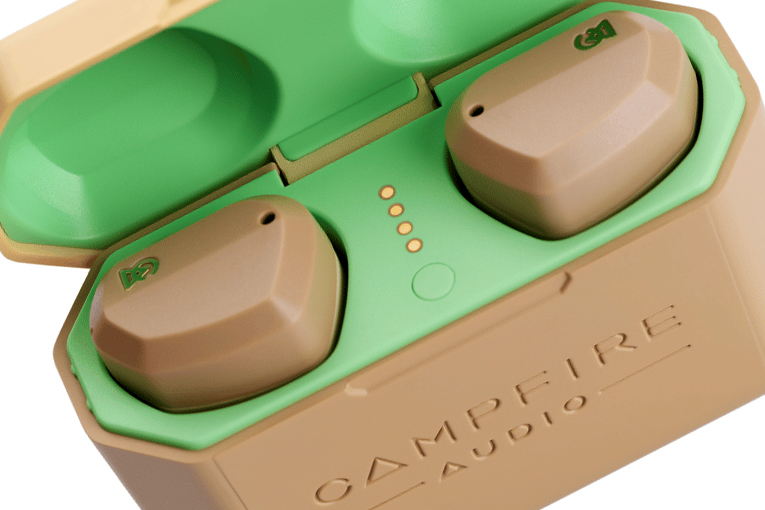 I had some issues pairing the Orbits with my Pixel 7, requiring several restarts of my phone and the Orbits themselves. The only other true wireless earbuds I've had this much trouble with were the Bose QuietComfort Earbuds II. So I guess the Orbits are in "good" company.
The earbuds themselves are quite small and sit a little deep in the case. I regularly had trouble digging them out. The other side of this is that they fit pretty comfortably in my ears. I sometimes struggle to get a comfortable and secure fit with true wireless earbuds, especially those without loops or wings. I didn't have an issue with these. Adjusting them in my ears, however, invariably triggered the touch controls, stopping the music. Not a huge deal, but occasionally mildly frustrating.
The app is well laid out, with none of the fluff and advertising found in many companies' apps these days. There are three pages. The first and main page shows battery levels and what the touch controls do. The next is the Equalizer page. This could use some work. In addition to off, which is the default, there are seven presets labeled 1 through 7. There is no visual indication or written description of what any of these do. Lastly is a seven-band customizable EQ. You can add custom EQs if you want. These all can be renamed.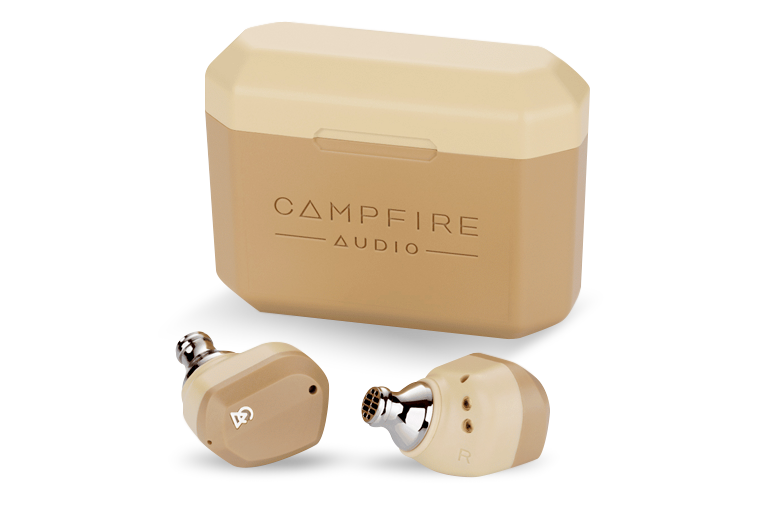 The last page has the firmware-update option, and lets you deselect features controllable by the touch controls. It's a bit of an odd way of letting you customize the controls, since deselecting the voice assistant, for example, just means that when you tap three times (the default process to activate the voice assistant) it just pauses the music. You can't reassign what the controls do otherwise.
Sound
In its description of the Orbits, Campfire specifies that they're ideal for pop, R&B, EDM, electronic, hip-hop, jazz, blues, rock, metal, and podcasts. They also explain that they have slightly less midrange, and a bit of extra bass. I found this on the company's website after I'd already made my listening notes, and I was surprised that I'd come to the same conclusions. Minimal marketing hype, it seems. I'd clarify their description to say it's a decent amount of mid- and upper-bass, not deep bass, but we'll get to that.
On "Crazy, Classic, Life" by Janelle Monáe from Dirty Computer (16-bit/44.1-kHz FLAC, Wondaland / Qobuz), the high-frequency percussion and Monáe's voice were both strongly present. The bass was higher in the mix than neutral, for sure, but it was well controlled. There was no boominess, but it didn't extend as deep as I've heard with some other earphones. There was a bit more "thump" to it compared to some other, shall we say, bass-enthusiastic earphones.
I tend to like extra bass in my earphones, so overall I liked the profile of the Orbits. "The River" by the Bombay Royale (The Island of Dr Electrico, 16/44.1 FLAC, HopeStreet Recordings / Qobuz) is a multi-layered tapestry of instruments and vocals. Nothing was buried, but the bass guitar was very present. That's certainly not a bad thing with this song. The treble was clear and fairly open, never piercing or harsh.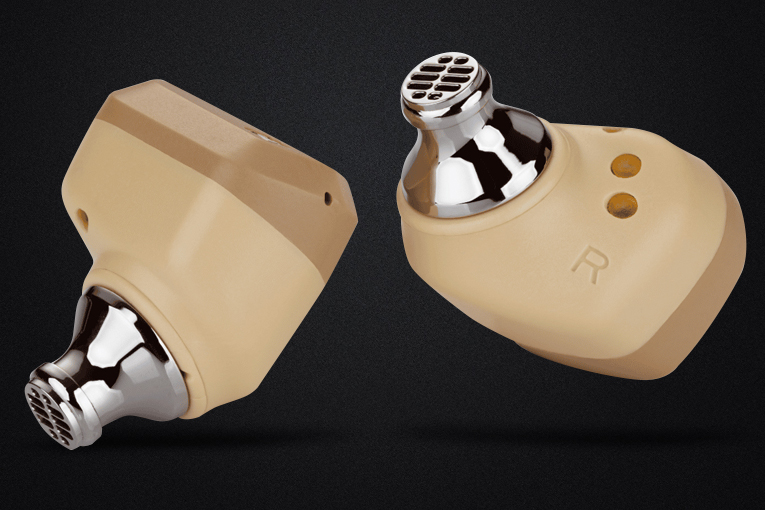 For something a little lighter, I put on "Phoenix" by supergroup Big Red Machine off their eponymous debut album (24/88.2 FLAC, Jagjaguwar / Qobuz). This track has a mix of acoustic and electric guitars, piano, and a multitude of vocal harmonies. Aaron Dessner was a little down in the mix. Not overwhelmed exactly, but definitely back further than I've heard. Justin Vernon's falsetto came through clearly, though.
If I were to oversimplify and equate the Orbits' sound to an equalizer, it would be +1 treble, -1 mids, +2 bass.
Comparison
First up, I compared the Orbits to one of my recent favorite true wireless models, the Edifier NeoBuds S earphones at $179.99. These have noise canceling. The Edifiers had more and deeper bass than the Orbits. They also had more upper treble. With "I've Been Dazed" by Michael Kiwanuka (KIWANUKA, 24/48 FLAC, Polydor / Qobuz), there were more high frequencies in some of the synth sounds, while the bass was fuller and bigger. While the Orbits offer a bit more "excitement" compared to flatter earphones, the NeoBuds S earphones are that but dialed up another notch. This could be a positive or a negative, depending on your tastes.
Up next, the $230 feature-rich LG Tone Free T90Q earphones. These technically have noise canceling too, but it's so mild that they basically don't. The LGs had significantly more midrange while still keeping some treble. With "Goose Snow Cone" (Mental Illness, 24/44.1 FLAC, SuperEgo / Qobuz), Aimee Mann's voice was far more forward in the mix with the T90Qs compared to the Orbits. Too much so, to be honest. The Orbits sounded way better across the board.
Lastly, the Bose QuietComfort Earbuds II earphones. Is it worth spending $50 more for class-leading noise canceling? Well, if you want noise canceling, sure. If that's not a priority for you, the Orbits have much tighter bass, and overall have a much more exciting sound. The bass line in "Too Much" by Carly Rae Jepsen (Dedicated, 24/44.1 FLAC, Schoolboy / Qobuz) was much stronger and punchier through the Orbits. Jepsen's voice and the various synths were more lively as well. The QCEIIs are mass-market bland in their sound profile, and that's fine for what they are, but they're not going to win any competitions for their sound alone. Noise canceling aside, for something to listen to every day I'd pick the Orbits between these two.
Conclusion
I think Campfire is doing something a little different in the earphone world, and that's great. The designs look cool, and the colors (for the most part) are interesting and stand out. Overall, I'm for it. The Orbits are definitely a solid entry. Their sound isn't particularly flat. By design they're more stylized. In general I don't have an issue with this. I think there's room in the earphone world for more than just perfectly flat sound profiles.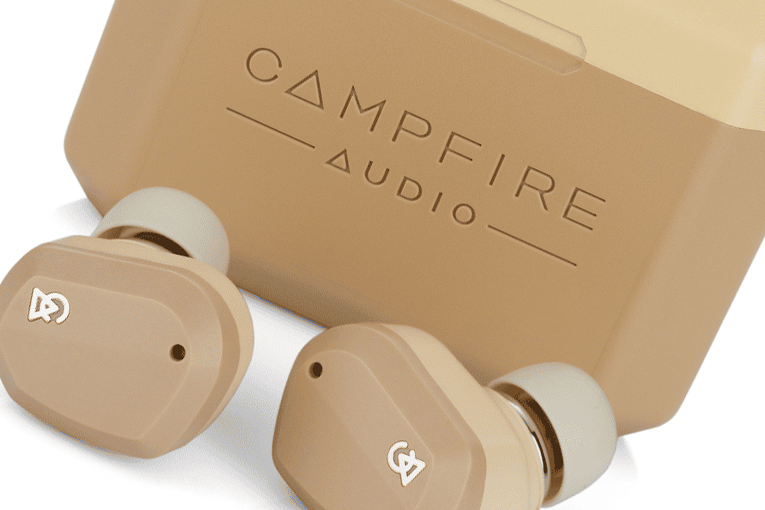 My main issue is with the price. There are a lot of excellent earphones at the $250 price point. The Orbits sound good, but there are some options that sound better, or offer more features, for similar money. If you love their punchy sound, though, those other options don't matter. Which is to say, I think the people who like the Orbits are really going to like the Orbit earphones. Others looking for a flatter sound or specific features, not so much.
. . . Geoffrey Morrison
This email address is being protected from spambots. You need JavaScript enabled to view it.
Associated Equipment
Smartphone: Google Pixel 7.
Campfire Audio Orbit True Wireless Earphones
Price: $249
Warranty: Two years, limited.
Campfire Audio
2400 SE Ankeny
Portland, Oregon, 97214
Phone: (971) 279-4357
Email: This email address is being protected from spambots. You need JavaScript enabled to view it.
Website: www.campfireaudio.com