Sound:











Value:










Measurements can be found by clicking this link.
When Apple omitted the headphone jack from new iPhones in 2016, audio manufacturers had to start taking Bluetooth wireless audio seriously. Any new model without Bluetooth would have to connect to the world's most popular smartphone using a dongle, something most listeners don't want. Thus, we're seeing Bluetooth (and the accompanying internal amplification and battery) added to more new models, even some targeted at audiophiles. The new Beyerdynamic Aventho Wireless is not only one of the first Bluetooth headphones built with audiophiles in mind, it's also -- like the Aventho Wired model -- one of the first on-ear headphones built with audiophiles in mind.
I approached this evaluation with some trepidation -- my last experience with on-ear headphones was not a good one. Would my experience with the Beyerdynamic Aventho Wireless headphones change my opinion of the genre?
In the box
The Beyerdynamic Aventhos' highish price of $449 USD is not reflected in their packaging: a smallish and fairly plain, if colorful, box. Inside, a sturdy, lined cloth carry bag contains the headphones, a USB-C charging cord, a 1.2m-long audio cable terminated with a 3.5mm plug (the Aventhos can be used wireless or wired), and several booklets: a quick-start guide, information about the warranty (two years, limited), and one on Beyerdynamic's MIY app, for use in fine-tuning the sound. The sturdy bag has an inner pocket for storing accessories, but its material is thick enough that I found it difficult to completely close it with the drawstring.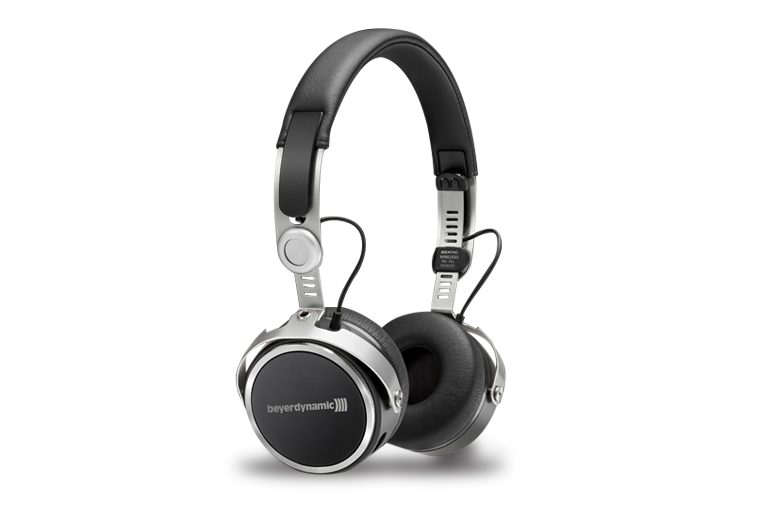 The Aventhos have a classy retro look, in black or brown, with more metal being used than in many other headphones -- which makes them, at 8.6 ounces, a little on the heavy side. The wires going to the earpieces are exposed, but the surfaces are generally smooth. The action of the slider feels very solid, and the cushioning of the faux-leather earpads and headband is ample. With their earcups swiveled for flat storage in the carry bag, the Aventhos measure 7"L x 5"W x 1.5"D; they don't fold up.
Along the edge, from 6 to 8 o'clock, are a USB-C charging port (claimed to provide shorter charging times than the old Micro-USB port), a 3.5mm audio jack, and, between them, a tiny on/off pushbutton. The other controls are on the outer face of the right earcup. Swipe up or down to increase or decrease the volume, swipe left to right or right to left to skip forward or back, swipe forward or back with a two-second hold to fast-forward or fast-reverse. Tap twice at the center to pause or play; hold your finger in the center for two seconds to call up a personal assistant (such as Siri) on your phone. You can also tap and hold the center to accept or reject phone calls.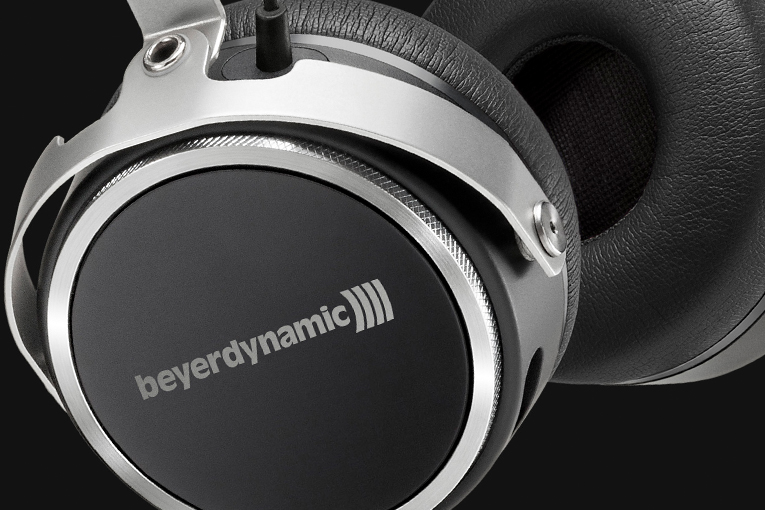 The Aventhos have the same Tesla technology used in Beyerdynamic's wired headphones, and use the Bluetooth 4.2 protocol and the aptX, aptX HD, AAC, and SBC codecs. Beyerdynamic claims a frequency response of 10Hz-40kHz, an impedance of 32 ohms, total harmonic distortion of 0.3% at 500Hz, and a sensitivity of 105dB/1mW when used wired. The Aventhos' power-handling capacity is 100mW. The claimed battery charge time is only two hours, with a playing time of 30 hours, depending on the volume level.
Use
I found the Aventhos a bit tricky to place on my head, but the quick-start guide deals with this. It was most helpful, and I quickly found the right adjustment for me. I had expected an on-ear design to lack stability, but the Aventhos remained solidly on my head. You could probably use them for normal walking around, and perhaps running, but they might not be good for gym workouts.
Bluetooth pairing was quick and easy. The battery's charge time and life were right on the mark, and the swipe controls worked splendidly, once I'd got used to them. The power button was problematic. It's very stiff and very small, which makes it hard to press. Fortunately, I didn't have to use it except at the beginning and end of a listening session. The Aventhos' range of operation was normal for my house: 20' to 25', depending on obstructions. The isolation from outside noise they provided was impressive for on-ear 'phones. Right now as I sit at the computer, a noisy dryer spins at the other end of my small cottage. Normally I'd hear the dryer, but the Aventhos 'phones provide enough isolation that I had to get up to see if the dryer was still running. The sound of the computer was completely blocked.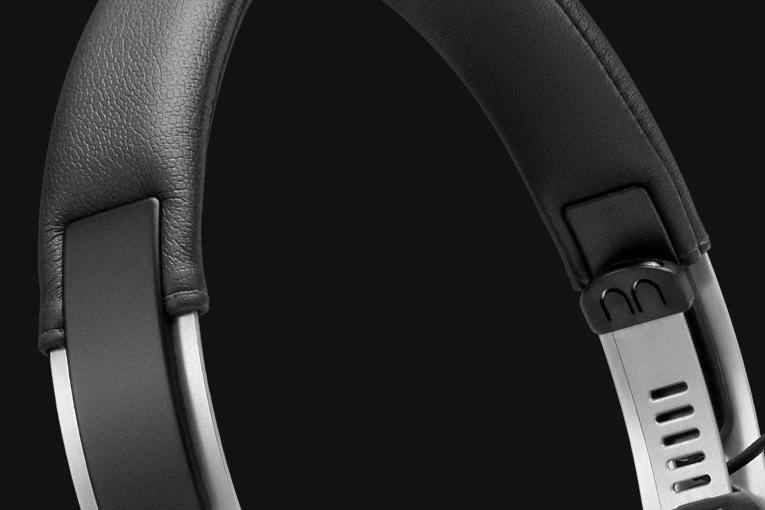 MIY looks like a wonderful app, but it requires Apple OS10.3, and my fifth-generation iPod Touch is compatible only up to OS9.7. This was irritating -- I'm tired of companies that make perfectly good equipment obsolete, in hopes selling a new model. Many of us have older gear that works just fine -- we have no desire to replace it every two years. An update like the USB-C port is OK -- the cable with the necessary connector is included -- but couldn't MIY have been designed so that at least part of it was back-compatible with older operating systems? It's something to keep in mind: If you buy the Aventhos, you may have to also buy a new source device if you want to use MIY. Apple, too, is at fault in my situation -- the iPod Touch can't be updated. The MIY app sounds great on paper, allowing you to adjust the headphones to your ears.
Sound
The sound of the Beyerdynamic Aventhos was so good that that you might just ignore the above gripes. The midrange was super -- very transparent, and perfectly focused within the soundstage. The highs sparkled but were never shrill, and the bass was solid and sure. It's not the overbearing bass I've heard through some over-ear headphones -- I wasn't constantly aware of it -- but when needed, it was there. The soundstage was of average width but was unusually deep. The sound of wireless Bluetooth operation was good enough for casual listening, but the frequency response was wider, and the sound fuller, when I used the wired connection. Bluetooth is improving by the day, and its sound quality will perhaps someday rival that of a wired connection -- but that day is not yet.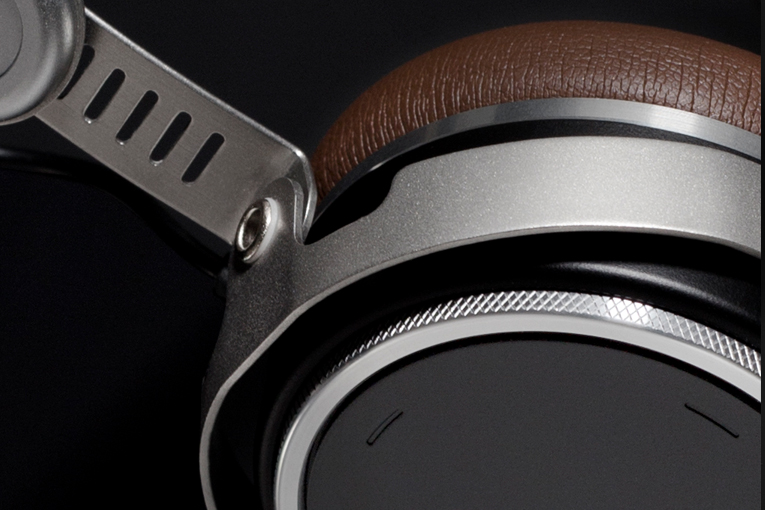 I began my listening with Benjamin Britten's Young Person's Guide to the Orchestra, with the composer conducting the London Symphony Orchestra (16-bit/44.1kHz ALAC, Decca). The work begins with a statement for full orchestra of the theme by Purcell on which Britten builds his variations. The xylophone provides accents that are often lost in distortion, but the Aventhos did better with it than any other on-ear headphones I've heard -- not only did I hear the crisp tones, I could feel the metallic stroke of the mallet as they were created. Britten wrote a variation for each instrument of the orchestra, and every one sounded terrific. This time around, I was particularly struck by the variation for clarinets, accompanied only by oom-pah tuba. It was crystal clear, and the clarinet's tone was extremely realistic.
Then, on my Benjie Rocker player, I played one of my favorite recordings of all time: Tchaikovsky's The Nutcracker, with Ernest Ansermet conducting the Swiss Romande Orchestra (16/44.1 ALAC, from a Decca reel-to-reel tape tweaked by High Definition Tape Transfers). The overture is scored for upper strings and woodwinds -- no bass instruments. Through the Aventhos, it sounded clean, clear, and crisp: just right.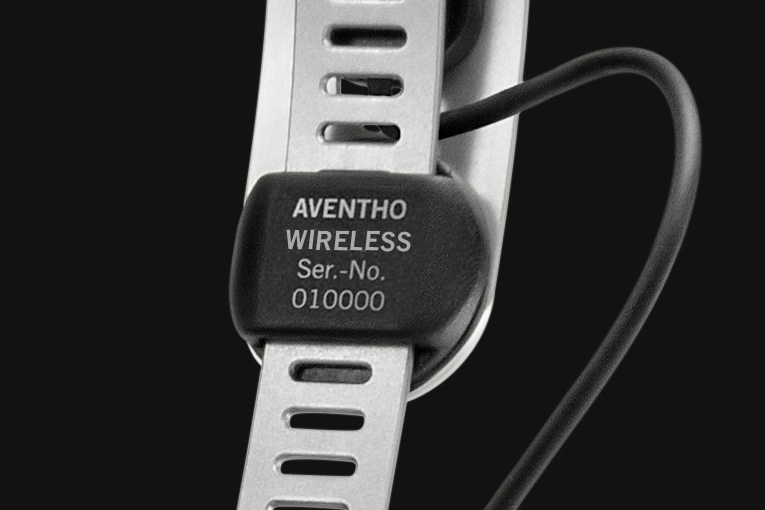 Looking for bass, I turned to Fleetwood Mac's Rumours (16/44.1 ALAC, Warner Bros.), which includes one of my favorite rock songs of all time: "Chains." I'd never heard it image as it did through these headphones. The voices of Stevie Nicks and Lindsey Buckingham sounded as if they were behind the instruments, yet were never overwhelmed by them. The famous bass solo in the instrumental bridge came through solid as a rock, with deep tonality and precision. The bass on the rest of the album was stunning, creating sounds and sensations I hadn't expected to hear through on-ear headphones.
Chesky Records' many binaural recordings sound good enough through speakers, but they're intended to be heard through headphones. The idea is that putting the recording microphones in the ear canals of a dummy recording head -- a close approximation of where the head and ears of an actual listener would be in the recording venue -- creates, on playback, sound with a natural sense of space. You can even hear surround sound, though I'm not convinced it sounds as good as actually having speakers behind you. Nonetheless, since these binaural recordings were created to be listened to through headphones, I plan to visit Chesky's library often as I check out new cans.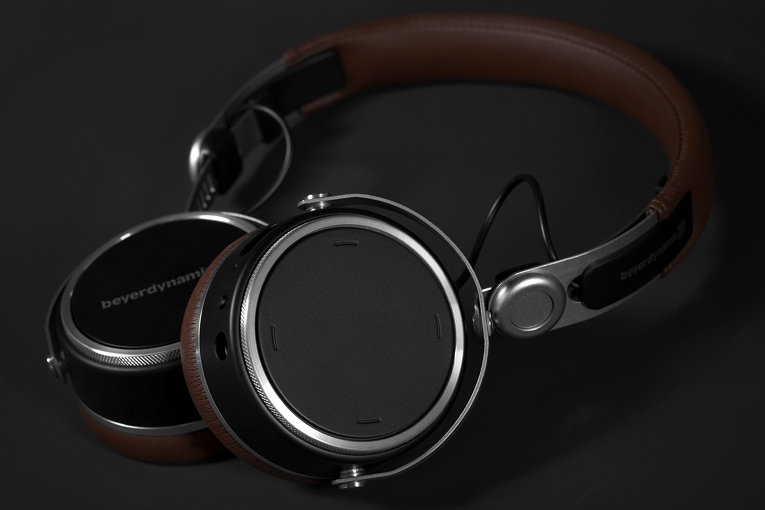 The first one I listened to was Dr. Chesky Presents You're Surrounded (24/96 FLAC, Chesky/HDtracks), a sampler that includes everything from handclaps and sound effects to island music. An example of the last kicks off the album: "Doundounba" begins with marimba at the front of the mix. Hands clap far to left and right, then drums and other percussion enter from every direction, topped by voices at left rear and right rear. It might be complicated in performance, but the Aventhos made it all sound crystal clear. I found these headphones to be exceptionally accurate at placing instruments within large soundstages.
Sum
The Beyerdynamic Aventho Wirelesses are some of the best-sounding headphones I've ever heard. They reveal the nuances of all types of music, and have a cool retro look. Some user issues mark it down a bit; but their overall sound is so good that you might overlook them. One of those problems is the price, which is a little high. They don't look like headphones that should cost $449, but they sure sound like it -- and more.
. . . Rad Bennett
This email address is being protected from spambots. You need JavaScript enabled to view it.
Associated Equipment
Portable music players -- Apple iPod Touch (fifth generation) and iPod Nano (seventh generation), Benjie Rocker
Other sources -- Hewlett-Packard Pavilion computer, Realtek music-player software, Yamaha RXV-661 receiver
Beyerdynamic Aventho Wireless Headphones
Price: $449 USD.
Warranty: Two years, limited.
Beyerdynamic GmbH & Co. KG
Theresienstrasse 8
D-74072 Heilbronn
Germany
Phone: 49 (0)71-31-617-430
Fax: 49 (0)71-31-617-199
E-mail:This email address is being protected from spambots. You need JavaScript enabled to view it.
Website: www.beyerdynamic.de
Beyerdynamic, Inc. USA
56 Central Avenue
Farmingdale, NY 11735
Phone: (631) 293-3200
Fax: (631) 293-3288
E-mail:This email address is being protected from spambots. You need JavaScript enabled to view it.
Website: www.beyerdynamic-usa.com