Sound:











Value:










Measurements can be found by clicking this link.

Marshall Headphones' Mid A.N.C. on-ear headphones ($269 USD) are the latest in a new crop of headphones combining Bluetooth and active noise canceling (NC). Bluetooth recently became more important when Apple took the headphone jack off the latest iPhones. And because Bluetooth requires a rechargeable battery, amplifiers, etc., adding NC becomes relatively easy.
Although Marshall headphones take their logo and styling cues from the towering Marshall guitar amps favored since the 1960s by many rock stars, they're actually the product of a collaboration with Zound Industries, a Swedish company that also makes headphones under the Urbanears brand. Apparently some skillful audio engineers are involved, because many past Marshall headphones and Bluetooth speakers have won glowing reviews.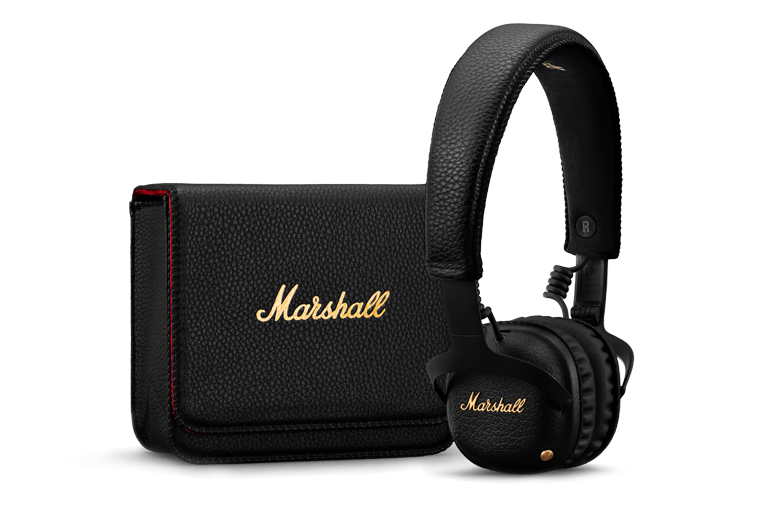 The Mid A.N.C.s themselves are gorgeous, with a headband covered almost entirely in black faux leather, and square, heavily padded earcups with user-replaceable earpads. Marshall logos are everywhere, in gold: metallic on each earcup, and a larger, less bright one, on the inside of the headband. Coiled wires running up through the headband to connect the earcups give the Mids a retro look; even on their own, the wires are a class act to behold. The headband is adjusted the usual way, with detents that make it easy to remember and keep your preferred setting.
Inside each earpiece is a 40mm dynamic driver. The earcups don't swivel flat, but they do fold inward for travel. At the bottom of the right earcup is a 3.5mm jack for the audio cable (which you'll need when you want to plug the headphones into a non-Bluetooth source), a port for the USB charging cable, and a slider to turn the NC on or off. Next to the USB port is one of the tiniest LED indicators I've ever seen. A full charge of the lithium battery is claimed to last 30 hours with NC on, or 20 hours with both Bluetooth and NC on. The Bluetooth chip includes standard aptX decoding. A non-NC version, the Mid Bluetooth, is available for $50 less.
On the left earcup is a small, universal navigation button in gold. Pressed and held for three seconds, it serves as an on/off switch. Press and release, and it pauses or plays. Push it left or right for the previous or next track, or press left or right and hold for fast-reverse or fast-forward. The same button can also be pushed up or down to raise or lower the volume. Click it once to accept a phone call, twice to refuse a call.
In the box
The Mid A.N.C.s' square travel case is made from real-looking faux leather lined with red velvet, with a magnetically fastened flap. Because the Mid A.N.C.s' earpieces don't swivel flat for travel, the case is necessarily chunky -- more than half again as thick as the one Bose provides for its QC35 II headphones. It'll fit into most laptop bags, but not easily.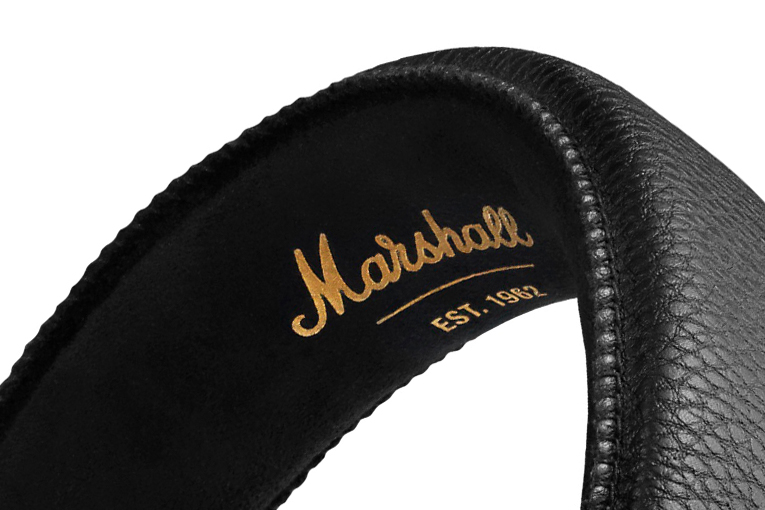 Other included accessories are a USB-to-Micro-USB cord for charging, and an audio cable with gold 3.5mm plugs and an inline remote control and microphone. The manual is a little tough to read -- it's printed in 36 languages, each accorded only two pages, and it relies largely on graphics.
Use
The Mid A.N.C.s' headband clamped my head securely, even tightly -- but not too tightly, this no doubt thanks to the generous padding of the headband and earcups. I could listen for long periods and forget they were on my head, which never got hot, as it does with many other headphones. Bluetooth pairing was a snap, and the range of wireless operation was normal -- about 20' in my home, with all of its internal obstructions.
The universal navigation button proved a challenge. Perhaps it was my old thumb, but I found it difficult to get the left/right skip and volume up/down functions to work -- eight times out of ten, I unintentionally put the music in pause. Nor are there any easy-to-see markings on this button to indicate precisely where up, down, left, and right actually are. I thought that perhaps those with more limber fingers would have no problem with this, but SoundStage! Solo editor Brent Butterworth reported the same problem.
Sound
The Mid A.N.C.s' plush earpads provided quite a bit of passive noise reduction. The NC circuitry was less effective than I've heard from the best NC headphones, though it did reduce bass and lower-midrange rumble enough to provide some relief from passenger-jet cabin noise. Fortunately, the Mid A.N.C.s' noise canceling didn't alter the sound of the music.
The overall sound of the Mid A.N.C.s was as tonally even as could be from top to bottom of the audioband. The midrange was insanely transparent, with nearly unbelievable presence. The highs were perky without ever being harsh, and the lows were amazingly articulate and deep for an on-ear design. The sound seemed correctly balanced and well focused at all times. If you want thumpy bass, these aren't the headphones for you, but for everyone else, the neutral bass should be just fine.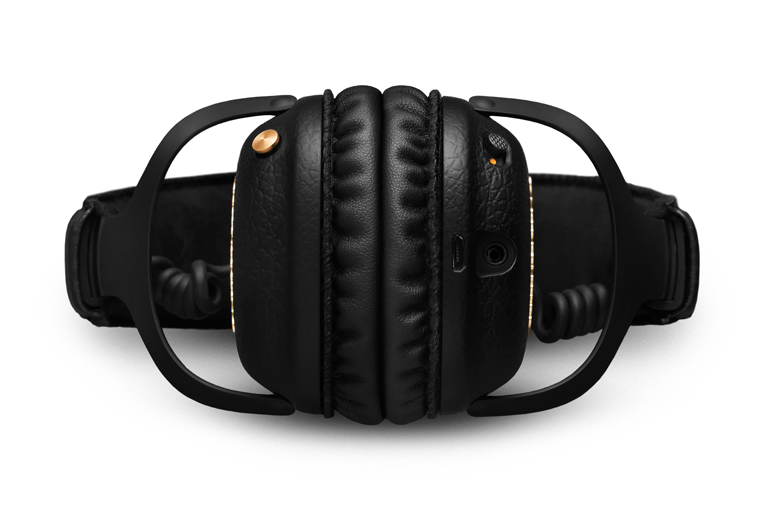 There was surprisingly little difference between Bluetooth and wired listening. The wired sound was a bit tighter in the bass, with greater extension at the extremes of the audioband, but the difference was very slight. I did a lot of wired listening -- my receiver lacks Bluetooth, but it's only through that receiver that I can easily access most of my stored recordings.
One of my favorite opera recordings is of Puccini's La Bohème, with Tullio Serafin conducting the Santa Cecilia Academy Rome Orchestra in 1959 (16-bit/44.1kHz FLAC, Decca/London). In those early days of stereo, Decca/London and RCA, in an attempt to present realistic staging, recorded on large stages marked like a chessboard, and used the grid to position and move singers from side to side and from front to back, to create the illusion of a staged production's blocking. This recording has lots of that spatial specificity, and stars three of my favorite singers: Renata Tebaldi, Carlo Bergonzi, and Ettore Bastianini. Listening through the Marshall Mids made it very clear that each voice occupied its own unique space -- the movements and positions of the leads were pinpoint precise. At one point in Act I, Bergonzi crosses the stage while holding a high note. The Marshalls captured this cross seamlessly, with no hole in the middle. The balance of orchestra, soloists, and chorus was perfectly to my liking, though critics of the day sometimes said the singers were mixed too low. Like it or not, the Marshalls presented it accurately.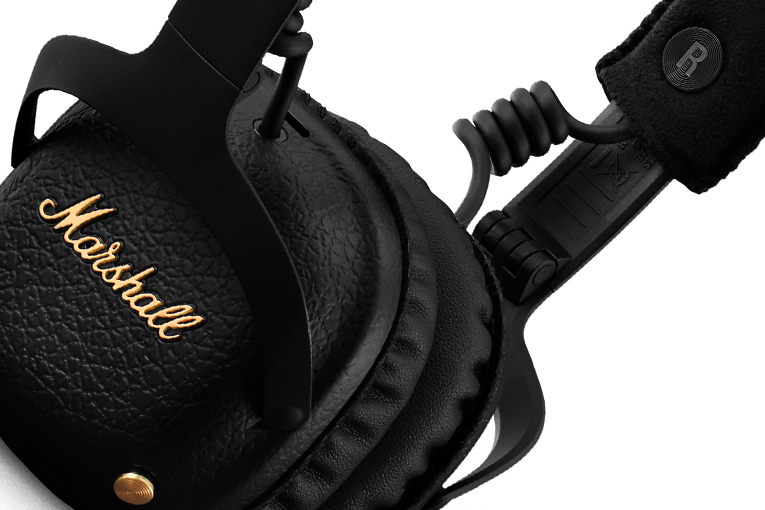 I then played the title track of Rosemary Clooney's Do You Miss New York? (16/44.1 ALAC, Concord). Clooney's warm, sometimes breathy voice was dead center, an instrumental sextet accurately spread out behind her. I heard nuances in Clooney's delivery that would daunt other headphones -- or loudspeakers, for that matter.
So: two very different styles of singing, both delivered with absolute accuracy. The Mid A.N.C.s were pretty close to perfect in the midrange.
Time to fire up my Benjie Rocker portable player for a little binaural Bluetooth fun with The Ultimate Headphone Demonstration Disc (24/192 FLAC, Chesky JD361/HDtracks). The vocal tracks on this disc, ranging from Dixieland to classical, were most impressive -- proof that the Mid A.N.C.s were focused enough to faithfully reproduce the 360° soundfield, recorded using a dummy head with B&K 4100D microphones inserted in its ear canals. Wycliffe Gordon's performance of "When the Saints Go Marching In" was especially fun, with a faithful reproduction of the former church sanctuary in which it was recorded -- the ambience seemed spot on. I was also able to appreciate the absence of any compression applied in postproduction.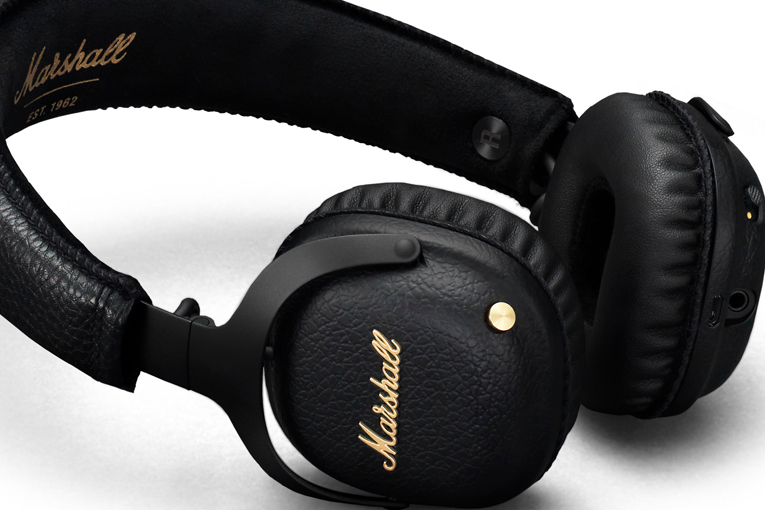 Wanting to test a hard-driving recording with both Bluetooth and NC, I turned to an old favorite, "Bedroom Toys," from Duran Duran's Astronaut (16/44.1 ALAC, Sony). The imaging was amazingly precise, with the pungent voice of the lead singer rock-solid at the center of the mix, and the somewhat gentler backing voices clearly in -- or beyond -- my left and right ears. The astonishing thing was the focus the Marshalls brought to every instrument and voice.
Comparison
Though I usually prefer over-ear headphones, I've now reviewed three similar on-ear models in a row. The AKG N60 NC Wireless headphones ($299.95) come in third -- they didn't fit well, and had a glaring midrange, with nothing much on the top or bottom to make up for it. The Beyerdynamic Aventho Wireless headphones come in a very close second in sound quality, but they don't have noise canceling, and at $449, they're pricey. That leaves the Marshall Mid A.N.C.s at the top.
Conclusion
The Marshall Mid A.N.C.s have a beautiful semi-retro look, are comfortable to wear for long periods, and their sound is great: even, tonally balanced, and focused throughout the audioband. They do have some downsides -- their universal navigation button presents a challenge, the noise canceling capability is just average, and the case isn't as travel-friendly as many others. But the sound and comfort are exceptional, and for most of us, those are the things that count most.
. . . Rad Bennett
This email address is being protected from spambots. You need JavaScript enabled to view it.
Associated Equipment
A/V receiver -- Yamaha RX-V661
Portable music players -- Apple iPod Touch (fifth generation), Benjie Rocker

Marshall Headphones Mid A.N.C. Bluetooth Headphones
Price: $269 USD.
Warranty: One year, limited.
Marshall Headphones
Zound Industries International
Centralplan 15
111 20 Stockholm
Sweden
Phone: +46 (0) 8-59-200-500
Website: www.marshallheadphones.com