Sound:











Value:











(Read about our ratings)
Measurements can be found by clicking this link.

When I first encountered Focal's new Stellia closed-back headphones, I was exhausted and eager to hit the road. It was last month at CES 2019, in an early-morning, press-embargoed meeting scheduled right before my departure. Figuratively speaking, the imaginary sounds of my car calling out to me from the Mirage hotel parking lot drowned out most of Focal's pitch. Regardless, I left with a review sample, and after living with the Stellias for a month, and soliciting the opinions of our usual listening panelists, I really don't care what that original pitch was -- because I think my reaction to these headphones might be a little different from the way the company will position them.
Focal built much of its newfound reputation for excellent high-end headphones on the strength of the original Utopia model introduced in 2016 for $3999 USD. The Stellias resemble the Utopias from an engineering standpoint, but the Stellias are a closed-back design and cost just $3000 -- although that's still a lot to ask for a set of headphones.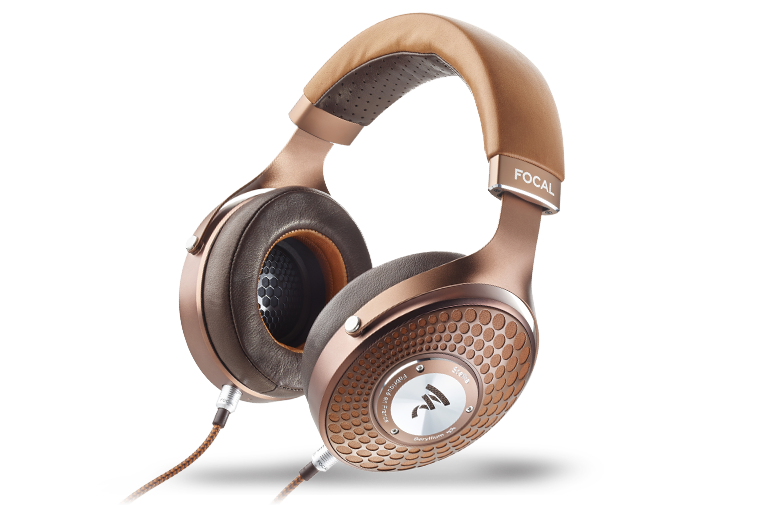 Like the Utopias, the Stellias use a driver that's more akin to a speaker driver than a typical headphone driver. Like a speaker driver, it uses a separate half-roll surround to connect the diaphragm to its frame; most headphones just connect their Mylar diaphragm directly to the frame. The added compliance of the surround should better damp high-frequency distortions and should also permit deeper bass response. Focal bills the diaphragm as "M-shaped," because it has a large dome in the middle. The 40mm diaphragm attaches to a large-diameter voice coil that's just a bare coil of wire with no bobbin to support it, a deletion that should make the entire structure lighter and more responsive.
The Stellia driver uses a beryllium diaphragm, unlike the less-expensive Elegia closed-back headphones ($899), which use an aluminum-magnesium diaphragm. This should make the Stellia driver's diaphragm lighter yet stiffer, which should produce clearer and more extended treble response. The use of beryllium seems to have slightly improved the Stellias' sensitivity, which is rated at 106dB/1mW versus 105dB for the Elegias.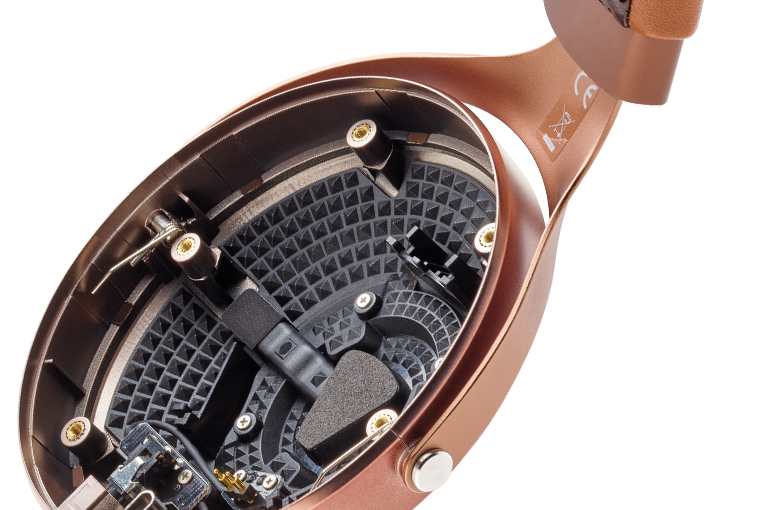 As with the Elegias, Focal stresses the importance of the acoustical work they did inside the headphones' enclosures, including acoustic diffusers in addition to the usual foam absorption, and carefully tuned venting. We weren't super-excited about the sound of the Elegias, which we found to be a little too midrange-focused for our taste. I was hoping the Stellias might sound more balanced -- but fearful that as a more-expensive model, they might be voiced for the brighter sound that many headphone enthusiasts prefer. Only one way to find out . . . listen.
Incidentally, if you need an amp to power the Stellias, Focal is offering a $1000 voucher on purchase of a Focal Arche amplifier to all Stellia owners through the end of 2020.
In the box
Despite the Stellias' 3.3-times-higher price, you get only one more accessory than the Elegias offer: a 10' (3.1m) balanced cable terminated in a Neutrik four-pin XLR connector. The Stellias also include the same 4' (1.2m) cable the Elegias use, terminated in a 1/8" stereo plug with a removable 1/8"-to-1/4" (3.5mm-to-6.3mm) adapter attached. Both cables are tipped in 1/8" mono plugs on the earpiece ends, and both are shrouded in the same rust-brown fabric that covers the included case. Except for the color, the case is the same cool, thermo-molded one that comes with the Elegias.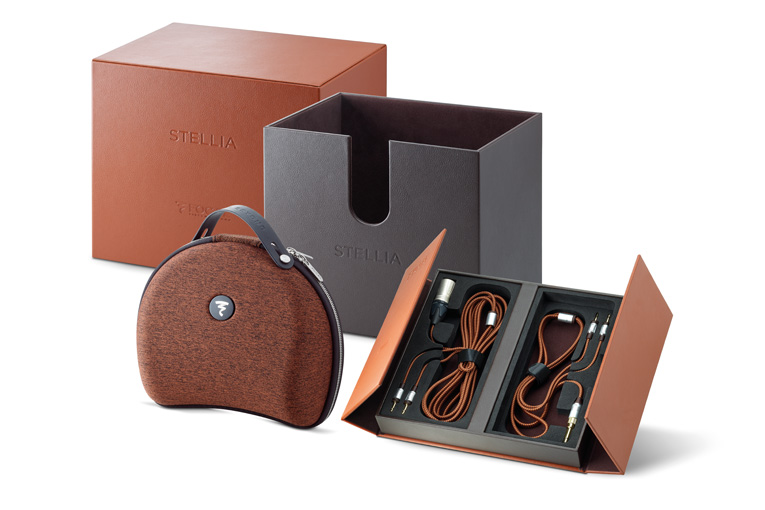 Use
At 9.8" x 9.4" x 4.7" (250mm x 240mm x 120mm), the Stellias' case is too bulky to slip into a typical laptop bag or purse, but it's compact enough to fit pretty easily into a large suitcase.
Many headphones priced in the Stellias' range don't even come with a case, because it'd be silly to take them outside the home. But the Stellias' rated 106dB sensitivity and 35-ohm impedance should make them as easy to drive as most mass-market headphones, and their closed-back design should provide enough isolation to block most external sounds at frequencies higher than 1kHz or so. From a technical standpoint, they should be ideal for portable use, if you ignore their bulk and cost.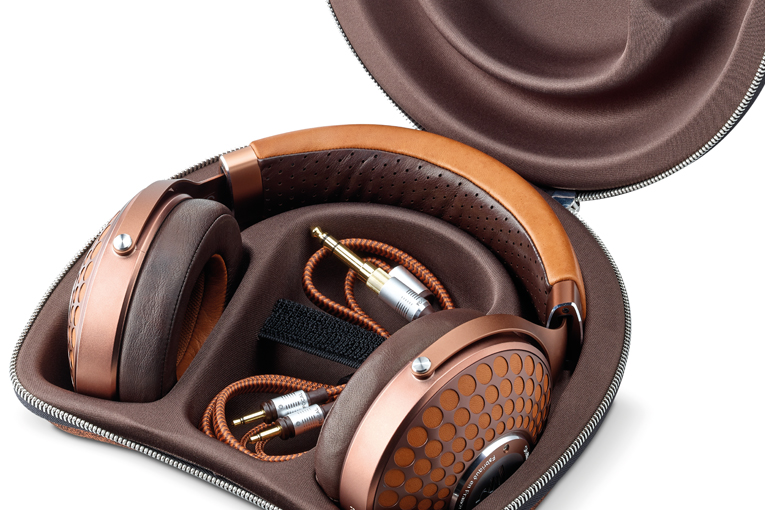 So for a few hours, I decided to use them the way most people use headphones: spending a couple of hours listening to them at my local Starbucks, plugged straight into my Samsung Galaxy S9 smartphone. The Stellias did a fine job of isolating my eardrums from the noise of the background music, the espresso machines, and the chatter of my fellow patrons, and I noticed that relying on the phone's internal amp produced no frequency response aberrations or lack of volume and dynamics. Surprisingly, I detected no interest in the headphones from the baristas and the other customers, despite the headphones' large size and flashy design.
I and my two outside listening panelists (more about them later) found nothing to complain about in the Stellias' fit and comfort. They're large enough to easily accommodate even my relatively large earlobes without mashing down on them, yet unlike some audiophile headphones (such as the HiFiMan HE1000 V2s), they're not so large that they're too big for many people with smaller heads.
Sound
Even though that Starbucks visit came after I'd completed most of my evaluation of the Stellias, it brought me a revelation about them, beyond the fact that I could easily drive them straight off a smartphone. Having noticed that the singer Halsey was hosting Saturday Night Live, but having never, to my knowledge, heard her music, I thought I'd spin a little off Spotify while I was enjoying my venti coffee and chocolate cake pop. It's, you know, electro-pop-whatever, and it's depressing, but musically it's fairly interesting. Her voice is clearly recorded, and like most pop music nowadays, it has some fun deep bass hits. In other words, it's the kind of stuff you'd never want to play through most audiophile headphones, because their exaggerated treble would make Halsey's voice sound grating and most of the rhythmic impact of the bass hits would be lost.
Through the Stellias, though, I was able to enjoy tunes like "Heaven in Hiding," from Halsey's Hopeless Fountain Kingdom (320kbps Ogg Vorbis, Astralwerks/Spotify). They didn't exaggerate the treble or try to bury the bass, they just gave me what sounded like a neutral presentation of the tune. They did what good audio products should do -- they allowed me to explore the zeitgeist of today's music without filtering it through an audio product designer's idea of how music should sound.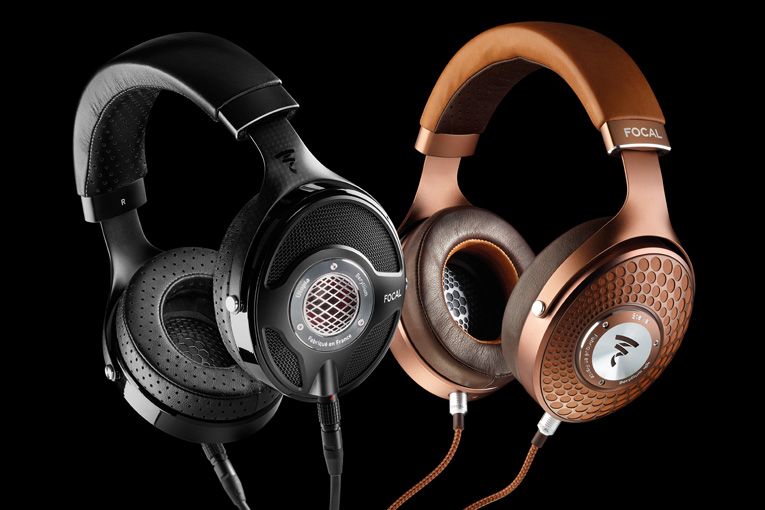 I normally like to start my reviews with a basic description of how headphones sound, but the above paragraph says much of what I want to say. The Stellias sound generally neutral, with a natural tonal balance, and they don't seem to emphasize any particular part of the audio spectrum. They also deliver real midrange and treble detail, instead of an illusion of midrange and treble detail created by attenuating the bass.
"Allegro frenetico (Orgy of Brigands. Memories of Scenes Past)," the fourth movement of Berlioz's Harold in Italy, Op.16, performed by the San Diego Symphony Orchestra conducted by Yoav Talmi, with violist Rivka Golani and violinist Igor Gruppman (16-bit/44.1kHz WAV, Naxos), provides a perfect example of the Stellias getting the tonal balance just right. The movement starts with a 14-second flurry by the entire string section, where treble and upper midrange are paramount, then abruptly switches to ominous tones from the double bass section. The Stellias delivered loads of mid and treble detail in the first burst of strings without sounding even slightly etched or edgy, then effortlessly shifted gears to reproduce the power of the double basses without a trace of boom or bloat. I found that even when I turned the Stellias up to about the same volume you'd experience in the third row of an orchestra concert, the sound wasn't fatiguing in the slightest.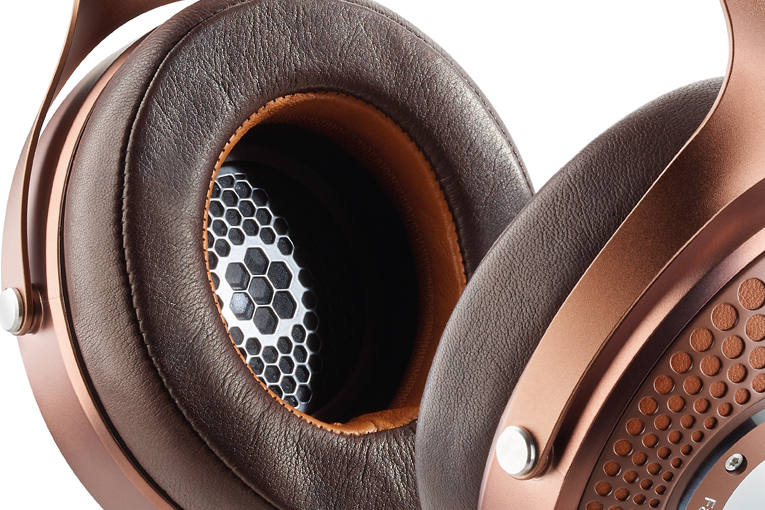 Likewise, the Stellias easily navigated the sharp contrasts of "Gallows Pole," from Led Zeppelin III (16/44.1 WAV, Atlantic). The tune starts quietly with acoustic guitar, then builds into Zeppelin's trademark "hammer of the gods" bombast as it adds mandolin, electric bass, banjo, drums, and electric guitar. The mix is a little thin in the beginning; I imagine they wanted to leave space for the other instruments to come. This can sound a little grating through headphones that have exaggerated treble, but the Stellias portrayed the relatively thin guitar sound without making it sound harsh, and they also perfectly captured the huge artificial reverberance of the acoustic guitar in the beginning. Yet they completely kicked ass when the bass, drums, and electric guitar came in.
I could cite a lot more examples, but I'd be repeating myself. Through three listeners and numerous genres of music -- and numerous source devices and amps -- we simply couldn't find anything we didn't like about the Stellias.
Comparison
To get a different perspective on the Stellias, I brought in our usual listening panelists: John Higgins, who holds a masters in music performance from USC and has served as a frequent contributor to Wirecutter and Sound & Vision; and LeRena Major, a Los Angeles saxophonist who's held several positions in the music business and is a voting member of the National Academy of Recording Arts & Sciences. We compared the Stellias with the best two headphones I had on hand, the HiFiMan HE1000 V2s and the Audeze LCD-Xes. (Unfortunately, I didn't have any high-end closed-back models with which I could compare the Stellias.)
LeRena did nothing but rave about the Stellias. "The sound is really intimate, very much like you're in the same room as the performers," she said. "It's great whether you're listening to old or new masters. There seems to be less variation from tune to tune than you would hear with most headphones; it's a more consistent listening experience." By this she meant that the Stellias don't have flaws or idiosyncrasies that would be highlighted by any particular type of recording, good or bad.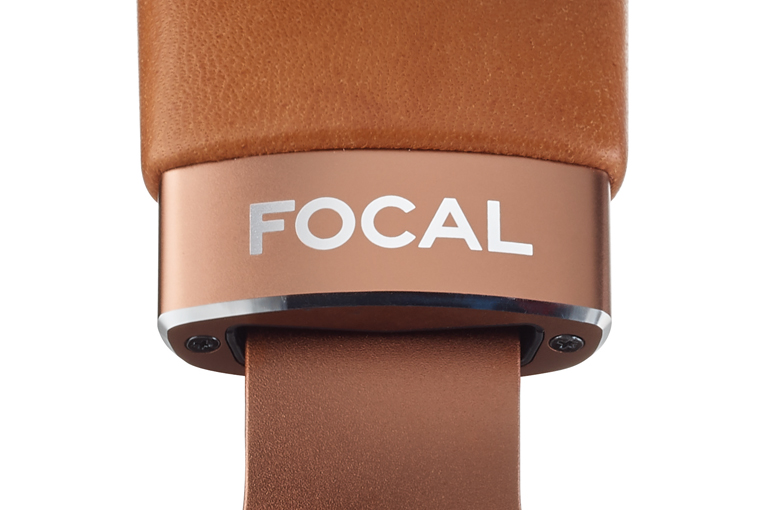 John, who's probably the most critical of the three of us, found little to criticize in this case. "There's a little bit of extra upper-midrange presence, but it's easy to get used to after a couple of songs," he said. "There's a little bit of extra bass, too. Comparing them to the HiFiMan HE1000 V2s, the HiFiMans have more treble -- too much for me -- but a bigger apparent soundfield. So if you want that audiophile top end, I'd say get the HiFiMans. If you want the sound more balanced, get the Focals."
I could hear what John was talking about when I put on "Painting No.4," from David Chesky's Trio in the New Harmonic (24/96 AIFF, Chesky). The Stellias definitely delivered the scintillating sense of space for which Chesky recordings are known, but the HE1000 V2s delivered even more sense of space. However, the HE1000 V2s, good as they sound, did produce some tonal inaccuracy that the Stellias avoided -- specifically a mid-treble boost that accentuated the ride cymbal and gave it a bit of a "cupped hands" coloration.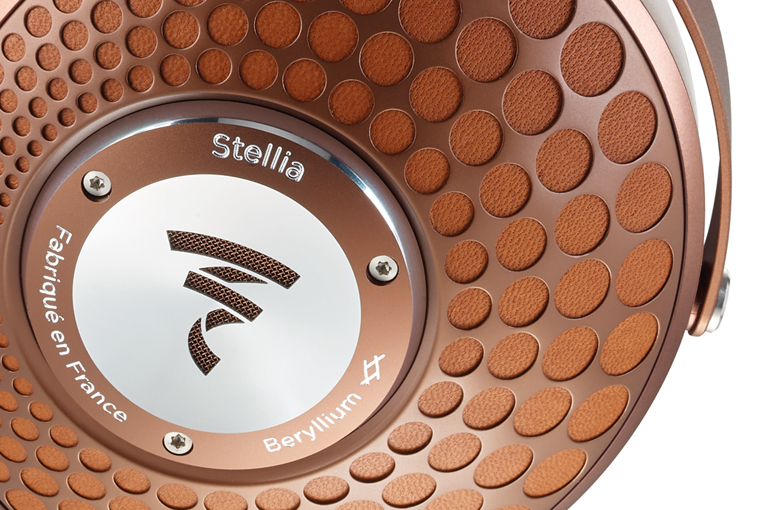 The headphones probably most like the Stellias that we've reviewed on SoundStage! Solo are the Audeze LCD2 Closed-Backs. At $899, the LCD2 Closed-Backs are far less expensive, but they're also a lot bulkier than the Stellias. Much as we loved the LCD2 Closed-Backs, we did find their sound a little dry and analytical at times -- something we never noted with the Stellias.
Conclusion
With every review of headphones or earphones I write, I always find something to complain about. Sometimes it's minor, sometimes it's major, but there's always something. Not this time. Plug the Focal Stellias into anything you've got on hand, use them wherever you want, play whatever music you want, and they'll sound fantastic. While I know the Stellias will thrill audiophiles, I think Focal's greatest achievement is that the Stellias will also thrill well-heeled non-audiophiles -- the kind of people who don't want to be told they need some exotic amplifier, and who don't want to hear excuses about why their headphones don't deliver realistic bass levels.
. . . Brent Butterworth
This email address is being protected from spambots. You need JavaScript enabled to view it.
Associated Equipment
Headphone amps -- Audio-gd NFB-1AMP, Musical Fidelity V-CAN
DAC -- Musical Fidelity V90-DAC
DAC-headphone amp -- iFi xDSD
Smartphone -- Samsung Galaxy S9
Focal Stellia Headphones
Price: $3000 USD.
Warranty: Three years parts and labor.
Focal
BP 374, 108 rue de l'avenir
42353 La Talaudière Cedex
France
Phone: (+33) 4-77-43-57-00
Website: www.focal.com