Sound:











Value:











(Read about our ratings)
Measurements can be found by clicking this link.
In many ways, the MEE Audio Matrix Cinema ANCs are the headphones of the future. As the name suggests, they're built not just for music listening, but for all sorts of media, including movies and YouTube. As required of pretty much any under-$300 headphones that hope to succeed in today's marketplace, they have Bluetooth -- and not just Bluetooth, but aptX Low Latency, which eliminates the lip-sync problems that standard Bluetooth suffers from. They're also primed for mobile use, with active noise canceling and a fold-flat design convenient for traveling. The battery is rated at 20 hours for music playback with Bluetooth and noise canceling on, and 33 hours with Bluetooth only. Not bad for $149.99 USD.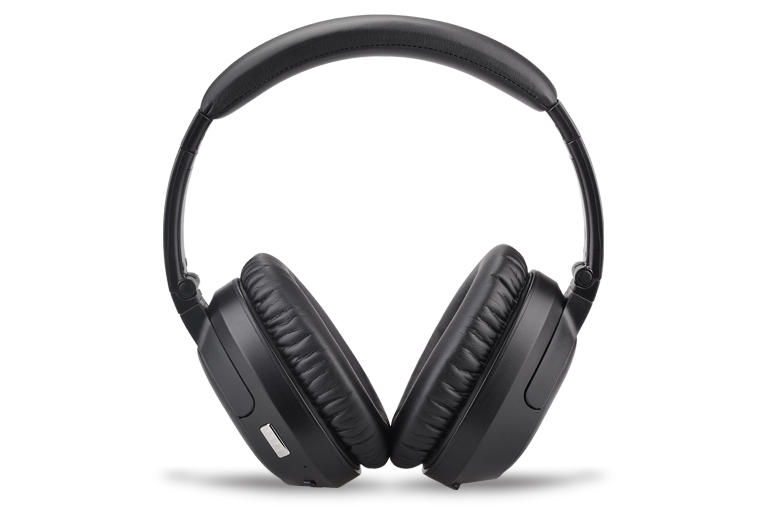 The Matrix Cinema ANCs have some interesting things going on sonically, too. Each driver measures 40mm in diameter (typical for headphones of this type), and they're angled slightly backward to point into the listener's ears. More important, though, are the four digital signal processing (DSP) sound modes, which MEE Audio calls CinemaEAR audio enhancement. You choose from four modes: Clear Voice (voice enhancement), Clear Voice Plus, Dynamic Music (with bass and treble lightly boosted), and Bass Boost (with bass heavily boosted). You can also bypass them by holding down the CinemaEAR button for a few seconds.
Clearly, the Matrix Cinema ANCs aren't aimed at audiophiles; they're intended for people who want headphones that can do everything. But there's absolutely no reason in the world that such headphones can't sound great -- especially when they use their DSP to give you a choice of tunings.
In the box
The Matrix Cinema ANCs include a slim, semi-hardshell travel case measuring about 9" by 8" by 2", a USB charging cable, and a 5.2' (1.6m) cable that lets you plug them into non-Bluetooth sources, such as inflight entertainment systems.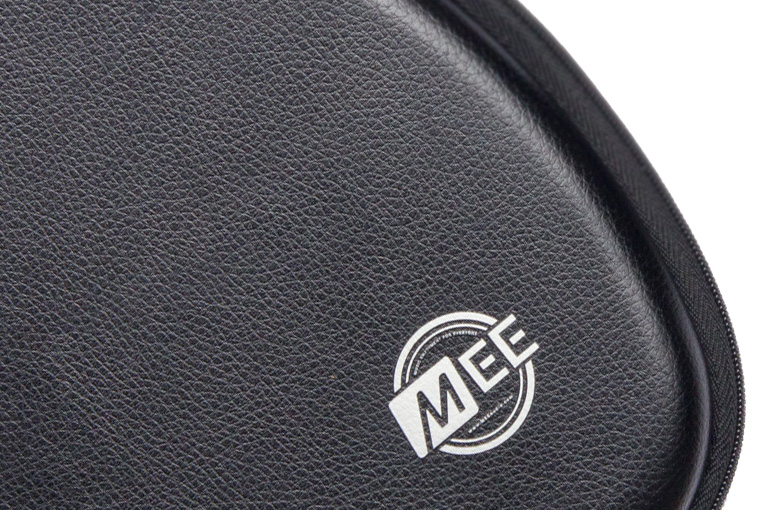 Use
The memory foam pads on the Matrix Cinema ANCs' earpieces are soft and just big enough to accommodate large earlobes; they remind me of the feel of Bose's QC35 II headphones, which get rave reviews for comfort. The controls can be a little confusing -- the switch labeled On/Off controls the noise canceling, and a button with the MEE logo is what you use to turn the headphones on and off. There's also a tiny volume up/down rocker, plus a big, easy-to-find switch to select the sound mode. In terms of comfort and ease of use, we couldn't find anything significant to complain about.
Sound
When we did the original testing for this review, I didn't realize that CinemaEAR could be bypassed. We focused on Dynamic Music mode for most of this evaluation, because it's the CinemaEAR mode that sounds good for normal musical listening. The Clear Voice and Clear Voice Plus modes introduce two levels of midrange boost that help voices stand out; they're probably great if your hearing is impaired, but if your hearing is fairly close to normal, you likely won't need them. The Bass Boost mode sounds soft and very boomy; it gave me flashbacks to the late-'00s craze for crazily bassy headphones endorsed by (and supposedly tuned by) hip-hop artists.
The Dynamic Music mode sounds as advertised. The bass and treble are a little hyped-up, but not extremely so. For example, when I listened to "Take a Pebble" from Emerson, Lake & Palmer's Welcome Back, My Friends, to the Show That Never Ends (320kbps Ogg Vorbis, Rhino/Spotify), Carl Palmer's cymbals and Greg Lake's bass guitar sounded a little pumped up, but didn't seem to obscure Lake's voice or Keith Emerson's piano.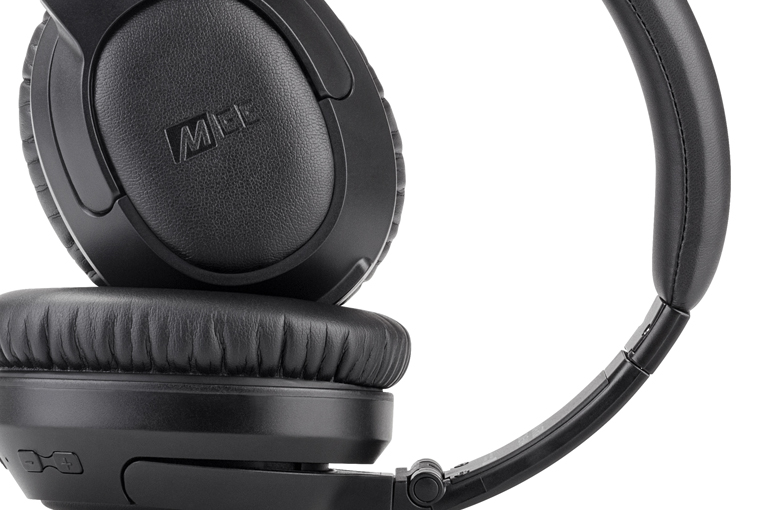 We focused on using the Matrix Cinema ANCs with the noise canceling on. MEE Audio offers a non-noise-canceling version, the Matrix Cinema ($119.99), so anyone who spends $30 extra for the Matrix Cinema ANCs' noise canceling is likely to use that feature most of the time.
Somewhat surprisingly, where the Matrix Cinema ANCs' tuning in Dynamic Music mode works best for me is in cinema -- i.e., movie soundtracks. The Dynamic Music mode's extra bass kick gives an effect similar to turning the subwoofer in a home theater up by 3 or 4dB (which a lot of home-theater enthusiasts do), and the elevated treble tended to heighten the feeling of ambience and also made voices a little easier to understand. For me, this tuning worked as well on action movies such as Star Trek as it did on non-action movies such as the Lady Gaga / Bradley Cooper version of A Star Is Born. And the fact that the latency was negligible -- delaying the audio by only about one frame relative to the video, according to my measurements -- made the experience similar to what I've had from Sennheiser's non-Bluetooth wireless headphones designed specifically for movies.
Note, though, that achieving this negligible latency requires the use of a Bluetooth transmitter that, like the Matrix Cinema ANCs, is equipped with aptX Low Latency. I used MEE Audio's Connect ($59.99), which worked great, and which connects to your TV (or whatever) through a 3.5mm stereo analog input or a TosLink optical digital input. What I'd really like to see, though, are TVs equipped with aptX Low Latency, which would allow the Matrix Cinema ANCs and other aptX LL headphones to connect directly with no wiring or extra transmitter required. In my opinion, this would be a far more useful and desirable TV feature than 4K or 8K or whatever K they're pushing these days.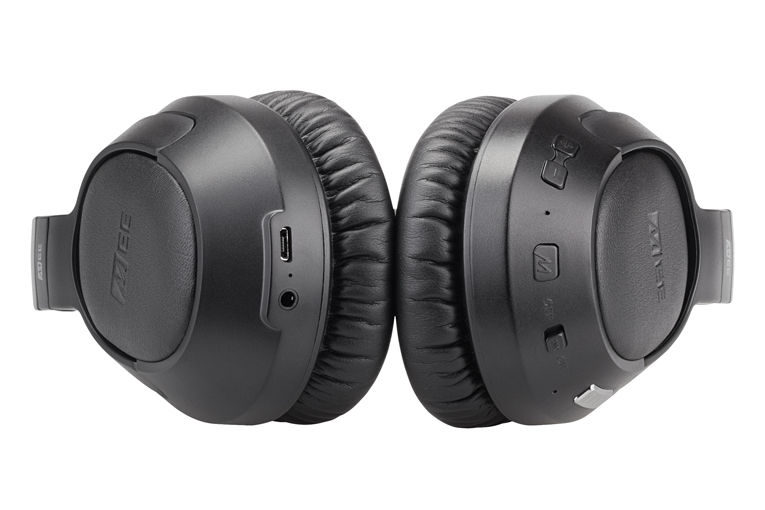 I wanted to see what the Dynamic Music mode's extra little bit of bass would do for some fairly ordinary music, so I put on "Ace of Aces" by the Fearless Flyers, a hyper-funky offshoot of the band Vulfpeck (from The Fearless Flyers, 256kbps MP3, Vulf Records). Joe Dart's Fender Jazz Bass definitely sounded fatter than I'm used to hearing, but that might actually have added a little more groove to the groove. Drummer Nate Smith's high-hat clearly took a more prominent place in the mix than I'm used to hearing with this tune; it sounded much the way a good, flat-response set of speakers do when you turn the treble up about 3dB on your stereo (provided, of course, that your stereo has tone controls).
When I later discovered that CinemaEAR can be switched off, I listened to the same track again and compared the sound in bypass and Dynamic Music modes. I assumed I'd like the bypass mode better -- and I did enjoy the treble more in bypass, because it was less hyped-up and more relaxed -- but the bypass mode still seems to have a fairly large amount of bass boost, so the overall tonal balance was softer (more tilted toward the bass) than with Dynamic Music mode. I ended up preferring Dynamic Music mode.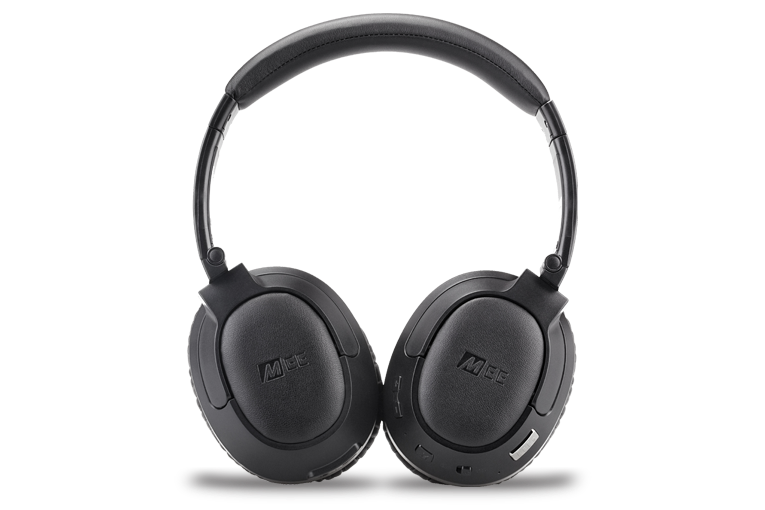 Holly Cole's rendition of "Ain't That a Kick in the Head" (Holly, 256kbps MP3, Universal Music Canada) gave me similar results with Dynamic Music mode -- and very much in line with the response curve MEE Audio shows for Dynamic Music mode on their website. Cole's voice sounded fairly natural, but with a tilt toward the treble, and the ride cymbal and double bass assumed more prominent places in the mix. This isn't a sound for audio enthusiasts who want a natural tonal balance -- it's for listeners who want a more vivid and enhanced sound. I liked the sound of the smoother upper mids and treble of the bypass mode better on Cole's voice than the accentuated upper frequencies of the Dynamic Music mode, but to my ears, the balance of bass to treble was more realistic with Dynamic Music mode.
I should also include a few notes about the wired mode, which you can use with or without noise canceling. This will come in handy if you're on an airplane and want to plug into in-flight entertainment. I thought the Matrix Cinema ANCs sounded best in wired mode with noise canceling off; in this mode, they had a nice, balanced, clear sound reminiscent of the best inexpensive passive over-ear models, such as the Sony MDR-7506 headphones. Switching ANC on in wired mode boosted the bass and treble and made the midrange sound a little hollowed-out and less spacious -- but perfectly fine for in-flight entertainment.
Comparison
To get some other perspectives on the Matrix Cinema ANCs, I ran them past our usual listening panelists: John Higgins, who holds a master's in music performance from USC and has served as a frequent contributor to Wirecutter and Sound & Vision, and LeRena Major, a Los Angeles saxophonist who's held several positions in the music business and is a voting member of the National Academy of Recording Arts & Sciences.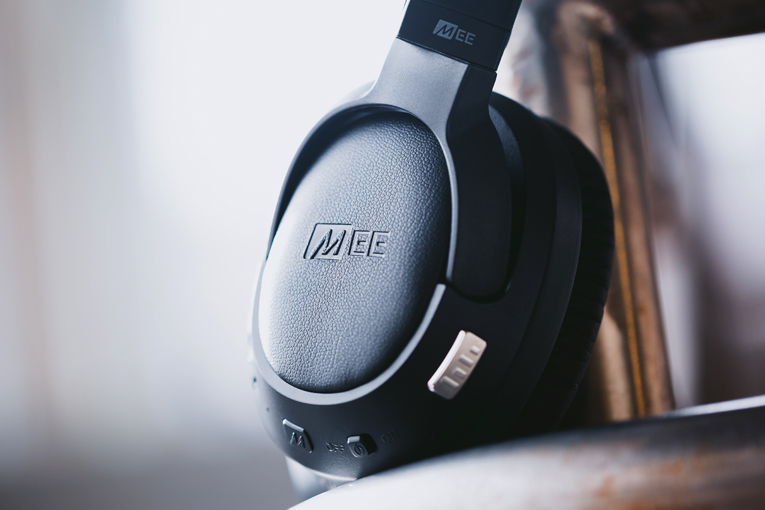 LeRena summed up our panelists' general opinion when she said, "Sounds good, but doesn't knock me out." She, too, quickly settled on the Dynamic Music mode as the best for music, and found that while the bass and treble were clearly pumped up in this mode, they weren't way out of proportion to the mids. She also noted that when using the Bluetooth connection with the Dynamic Music mode, the sound was clearer with noise canceling on; with NC off, the headphones sounded somewhat muffled to her. John generally agreed with her perceptions, noting that the Dynamic Music mode's treble boost elevated the electric guitars in rock tunes. "If you really want to hear the guitars, these will do that for you," he said.
Conclusion
In terms of design and utility, the Matrix Cinema ANCs are among the most appealing headphones I've tested; there's really nothing not to like about them. I can't say they'd be our first recommendation for music listening, although they're good enough to keep you entertained for a few hours on an airplane ride, and you have a couple of different useful sound modes to tailor the sound for the music or your taste. Where the Matrix Cinema ANCs really shine is when they're used as TV headphones, connected through an aptX Low Latency transmitter, where they do a nice job of conveying the excitement of home theater without bothering anyone else in your home -- even if they're sitting right next to you, reading.
. . . Brent Butterworth
This email address is being protected from spambots. You need JavaScript enabled to view it.
Associated Equipment
Smartphone -- Samsung Galaxy S9
MEE Audio Matrix Cinema ANC Bluetooth Headphones
Price: $149.99 USD.
Warranty: One year repair or replacement.
MEE Audio
Phone: (626) 965-1008
E-mail: This email address is being protected from spambots. You need JavaScript enabled to view it.
Website: www.meeaudio.com