Sound:











Value:











(Read about our ratings)
Measurements can be found by clicking this link.

For years, I've mentioned in reviews the concept of taking open-back audiophile headphones on business trips. It seems like a good idea -- treating yourself to high-fidelity sound while you're sitting up all night at the Hilton Garden Inn banging out a PowerPoint for your morning meeting -- but honestly, I never thought anyone would actually do it. That is, until I tried the HiFiMan Deva headphones.
There's simply nothing else like the Devas ($299, all prices USD). Not that I've seen, anyway. Like most other HiFiMan headphones, they're an open-back, planar-magnetic design, but they come with a twist -- the Bluemini Bluetooth receiver, which snaps onto the bottom of the left earpiece. The Bluemini combines an amplifier; a rechargeable battery; a USB-C input for charging and direct digital audio connection; and a Bluetooth receiver that includes most of the better codecs, including aptX HD, LDAC, and AAC. Without the Bluemini, the Devas are ordinary passive audiophile headphones. With the Bluemini clipped in, they become active, portable audiophile headphones.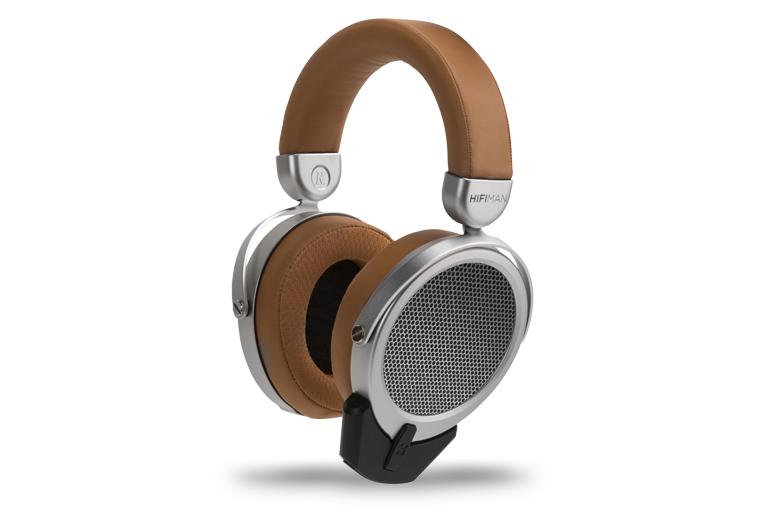 The Devas also mark a new high point in HiFiMan's industrial design. Unlike most of the company's headphones, they have a standard padded headband, and they also have a higher level of fit and finish. As a result, they have a more mainstream, less boutique-y look. Wear them in the park and, except that they're relatively large, no one will take notice of your headphones.
And once you get them home, you can disconnect the Bluemini and plug the Devas into the amplifier of your choice. However, it should be a reasonably decent amp; the Devas present an only slightly low impedance of 18 ohms, but the rated sensitivity is just 93.5dB, which means you'll get about 10dB less volume for a given amount of voltage than you'd get with typical mass-market headphones. (As you'll see if you follow the link above to the Measurements page, that sensitivity spec is probably a bit optimistic.)
HiFiMan already sells a set of Bluetooth planar-magnetic headphones, the Ananda-BTs, but they're very large and, at $999, relatively expensive -- in other words, not a product you're going to wear when walking the dog.
In the box
The Devas include the Bluemini and one 6.5' (2m) cable with a 1/8" (3.5mm) plug on both ends.
Use
The Bluemini pops right onto the Devas' left earpiece, where it feels secure and doesn't throw off the weight balance as I worried it might. I had no problem mating it with my Samsung Galaxy S10 phone. The Bluemini's power button doubles as a play/pause button, but you have to do track skipping and volume control from your phone. It also has a microphone built in so you can take phone calls or do Zoom meetings.
I thought walking around the neighborhood wearing the Devas would look a little silly. But one day, desperate for some Bluetooth headphones I could use when walking my tediously slow-moving shih tzu, I grabbed the Devas in desperation. To my surprise, it was a fantastic experience. I got the best sound quality I've ever had from Bluetooth headphones, with all the natural spaciousness and detail I expect from planar-magnetic headphones, but the Devas felt as comfortable as a set of Bose QC35s. The clamping force was enough to keep them from moving around on my head, but not enough to make me uncomfortable. It did get a little warm inside the earpads, though.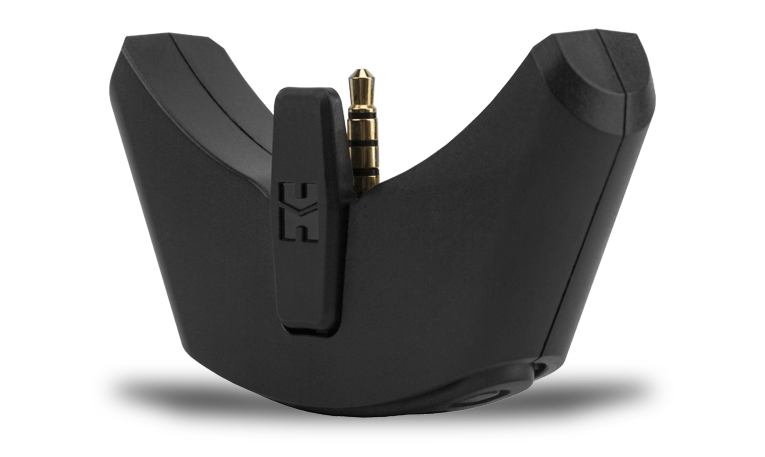 They're open-back, so they won't block outside sounds. On an airplane or a busy street, that's a big minus. Walking around my neighborhood, I found it was a big plus, because as long as I didn't have the music cranked super-loud, I could hear approaching cars and the greetings of my neighbors walking their dogs. Also, the open-back design means other people can hear them, so if you wear these on a bus or train, your fellow passengers might get annoyed.
I found that the Bluemini/Deva combo could play several decibels louder than needed when I played music recorded or remastered in the last 30 years or so. With older, more conservatively mastered material, the volume was just loud enough for me, with only a dB or two to spare. When you get home and want to use the Devas without Bluetooth, you'll need to use an amp or DAC-amp. A wired connection to my Samsung S10 produced useable volume, but not adequate volume.
Sound
I generally like HiFiMan headphones, but there have been a few that sounded too bright and bass-shy for me. The Bluemini-powered Deva headphones fell easily into the "like" category. Even with Trapeze's Medusa (16-bit/44.1kHz FLAC, Threshold/Qobuz), a straight-ahead 1970 power-trio recording that many audiophile headphones would leave sounding gutless and glaring, the Bluemini/Deva combo delivered full, kick-ass -- although slightly bright -- sound. It also gave me loads of detail. For example, during the stop-and-start riff of "Your Love is Alright," drummer Dave Holland plays only the hi-hat and kick drum, but through the Devas, I could hear his cymbals softly ringing in sympathy with the other instruments. I also got a real feel of the heads of the overdubbed bongos resonating and ringing -- a sound that's readily audible when you hear bongos and congas live at close range, but that rarely survives the recording/playback chain.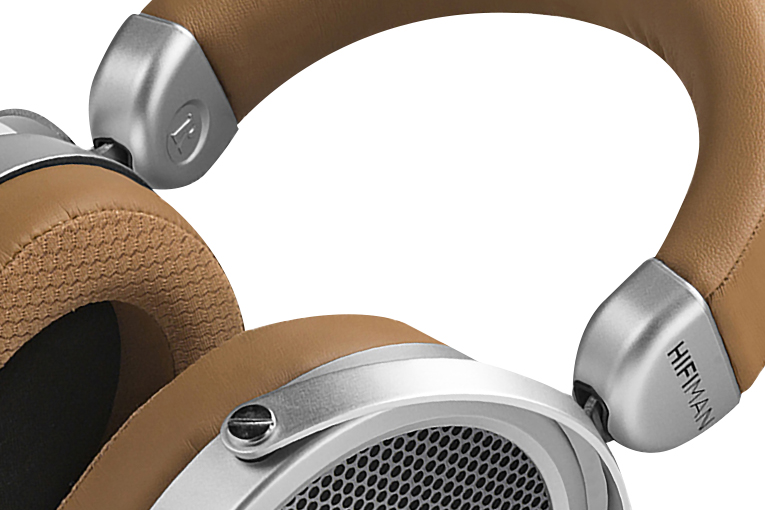 The Bluemini got the Devas playing at a satisfying volume and then some with Medusa, but I was curious to see if they'd sound different (and, I assumed, better) with a separate amp. So I connected my Samsung S10 to an iFi Audio Hip-dac, detached the Bluemini, and plugged the Devas straight into the Hip-dac. The sound was definitely better, but only because there was more bass. I didn't hear any more detail -- in fact, with the bass at a more natural level, my ears lost a bit of that treble detail I heard. Of course, the detail was still there, I just couldn't hear as much of it because it had to compete with the bass. And here we see why many audiophiles prefer a brighter tonal balance.
I don't, though. Much as I'd been enjoying the Bluemini-powered Devas, the extra bass provided by the wired connection transformed them into one of my favorite affordable planar-magnetic headphones. I just couldn't stop listening to Medusa with the Hip-dac powering the Devas. It was the best of both worlds: the powerful, full balance this music needs, with the detail and delicacy that are usually lost on the systems an album like Medusa typically gets played through. And the sound didn't seem to change otherwise.
As the Devas are a new industrial design for HiFiMan, I wanted to see how they compared with the company's other affordable models, so I compared the Devas to the HiFiMan HE400i and Sundara headphones, and threw in the Audeze LCD-1 headphones for good measure.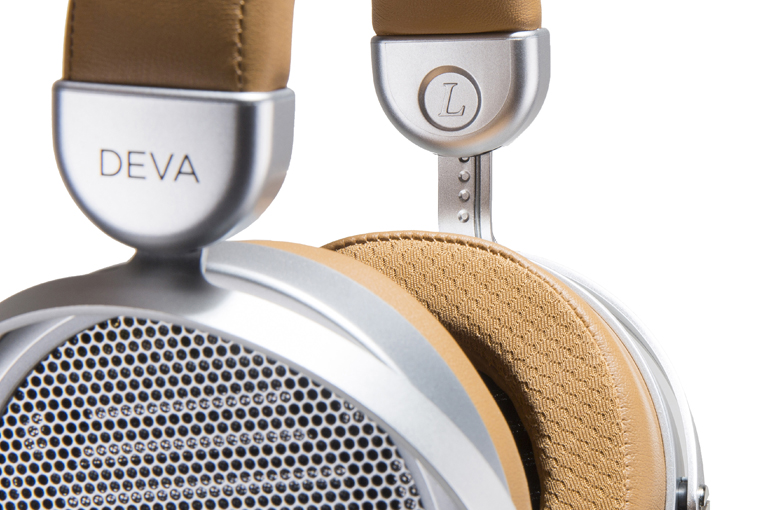 Listening to Cecile McLorin Salvant's version of "Devil May Care" (Dreams and Daggers, 16/44.1 FLAC, Mack Avenue / Qobuz), I found the differences between these models to be fairly subtle. Surprisingly, the Devas had the most subjectively neutral tonal balance (for my ears and taste, at least). They didn't have as much detail and definition in the voice as the pricier Sundaras did, although the Sundaras sounded just a hair on the bright side. The HE400i headphones sounded similar to the Devas, but a little more mid-forward, and the LCD-1s seemed to pump up the sound just a tad, with a little more punch in the bass, a little more forward midrange, and a little bump in the treble that highlighted the cymbals more.
So best as I can tell, you don't sacrifice anything in sound quality with the Devas compared with other affordable planar-magnetic models; they're at least in the same league as anything in their price range. The Bluemini thus seems like a wonderful extra feature tossed in for free.
And a wonderful feature it is. I spent a lot of evenings sitting in my living room listening to the Bluemini/Deva combo, where I'd just wander through lots of new music and enjoy a level of quality I don't hear from other Bluetooth headphones. The best thing about open-back planars is the natural sense of space they deliver, and hearing this through Bluetooth headphones was a revelation. On James Taylor's wonderful version of "Teach Me Tonight" (American Standard, 24/96 FLAC, Concord/Qobuz), Taylor's voice sounded natural, detailed, and intimate, with acoustic guitars in the left and right channels sounding like they were about 8' to either side of me, and the congas echoing with a big, reverberant sound. It's the kind of sound that makes me quickly forget I'm listening to headphones -- the whole reason I like open-back planars in the first place.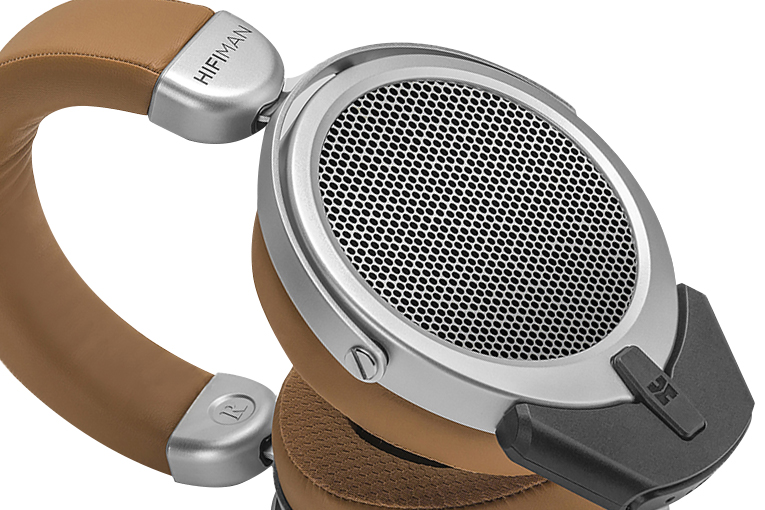 The only downside I can find -- and it's one I expect few Deva buyers will care about -- is that the Bluemini/Deva combo generally sounded a little too trebly with hip-hop, as it did with Lil Baby's "Woah" (single, 16/44.1 FLAC, Quality Control / Motown / Qobuz). The bass was tamed a bit (although still plenty full, strong, and clear, and arguably more pleasant to listen to), but that allowed the fake hi-hat sound to scream out louder in a way that was somewhat irritating. Lil Baby's voice sounded wonderfully clear and uncolored, though.
Comparison
Until the COVID-19 pandemic eases up, I'm forgoing the practice of bringing in outside listeners, and instead comparing the headphone under test with similar ones in its approximate price range.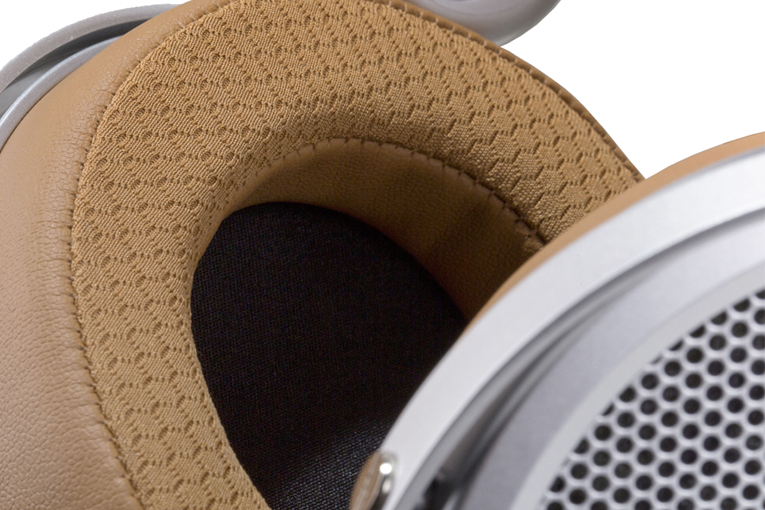 The obvious competitor for the Devas is other affordable planar-magnetic designs, such as the HE400i (originally $499, now typically $185 at Amazon), the Monoprice M570 ($299.99), and the Audeze LCD-1 ($399) headphones. All of these are very good headphones; I liked them all. I expect most headphone enthusiasts would, too, and it's hard for me to predict which one you'd prefer. Of course, none of them include a snap-on Bluetooth amp; to the best of my memory, this feature is unique to the Devas. You could, of course, connect any of them to a battery-powered Bluetooth receiver-amplifier, such as the Earstudio ES100MK2, but you'd still be dealing with a cable -- which will be cumbersome if you're commuting, walking the dog, etc.
Conclusion
To me, the HiFiMan Deva headphones represent a whole new product category. I never realized how great it would be to get a real audiophile listening experience wherever I go. Sure, high-end earphones can do that, but it's just not the same as listening to a good set of open-back cans. This is a terrific product I think any audio enthusiast would enjoy -- and that all of them can probably afford. And I bet they'll end up putting a lot more hours on the Devas than they would with any other headphones they own.
. . . Brent Butterworth
This email address is being protected from spambots. You need JavaScript enabled to view it.
Associated Equipment
Headphone amp-DAC -- iFi Audio Hip-dac
Smartphone -- Samsung Galaxy S10
HiFiMan Deva Bluetooth Headphones
Price: $299 USD.
Warranty: One year repair or replacement; three months extra with registration.
HiFiMan Electronics
Phone: (201) 443-4626
Website: www.hifiman.com