Sound:











Value:











(Read about our ratings)
Measurements can be found by clicking this link.
With all the talk about the Harman curve and how it's improving headphone and earphone design, it's easy to forget that a lot of headphone designers were getting things right a long time ago. The Sony MDR-7506 headphones, which became ubiquitous in audio and video production after their introduction in 1991, are still winning comparison tests of affordable headphones. I have a set of decades-old AKG K240s, given to me by vintage audio guru Gordon Sauck of Innovative Audio, that to this day sound really good. The Beyerdynamic DT 770 Pros go back about as far as the MDR-7506es; I'd used them in radio and recording studios, and always liked them -- but I never reviewed them. So in my probably never-ending quest to find the perfect recording headphones, I thought I'd test the DT 770 Studios ($199.99, all prices USD), which are said to be the same as the Pros but for the name.
The DT 770 Studios don't look expensive, but they do feel sturdy. They have a metal headband with a snap-attached pleather cover, rugged-looking plastic earpieces, and earpads covered in 1980s-looking silver velour. A long, permanently attached 10' (3.1m) cable (tipped with a 3.5mm plug) tags them as a non-mobile product; no one would want to deal with that long cable on an airplane or subway.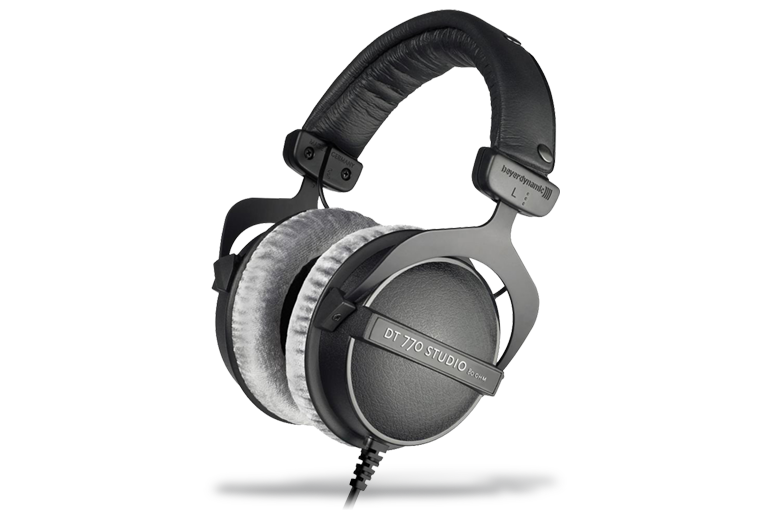 The version I got is rated at 80 ohms impedance, but the same headphones are also available in a 32-ohm version (for use with portable gear) and a 250-ohm version (for use by audio enthusiasts who are convinced that high-impedance headphones are better). Rated sensitivity is 96dB, which, combined with the relatively high impedance, suggests these won't be a great choice for use with smartphones and tablets.
By the way, as best I can tell, the use of the Studio and Pro names for what's apparently the same headphone design is to give certain retailers something exclusive that won't be blown out at a low price by a competing Internet retailer. This is a common practice; for instance, Denon (just the first example I thought of) would sell one receiver to specialty audio/video dealers, and an essentially identical receiver with a different model number to mass-market retailers.
In the box
The DT 770 Studios include the headphones and a flimsy carrying bag that I'll wager not one buyer of the DT 770s has ever used.
Use
The clamping force of the DT 770 Studios is a little tight, but the pads are pretty soft so I didn't mind wearing them for an hour at a stretch. Because the headband's made from metal, you can bend it slightly to adjust the clamping force.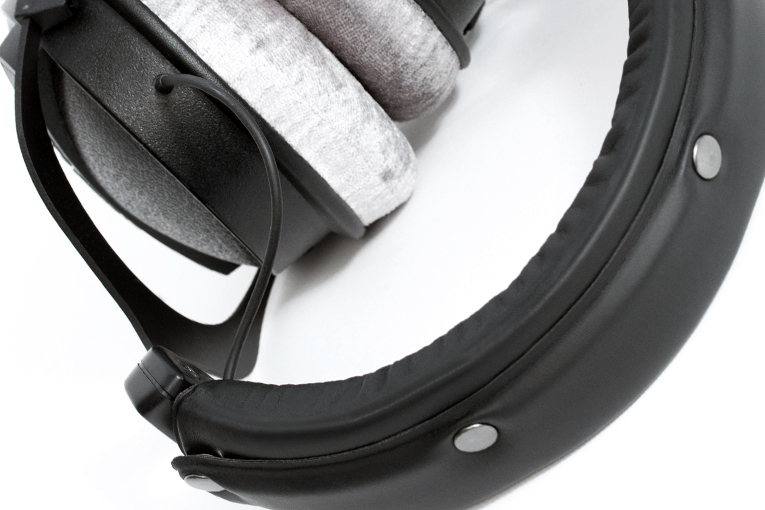 Given the relatively low rated sensitivity, I wondered if I'd be able to drive them with my Samsung Galaxy S10 phone. I could, but just barely; any music that's mastered to a fairly low average level will be unlikely to play at a satisfying level unless you use an external amp.
Sound
I'd already had some experience with the DT 770 Pros, so I didn't feel the need to go into some of my usual "baseline" tunes, such as Tracy Chapman's "Fast Car," to see if they were listenable. Instead, I wanted to get into the subtleties: how they can soundstage, what their treble detail is like, etc. A great recording to start with in such a quest is the tenor saxophone / double bass duet "Three Little Words," from saxophonist Branford Marsalis's Trio Jeepy (16-bit/44.1kHz FLAC, Columbia/Qobuz). It's an interesting recording not only because of the great performance but also because of the unusual acoustics of the recording: bassist Milt Hinton close-miked and panned right with little or no reverb, and Marsalis panned left with loads of reverb (or perhaps a distant microphone placement).
Sounds great to me, I thought immediately, noting the huge -- but natural, robust, and detailed -- sound on Marsalis's tenor. I also loved the great high-frequency detail on Hinton's string slaps, especially near the end when, apparently, Hinton's left hand tires and his bass strings start to buzz like a mouth harp.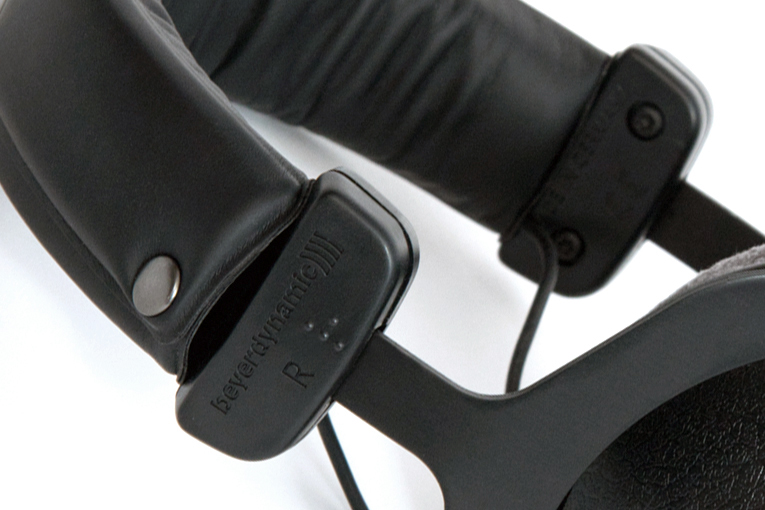 Listening a little deeper, I wondered if Hinton's bass sounded a little thin and lacking in resonance. So I grabbed a couple of what I considered competing headphones: the AKG K371s ($149) and the NAD Viso HP50s (which were apparently just discontinued, but originally listed for $299 and typically sold for around $220). The three sounded quite similar, and none brought out more of the bass's body resonance, so I have to assume that's just not in the recording. Of the three, the HP50s sounded just slightly softer -- and, weirdly, they seemed to create more of a "hard left / hard right" sound for the stereo mix. The DT 770s required a lot more power than the others, though.
I wanted to dig into that detail a little more, so I put on lutenist Paul O'Dette's Albert de Rippe: Un Perfaict Sonneur de Leut (24/88.2 FLAC, Harmonia Mundi / Qobuz). Listening to "Pavanne II," I noted that the DT 770 Studios had a robust sound that made the lute -- far from the most dynamic instrument ever invented -- seem more dynamic than it did through the other headphones. It sounded to me, though, that the DT 770 Studios achieved this through a little more "smiley" of a frequency response, with bass and treble boosted just a bit and a mild dip in the mids.
Needing to hear something harder and more intense, I put on "I Am the Law," from Anthrax's Among the Living (24/192 FLAC, Island Records / Qobuz). If you haven't heard Anthrax, imagine Metallica with higher-pitched vocals. "I Am the Law" is a kick-ass, full-sounding mix, overseen by famed Led Zeppelin engineer Eddie Kramer. I chose this track because I thought the tune's relentless riffing might make the DT 770 Studios sound bloated in the upper bass, as way too many closed-back headphones do. But instead, all the guitar and bass parts sounded clear, tight, and easy to pick out, while singer Joey Belladonna sounded so clean that his voice almost seemed to float above the mix.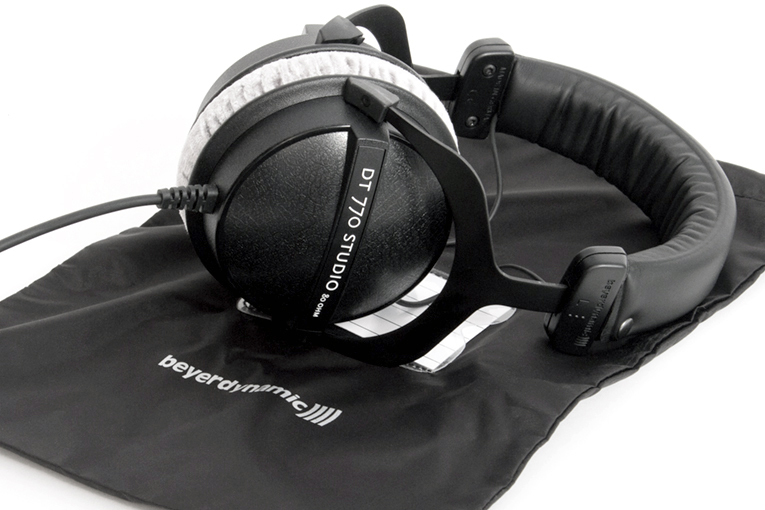 Even after a few afternoons of listening to the DT 770 Studios, and occasionally comparing them with the AKG K371s, I still wasn't certain of the distinctions between them; I was quite happy with both. So I put on one of the best tests of mid- and high-frequency reproduction I've found: "Sam Jones' Blues" (Dreams and Daggers, 24/96 FLAC, Qobuz), a live recording by singer Cécile McLorin Salvant, accompanied by double bass, a drummer tapping sticks on the rim of a drum, and what sounds like an upright piano that hadn't been tuned in a while. Even with this revealing recording, both headphones seemed to get everything pretty much right: the deep resonance and high-frequency fingerboard noises of the double bass, the dynamics of the percussion, and the practiced, pristine clarity of McLorin Salvant's voice. I could hear subtle differences in the midrange, but they were tough to pin down. However, I could definitely hear that the DT 770 Studios had a little more energy above 5kHz than the K371s did, which gave McLorin Salvant's voice a touch more edge and definition. Which is closest to the real thing? I have no way of knowing, and I doubt even the musicians could opine with certainty on that.
Comparison
While I'm trying to find ways to get a listening panel going in the COVID-19 era, I haven't succeeded yet, so I'll stick with comparisons to competing models.
The most obvious competitors to the DT 770 Studios are the AKG K371s -- both are fairly close in price and targeted at the same market. Sonically, it's a toss-up; my listening tests and, later, my measurements (available in the link at the top of this article) confirm their similarities. The big plus for me with the DT 770 Studios is the comfort; I'd rather wear them for a few hours than the K371s, because the earpads are wider and plusher. The advantage of the K371s is their detachable cable, and the inclusion of long and short straight cables plus a coiled cable. For professional use, detachable headphone cables are a great idea, because they tend to get run over by chair wheels or mashed under microphone stands. Also, the K371s will play loud plugged straight into a smartphone or tablet, while the DT 770 Studios probably won't.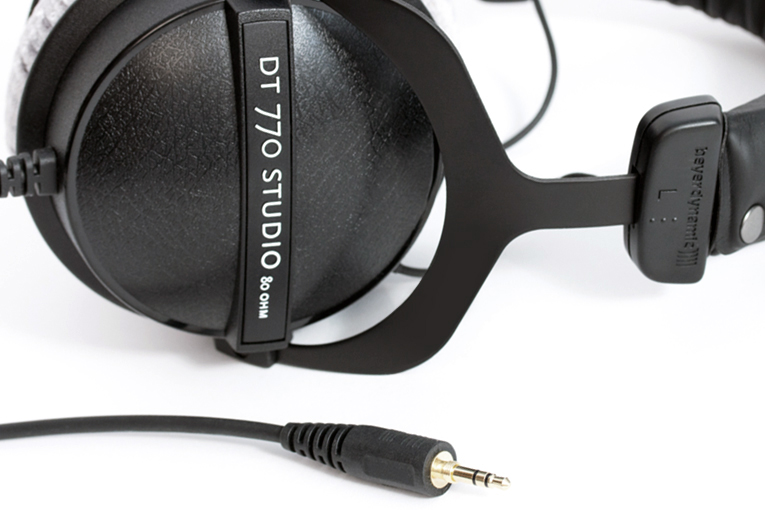 There are also the Sony MDR-7506es, which typically sell for a little under $100. The 7506es are definitely competitive with the DT 770 Studios, but the Sonys have a somewhat bloated and soft bass that makes them a poor choice for mixing (in my opinion, at least). Sennheiser offers the HD 300 Pros at the same price as the DT 770 Studios, but I haven't heard them.
Conclusion
The DT 770 Studio headphones are a superb choice for casual listening, focused listening, and professional production. The sound is terrific, with no noteworthy colorations; I don't think you could find more neutral headphones, although high-end, open-back headphones will sound more spacious and maybe deliver a little more treble detail. The DT 770s are a little pricey compared with similar headphones, but you're getting more comfort . . . although you'd better be careful not to run over the cable with your chair wheels.
. . . Brent Butterworth
This email address is being protected from spambots. You need JavaScript enabled to view it.
Associated Equipment
Amplifier -- Helm Audio DB12 AAAMP
Headphone amp-DAC -- AudioQuest DragonFly Cobalt
Smartphone -- Samsung Galaxy S10
Beyerdynamic DT 770 Studio Headphones
Price: $199.99 USD.
Warranty: Two years parts and labor.
Beyerdynamic
56 Central Ave.
Farmingdale, NY 11735
Phone: (631) 293-3200
Website: www.beyerdynamic.com