Sound:











Value:











(Read about our ratings)
Measurements can be found by clicking this link.

To date, the best science on what headphone frequency response sounds best comes from Harman Research. Although the group presented its original research at the 2012 Audio Engineering Society Convention, it has only recently begun to influence headphones and earphones made by Harman companies, such as AKG and JBL. In fact, the AKG K371s are the first passive headphones that clearly show the influence of the so-called "Harman curve." Harman International senior fellow Sean Olive, co-author (with Todd Welti) of the 2012 paper, told me the K371s come within about 1dB of the Harman curve -- which, for passive headphones, is quite impressive, given how complicated they are to tune.
The K371 headphones ($149 USD) are targeted at professionals, but are equally suited for listening at home or on the move. What makes them "pro" is mostly the hinged earpieces, each of which can fold up 180 degrees -- a feature that not only makes them easier to travel with, but also lets DJs do that thing where they have one earpiece folded up so they can hear their P.A., and the other one down so they can hear what's coming from their mixer. Also, there's a coiled cord in addition to straight cords in two lengths.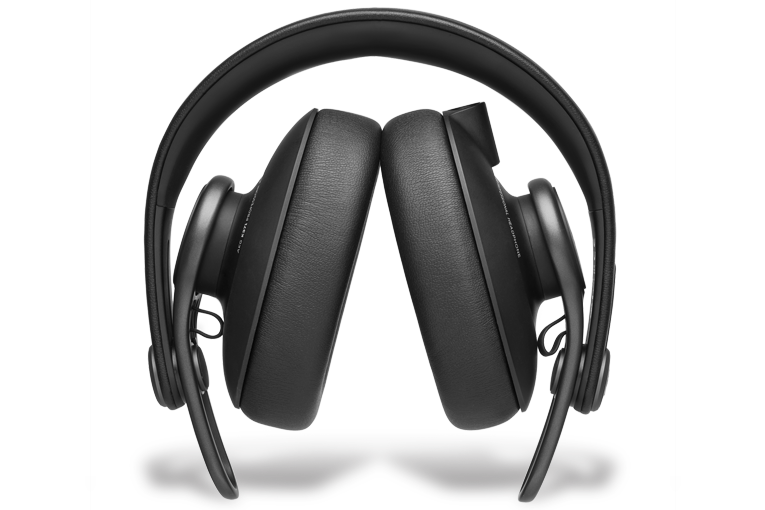 Engineering-wise, the K371s are as straightforward as passive headphones get: a 50mm, titanium-coated dynamic driver in each closed-back earpiece, an industry-standard 32-ohm impedance, and a high rated sensitivity of 114dB at 1mW.
In the box
The K371s come with a gray carrying sack and, as I mentioned before, three cables. The coiled cable measures 9.8' (3m), while the straight cables measure 9.8' and 2.5' (1.2m). All are tipped with a 3.5mm plug on the source end (a 3.5mm-to-6.3mm adapter is also included) and a three-conductor mini XLR connector on the headphone end. Replacement cables are readily available, in generic and high-end brands.
Use
I actually gasped a little when I first put on the K371s. Given their design, I expected them to be uncomfortably aggressive head-clampers like the AKG N700NC noise-canceling headphones (one of the other AKG models said to be voiced to match the Harman curve). But no, the K371s were exceptionally comfortable for me. They fit completely over my rather large earlobes, and they got a great seal despite their relatively light clamping force. I do worry, though, that people with small heads may find that the rather long earcups extend below their jawline and make it more difficult to get a good seal.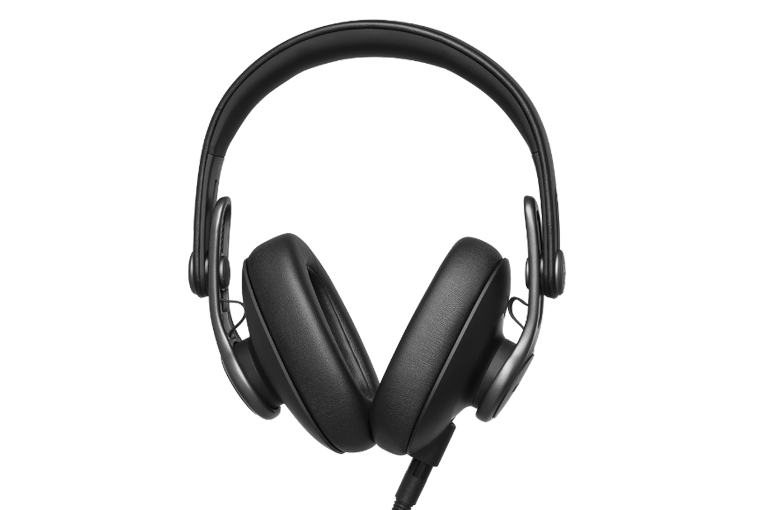 They're also easy to drive -- my Samsung Galaxy S9 smartphone got them cranking to loud levels.
Sound
I expected that the K371s would simply sound flat to me -- meaning well-balanced and natural. But from the first few seconds, and on through hours of listening, I was struck more by their exceptionally clean and clear midrange.
The first thing I heard through the K371s was "La Gran Señora," a ranchera tune by singer Jenni Rivera (La Gran Señora, 320kbps Ogg Vorbis, Fonovisa / Spotify). I'd never heard of her (although I later learned she was a huge star before her untimely death in 2012), but I like to listen to random things that appear on my Spotify homepage, so I gave the tune a spin while I was queuing up more familiar material. After the first few bars, I was hooked. Rivera's voice sounded incredibly clear through the K371s, with detail and intimacy that reminded me of the $3000 Focal Stellia headphones. Just as impressive was the K371s' portrayal of the mariachi band; they reproduced the dual trumpets, the accordion, and the violins with exceptional clarity and natural tonality, and imaged the instruments precisely within a huge soundstage. I didn't think of mariachi music as something I'd want to test audio products with -- I've mostly heard it on bad sound systems in restaurants -- but this recording and the K371s showed me that the genre's more worthy of exploration than I'd realized. (And that's exactly what drew me to audio product reviewing 29 years ago.)
When I first heard singer/songwriter Gene Clark's tune "Silver Raven" (No Other, 16-bit/44.1kHz FLAC, Collector's Choice / Qobuz) through some other headphones, I assumed it was a mediocre recording, because the voice seemed dull and recessed in the mix. But I was wrong. Through the K371s, Clark's voice sounded clear and present. The acoustic guitars -- one in the left channel, one in the right -- sounded extraordinarily detailed, yet without a hint of treble boost, edginess, or the other unnatural tricks some headphones employ to create the impression of detail. The background vocals, which were also obscured through most of the headphones I've heard this tune through, also sounded much clearer than I'm used to hearing.
The K371s handled more aggressive material just as gracefully. Rapper Lil Baby's voice is somewhat obscured by the deep bass and the insistent Roland TR-808 hi-hat on his single "Woah" (320kbps Ogg Vorbis, Quality Control Music / Spotify), but the K371s brought it out more clearly than any other headphones I had on hand, including many much more expensive models -- and yet the bass actually sounded punchier and more present through the K371s. A mysterious percussion instrument that sounded like a rattlesnake rattle also seemed especially clear and audible in the mix. Here, as on many recordings, the K371s seemed to do the impossible: they brought out the voice without resorting to phony-sounding EQ bumps.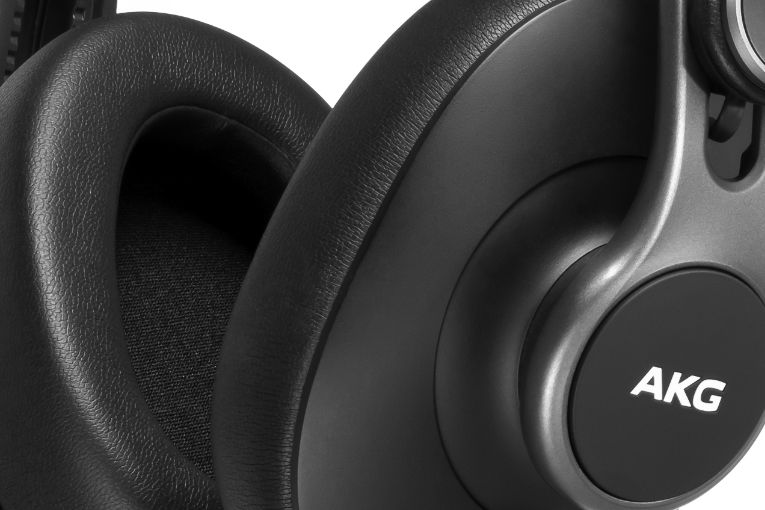 To me, though, the K371s were not as relaxing to listen to as many of the headphones I gravitate to. For example, when I listened to Ludovic Morlot and the Seattle Symphony's performance of Ravel's "Pavane Pour une Infante Defunte" (Ravel Orchestral Works / Saint-Säens Organ Symphony, 16/44.1 FLAC, Seattle Symphony Media / Qobuz), the K371s had a much more spacious sound than I'd expect from closed-back headphones -- and in fact, a more spacious and detailed sound than most open-back headphones can muster. But still, it didn't have that big, wonderful, enveloping bass bloom of a typical orchestral hall. The Monoprice M570 headphones, a much larger, open-back planar-magnetic design, couldn't match the K371s' detail, but they gave the piece a greater sense of majesty. Call me shallow, but I really dig that majesty thing when I'm listening to orchestral pieces, because most of my listening is to jazz combos, and jazz combos just can't do the majesty thing like an orchestra can.
Likewise, James Taylor's voice on the live recording of "Shower the People" (digital copy from the Live at the Beacon Theatre DVD 2.0 soundtrack, 16/44.1 WAV, Sony) sounded clearer than I can ever remember it sounding through any other headphones, and the same goes for the glockenspiel in the recording. But his voice didn't sound quite as full as I'm used to hearing.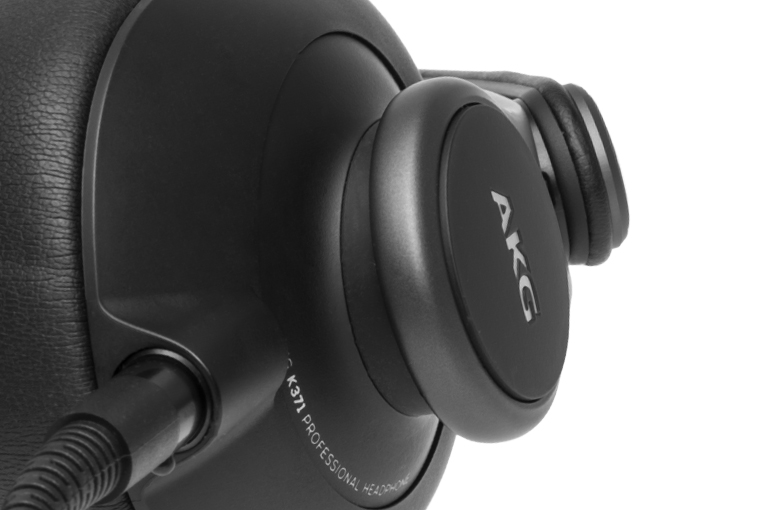 So in terms of sheer fidelity, the K371s are nothing short of extraordinary -- even though they might not be what you choose for a long, relaxed listening session.
Comparison
Both of my usual outside panelists had a chance to compare the K371s with several other headphones. First up was John Higgins, a film composer who holds a master's in music performance from USC and has served as a frequent contributor to Wirecutter and Sound & Vision. Next was LeRena Major, a Los Angeles saxophonist who's held several positions in the music business and is a voting member of the National Academy of Recording Arts & Sciences.
John basically liked the K371s, and said they compared well with the more high-end Audeze and Monoprice models he heard in the same session. "The soundstage has good width for closed-back headphones," he said. "It's a little 'shushy' -- the mids have a little more presence than I want, although I wouldn't call it aggressive. The earpads are nice and cushy."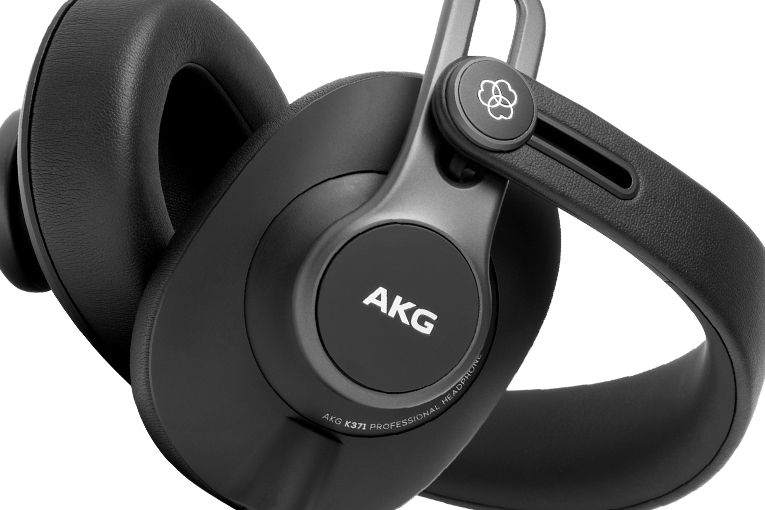 LeRena, a big fan of 1980s R&B, surprised me by liking the K371s better than headphones that had a bassier sound. "I thought the sound was really rich, I didn't have to turn them up to feel surrounded," she said. "I could hear all the details, no matter what the mastering level, no matter how much dynamic-range compression was used. All the elements of the mix are easy to hear, and the bass, mids, and treble are all well balanced."
Conclusion
I think every serious headphone enthusiast should at least hear the K371 headphones, and I expect many will want to add them to their collection. They deliver detail and spaciousness that at least equal what I've heard in any headphones I've heard at any price. They may not be as full-sounding as some listeners prefer, but the fact that they deliver extraordinary midrange and treble detail without using unnatural EQ tricks makes them a genuine achievement in headphone engineering.
. . . Brent Butterworth
This email address is being protected from spambots. You need JavaScript enabled to view it.
Associated Equipment
Smartphone -- Samsung Galaxy S9
DAC-headphone amplifier -- Lehmannaudio Linear USB II
AKG K371 Headphones
Price: $149 USD.
Warranty: One year parts and labor.
AKG
Phone: (888) 452-4254
Website: www.akg.com