Sound:











Value:











(Read about our ratings)
Measurements can be found by clicking this link.
The Master & Dynamic MH40s bring me back to 2014—a very different era in headphone history. Beats by Dre was at the zenith of its popularity, and it seemed every new brand sought to copy Beats' original formula of fashion-forward looks and bass-heavy sound. So when I saw the retro/steampunk design of the first Master & Dynamic headphones, I assumed they would suck. But they turned out to be among the best in their price range at the time. I feel remiss in never having reviewed the brand's more recent products for SoundStage! Solo, but better late than never.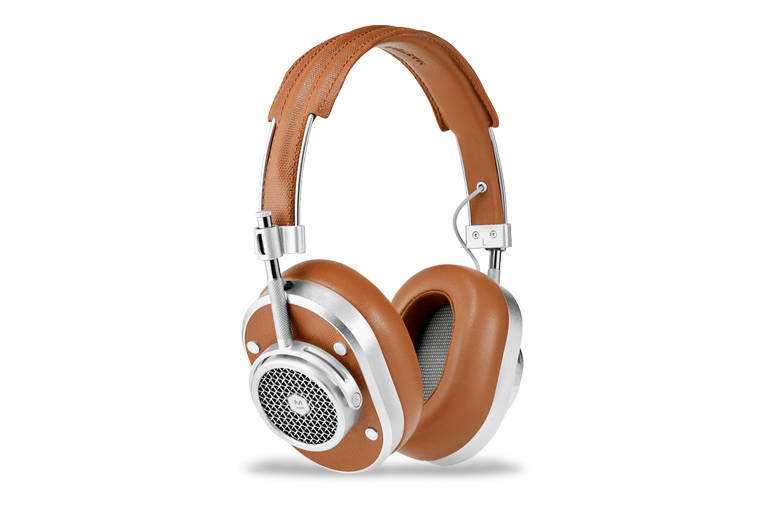 The MH40s ($249, all prices USD) continue the look the brand debuted almost seven years ago, which was inspired by World War II radiomen's headphones. The big difference is that they have Bluetooth—including the standard variant of the aptX codec (although my measurements call this into question). They're pretty standard from an engineering standpoint, with a 40mm Mylar-diaphragm dynamic driver in each earpiece.
The only thing I can find that's unusual about the MH40 headphones is that they have a USB-C jack that works for charging and as the analog input for a wired connection. Master & Dynamic supplies a cable with a USB-C connector on one end and a 1/8″ (3.5mm) stereo plug on the other; impedance on the wired connection is rated at 32 ohms.
The fit-and-finish of the MH40s is excellent. The earpads are magnetically attached and use soft lambskin over memory foam. The headband's made from lambskin and metal. The MH40s are available in five different color schemes.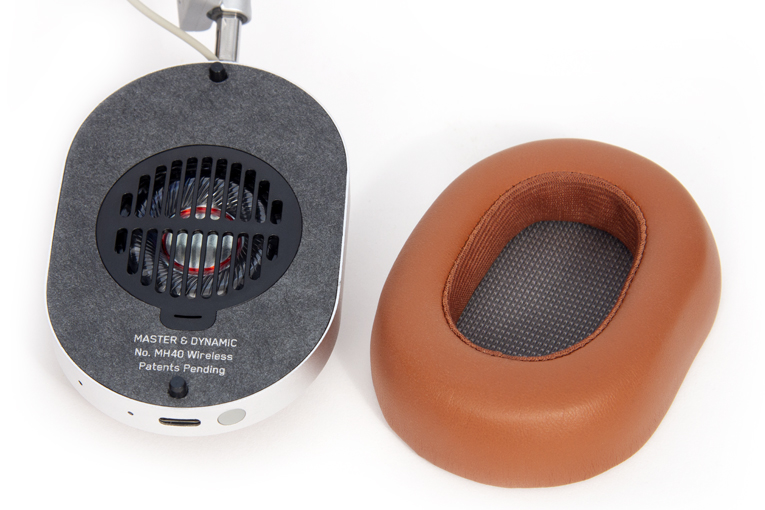 In the box
The package includes the headphones, a fabric carrying sack with a spring-snap closure and a zippered pouch, a USB-C-to-USB-A charging cable, and the 1/8″-to-USB-C audio cable, which measures 4′ (1.2m) long.
Use
Notice that I didn't describe the MH40s as "over-ear" or "on-ear." That's because they're in a gray zone between the two. The earpads provide an opening of about 1 1/4″ by 2 1/4″, which wasn't enough clearance for my extra-large earlobes. The way the earpads pressed against my earlobes was uncomfortable, and for some reason, it gave me the psychosomatic feeling of "eardrum suck" in my left ear—even though I can think of no plausible reason why it should. Those with larger-than-average earlobes should consider other headphones; for this reason alone, I personally wouldn't buy these.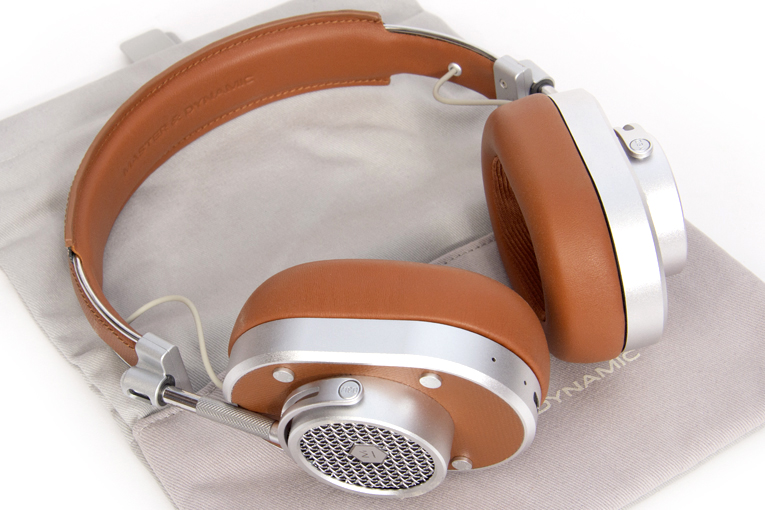 With the 1/8″-to-USB-C audio cable connecting the MH40s to my Samsung Galaxy S10 phone, I got plenty of volume, so when we get back to flying, these will work well with in-flight entertainment systems.
The start/stop and volume up/down buttons are tiny, but they're easy to find and operate by feel.
Sound
After giving the MH40s my usual ten hours of break-in, I gave the headphones a couple of days of casual use so I could grow accustomed to them before playing some old and new favorites. Most of my listening was in Bluetooth mode.
One album that's old (recorded in 1957) and new (to me) is bassist Leroy Vinnegar's Leroy Walks! (16-bit/44.1kHz FLAC, Contemporary/Qobuz). For the time, it's very well-recorded; Vinnegar's double-bass sound on this album—recorded on analog tape at a time when piezo pickups didn't exist and there weren't many microphones to choose from—is pretty much the sound I've been trying to get from my double-bass recordings with much more modern digital gear and almost limitless options in mikes and pickups. In the opening track, "Walk On," he plays the melody accompanied only by drums at first, so it's easy to hear his clear, full tone, and I like the way the MH40s got it all right—the body and fundamental resonances of the instrument, the upper harmonics defining the notes, and the subtle string buzzes when he really digs in—without allowing any one element of the sound to dominate.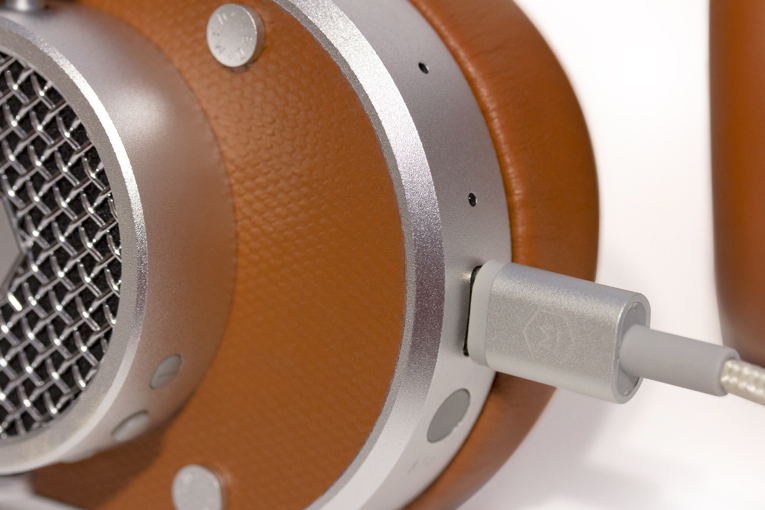 Despite the old-school stereo mix—bass and piano mostly in the right channel, horns and vibraphone in the left, drums spread across both—I got a nice sense of ambience from the MH40s. But mostly, I was happy just because I could hear all the instruments clearly, and the headphones didn't seem to inflict any abnormalities on any of them. For jazz recordings of that period, mostly recorded very simply and quickly, relying only on the natural ambience of the studio, this sort of neutral reproduction is essential.
But there's not a ton of top end in those old jazz sides. A modern country/bluegrass recording such as Steve Earle & The Dukes' J.T. (24/96 FLAC, New West Records / Qobuz), overflowing with acoustic stringed instruments, affords a better test of treble. In "Turn Out My Lights," the MH40s sounded good, but the lower treble sounded a little soft and the bass perhaps a little boomy. There didn't seem to be an overt coloration, such as a big peak or dip in the mids, but the sound was less lively than I've been hearing on this album through other headphones. The fiddle solo in the middle, in particular, had a bit of a "cupped hands" coloration—not that anyone would cup their hands around a fiddle's F-holes, but it sounded less open than a recorded fiddle usually sounds, almost as if it were being played through an amplifier. Earle's voice also lacked energy in the upper frequencies, which made him sound a little mellower than he usually does.
Clearly, the MH40s' treble or upper midrange was a little dialed-down in some region, but whether I noticed it or not depended on the recording. In jazz singer Susie Arioli's version of "My Funny Valentine" (All the Way, 16/44.1 FLAC, Spectra Musique / Qobuz), the only trebly instruments are the brushed snare drum and cymbal, and both of them sounded smooth but clear and present, and I heard the acoustic twang in the hollow-body electric guitar solo and a nice, spacious sound from the piano. Arioli's voice sounded clear and natural in this tune, but in the next song, "Forgetful," it sounded a little soft.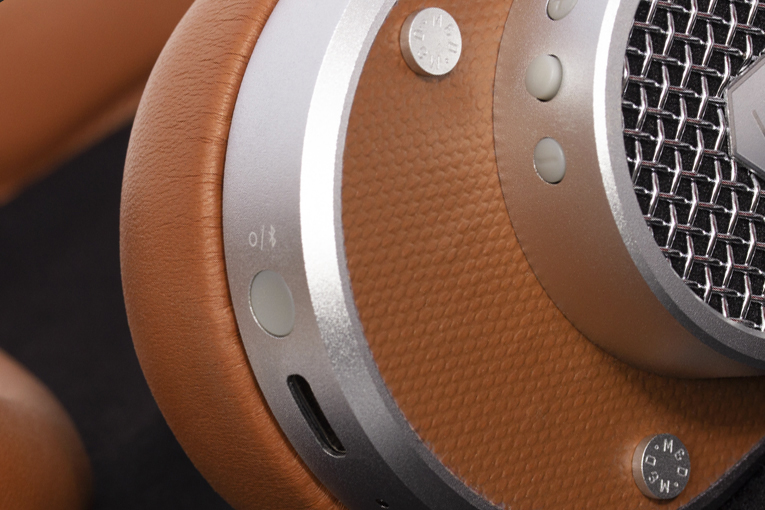 None of those recordings have much deep bass, so in my quest for deeper tones, I switched to—well, practically any contemporary pop recording is packed with deep, monotonic synth bass notes, but I figured Ariana Grande's Positions (320kbps Ogg Vorbis, Republic/Spotify) would do. The title track (which, to its credit, includes what appear to be violin and baritone ukulele samples along with all the electronic sounds) has bass tones so deep and mostly lacking in upper harmonics that they stay completely out of the way of her voice. The tones are supposed to provide some vibration and groove to keep the tune going, but while I heard the tones clearly through the MH40s, they only hinted at that deep, vibrational effect common to pop and hip-hop recordings of today. So bassheads should steer clear, but those who aren't so hot for a big bottom end will probably appreciate this sound.
Comparison
I didn't have any similar Bluetooth models on hand when I tested the MH40s, so I compared them with a couple of passive models in the low-three-figures price range: the AKG K371 over-ear headphones ($149) and the Calyx H on-ear headphones ($250), both connected straight to my Samsung Galaxy S10 smartphone.
On Santana's "I'll Be Waiting" (Moonflower, 320kbps Ogg Vorbis, Columbia/Spotify), all of these headphones sound good enough for me to enjoy them without being distracted by their sonic characteristics; the vocals and guitar always sounded natural and clear with all three. Yet the K371s clearly bested the others, largely because they sounded clearer in the mids and treble, and flatter in response overall, with the best balance of bass to mids to treble. The Calyx H headphones sounded kind of like the K371s with the bass rolled off mildly below 200Hz. The MH40s sounded a little more resonant in the bass, with extra emphasis around 80 to 100Hz, and a little less energy from the high-pitched instruments such as cymbals, snare, and tambourine.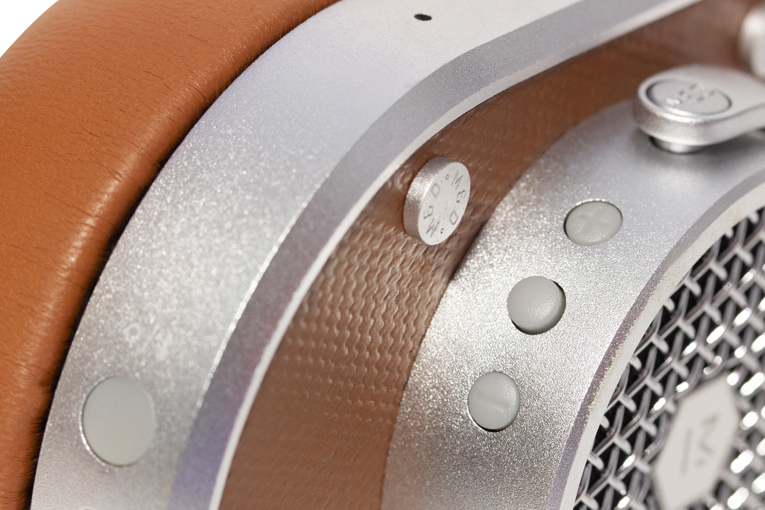 The B-52s' "Give Me Back My Man" (Wild Planet, 320kbps Ogg Vorbis, Warner/Spotify) sounded remarkably similar through the three headphones. That's partially because there's not much low bass in the B-52s' first two albums (no surprise, considering they didn't have a bass player), making the headphones' tonal balances sound more similar. The biggest difference I heard among these headphones with this tune is that through the MH40s, singer Cindy Wilson's voice sounded softer and a little less prominent in the mix.
Conclusion
The MH40s are good Bluetooth headphones for $249. They work without a hiccup, and their construction quality is a refreshing change of pace from the plasticky norm of this price range. They do have a couple of minor sonic flaws, mainly a bit of a resonant hump in the midbass and a little less energy in the upper mids / lower treble than I'd like to hear. They also don't fit me all that well, but I'm a physical outlier, so it's likely they'll fit most people just fine. I suspect most buyers will be drawn to these mainly because of the styling, but they'll be getting pretty good sound in the bargain.
. . . Brent Butterworth
This email address is being protected from spambots. You need JavaScript enabled to view it.
Associated Equipment
Smartphone: Samsung Galaxy S10
Master & Dynamic MH40 Bluetooth Headphones
Price: $249 USD.
Warranty: Two years.
Master & Dynamic
127 W. 30th St.
New York, NY 10001
Phone: (212) 213-6060
E-mail: This email address is being protected from spambots. You need JavaScript enabled to view it.
Website: www.masterdynamic.com