Sound:











Value:











(Read about our ratings)
Measurements can be found by clicking this link.

I guess we're on the second wave of high-end headphone companies from China now. The first wave—kind of the Beatles/Stones/Kinks wave—was led mostly by HiFiMan. The second wave—kind of the Led Zeppelin/Bowie/Sabbath wave—is much larger, and one of the most interesting players is Sivga Audio, which also incorporates the Sendy Audio brand. Its specialty is big, audiophile-oriented, open-back planar-magnetic headphones, and the Peacocks are the brand's new flagship.
At $1499 (all prices in USD), the Peacock headphones compete with pricier models from HiFiMan, Audeze, Focal, and others. How can they hope to go against such heavy hitters? With an unusual driver design. A typical planar-magnetic driver uses a polymer diaphragm that is laminated with a wire coil and suspended between rows of magnets. The Peacocks' 88mm driver uses four coils, two per side.
The Peacocks—so named because the pattern of the metal side grilles resembles a peacock's tail—have a handcrafted, boutique-y look about them, resembling more the product of a small American company than a large mass-market company. There's polished wood, goatskin leather, and a very glam braided cable with four conductors per channel. Sensitivity is rated at 103dB and impedance at 50 ohms, so these shouldn't be a problem to drive straight off a smartphone—if you have one of the dwindling number of phones equipped with a headphone jack.
I liked the $399 Sivga P-II headphones (also sold under the Sendy Aiva name), so I hoped I'd like the bigger, more expensive Peacocks even better . . .
In the box
Sendy includes a 2m (6.6′) braided, eight-conductor cable that reminds me of Kimber speaker cable. At the headphone ends of the Y are mini-XLR connectors with spring-loaded collars. At the source end is a 4.4mm (3/16″) Pentaconn balanced connector. Two cable adapters are included. Each has a Pentaconn on one end. One is tipped on the other end with a four-pin XLR connector, the other with a 6.3mm (1/4″) stereo plug.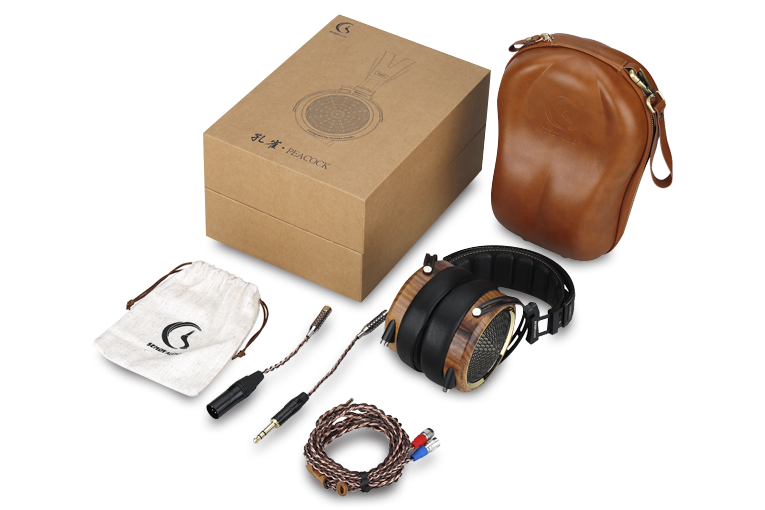 The carrying case is gorgeous, made from formed leather that gives off a real old-school, Harvard Club vibe.
Use
When I first put on the Peacocks, they felt like kids' headphones—the shape of the band put too much tension on the upper parts of the earpieces, so the bottom parts pulled away from my face, leaving an air gap. Fortunately, if you're not too queasy about bending the metal headband on your $1500 headphones, it's no great effort to shape the headband to move more of the band's pressure downward. I still didn't get a super-tight seal, but a tight seal's not as important with open-back headphones, and I definitely didn't feel a lack of bass.
The super-plush earpads have unusually large, square ear holes that are tilted back about 10 degrees to match the way your ears actually sit on your head. Very cool and very comfortable.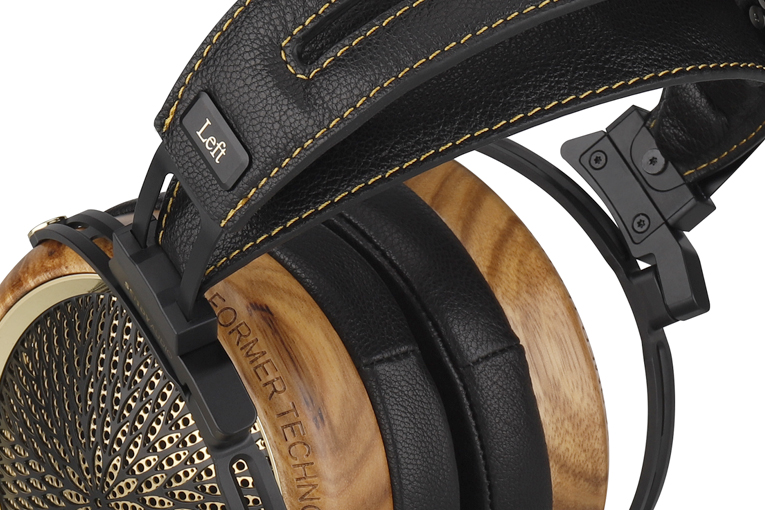 The 103dB rated sensitivity seemed pretty accurate; I was able to drive the Peacocks to loud volumes with them plugged straight into my Samsung Galaxy S10 phone. I did this only once, though—a nice, big set of audiophile headphones really deserves to be used with a better amp, even though you can use your phone or tablet in a pinch.
Sound
After giving the Peacocks a few days of break-in, and fussing around with the 'phones to get them to fit, I sat down with them, my Schiit Audio Magnius amp, and an iFi Audio Zen DAC to give them a spin.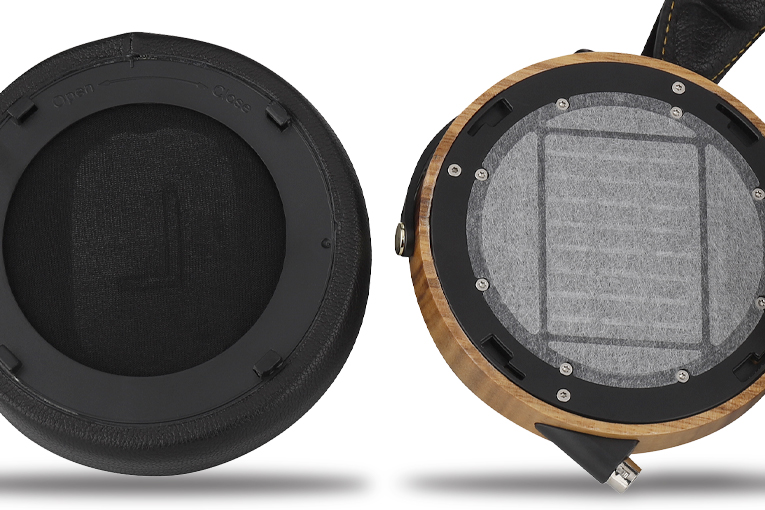 So these days, I have to have a different favorite jazz album every week because there have been so many good ones coming out; I think the pandemic must have given the artists some fresh inspiration. This week's fave is The Description Is Not the Described, by London-based trombonist Nathaniel Cross (16-bit/44.1-kHz FLAC, First Word / Qobuz). "Who Looks Inside, Awakes" is funky jazz with a laid-back R&B groove, and I thought the Peacocks sounded just right on it. First to catch my ear was the punchy, tight bass sound, but then I started to pick up on what I suspected would be these headphones' hallmark: a mellow yet detailed top end.
The trumpet and trombone solos on this tune sounded spot-on, but what most impressed me was the way the Peacocks portrayed the tune's keyboard tracks. The dominant chordal accompaniment comes from an organ through a rotating speaker—although I strongly suspected it was a keyboard simulating that sound, rather than an actual Hammond organ and Leslie speaker, because it sounded a little brighter and cleaner than the noisy, somewhat-rolled-off-sounding Hammond/Leslie combo. Then I noticed some clavinet-style rhythmic punches in the right channel, way back in the mix, as if they were 20′ behind the "Hammond." An electric guitar processed with a heavy, watery-sounding vibrato effect lurked in the center, but maybe 10′ back from the organ. I loved the way the Peacocks gave this multitracked, stereo-panned mix a sense of depth, more like I'm used to hearing on a Chesky Records album.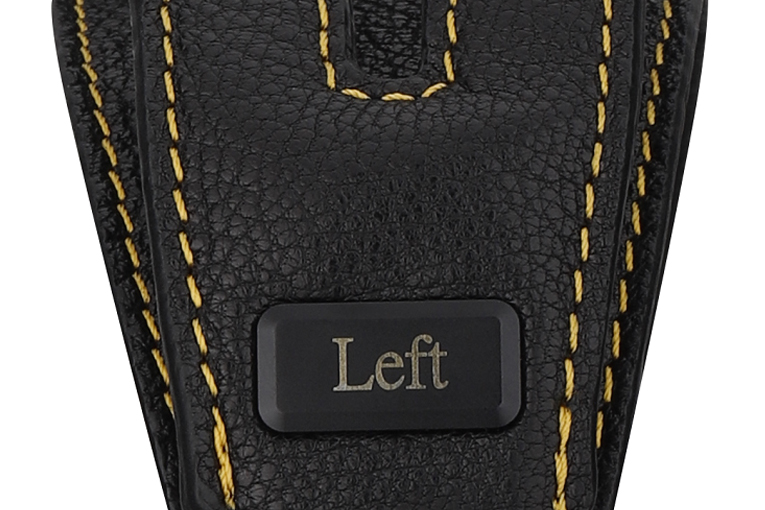 But I needed something a little more taxing, so I put on "This Town" from Patricia Barber's Clique (24/192 FLAC, Impex/Qobuz). Now it was almost like I could see the Peacocks' frequency-response curve in my mind—there was perhaps a few dB more energy in the upper bass, around 200Hz, than we'd hear in Harman curve headphones, but that we heard in almost all headphones until the Harman curve happened. So the bass was, I guessed, a little bigger and more bloated than the artist probably intended—but I can't know for sure, because that's affected by the axe, by the strings, by the microphone and the mike placement, by the EQ—so many things.
Meanwhile, Barber's voice couldn't have sounded much more natural, with no bloat, no edge, no sibilance, and no coloration I could detect. Same for the piano. The drums sounded a little on the soft side, but we're talking a dB or two—less a coloration than a sort of sonic comfort zone. Nice. And while it was certainly detailed, it definitely wasn't the sort of trebly, bass-shy sound we often hear in audiophile headphones.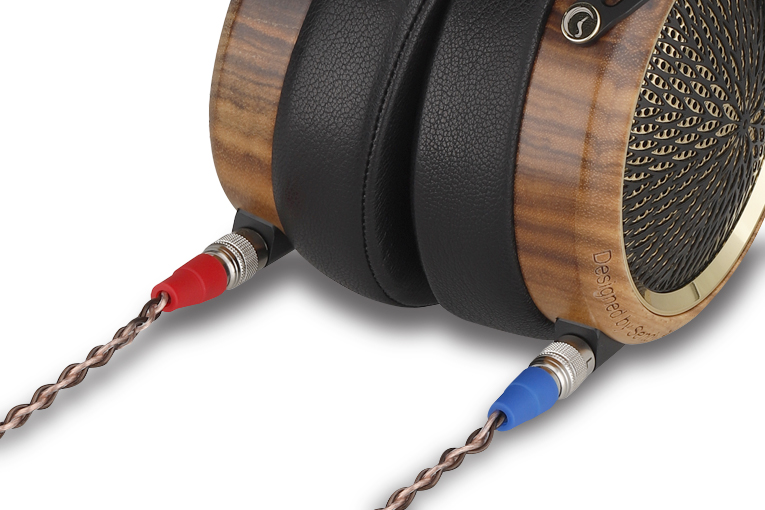 Barber's album is an exercise in doing a recording as perfectly as possible, but ZZ Top's Tres Hombres (24/192 FLAC, London/Qobuz) is an exercise in doing it as well as you can with the bucks and time you have. My favorite tune on the album (and of the band's entire career), "Jesus Just Left Chicago," sounded dead-on through the Peacocks. There was just a bit of exaggerated kick to the bass—although not too much bass—but for this tune, it sounded perfect. Which means this is a set of audiophile headphones that can rock.
On my favorite orchestral music test, the San Diego Symphony's recording of Berlioz's Harold In Italy with Yoav Talmi conducting and Rivka Golani on viola (16/44.1 FLAC, Naxos/Qobuz), I loved everything I heard. The fourth movement, "Orgy of the Brigands," had the majesty and power it should, and the Peacocks seemed to lend only two minor colorations—a slight boost in the mids that brought the feverish string section passages forward even more, and a slight softness that gave the whole presentation a little less air than I've heard in the very best headphones I've tested. Best of all, on the many triple-forte passages in "Orgy," I never got fatigued or felt the sound was too bright, even with the Magnius cranked up quite loud.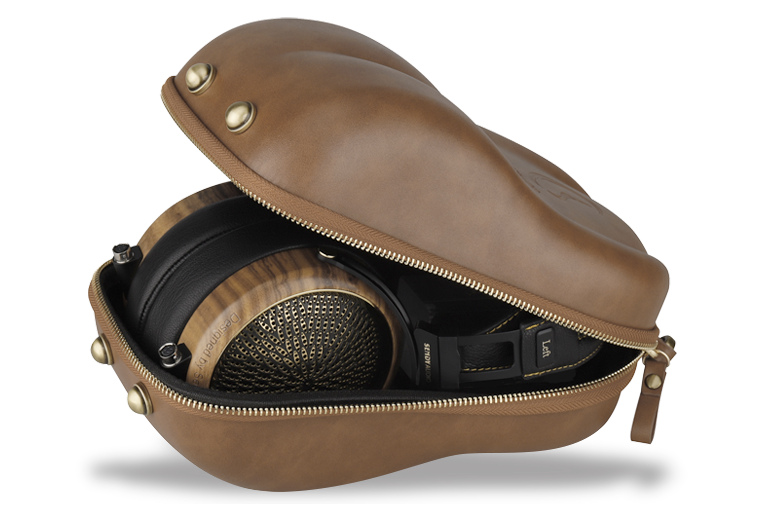 Comparisons
I compared the Peacocks with other high-end open-back headphones I had on hand: the Audeze LCD-X ($1199) with Dekoni Choice Suede earpads ($59.99) and the HiFiMan HE6se ($1799).
On my usual tonal balance test, Tracy Chapman's "Fast Car" (Tracy Chapman, 16/44.1 FLAC, Elektra/Qobuz), I heard that same mild elevation in the mids through the Peacocks that I noticed in the Berlioz piece. But no big deal, really—to me, it was a relatively minor coloration that didn't detract from the music.
The title track of Nathaniel Rateliff's And It's Still Alright (24/88.2 FLAC, Stax/Qobuz) clearly showed the differing characteristics of these headphones. The HiFiMan HE6se headphones had the most trebly and open sound, but with less bass, and they sounded less vivid and dynamic. The Audeze LCD-Xes had perhaps the most exciting and vivid sound, at the expense of a cupped-hands coloration in the vocals that made the sound seem less open. The Peacocks struck a balance somewhere in between—more open than the Audezes, less open than the HiFiMans, but with, I'd say, about 90% of that gratifying, dynamic sound that the LCD-Xes mustered.
Conclusion
The Peacocks are costly, but unlike most audiophile headphones, they have a balanced sound that works very well for any kind of music, and they do the almost magical trick of delivering plenty of detail without ever sounding fatiguing. I think some audiophiles may want a treblier sound with more "air" and apparent detail, but I've been very happy to listen to the Peacocks for hour after hour without ever worrying about how they'll sound with a certain recording, and that makes them very recommendable headphones.
. . . Brent Butterworth
This email address is being protected from spambots. You need JavaScript enabled to view it.
Associated Equipment
Amplifier: Audio-gd NFB1-AMP, Schiit Magnius.
DAC-amplifier: iFi Zen DAC.
Sendy Audio Peacock Headphones
Price: $1499.
Warranty: Two years, parts and labor.
Sendy Audio
Dongguan SIVGA Electronic Technology Co., Ltd.
Juhui E Valley High-tech Industrial zone, Jinfu 2nd Road
Tangchun Village, Liaobu Town, Dongguan, Guangdong, China. 523000
Phone: 0086-769-22885985
Email: This email address is being protected from spambots. You need JavaScript enabled to view it.
Website: www.sendyaudio.com