Sound:











Value:











(Read about our ratings)
Measurements can be found by clicking this link.
The Crosszone CZ-10 headphones are special for me, because I have a soft spot in my heart for crosstalk cancellation. You don't hear that said a lot, but some of my warmest memories of past audio experiences involved crosstalk cancellation. I remember reading about it in Stereo Review, years before audio rose from my hobby to my career. If you told me then that I'd someday get a one-on-one lesson about crosstalk cancellation from Bob Carver, whose face often popped up in ads in Stereo Review, I wouldn't have believed it. Nor would I have believed I'd get my first demo of multiple-driver crosstalk cancellation from Matthew Polk, in his own home—the same guy who always wore his lab coat in Polk's Stereo Review ads. The Crosszone CZ-10s, though, are my first chance to hear multi-driver crosstalk cancellation in headphones. Interesting products like these—along with the next book by Robert Caro and new flavors of Pop-Tarts—are what give me the inspiration to keep on living.
So what in the world am I talking about? Crosstalk cancellation seeks to enhance the stereo effect by changing the relationship of the left and right channels. In a standard pair of speakers, the stereo effect is not as enveloping as it could be, because you hear a slightly delayed version of the sound from the right speaker in your left ear, and a slightly delayed version of the left speaker's sound in your right ear. In headphones, it's sort of the opposite—each channel is isolated to one ear, so the stereo effect becomes "hard right / hard left," and you lose the center image.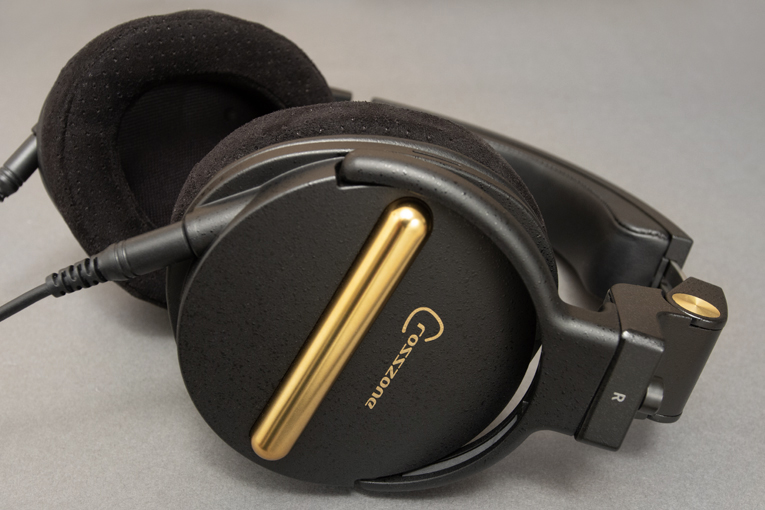 The Crosstalk CZ-10 headphones ($999, all prices USD) are a new, lower-cost version of the CZ-1s ($2499 now, although the price is projected to rise for 2023). Both headphones have a unique driver layout—well, I think it's unique, but it seems like the kind of thing somebody might have tried in the 1970s, the halcyon days of multi-driver headphones. In the CZ-10s, there are three drivers per earpiece: a 23mm driver for high frequencies, a 35mm driver for low frequencies, and another 35mm driver that carries a filtered version of the opposite channel in reverse phase.
The 23mm driver's back wave travels through a labyrinth of sorts—part of which is that gold-colored tube on the side of each earpiece. This is intended to simulate the delayed reflections of a speaker's waves off the side and rear of a room (although of course that delay would typically be about ten to 30 milliseconds in a listening room, versus less than a millisecond in the headphones). The 35mm driver carrying the sound from the opposite channel is intended to expand the soundstage and create a more solid center image. A special cable carries the sound from both channels to each earpiece.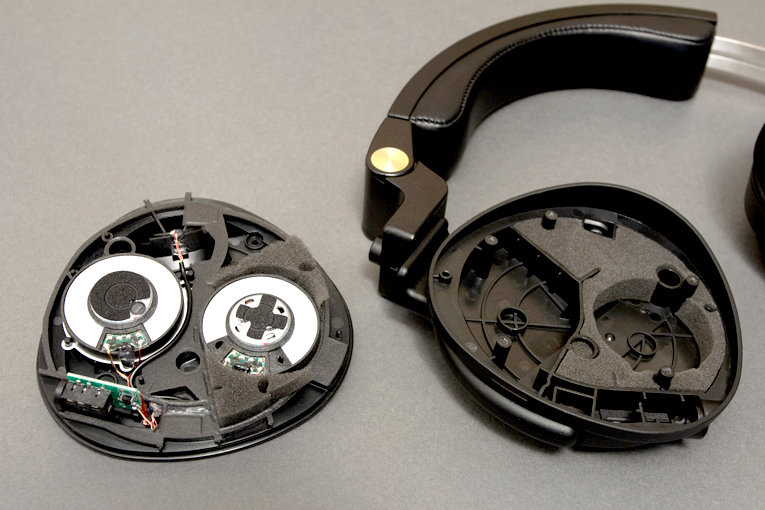 If all this sounds complicated . . . well, it is. But this complex acoustical design is elegantly integrated into headphones that don't look or feel unusual. And as I hinted in the introduction, I couldn't wait to give them a listen.
In the box
The CZ-10s include a 4.8′ (1.5m) cable with a 3.5mm (1/8″) stereo angle plug on one end and a 3.5mm stereo plug going into each earpiece. This one's for portable use. However, there's also an 11.4′ (3.5m) cable with a 1/4″ (6.3mm) plug on the source end that's intended for home use. My CZ-10s included only the latter, though, because they're the US distributor's personal sample.
Use
The CZ-10s are comfortable, although a bit heavier than most headphones their size. The clamping force is fairly light, which has one disadvantage—if you tilt your head back, they fall backward, although they didn't fall off my head.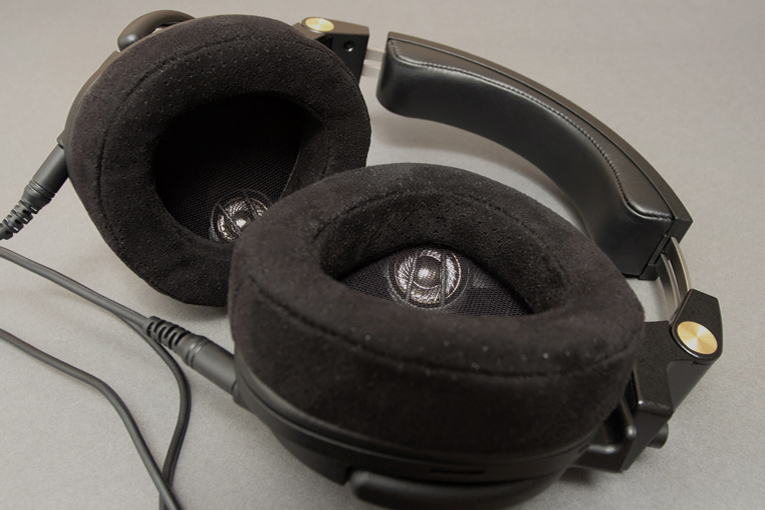 These headphones aren't terribly sensitive. You can find out more in the measurements section, accessible from the link at the top of this review, but to give you an example, I needed the full power of an EarMen Eagle DAC-headphone amp (which I measured at 79.1 milliwatts into 32 ohms, among the best I've measured from a dongle-style DAC-amp) to get an adequate volume with conservatively mastered classical-music recordings.
Sound
I should start out by noting that my ears are exceptionally hard to fool with virtualizers, crosstalk cancelers, and other headphone-enhancement technologies, because my ears are big and my pinnae are fairly deep. This makes me good at localizing sound, but it also means these technologies don't work so well on me. I know this because I once had my head-related transfer function (HRTF) measured in an anechoic chamber at the headquarters of Virtual Listening Systems, the company that created the technology behind the Sennheiser Lucas headphone processor. So chances are, your results with the CZ-10s will be better than mine. But my results were impressive nonetheless.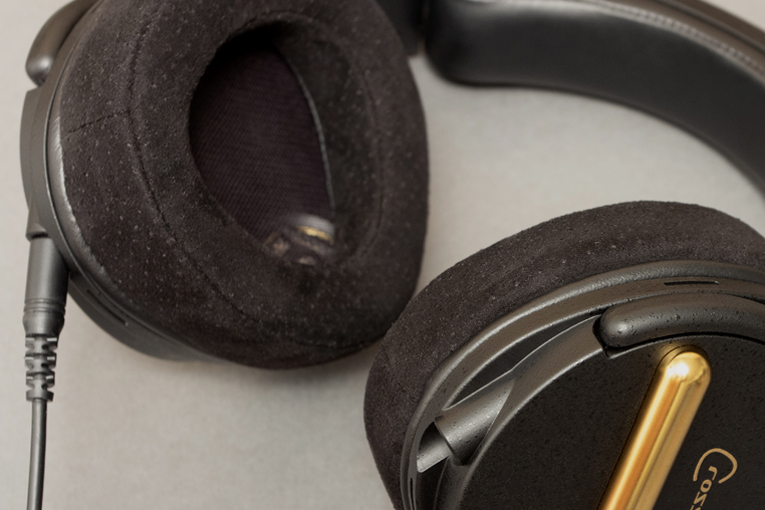 I wanted to start with the kind of recordings I most like to listen to on a regular basis: straight-ahead acoustic jazz. So I started with On a Clear Day: The Oscar Peterson Trio—Live in Zurich, 1971 (24-bit/96kHz FLAC, Mack Avenue / Qobuz). From the first notes of the Benny Goodman standard "Soft Winds," I knew the CZ-10s' acoustical design was producing an effect considerably different from what conventional headphones produce. I heard more of a solid center image than I'd normally hear with headphones, although it wasn't really in front of me like a live performer would be; it was more like right in front of and slightly above my head. Still, it was more natural-sounding than conventional headphones.
The CZ-10s' design didn't seem to introduce any obvious tonal coloration, and didn't add the phasiness that virtualizers often create. I did notice that the highs seemed somewhat rolled off, though. The sense of rhythm and drive was impressive; the bass in "Soft Winds" didn't have a whole lot of weight in the very lowest notes, but the mid- and upper bass had plenty of weight and excellent clarity. And the midrange clarity was impressive, too. It was easy (although not too easy) to hear Peterson growling and mumbling along with his solo. "In terms of the instrument placement, it seems almost like hearing a real piano trio in a real club," I noted.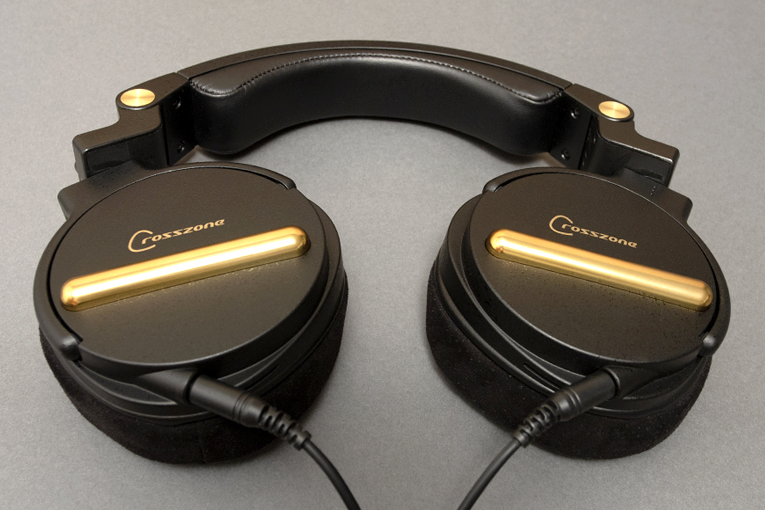 After using Camille Thurman's Waiting for the Sunrise (16/44.1 AIFF, Chesky) for at least a dozen headphone reviews and a few speaker reviews, I feel I have a decent sense of what it's supposed to sound like from a spatial standpoint. On my favorite cut, "September in the Rain," Thurman's voice seemed a little more firmly centered and focused than usual. But the soundstage was unusually wide, and produced an even more ambient sound than I'm used to hearing on this cut. The drums in this recording were the furthest of all the instruments from the binaural dummy head microphone, and the brushed snare drum, in particular, seemed to be echoing in a huge space. The bass had fantastic weight and definition. I felt I could more precisely gauge the distance from each instrument to the microphone—which is kind of the point with this recording, where the mix of instruments is controlled by the distance of the performer to the microphone. In terms of spatial presentation, this recording sounds awesome on just about any system, but on the CZ-10s, it sounded more awesome, and by a significant margin.
The Mahavishnu Orchestra's "Dawn" (The Inner Mounting Flame, 24/96 FLAC, Columbia Records / Qobuz) is musically extraordinary but spatially generic, with the instruments pan-potted around the stereo stage on a mixing board. Often as I've heard this through the last 45 years or so, I was surprised to hear the CZ-10s almost seeming to rearrange the instruments in the stereo field. The electric piano seemed super-close-up, with the drums behind it. The guitar was extremely up in my face, dead center, and the violin was way off to the left but seemed to be coming from a more specific point in space than usual. It was different from what I've ever heard before, but in my opinion, a definite improvement over the standard stereo presentation, in that it seemed to add a second dimension—depth—to the one-dimensional, left/right stereo field. Yet despite all the spatial changes, the tonal balance remained true to what I expected to hear on this record.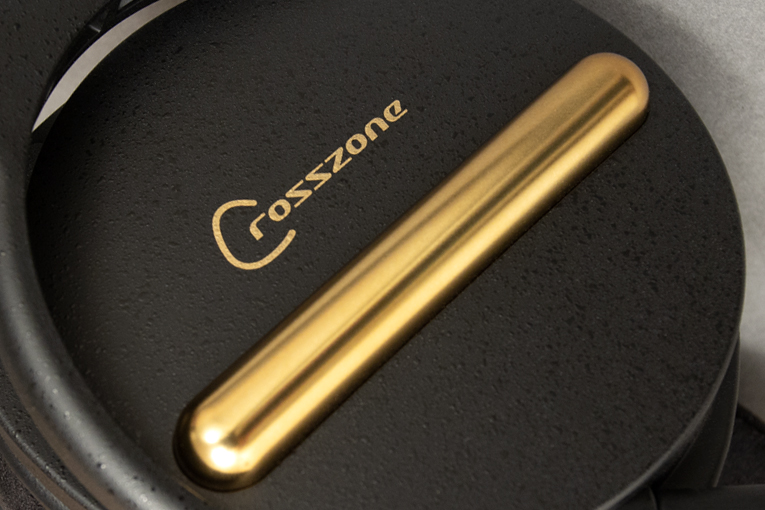 On orchestral recordings, such as Hilary Hahn's Paris (16/44.1 FLAC, Deutsche Grammophon / Qobuz), with Mikko Franck conducting the Orchestre Philharmonique de Radio France, the CZ-10s didn't produce such a dramatically different effect. In passages where Hahn's violin was set against a full orchestra (or at least a large chunk of it), I didn't hear as big a difference in spatial presentation as I'd hear with a good set of conventional headphones, although the CZ-10s' sound did seem a little more spacious. But when smaller sections of the orchestra—or a single player, such as the harpist or a solo flutist—came in with brief flourishes and accents, I got a real two-dimensional sonic presentation, more as if the orchestra's sound was partially wrapping around me, rather than moving back and forth in front of me.
Comparison
I compared the CZ-10s to the closed-back Beyerdynamic T5 (3rd Generation) ($999) and the open-back Sendy Audio Peacock ($1799) headphones.
On Holly Cole's rendition of "Train Song" (Temptation, 16/44.1 FLAC, Blue Note / Qobuz), the CZ-10s definitely produced a bigger, more 2-D sense of space than I'm used to hearing, maybe at times even hinting at 3-D, with some (perceived) height information. Details in this familiar recording came through in a way that had me clicking back to listen over and over again; most notably, what sounded like a metal sheet being struck by a mallet actually seemed to move around me instead of just wandering from side to side. The voice didn't sound quite as distinct in the mid- and upper midrange as it usually does, though, and I didn't hear a lot of presence in the upper treble, so the recording lost some of its sense of air.
The Beyerdynamic T5s sounded clearer in the voice, in large part because of their stronger upper midrange. But with the T5s, the sounds of the percussion in "Train Song" didn't have that depth the CZ-10s produced. The T5s' spaciousness seemed to be presented in a big, seamless, wraparound fashion, without the imaging in 2-D space that the CZ-10s gave me. I expected the open-back Peacocks to present a sense of space closer to that of the CZ-10s, but they didn't—they seemed to produce a more focused, hard left/right sound.
Conclusion
The CZ-10 headphones are a remarkable achievement. Not only are they one of only a very small number of multi-driver headphone models I've heard that present a natural tonal balance with minimal coloration, but they also create what I think is a more realistic stereo presentation than any headphones I've heard that don't employ some sort of spatial processing. I thoroughly enjoyed listening to them, and found their more natural presentation more relaxing and comfortable to listen to long-term.
I sent these off to SoundStage!'s Mike Perez for a second opinion, which he'll present on our YouTube channel. I'm eager to hear what he thinks—and what Crosszone comes up with as it refines the design further and (I hope) incorporates it into a wider range of form factors.
. . . Brent Butterworth
This email address is being protected from spambots. You need JavaScript enabled to view it.
Associated Equipment
Headphone amp-DAC: EarMen Eagle.
Smartphone: Samsung Galaxy S10.
Crosszone CZ-10 Headphones
Price: $999.
Warranty: One year, repair or replacement.
Triode Corporation
Phone: (+81) 48-940-3852
Email: This email address is being protected from spambots. You need JavaScript enabled to view it.
Website: www.triode.co.jp
Tone Imports
Phone: (646) 425-7800
Email: This email address is being protected from spambots. You need JavaScript enabled to view it.
Website: www.toneimports.com