Sound:











Value:











(Read about our ratings)
Measurements can be found by clicking this link.
When it comes to noise-canceling headphones, the big three come to mind: Bose, Sennheiser, and Sony. There are countless more, to be sure, but headphones from these three are the heavy hitters. At the very least, they're the ones people should consider first, and then move outward from there if necessary. Each generation typically gets a little better, with sometimes subtle, sometimes not-so-subtle changes to the sound, and with the NC giving each a particular character.
The Momentum 4 headphones are Sennheiser's latest entry in the $300 to $400 noise-canceling space. I remember trying out the first-generation Momentums while I was at Wirecutter and really enjoying them. The 4s are hugely different from those headphones, not least because they're Bluetooth, but also because with the Momentum 4s, Sennheiser has moved away from the exposed metal pseudo-aviation design, which is a bit disappointing. The 4s have a more staid, classy appearance. Less retro cool and more business chic.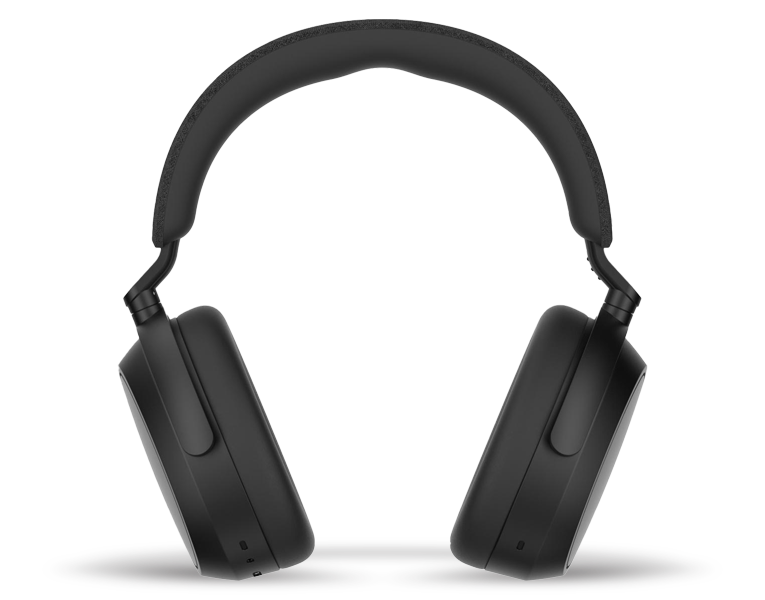 At $350 (all prices USD), they're in the same ballpark as the more expensive Sony WH-1000XM5s ($399.99) and the Bose QC45s ($329) and 700s ($379). The older WH-1000XM4s from Sony are the same price. Which is to say, they have some strong competition. Here's how they stack up.
In the box
There are two color options available: white and black. My review samples were the latter, and the included carrying case is an elegantly gray round-edged triangle. Inside you get a standard USB-A-to-USB-C charging cable, a 3.5mm-to-2.5mm cable, and a 3.5mm stereo-to-dual-mono adapter to connect to the audio systems on some, usually older, aircraft. The earcups rotate perpendicular to the band, so the case is relatively flat. I'd say it would be about the size of a thick paperback if books were triangles.
Use
Smartly, the headphones have two helpful stickers attached. On one earcup is a sticker with the name of the app and a QR code to help find it. On the other earcup, icons explain the swipe and tap control options. Pairing to my Pixel 7 was quick and painless, just holding down the single button on the right earcup. I mention this, as I've reviewed several Bluetooth products recently that botched this seemingly simple task.
The earpads are very soft, and I felt like I got a good seal even while wearing glasses. Depending on your frames, that might not be the case for you, but that's true of any headphone model. The clamping force on my fairly average-sized noggin was secure without feeling tight. They're fairly light at 293 grams, though I wouldn't go so far as to say that you'll forget you're wearing them.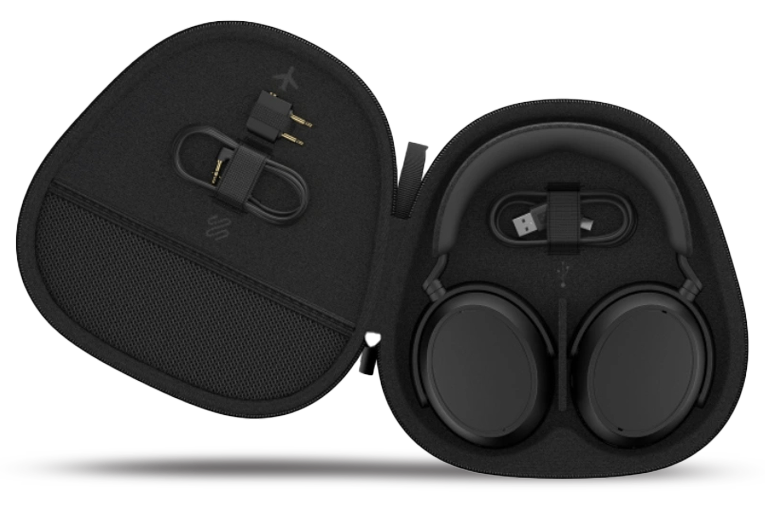 The Sennheiser Smart Control app quickly found the headphones, and it includes a tutorial about features and controls. The app is quite elaborate. There are six EQ presets, and you can create your own using a three-band EQ. There are also Bass Boost and Podcast toggles, the latter boosting speech frequencies. If you find you don't care about one or more of the app's features, you can toggle which ones you see on the main page of the app. Interestingly, you can adjust the sidetone, which isn't a feature I've seen often. This lets you adjust how much of your own voice you hear during calls.
There's a Sound Zone feature that adjusts the headphones' settings based on your physical location, like at home or at work. You'll need to sign up for a free Sennheiser account for this feature, though.
Lastly, and probably most important, is the noise canceling. I'll dive into its performance below, but the app lets you adjust the amount of noise canceling and the amount of sound coming in when you're using Transparency mode, which lets in ambient sound. There's also an automatic button that will vary the amount of NC based on the environment.
Sound
I try to go into every review as neutral as possible, but I think it's safe to say I would have been surprised if a $350 set of headphones from Sennheiser sounded bad. So yeah, unsurprisingly, the Momentum 4s sounded really good. With no EQ applied, the overall sound was well balanced, with strong upper-mids and treble, along with controlled and not-overwhelming bass. A bit of a "smiley" EQ curve, if you will.
Thibault Cauvin's acoustic guitar during II. Fugue (Bach, 24-bit/96kHz FLAC, Sony Classical / Qobuz) had some pleasant detail. Not enough that I'd call these headphones bright, but enough that each pluck of a string had an appealing clarity. I've heard headphones in this range with more openness, however.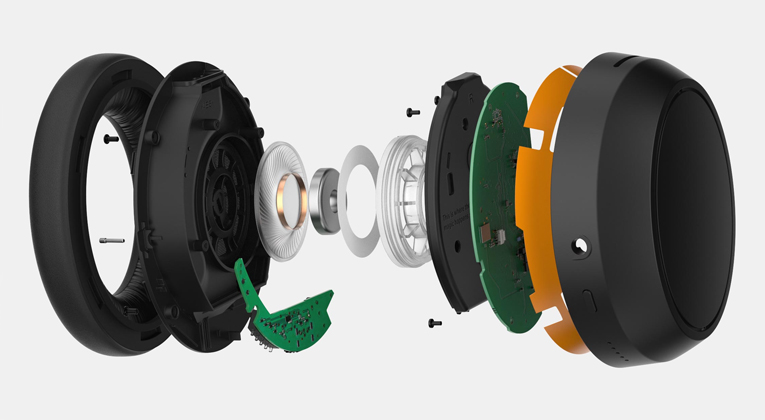 The bass had punch, and was well controlled with minimal boominess. Take the new classic dance anthem "We Found Love" by Rihanna (Talk That Talk, 16/44.1 FLAC, Def Jam / Qobuz). There was decent bass, as you'd want from this track. The bass itself had proper tone and definition, not a low-frequency mush as can happen on some headphones. Rihanna's voice and the synth riffs were front and center, never muffled. There was perhaps a little more upper-midrange than might be strictly neutral, but it added energy and excitement to the sound more than anything, so it wasn't unwelcome.
The soundstage was fairly wide. These are still definitely closed-back headphones, but they didn't feel overly enclosed. The soundstage sounded slightly wider than where the headphones physically sit. That said, they sounded more closed in than, say, the Bowers & Wilkins Pi7 S2 earphones I reviewed recently. However, those were a particular standout in this regard.
I was hoping for a bit more extension in the extreme upper and lower ends of the frequency response: a little lower bass response, a little more openness at the top end. I'm probably picking nits. I tried the Bass Boost feature in the EQ, and it definitely boosted bass. On some tracks it was too much even for me, adding more bass but also more mush to the low end. I like bass, but I'd take "less but controlled" over "more but mushy and thumpy." For instance, "Little Wonder" from Bowie's near-forgotten techno masterpiece, Earthling (16/44.1 FLAC, Arista Records / Tidal). You want a track like this to have a kick, and even without EQ tweaks, the Momentum 4s absolutely did. Turning on Bass Boost sounded more like a reduction in midrange and high frequencies than a boosting of the bass. Yes, this is arguably how all EQs can work, but it was more noticeable here. It was like I was getting more bass and less of everything else. Which is fine, I suppose. However, the bass in Bass Boost mode was not as distinct, so in the end I kept it off. It was like adding a mediocre subwoofer to a pair of already good speakers.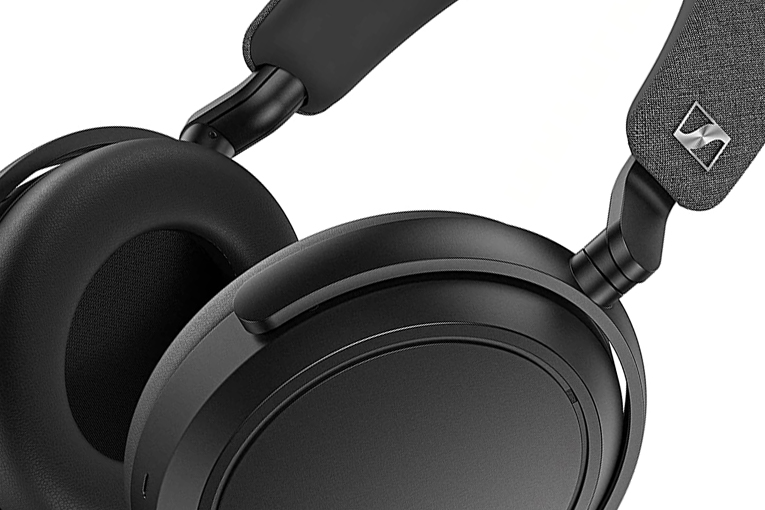 Overall though, I didn't find the EQ necessary. The sound was fairly well balanced, with a little extra bass and treble. "Suite: Judy Blue Eyes" from Crosby, Stills & Nash's eponymous album (24/192 FLAC, Atlantic Records / Qobuz) blended their legendary harmonies and the various acoustic instruments beautifully. Their voices were a little farther back in the mix than I've heard, but the difference was slight.
And while it's not what we typically test for here at SoundStage! Solo, the voice quality both ways with calls and video chats was much better than with most of the headphones I've tested recently.
Comparison
When it comes to noise canceling, the Bose QuietComfort Earbuds II are as good as you can get. They're a little cheaper than the Sennheisers, and they're in-ear instead of over-ear, but for this specific test I think they're worth considering. The Momentum 4s didn't reduce as much noise, but they still did a good job. The Boses canceled more low-end. They even reduce more lower-midrange, where you'd think the passive canceling of the over-ear design would help.
I'm working on a review of the Sony WH-1000XM5 headphones, but I figured it was worth putting them against the Sennheisers as a bit of a sneak preview. They're the other heavy hitters in the over-ear NC headphone space, and at $400 they're only a little more expensive. As far as noise canceling goes, the Sonys reduced more than the Momentum 4s, and pretty close to the QCE II earphones. Less low-frequency rumble came through the Sonys compared to the Sennheisers.
Sound-wise, both are good but definitely have different tonal characteristics. Crudely speaking, the Sonys leaned a bit toward bass, and the Sennheisers leaned toward treble, but that's overly simplistic. More specifically, the Sonys went deeper, while the Sennheisers had more upper-midrange/low-treble. The piano, eclectic instrumentation, and Fiona Apple's voice on "Shameika" from her 2020 masterpiece, Fetch the Bolt Cutters (24/48 FLAC, Epic Records / Qobuz), provided a good example. The Sonys sounded fuller and bigger, but the Sennheisers brought out Apple's voice and piano more.
Conclusion
I really like the Momentum 4 headphones. They look classy, sound great, and offer very good noise canceling. The app has lots of options to tweak the sound to your liking, though honestly they don't really need the EQ. If maximum noise canceling is your thing, one of the Bose options will likely work better for you. The Sony WH-1000XM5s have better bass, if that's your thing. Overall, though, these are great-sounding headphones.
. . . Geoffrey Morrison
This email address is being protected from spambots. You need JavaScript enabled to view it.
Associated Equipment
Smartphone: Google Pixel 7.
PC: Microsoft Surface Pro 8.
Sennheiser Momentum 4 Wireless Headphones
Price: $349.95.
Warranty: Two years.
Sennheiser Electronic Corporation
1 Enterprise Drive
Old Lyme, CT 06371
Phone: (800) 736-6434
Website: www.sennheiser.com