Sound:











Value:











(Read about our ratings)
One of the first sets of earphones I reviewed for SoundStage! Solo was the Edifier NeoBuds S. I was, and still am, a big fan. They nailed a sound profile I really liked, with some well-controlled bass, smooth treble, and a wide-open soundstage. So it's no surprise that I was extremely curious about what Edifier could do with the additional real estate of a pair of full-sized over-ear headphones.
Enter the WH950NB headphones, which have 40mm dynamic drivers and a claimed 34 hours of battery life with noise canceling on, and 55 with NC off. With just ten minutes of charging, you get up to seven hours of playback. In addition to the industry-standard black, they're also available in an ivory color with a few more bronze highlights. With an MSRP of $179.99 (all prices USD), they're actually the same price as the NeoBuds S earphones.
That's an interesting mix of features for what seems like a pretty reasonable price. Let's dive in (not literally; they're not waterproof).
In the box
Included with the WH950NBs are a compact case, a USB-A to USB-C charging cable, and an aircraft dual-mono adapter. To connect the latter, the left earcup has a 3.5mm analog input. The charging port is on the right earcup. Both earcups swivel, and the left pivots, to fit in the case that's roughly the size of a trade paperback book.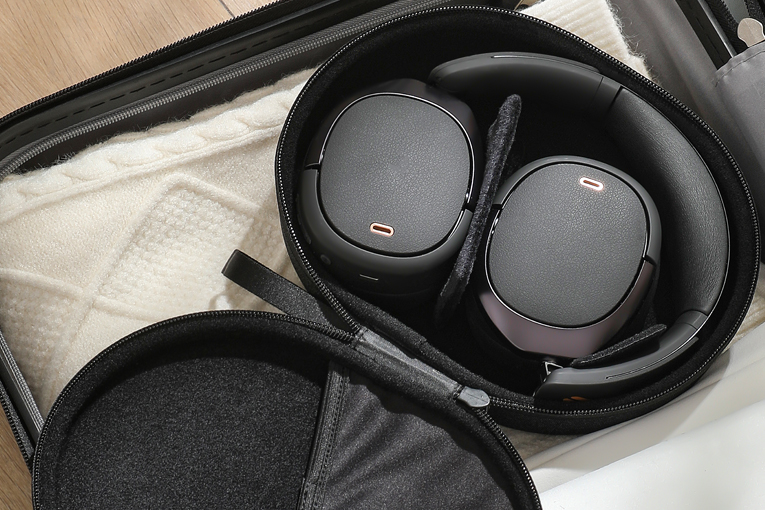 Use
The WH950NBs are quite comfortable, with just enough clamping force to hold them in place. Edifier describes the leather and memory-foam earpads as having "pillow-like softness," and for once the marketing department isn't overselling it. They're delightfully soft.
The right earcup has the controls, which are raised and rubber. Unfortunately, they look and feel cheaper than the rest of the headphones. It's easy enough to find the large power button, which is in the center of a rocker control for raising and lowering volume. A separate button toggles noise canceling on and off.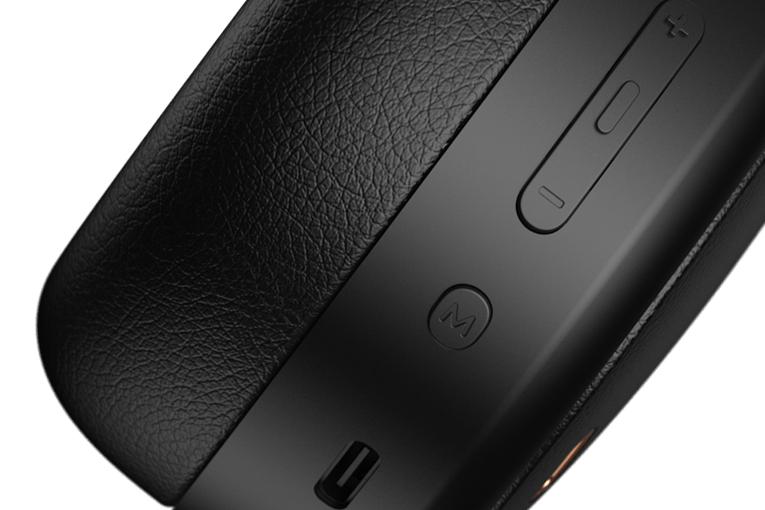 Oddly, the Edifier Connect app wouldn't work with my Sony NW-A306 Android-based media player. It worked fine with my Google Pixel 7 smartphone, so my guess is the cause was some overzealous device-specific lockout. The app lets you adjust the noise canceling and has an EQ with two presets and four-band adjustable EQ. The headphones can connect to multiple devices at a time, which is always handy.
The noise canceling was pretty effective, though I wasn't quite as impressed as I was with the NeoBuds S earphones. I'd say they're above average in terms of overall NC, dropping background noise a reasonable amount. If you're searching for the best NC though, there are better options.
Sound
The sound of the WH950NBs is pretty well balanced. There's a bit of a midrange push, and a little extra bass. Overall, they sound really good.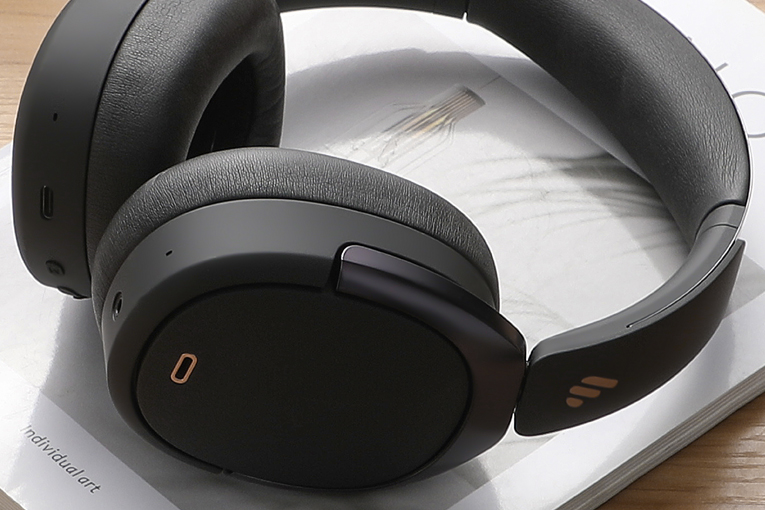 It's the 10th anniversary of Random Access Memories, which unfortunately turned out to be the last Daft Punk studio album. But they went out with a bang, and the 10th Anniversary Edition adds some extra tracks and is available in hi-rez. I cued up the first track, "Give Life Back to Music" (24-bit/44.1kHz FLAC, Columbia / Qobuz), which has a great mix of acoustic and electronic instruments. Through the WH950NBs the bass was well controlled. It was a bit more than strictly neutral, but it wasn't what I'd call too much. If you hate bass, it's probably a lot. Vocals were a little forward, but not excessively so. There was a little emphasis in the upper midrange / lower treble that could seem to add some excitement to the sound, but it could also give the sound a not entirely pleasant edge. It wasn't that bad, but it leaned in that direction. If these were $300+ headphones, I'd criticize this aspect more. For $180, it's a little nitpicky.
The soundstage isn't particularly impressive. I've heard bigger sounds with other closed-back headphones (and of course, way more with open-back 'phones). That said, they don't sound particularly closed in. The various instruments and vocals throughout the Grateful Dead's "Cassidy" (Reckoning, 16/44.1 FLAC, Rhino / Qobuz) were spread out well, seeming to extend slightly past the earcups themselves. The Edifier's slightly elevated upper midrange and lower treble made the acoustic guitars sound a little forward.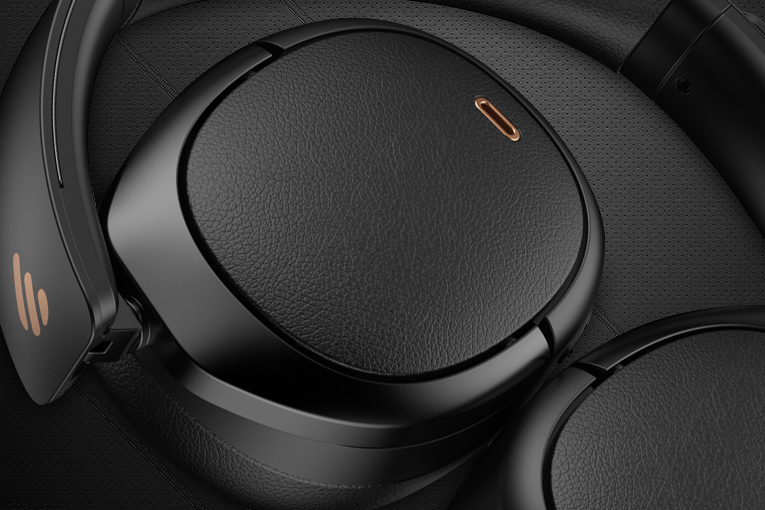 I did most of my listening in the Classic EQ setting. The Dynamic setting added a bit more treble and bass, like turning up those two dials on a receiver. I didn't prefer one mode over the other, to be honest. Using the Customized EQ setting, I could dial back output at 2kHz, which took off the edge I mentioned above. To give you an idea of how much of an issue the boost was, I reduced that band by 1dB and that was enough. So yeah, not a big deal.
Throw on a bass-heavy track, and the WH950NBs can oblige without falling apart. Billie Eilish's "Bad Guy" (When We All Fall Asleep, Where Do We Go?, 24/44.1 FLAC, Interscope / Qobuz) starts out with as big and bassy of an intro as I've heard in a while. The Edifiers didn't let it get out of hand. It wasn't boomy, just big.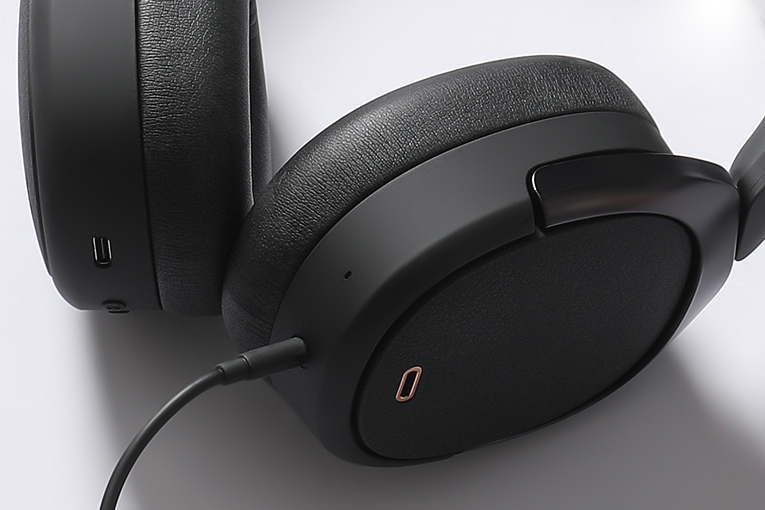 For something a bit more delicate, I queued up an old mainstay of the audiophile crowd, "Don't Know Why," which leads off Norah Jones's 2002 release, Come Away with Me (24/192 FLAC, Blue Note / Qobuz). The piano and guitars sounded clear, though Jones's voice and the upper registers of the piano had that slight edge without EQ.
Comparison
I felt the WH950NBs would hold their own against the Sennheiser Momentum 4 headphones ($379.95) I reviewed a few months ago, despite the fact that the Sennheisers are more than twice the price. "The Mother" from Brandi Carlile's By the Way, I Forgive You (24/96 FLAC, Elektra / Qobuz) combines her stunning voice in what sounds like a huge hall with acoustic guitar and some percussion. The Sennheisers sounded a bit more open, with smoother treble. The bass was a little tighter, and there was less of it. The 4s were a little better, but I'd call them more different than better, especially considering the price difference.
I also compared the Edifiers to the Sony WH-1000XM5 headphones ($398, review pending). With Stevie Wonder's "Higher Ground" (Innervisions, 24/96 FLAC, Motown / Qobuz), the Sonys had fuller, deeper bass. The treble was smoother as well. There was more treble overall with the Edifiers though, which made the Sonys seem darker by comparison. The Sonys' noise canceling was a little more effective. On an imaginary graph with price on one axis and performance on the other, I'd say the Sonys and the Edifiers are on the same line. Spend more on the Sonys; get a bit more performance. If you don't want to spend that much, the Edifiers perform very well for their price.
Conclusion
Overall, I really liked the WH950NB headphones. I was hoping for a more similar sound profile to the NeoBuds S earphones, but instead they're a bit more balanced. Probably not a bad thing for wider audience acceptance. They're wonderfully comfortable on my average-sized noggin, and their features kept me reaching for them regularly. While I liked the Sonys a little more, I didn't like them twice as much. Which is to say, for the price, the Edifiers are fantastic.
. . . Geoffrey Morrison
This email address is being protected from spambots. You need JavaScript enabled to view it.
Associated Equipment
Smartphone: Google Pixel 7.
Portable media player: Sony NW-A306.
Headphones: Sennheiser Momentum 7, Sony WH-1000MX5.
Laptop: Microsoft Surface Pro 8.
Edifier WH950NB Headphones
Price: $179.99.
Warranty: One year, parts and labor.
Edifier USA
428 Hemphill St.
Fort Worth, TX 76104
Phone: (877) 334-3437
Website: www.edifier.com