Sound:











Value:











(Read about our ratings)
I didn't intend to write so much about Sony in such a short span. Ironically, this was the article I planned first. But then I bought an NW-A306 portable media player and wanted to write about that, so this review got bumped. After hearing the March 17, 2023, episode of the SoundStage! Audiophile Podcast, Doug Schneider suggested I write an article about the Sony MDR-7506 headphones. I agreed, and these 'phones got bumped again. So here we are.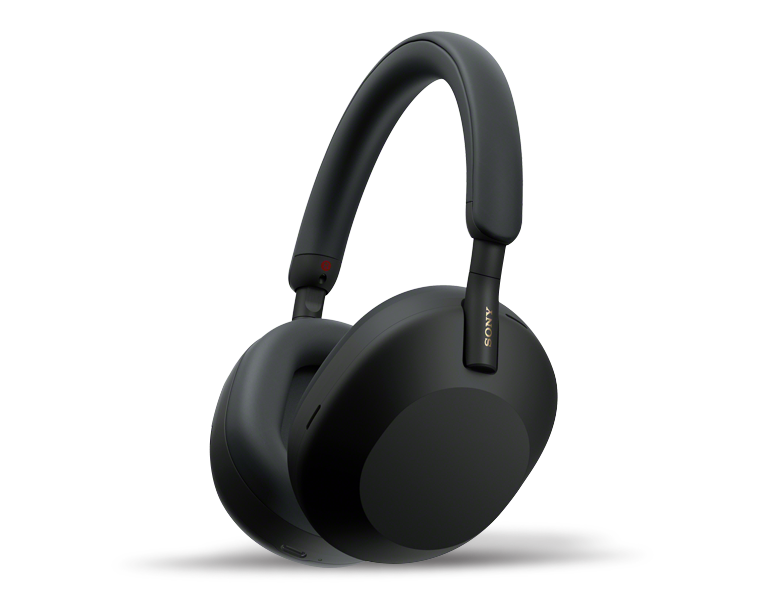 The WH-1000XM5 headphones don't deserve to have been bumped so many times—they're a great pair of headphones. That's a bit of a spoiler, but you've unknowingly waited all this time to learn what I think of them—so why wait any longer? My opinion shouldn't be too surprising, because these are the latest in a long line of excellent noise-canceling, over-ear headphones from Sony.
They have 30 hours of claimed battery life and can deliver an impressive three hours of playback with just three minutes of charging. Inside are 30mm drivers. On the outside are four microphones for better voice quality with phone and video calls. They're available in three finishes: Black, which looks like it sounds, Silver, which looks white, and Midnight Blue. They're also really comfortable, but I'm getting ahead of myself.
In the box
As is fairly typical with over-ear headphones, there's not much in the box. You get a triangle-ish case, a USB-A-to-USB-C charging cable, and a 3.5mm-to-3.5mm headphone cable. The earcups of the 1000XM5s rotate 90 degrees to fit flat in the case, but the case is larger than those provided by some competitors, since the XM5s' earcups don't pivot.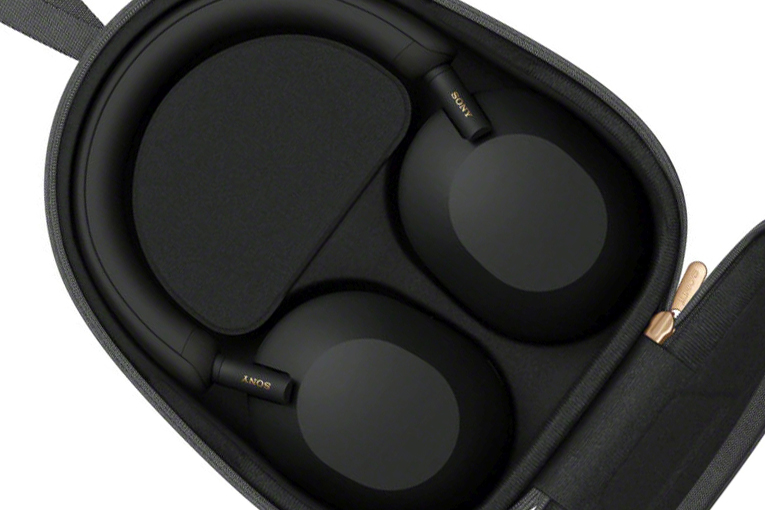 Use
As you'd hope with 'phones from a major manufacturer, the 1000XM5s are easy to pair with a variety of devices. Unlike some recent products I've reviewed, they showed up on the Bluetooth lists on my Sony media player and Google smartphone, and they paired immediately.
Weighing 8.8 ounces, or 250 grams, they're a little bit lighter than the Edifier WH950NB and Sennheiser Momentum 4 headphones, which weigh in at 296g and 293g, respectively. That's a 15 percent difference, which isn't massive, but if wearing headphones for extended periods bothers your neck, every bit can help.
The clamping force on my average-sized noggin was a bit higher than those two other headphones, and the padding wasn't quite as comfortable as the "pillow-like" Edifier headphones. Overall, though, I found the Sonys pretty comfortable.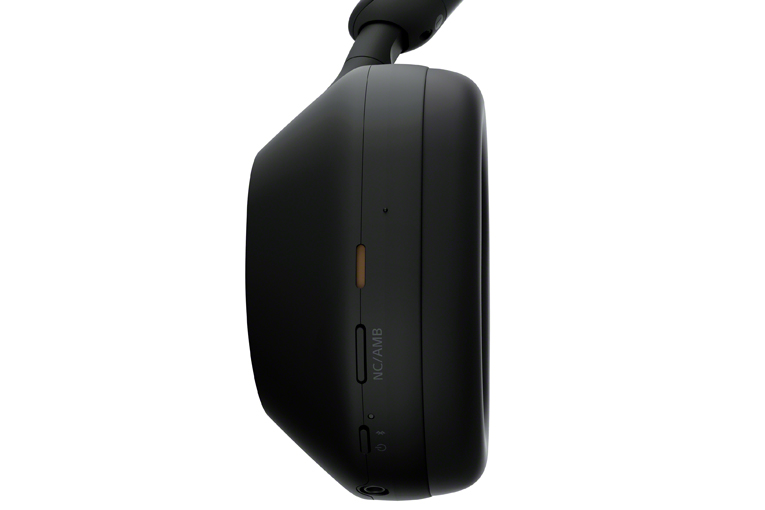 It's a little thing, but I appreciate it when companies mark the left and right earcups clearly. The Edifier and Sennheiser Momentum 4 headphones both have lettering on the cloth that covers the drivers. The Sonys have a red dot with an "R" on one side, and a gray dot with "L" on the other. These are all good options and make it easy to identify which earcup goes with which ear. The Sennheiser HD 660S2 headphones I'm reviewing next have small, uncolored letters on the frame that are practically hidden from view behind the earpads. Not ideal.
The Sony Headphones Connect app isn't as slick as some competitors' apps, but it gets the job done. Noise-canceling options include an Adaptive Sound Control function, which monitors ambient sound and adjusts NC automatically. You can change the features that are adjusted when you tap the touch-sensitive earcups. There are also a variety of non-sound-related features you can adjust or enable/disable in the app, like activating your phone's voice assistant and connecting to multiple devices. Lastly, there's an equalizer with eight preset modes and three custom settings, the latter adjustable via a six-band EQ. If you like one of the preset modes but want to tweak it a little, the app copies it to one of the custom settings, where you can adjust it further. That's a nice timesaver. I did most of my listening with EQ turned off.
Sound
Overall, the WH-1000XM5s have a pleasing, warm, fairly bass-heavy sound. There's no harshness in the treble, and the midrange isn't subdued. If you hate bass, these aren't for you. I think most people will like the way these 'phones sound.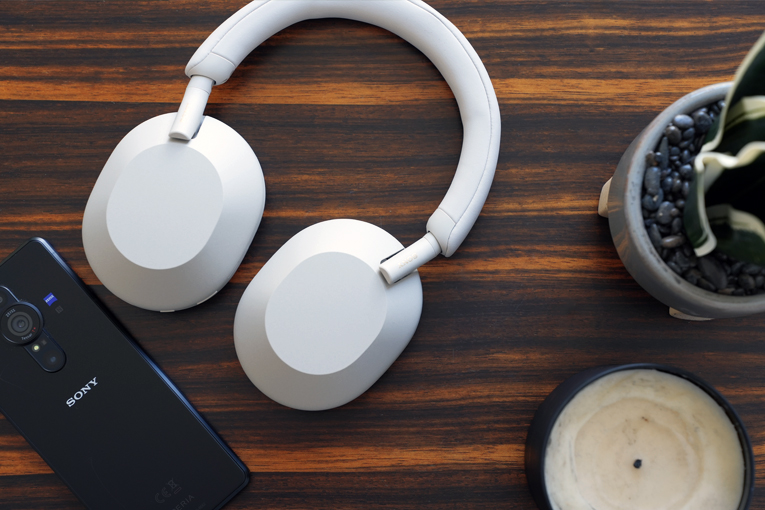 The bass had a bit more thump than I'd prefer, as if kick drums were a little overly damped. It made some tracks sound a bit more constricted in the bass frequencies than they sound through other headphones. It wasn't severe, but it was noticeable, especially at higher volumes. However, bass extension (i.e., how deeply these 'phones can play) was impressive. For example, the deep pedal tones on Kali Malone's "Rose Wreath Crown (For CW)" (The Sacrificial Code, 24-bit/48kHz FLAC, Ideal Recordings / Qobuz) rumbled in a way more typical of headphones with much larger drivers.
Stereo separation and soundstaging were impressive too. The wide-panned acoustic guitars at the beginning of "Ventura Highway" from America's 1972 album, Homecoming (24/192 FLAC, Warner Bros. / Qobuz), seemed to sit well over my shoulders. The 1000XM5s lacked the high-frequency openness of some headphones and didn't sound particularly airy. This isn't a negative per se, as the treble they produce is still fairly delicate and detailed. But listeners who crave the sparkle delivered by some headphones had best look elsewhere.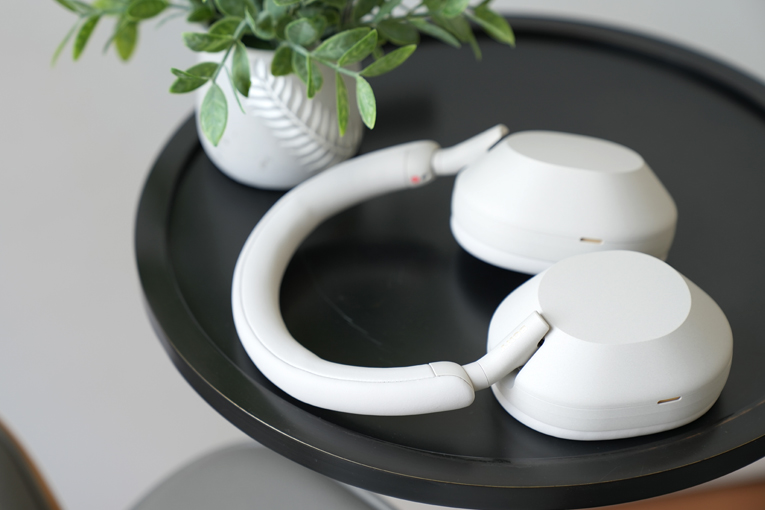 In "Fat Bottomed Girls," from Queen's 1978 album, Jazz (16/44.1 FLAC, EMI Records / Qobuz), Brian May's guitar had a fantastic midrange growl. This song really gets going, and the 1000XM5s never sounded mushy or overwhelmed. At extreme volumes, there was a bit less bass, and treble became a little more shouty, but less so than with many Bluetooth headphones I've used.
Comparison
Since I compared the Edifier WH950NB to the Sony WH-1000XM5 headphones in my earlier review, it seemed fitting to do the same here. First up was Yaeji's "Submerge FM" (With a Hammer, 24/96 FLAC, XL Recordings / Qobuz). This track features an eclectic mix of woodwinds, ethereal vocals, and electronic drums and bass. The midrange, including Yaeji's voice, was more prominent on the Edifiers. I heard more mid- and upper-bass as well. There was still plenty of bass on the Sonys, and it was more extended. The Sonys sounded smoother overall.
In many ways, the Sennheiser Momentum 4s are the opposite of the Sonys. More treble, less bass, but still a great overall sound. Swapping between the two while listening to Taylor Swift's "Hits Different" (Midnights [The Til Dawn Edition], 24/48 FLAC, Taylor Swift / Qobuz) felt like being on a seesaw. Through the Sennheisers, Swift's voice and the upper frequencies of the instruments and percussion were more predominant. Through the Sonys, the bass drum and lower frequencies were far more prevalent. If these two headphones were EQ settings, I'd say the Sennheisers are +2 treble, -1 bass, compared to the Sonys' +2 bass, -1 treble. Both veer away from what I'd call a "neutral" headphone design. But I prefered the Sonys' warmer sound, and I think most listeners will as well.
In terms of noise canceling, as tested by playing loud airplane noise via speakers and a subwoofer in my small office, the Sonys bested the other two, though not by as much as you might think. The Momentums were a full step behind; the Edifiers were closer. The Sonys did a better job of quieting a wider range of frequencies, but in the low bass range the Edifiers gave them a run for their money. Not bad for a product that's less than half the price.
Conclusion
I had high expectations for the WH-1000XM5 headphones. I'd recently purchased Sony's WF-1000XM4 true wireless earphones, and I really liked them. I hoped the XM5 over-ear headphones would perform as well. Also, the Sennheiser and Edifier NC over-ears had both left me a bit wanting. They were good in their own ways, but I knew there had to be more out there in the same category.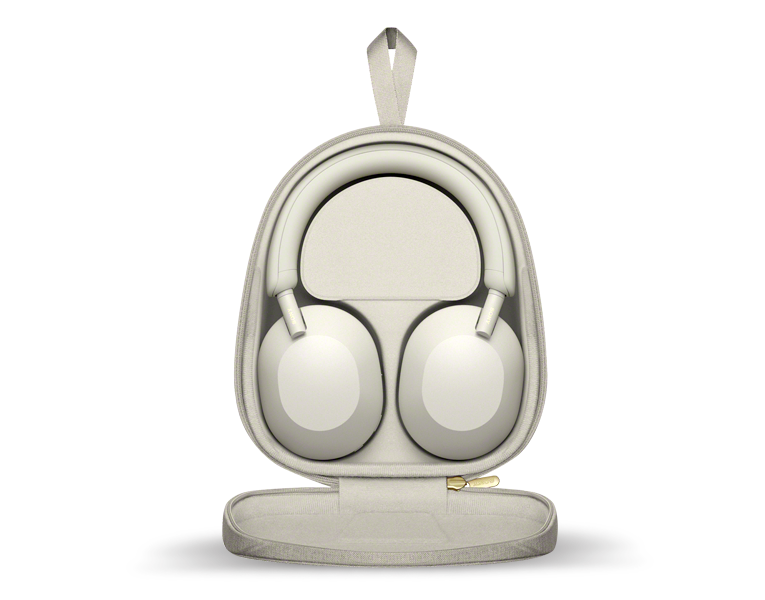 The smaller, lighter Sonys promised to fill that bill, and they did. At $400, they're a bit on the expensive side. And if you don't like bass, they're not for you. Overall, though, they offer a fantastic combination of sound and noise-canceling performance. Personally, I'd recommend the true wireless WF-1000XM4 earphones for those who travel a lot, but to each their own in that regard.
. . . Geoffrey Morrison
This email address is being protected from spambots. You need JavaScript enabled to view it.
Associated Equipment
Smartphone: Google Pixel 7.
Portable media player: Sony NW-A306.
PC: Microsoft Surface Pro 8.
Sony WH-1000XM5 Headphones
Price: $399.99.
Warranty: One year.
Sony Electronics
16530 Via Esprillo
San Diego, CA 92127
Phone: (800) 646-SONY
Website: www.sony.com