Originally published on SoundStage! Xperience

This reviewer is never so happy as when he's blown away by a real bargain. I expected little when I first put on Monoprice's 10585 Bluetooth headphones ($89.50 USD). Then I began to gush. "Whaaattt!?" "Oh, my!" Other complimentary exclamations followed . . .
Unpacking and contents
The Monoprice 10585s come in an attractive, low-key, quality looking outer sleeve. Lift that off to reveal a sturdy, black, cigar-box-quality case with a hinged lid secured by a magnetic clasp. Flip this open to find the headphones and accessories, protected by a clear plastic cover. It's all simple, neat, and attractive. Also included are a USB-to-USB Micro charging cable, a 3.5mm stereo audio cable, a quick-start instruction manual, and a drawstring storage pouch of black plastic.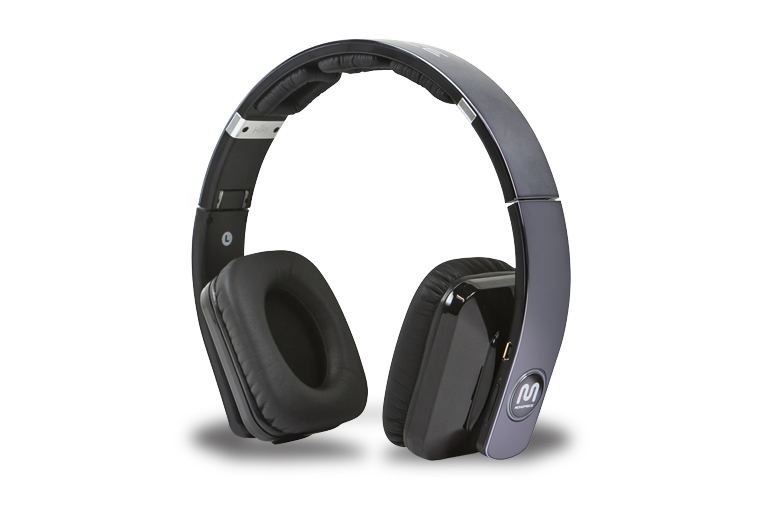 The 10585s are almost entirely made of plastic, except for cloth grille covers, leatherette earcup covers, and three foam and leatherette rectangles arrayed in a row under the center of the headband. The headband arms are adjustable in detent clicks, and the earcups fit into them in such a way that the cups can be moved up or down and from side to side for a perfect fit.
None of the photos I've seen of the 10585s do them justice. They're so shiny that I could see my face in the headband. Whatever the finish is, it seems to collect neither dust or fingerprints. It can be scratched, however, so I was grateful for the storage pouch, which is compartmentalized: you can keep your instruction book and cables inside. I also kept the cables in the plastic wrapping they came in, to keep them from scratching the 'phones.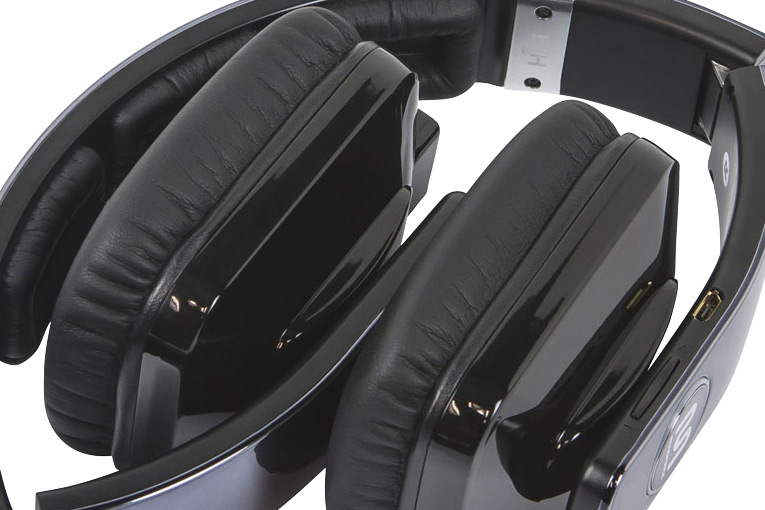 The 10585s can be folded up to a compact 7" x 5" x 2.5"; open for use, they measure 8" x 7.5" x 2.5". Inside each earcup is a hefty 50mm woofer, and three 13mm treble drivers driven by neodymium magnets. Monoprice lists the 10585s' frequency response as 10Hz-20kHz. The 10585s support these Bluetooth profiles: aptX, A2DP, AVRCP, HSP, and HFP. The battery is claimed to last for 16 hours (wired), 25 hours (Bluetooth), 28 hours (talk), or a whopping 1300 hours -- 54 days (standby).
The outer dimensions of the rectangular (hooray!) earcups are 3.5"H x 2.75"W; the inner spaces, for the ears, are 2.25"H by 1.4"W. The 10585s are advertised as on-ear headphones, but those with small ears might be able to use them as over-ear 'phones. The 10585s cushioned and covered even my big ears almost completely, blocking out exterior sounds quite well.
The left headband arm has an input at the bottom for a 3.5mm audio cable. The 10585s will play via wired connection, but you must have them turned on and use the controls on your device to pause, adjust volume, or skip tracks. None of the 10585s' own controls for these functions works when the 3.5mm cord is plugged in.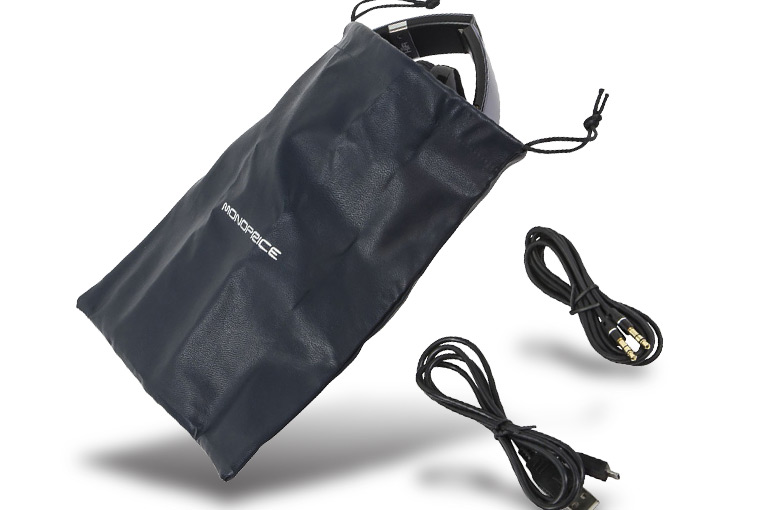 To use the 10585s in wireless Bluetooth mode, use the tiny on/off slider switch on the front of the right headband arm. The slider shows red for Off, green for On. On the back of the arm are the USB Micro charging port and a rocker switch. Press and hold down this switch at either end to raise or lower the volume; you'll be guided by a beep. Press and release this switch at either end to skip forward or back a track. To pause or resume play, push in the big M logo in the lighted circle on the outside of the arm. That circle is also useful in Bluetooth pairing and in shutting down the 10585s.
The 10585s are equipped to interact with up to two mobile phones, but I didn't review this function.
Use
Every new Bluetooth product I review seems to be easier to pair with my Apple devices than the one before. If your 10585s have never been paired with anything, they'll enter pairing mode as soon as they're turned on. The circle around the M logo blinks blue and red until pairing is completed, at which point the LEDs all glow blue. But the 10585s paired so quickly that I barely saw the red light. Once the 10585s were paired, I found their range to be 20' to 25' in the house, which is normal for Bluetooth operation here. Outdoors and at the gym, I could get up to 30'.
The fit of the 10585s was remarkable. Those three foam and leatherette rectangles worked much better than a single, solid piece of foam -- or anything else I've come across -- to keep the 'phones stable on my head. Not only that, they allowed air to circulate so that the 10585s never felt hot or uncomfortable to wear. This feature, coupled with the good-fitting earcup padding, make for the best fit I've had with over-ear 'phones. They might look a little dorky, but I could wear the 10585s at the gym for any exercise, even ones that put me nearly upside down.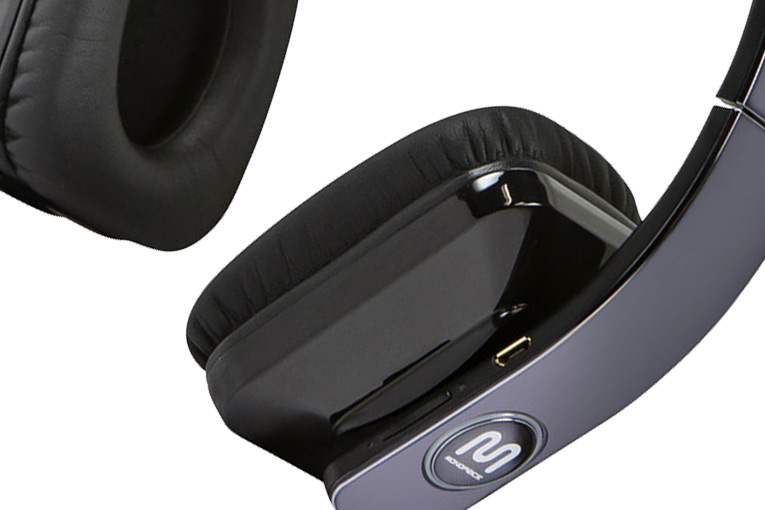 Monoprice's estimates of battery life seem accurate. I didn't test the claim of 54 days' worth of standby, but for two-and-a-half weeks now I've used the 10585s at the gym four times weekly, as well as an hour or so a day here at home three or four days a week, and they haven't yet needed a recharge.
Sound
Monoprice touts the 10585s as producing "Virtual Surround Sound." This might refer to the four drivers per earcup, but I never heard anything that placed sounds behind me. However, I did find the sound immersive much of the time, and those three treble drivers meant that the sound was clear and transparent in a way that, until now, I've heard from only very expensive headphones.
The 10585s had it all: solid, full bass, but only when a particular recording included that information; a clean, focused midrange; and crisp highs that were harsh only when the original recording was.
More significant, I found that the 10585s' overall sound had incredible presence. This allowed me to considerably back off the volume. At the gym, I reduced the volume three or four clicks from max output, and at home, five or six clicks, and still had plenty of great sound. Needless to say, reducing the volume by this much practically eliminated all distortion.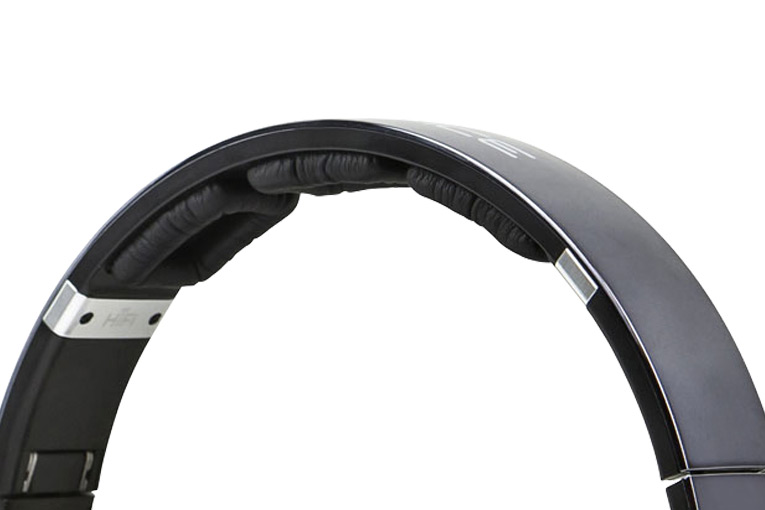 The 10585s' four-driver arrangement scored in the final movement of Ernest Ansermet and Suisse Romande Orchestra's recording of Rimsky-Korsakov's Scheherazade (16-bit/44.1kHz ALAC, Decca). When the cymbals and bass drum are struck simultaneously, the sound was absolutely clear, keeping the sound of the drum precisely separated from the shimmer of the cymbals.
10cc's The Original Soundtrack (16/44.1 ALAC, Universal/Mobile Fidelity Sound Lab) is a marvelous recording that sounds good on just about any device, but the 10585s opened it up even more than usual, precisely placing details on a very expansive soundstage.
Voices were riveting. From Art Garfunkel (Angel Clare, 16/44.1 ALAC, Columbia) and Steve March Tormé (Swingin' at the Blue Moon Bar & Grille, 16/44.1 ALAC, Frozen Rope) to Joan Baez (Diamonds & Rust, 16/44.1 ALAC, A&M/Mobile Fidelity Sound Lab) and operatic tenor Mario del Monaco (Opera Gala, 16/44.1 ALAC, Decca), each had presence, as if he or she were in the room with me. Del Monaco's strident, nearly over-the-top delivery of two big arias from Giordano's Andrea Chénier gave me chills and nearly brought me to tears. The Monoprices' intimate delivery of their voices made the individual character of each singer immediately recognizable.
Conclusion
Monoprice doesn't seem to advertise much, but with a product like the 10585 headphones, if there's any justice, their star should soon rise. The 10585s have killer good looks, fit amazingly well, fold up compactly, can be used wirelessly or wired, come with a nice storage case, run incredibly long on a single battery charge, and are that rare headphone model that can do double duty as a serious listening device and as a portable that can be used anywhere: at the gym, on the bike, at home. And they cost a third of anything comparable. They aren't discreet -- they fairly advertise that you're wearing headphones -- but considering all their pluses, that's something about which the owner can actually be proud. I am.
. . . Rad Bennett
This email address is being protected from spambots. You need JavaScript enabled to view it.
Associated Equipment
Apple iPod Nano (sixth generation)
Apple iPod Touch (third generation)
Monoprice 10585 Bluetooth Headphones
Price: $89.50 USD.
Warranty: One year, limited.
Monoprice
Phone: (877) 271-2592
Fax: (909) 989-0078
Website: www.monoprice.com