Originally published on SoundStage! Xperience
Bowers & Wilkins P5 Series 2 measurements can be found by clicking this link.
Bowers & Wilkins continues to be one of the most popular manufacturers among audiophiles. Mere mention of the name makes me think of hi-fi icons like their Nautilus loudspeaker, and the Nautilus 801 and 802. These speakers were far ahead of their time for their build quality, materials used, and acoustical engineering. Somewhere along the way, B&W made the leap from a pure hi-fi firm to a premium audio company, likely with its introduction of the Zeppelin iPod dock. Since then they've moved from strength to strength, offering a variety of wireless speakers, as well as a full range of earphones and headphones. The subjects of discussion here, the P5 Series 2 headphones ($299 USD), are a perfect marriage of old-school hi-fi and class-leading industrial design.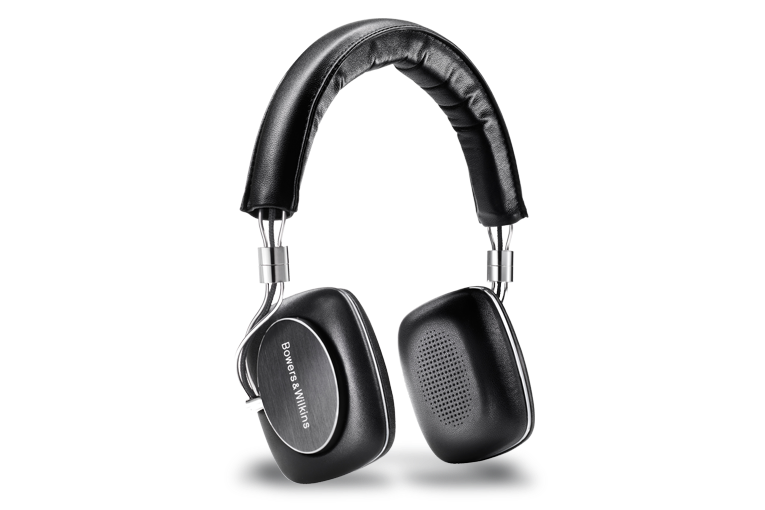 Description
Right out of the box, it was clear to me that the on-ear P5 Series 2s are thoughtfully designed. They come packaged in a simple but upscale-looking folding case lined with felt. Since the P5s fold flat, the case fits easily into a backpack, briefcase, or carryon luggage -- no awkward, oddly shaped bulk here. The P5s themselves are smaller than some of their on-ear competition, measuring 7.5"L x 7.4"W x 2.7"D and weighing only 6.9 ounces. What was immediately impressive was their look and feel -- these are luxury headphones offered at a price at which it's usually difficult to "have it all." Real sheepskin, supple and soft to the touch, is used to cover the headband's soft foam padding, and the inner and outer surfaces of each earpad. B&W's textured logo on the earpiece is unostentatious, and the classily curved frame and trim of polished aluminum nicely complement the dark color scheme while giving the P5s a bit of gravitas.
The P5s come with a 3.5mm cord that includes an inline remote control and microphone compatible with most newer iPhones, iPod Touches, and iPads. The positioning of the mike is perfect, as are the feel and engagement of its buttons. Pull hard on the magnetized earpieces to remove them -- this lets you see the 1.6" full-range dynamic driver with suspended diaphragm and, in the left earpiece, grants access to the curved cable connection. B&W kindly provides a second cable (one without the inline mike/remote) that listeners can easily plug into place. It's easy to reinsert the earpads, which have zero play when fitted.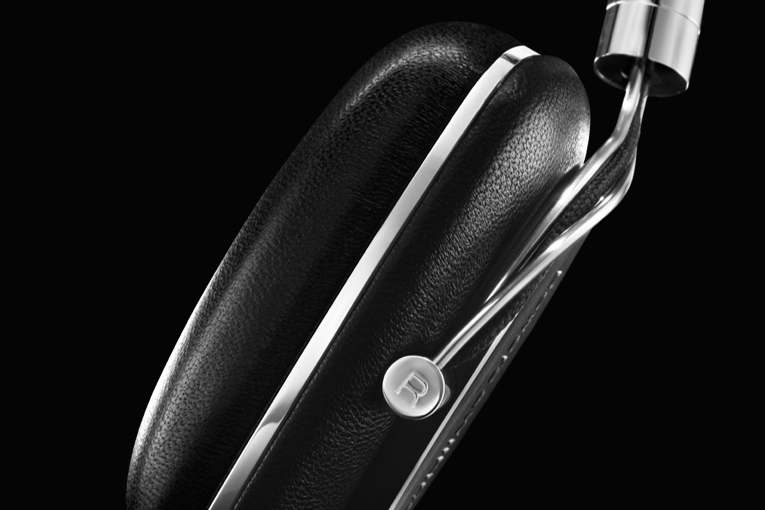 The P5 Series 2s were fabulous to look at and to use. In fact, this is one of the very few headphone models at any price that I would recommend to just about anyone. They look great on just about anyone -- a 16-year-old kid needing a partner for a smartphone, a college student looking for a studying companion, a 45-year-old professional who uses them on the train to work. Even my 61-year-old future mother-in-law gave the P5s a once-over and said, "These are nice!"
When I slid the P5s into place, they gripped my head fairly tightly. Because on-ear headphones are in constant contact with the ears, I worried about my long-term comfort. But in normal use they were at least as comfortable as other on-ear designs. Based purely on aesthetics, comfort, and functionality, the P5s are excellent.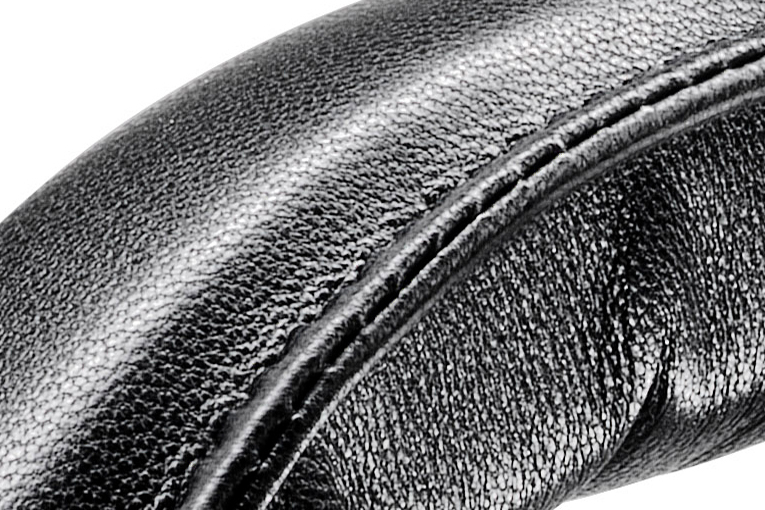 B&W supplies a six-page manual in various languages, but lists only a few specifications. The 1.6" driver, derived from the one used in the P7s, B&W's larger, flagship over-ear headphones, has a nylon-damped diaphragm and a voice-coil of copper-clad aluminum wire. The impedance is listed as a friendly 22 ohms, the sensitivity as 108dB/1V at 1kHz. Distortion is less than 0.4% when fed a 10mW signal at 1kHz, while the maximum input power is 50mW. Finally, the P5's frequency response is listed as 10Hz-20kHz, without qualification.
Setup and use
Owing to their appearance as well as their build quality, I used the P5 Series 2s in a variety of ways. They made the trip to Munich, Germany, for the 2015 edition of High End, keeping me company as I wrote articles from the show's Press Room, at the local Starbucks, and in the lobby of Team SoundStage!'s hotel. I wore them out and about on the streets of Philadelphia, took many phone calls with them courtesy of their built-in mike, and used them for hours at a time while getting work done. They were wired directly into my Apple MacBook Pro about as often as I used them with Hegel Music Systems' Super headphone amplifier-DAC or Benchmark Media Systems' DAC2 DX digital-to-analog converter and headphone amp. In every setting, they proved enduringly comfortable, thoroughly attractive, and eminently usable.
Sound
I've yet to hear a pair of headphones that didn't impose on the music an audible signature of their own, and the B&W P5 Series 2s were no exception. They were definitely full-range, with full, powerful bass from the lowest registers up through the upper bass. Their midrange was articulate, tending to the warm side of neutral, with a laid-back quality. These qualities readily manifested themselves with modern pop music, which tends to have heavy bass lines and relatively lively vocals. "Where Are Ü Now," from Skrillex and Diplo Present Jack Ü (256kbps AAC, Mad Decent/Atlantic), features Justin Bieber singing over heavy electronic riffs from S&D. (I apologize to you and to B&W for embarrassing myself by having supported Bieber's career -- it won't happen again.) The voice of this detestable, tattooed man-child is mixed quite hot, but the P5s attenuated the edginess of the mix so as to make it all sound a bit fatter, fuller, and more colorful. There was a heartiness to the lower midrange -- this is Justin Bieber, mind you -- that made the Series 2s more concerned about articulating a performance than the venue in which it was recorded. In short, the P5s' high-frequency performance was not what I would call extended. The background melody (if you can call it that) is repeated throughout the heart of the track, and through other headphones sounds quite expansive, with a deep, deep soundstage. The B&Ws tended to minimize this sense of spaciousness, which suggested a rolled-off top end. While I found that playing the P5s pretty loudly lessened that perception of a polite treble, it also underscored their defining character: seriously heavy bass.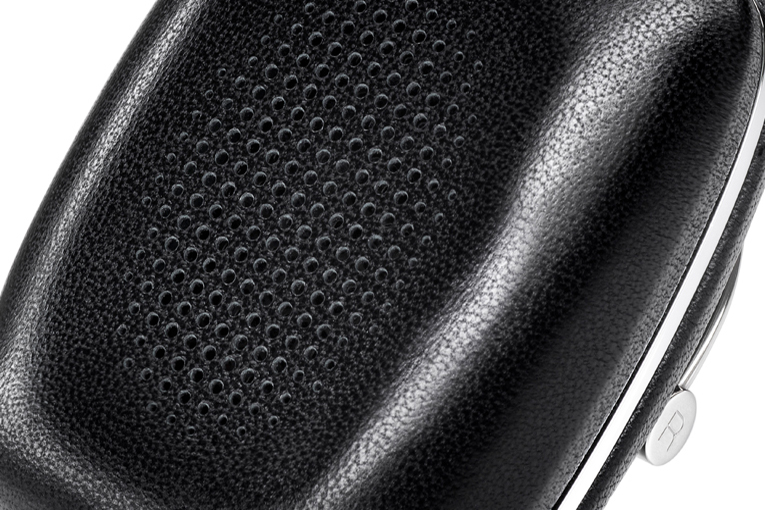 A Skrillex-inspired bass line is always going to be heavy-handed, but the P5s provided the most low-end energy I've ever heard from headphones. This track's bass line hit home with the force of a subwoofer, providing incredible energy and response from around 100Hz all the way down. There is no question in my mind that the P5s can satisfy the needs of all but the most depraved bass fiends out there. They did seem to err on the side of outright bass power and weight over impact and agility, so don't expect electrostatic-like speed in the deep bass. Still, I found their bass performance quite satisfying.
Becky G's bubblegum pop single "Shower" (256kbs AAC, Kemosabe) sounded positively poptastic through the B&Ws. The 18-year-old's voice was well defined, with a bit of warmth and just the right amount of edge taken off the top end, which shifted the focus to the meat and bones of her delightfully banal lyrics rather than to the leading and trailing sibilants of her voice and the synthesized accompaniment. The P5s couldn't make much of this track's plodding one-note bass, but they did provide a lovely and weighty foundation for Becky G's voice, which had a glowing, velvety texture. No one will ever accuse the classy-looking P5s of sounding threadbare through the mids or the bass.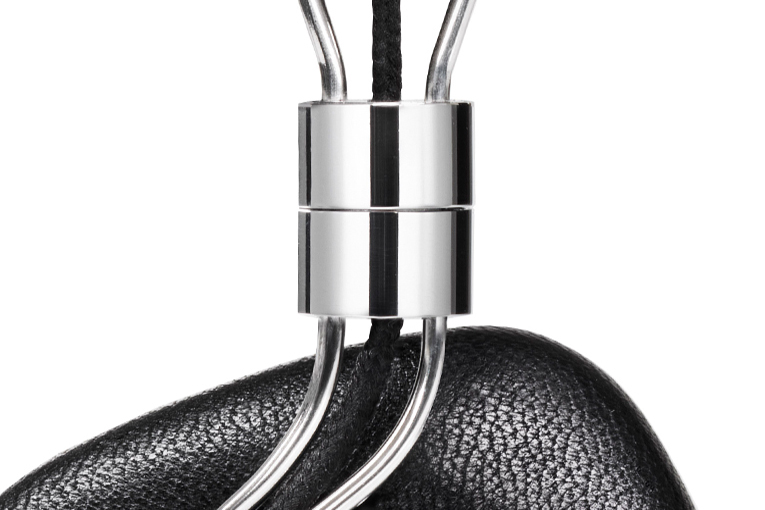 In terms of resolving ability and transparency, the P5s were quite good. "Electric Daisy Violin" (16-bit/44.1kHz ALAC, Universal), from Lindsey Stirling's eponymous debut, is a seriously catchy, genre-straddling effort that showcases Stirling's quick-fingered violin work over a radio-friendly EDM foundation. Again, the B&Ws' heavy bass response and rolled-off top didn't exactly contribute to a fleet-footed sound -- the P5s sounded more rich and deliberate than airy and ethereal. Indeed, their handling of high-frequency and upper-midrange transients suggested the opposite of a bright or even lively sound. Because of this, I had at first jumped to the conclusion that the P5s weren't reproducing microdetail. On the contrary -- they were easily able to unravel and differentiate Stirling's lilting violin from the hugely satisfying, pulsing bass line. Despite an obviously tailored frequency response, Stirling's strings didn't sound in any way woolly or muffled; using a dedicated headphone amp and DAC, I was satisfied that I was hearing just about everything on the recording.
Competition
At $299.99, the P5 Series 2 has strong competition. KEF's M500 on-ear headphones ($299.99) are, like the B&Ws, clad in leather and metal, and have a pleasing shape and an inline mike and remote control. There the similarities end. The M500s' clean, simple lines make them look like a prototype compared to the P5s' more streamlined curvaceousness. Combined with the facts that the KEFs have earpads covered not in leather but in plastic (with more of a matte finish), and metalwork of brushed rather than polished aluminum, the B&W are a clear step up in style and execution. The M500s look and feel great -- I bought a pair -- but the P5s look and feel that much better. It's also noteworthy that the M500s' inline music controls aren't nearly as pleasant to the touch as the P5s' -- something to consider if you frequently pair your headgear with a smartphone.
While the P5 Series 2s painted aural pictures with heavy helpings of bass, a rich midrange, and a tapering top end, the M500s were more linear, with less bass but more treble. Furthermore, the M500s' bass response was a bit tighter and more impactful, striking with greater speed and less residual overhang -- in the lower frequencies, the KEFs seemed just as full-range as the B&Ws. The M500s' mids provided a more concise and finely delineated take on voices and instruments. Their upper-midrange emphasis, in tandem with their more sparkling and extended top end, gave the KEFs a livelier, more immediate sound. But overall, I found the M500s just as resolving as the P5s; neither was clearly more accomplished than the other in this regard.
My reference over-ear headphones, NAD's Viso HP50s, lean toward the KEFs' sound in terms of a seemingly flat frequency response, while also retailing for $299. Clad in stylish plastic with a rubberized chassis, the NADs lack the visual appeal of the B&Ws. Their size and flare -- the headband is more squarish than head-shaped -- make the wearer look a bit daft. I have yet to wear the NADs in public, and don't plan on doing so anytime soon. The NADs' leather and metalwork are of the same quality as the KEFs': very good, but not as nice as the P5s'.
The HP50s' sound quality is pretty much peerless at this price point: even more linear than the KEFs', and, due to their full-size, circumaural earpieces, producing broader, deeper soundstages and greater sound isolation. Absent are the KEFs' upper-midrange emphasis and the B&Ws' sweetly smooth midband. Instead, the NADs demonstrate an effortless, organic quality through the all-important mids that I found difficult to fault. The NADs' treble response is similar to the KEFs', but notably elevated when compared to the more intimate-sounding B&Ws'. The HP50s' bass, however, is the most agile of the three. Depending on the recording, this speed can make the HP50s sound almost a bit light in the bass -- something the P5s never had to worry about. Finally, the NADs' retrieval of micro- and macrodetail is a step above that of the KEFs and B&Ws.
But -- I can't overstate this -- despite their excellent overall sound, I would never wear the NADs in public: not in an airport terminal, not in a coffee shop, and certainly not walking along the street. Which, for me, greatly limits the NADs' usefulness compared to the KEF M500s and B&W P5 Series 2s.
Conclusion
If I needed a pair of all-purpose, everyday headphones, Bowers & Wilkins' P5 Series 2s are exactly what I would buy. Their sumptuous design and luxurious materials make them as much a fashion statement as a declaration of appreciation of high-fidelity sound, while their tailored frequency response delivers easy listening with most any musical genre you can throw at them. They practically recommend themselves.
. . . Hans Wetzel
This email address is being protected from spambots. You need JavaScript enabled to view it.
Associated Equipment
Earphones and headphones -- KEF M500, NAD Viso HP50, Shure SE535LTD-J
Headphone amplifier-DACs -- Benchmark Media Systems DAC2 DX, Hegel Music Systems Super
Digital sources -- Apple MacBook Pro running iTunes; iPhone 6
Bowers & Wilkins P5 Series 2 Headphones
Price: $299.99 USD.
Warranty: Two years parts and labor.
Bowers & Wilkins
B&W Group North America
54 Concord Street
North Reading, MA 01864
Phone: (978) 664-2870
Fax: (978) 664-4109
E-mail: This email address is being protected from spambots. You need JavaScript enabled to view it.
Website: www.bowers-wilkins.com