Originally published on SoundStage! Xperience
Monoprice Monolith M300 earphones measurements can be found by clicking this link.
Products like the Monolith M300 in-ear earphones show how different Monoprice is from other audio brands. Other than their name and logo, Monoprice makes no pretense of brand identity in their products. Their focus is working with various overseas manufacturers to deliver products of (usually) reasonably good quality in all sorts of categories, at prices so low that few other companies can match them. However, the Monolith M300 earphones reflect what seems to be a minor sideline for Monoprice: products that look like knockoffs of well-regarded models made by other companies.
I got my first inkling of this practice when CNET asked me to measure an Energy speaker system and a system from Monoprice that was an obvious near-copy of it; the Monoprice manual even included a line about "Connecting your Energy subwoofer." I saw it again when I reviewed the Monoprice M1060 headphones, which bore considerable cosmetic resemblance to HiFiMan's HE560 headphones. Now I see it once more with the Monolith M300s, which look like Audeze's revolutionary iSine10 in-ear planar-magnetic earphones, which I lavishly praised in March 2017.
Of course, the audio business is full of lookalike products. Headphones and Bluetooth speakers are often purchased from a single manufacturer by numerous brands, the models ultimately produced differing only in color and logo. Even those generic designs are sometimes then knocked off by other manufacturers. The difference is that, in the cases mentioned in the preceding paragraph, Monoprice has been, let's say, "influenced" by designs that are apparently proprietary. In China, such concerns are usually considered quaint, but when you're talking about two US companies barely more than an hour's drive from each other, it's a bigger concern.
At $149.99 USD, the M300s cost much less than the iSine10s, the least expensive of the Audeze in-ear models, which go for $399 with a conventional analog cable and an Apple-compatible Cipher cable-DAC-amp. Other than the lack of a digital cable, the M300s exhibit no obvious cost-reducing shortcuts, although my scale shows that the M300s' earpieces weigh 25% more than the iSine10s' -- possibly a big disadvantage in an earphone that's suspended from the outer ear with a clip. But the M300s include fabric-wrapped cables that, while thicker and heavier, are much less prone to tangling than Audeze's stock analog cables (a problem the big, flat Cipher cable doesn't have), and are terminated in a heavy-duty, pro-style, right-angled 3.5mm stereo plug.
Are the M300s a reasonable substitute for the iSine10s at a fraction of the price? And even if they aren't, are they better than conventional earphones costing around $150? Let's find out.
In the box
Along with the Monolith M300s Monoprice packs a pretty nice selection of accessories. First is a fold-over plastic case similar in design to the case for the iSine10s, but a bit larger. There are also silicone eartips in three sizes, a pair of small, Comply-like foam tips, two pairs of ear hooks, and two sizes of rubber doohickeys that secure the earphones by being slipped into the folds of the inner surface of the outer ear. The fabric-wrapped cable is 59" (150cm) long and terminated on the earphone end with MMCX connectors; it's detachable and replaceable.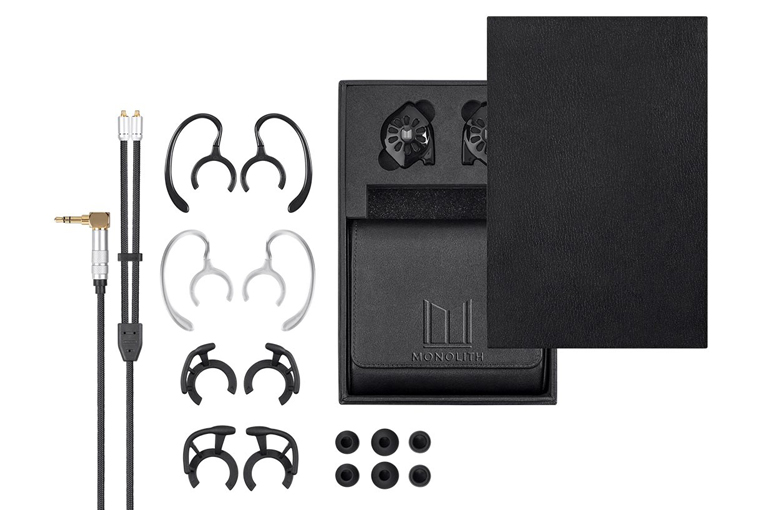 Use
Like the Audeze iSine10s, the Monolith M300s are basically two relatively big things hanging out of your ears; they don't rely on making a tight seal in your ear canals, so using some sort of ear clip is a must. The only ones that worked easily for me were the somewhat fragile plastic hooks that fit over the ears, but I quickly broke one pair. (A Monoprice rep told me that replacements are available, though they weren't sold directly through the website as of this writing.) The smaller pair of rubbery hooks that go into the ear also worked somewhat for me, but fitting them into my ears was fussy. However, I suspect that people who buy exotic earphones such as these are probably willing to tolerate a bit of fuss. For me, the over-ear hooks got a little tight and uncomfortable after an hour, but I could go a couple of hours with the in-ear clips.
The M300s also share another of the iSine10s' challenges: Because they block little of the sound around you, they're not great for many portable applications. I found it hard to enjoy music with them while at a Starbucks, but at a table outside there was only a bit of traffic noise to contend with, and the M300s worked great. They're best when used in quiet locations, such as at home, in a hotel room, or at the office. One small downside: the case is a bit too small to easily contain the earphones; you have to kind of shove them in there.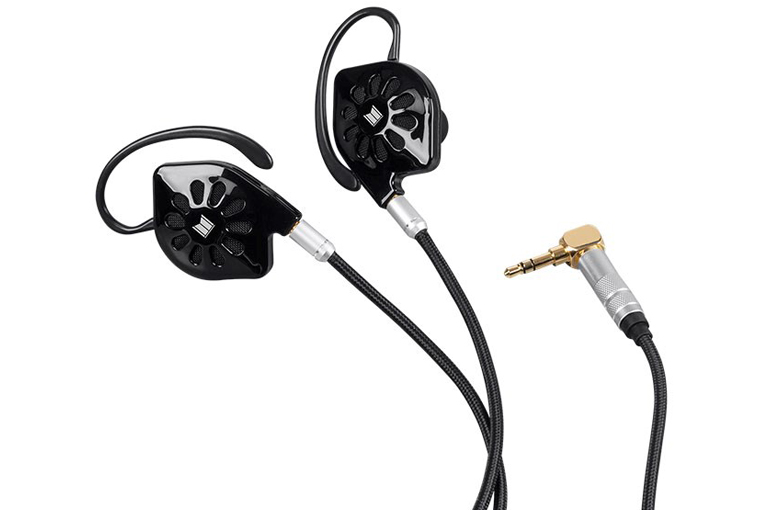 I found the M300s easy to drive with all the portable devices I own, including my iPod Touch music player and my Samsung Galaxy S8 smartphone.
Sound
I used the Monolith M300s casually at home for about a week before doing any serious listening with them. During that time I almost always enjoyed their sound -- it seemed more natural than what I hear through typical earphones. I then sat down for extended listening sessions, running the M300s from a Samsung Galaxy S8 smartphone, an Apple iPod Touch, and a laptop computer connected to an AudioQuest DragonFly Red DAC-headphone amp.
"This Little Light of Mine," a recording of a gospel choir from Dr. Chesky's Ultimate Headphone Demonstration Disc (16-bit/44.1kHz WAV, Chesky), revealed the M300s' fundamental character right away. This binaural recording delivers a much more realistic, wraparound soundstage through headphones than most conventional stereo recordings can, but even so, the effect was more dramatic and natural through the M300s than through the 1More Triple Driver earphones, which have deservedly earned praise from many reviewers. The M300s' response also sounded flatter, with no resonances or emphases of any part of the audioband.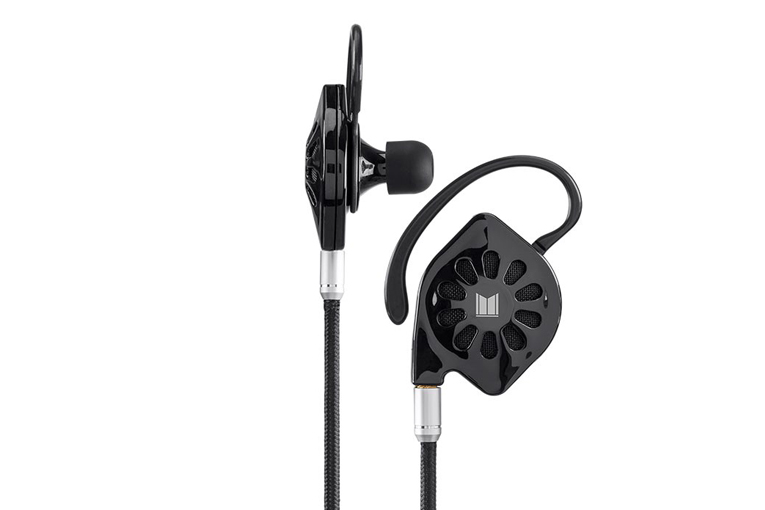 "You're Getting to Be a Habit with Me," from Cécile McLorin Salvant's fantastic Dreams and Daggers (320kbps Ogg Vorbis, Mack Avenue/Spotify), also gave the M300s ample opportunity to beat up on well-regarded conventional earphones like the NAD Viso HP20s, which I also tested against the M300s. The HP20s sound more natural and spacious than most dynamic earphones, but the M300s delivered a much more convincing and realistic illusion of space, and again delivered a subjectively flatter frequency response, with no instruments standing out in the mix or sounding significantly colored.
The M300s were just as convincing with one of the toughest test tracks I have: "Shower the People," from James Taylor's Live at the Beacon Theatre (16/44.1 WAV, digital rip from the DVD's two-channel mix). One manufacturer even accused me being "unfair" when I used this track to test a TV's sound. There was so much to like. The M300s did make Taylor's voice sound slightly boxy -- as if he were singing into a big cardboard carton -- but I noted almost no sibilance, and a smooth reproduction overall. The low end was particularly excellent, the tonal subtleties of the electric bass coming through clearly. Even the Audezes, used with their passive cable, couldn't quite match this performance; through the iSine10s, Taylor's voice sounded a bit buzzy, and the bass wasn't as punchy or well defined.
Other recordings produced more of a toss-up between the two earphones. The title track of acoustic guitarist Ralph Towner's My Foolish Heart (16/44.1 WAV, ECM) sounded different, but great, through both. The M300s were a little more open, with a bit better lower-treble clarity but a hint less mid-treble clarity, and were slightly rolled off on top. The iSine10s sounded clearer in the mid- and upper treble, with a more focused, somewhat less open sound. Which was correct? I can't know without having been in the studio during the recording, but both were good.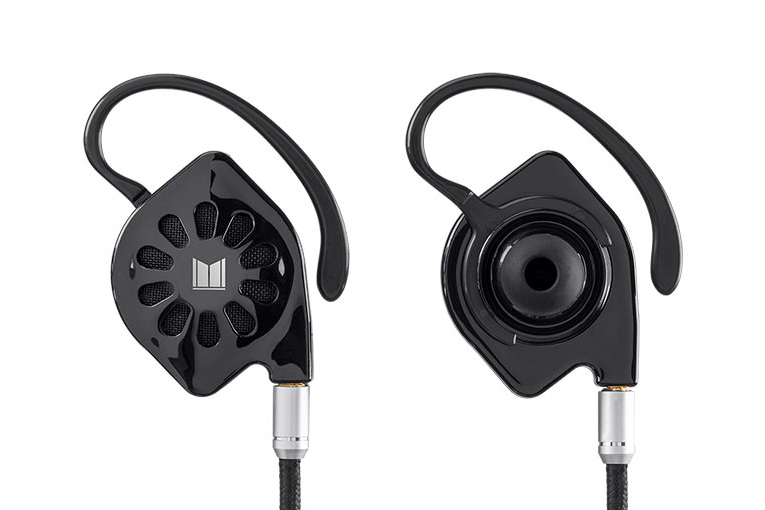 That said, the iSine10s sounded more lively and detailed overall. I liked the M300s' overall balance with "If I Were a Bell," from West of 5th, by Jimmy Cobb, Hank Jones, and Christian McBride (16/44.1 WAV, Chesky) -- but the iSine10s delivered much more detail, presence, and snap from Cobb's snare drum, and let me hear much more articulation from McBride's double bass, and more air and space in Jones's piano. Note that this was with the iSine10s' analog cable; with the Cipher cable-DAC-amp the Audezes sound several notches better, but I didn't think it was fair to compare digital-cabled headphones with headphones using an analog cable and the DAC-amps built into my portable devices.
Weirdly, the only recording I found with which I didn't enjoy the M300s' sound was the title track of Deep Purple's Burn (320kbps Ogg Vorbis, Rhino/Warner/Spotify). For some reason, the M300s made the harmony vocals sound mushed up; through the iSine10s, it was easier to hear the different contributions of David Coverdale and Glenn Hughes. The treble also had a lot more life and presence, making it easier to distinguish the cymbals and snare, and the highest notes of Ritchie Blackmore's lead guitar.
Conclusion
The Monoprice Monolith M300s are kind of what one would reasonably hope: a really enjoyable alternative to conventional earphones. To the best of my memory, they sound more spacious and natural than any conventional earphones I've tried, and I think audiophiles who hate earphones may just like the M300s. If you want to spend $399 for the Audeze iSine10s, you'll get significantly better sound overall, but if you just want a very affordable alternative to conventional earphones, and a great way to get satisfying sound while sitting in your cubicle, your backyard, or your patio in Puerto Vallarta, the Monolith M300s are a great buy at $149.99.
. . . Brent Butterworth
This email address is being protected from spambots. You need JavaScript enabled to view it.
Associated Equipment
Sources -- Samsung Galaxy S8 smartphone, Apple iPod Touch (sixth generation), AudioQuest DragonFly Red DAC-headphone amplifier
Monoprice Monolith M300 Earphones
Price: $149.99 USD.
Warranty: One year parts and labor.
Monoprice, Inc.
11701 Sixth Street
Rancho Cucamonga, CA 91730
Phone: (877) 271-2592, (909) 989-6887
Fax: (909) 989-0078
Website: www.monoprice.com