Originally published on SoundStage! Xperience
Massdrop x NuForce EDC3 earphones measurements can be found by clicking this link.

All by themselves, the Massdrop x NuForce EDC3 earphones tell the story of where the audio biz is headed in 2018. Although the EDC3s pack three balanced-armature drivers into each tiny earpiece, they cost just $99 USD -- about 25% of what three-driver earphones typically cost a few years ago. They're sold not through retail outlets or even conventional e-tailers, but through Massdrop, a Web-only entity that sells products based on requests and feedback from its own online communities. Five years ago, no one would have believed you could get three-driver earphones for $99, and no one would have heard of Massdrop.
Like many headphones and earphones now available through Massdrop, the x NuForce EDC3s are made specifically for the site, in accordance with requests from its customers. While some of these products, such as the Massdrop x Sennheiser HD 58X Jubilee headphones, are lightly modified versions of existing products, the Massdrop x NuForce EDC3s appear to be unique, created solely for Massdrop. Currently, Optoma NuForce does offer a set of triple-driver earphones, the HEM6es, but they're $299.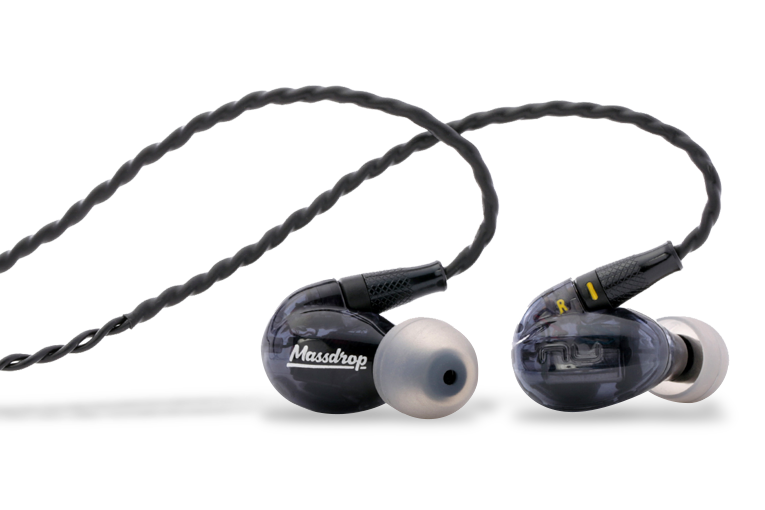 Most serious enthusiasts prefer earphones like the EDC3s because they have multiple balanced-armature drivers and their cords can be routed over the ears. Balanced armatures tend to deliver a more delicate, detailed treble than can conventional dynamic earphone drivers, and by using three drivers, designers can divide the audioband into smaller bandwidths and send each band to a different driver, as in a multi-way loudspeaker. The EDC3 is a two-way design: one driver is dedicated to the bass; the other two run in parallel to reproduce the midrange and treble.
The over-ear cable routing allows each earphone to better fill your pinna for a tighter seal, and thus more consistent sound and better isolation from external noise. It also makes it nearly impossible for the earpieces to fall out, or work their way loose over time.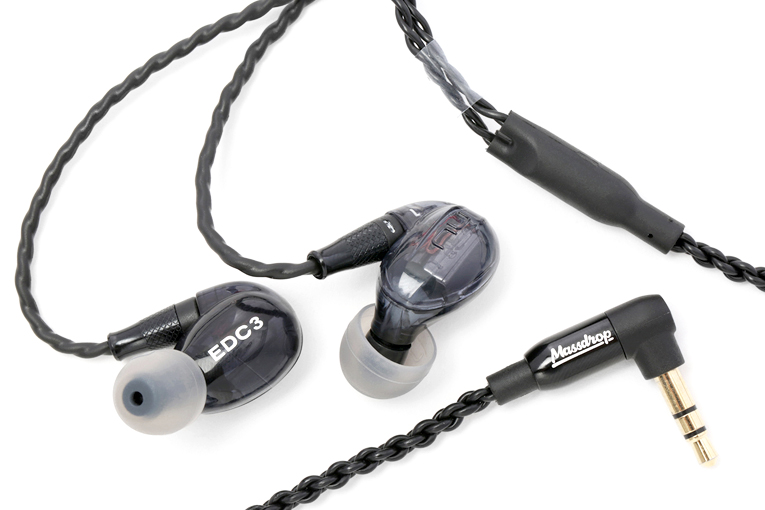 With 1More's Triple-Driver earphones ($99) racking up many glowing reviews in 2017, there's clearly room in the market for more earphones of this sort. An Optoma NuForce PR person told me that although, like many other products on Massdrop, the EDC3s are shown as being available for only a limited time, they'll actually remain available indefinitely after the original "drop," or offering, of 1850 units has sold out. However, as of this writing, the EDC3s' projected ship date is May 29; if you want them, you'll have to wait a bit. Meanwhile, we can find out if they're worth that wait . . .
In the box
The Massdrop x NuForce EDC3s come with a good selection of accessories. Most important, there are silicone eartips in three sizes, and foam tips in two sizes. That's four fewer choices than the six sizes of silicone and three sizes of foam tips included with the 1More Triple Drivers, but it still gives you a lot more options than do most earphones.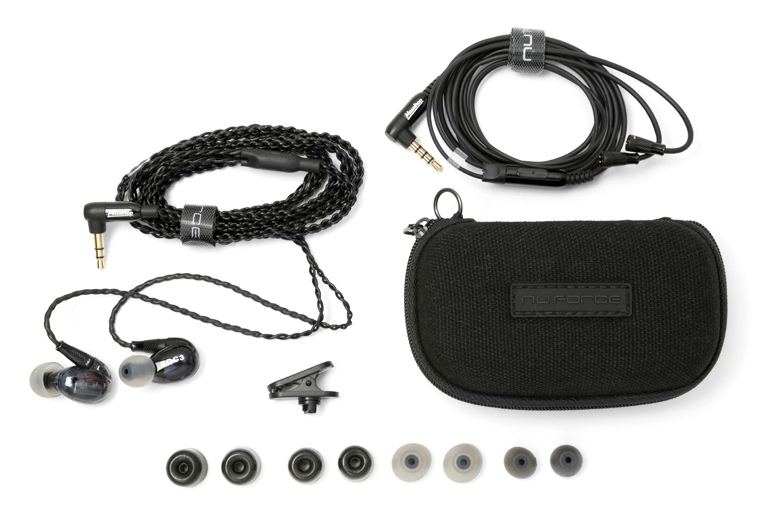 Two detachable cords are included, each 54" (1.4m) long. One is braided; the other is straight, with a remote control and microphone claimed to be compatible with iOS and most Android devices. There are also a nice semi-hardshell carrying case, and a shirt clip for the cable.
Use
An audiologist once told me that the diameter of my ear canals is about 10% greater than average for a Western male. It's not uncommon for me to get a set of earphones with no eartips that fit, and sure enough -- even the biggest of the silicone tips included with the EDC3s gave me only an intermittent seal. However, this problem occurs more often with earphones, such as the EDC3s, that have soundtubes 4mm in diameter (6mm is more the norm), and the selection of aftermarket eartips for 4mm soundtubes is smaller. I ended up having to order some aftermarket Comply foam tips, the largest of which gave me a perfect fit. But for most people this won't be a problem.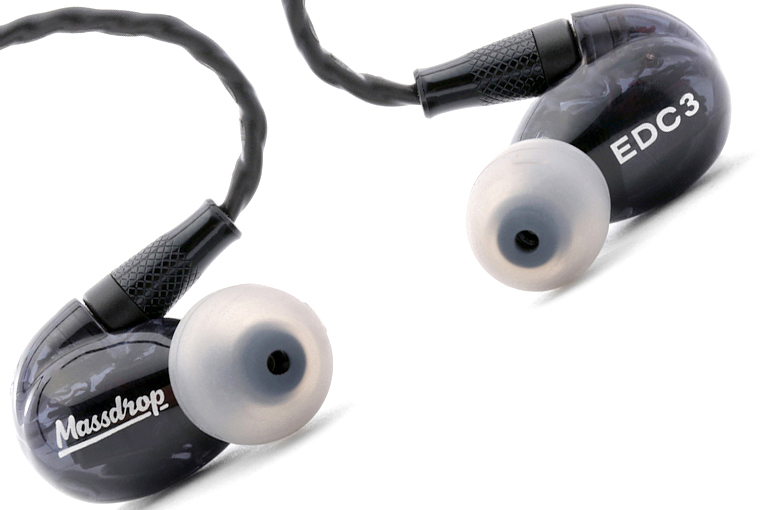 Otherwise, the EDC3s presented no ergonomic issues. Small earphones with over-ear cable routing tend to fit me very snugly and securely, once I've got hold of eartips of the right size, and I found the EDC3s comfortable for as long as I wanted to wear them. With the Comply tips, the EDC3s gave me good isolation from the two most common forms of noise pollution in my life: airplane cabin noise and the music played at Starbucks.
Sound
I broke in the Massdrop x NuForce EDC3s for about ten hours, then used them casually for a week or so, generally enjoying their sound and fit. After listening to a few tunes, I thought, This is pretty much what I want and expect from three-driver, balanced-armature earphones.
And from three-driver, balanced armature earphones I expect a lot. I always expect balanced-armature earphones to produce extended, detailed, natural treble response, as well as a nice sense of space and ambience. I haven't yet heard a single-driver, balanced-armature earphone that delivered a neutral tonal balance -- there always seems to be too much or too little of some part of the audioband. But from three drivers I expect a generally flat response and a good balance of bass, mids, and treble -- not that I always get it.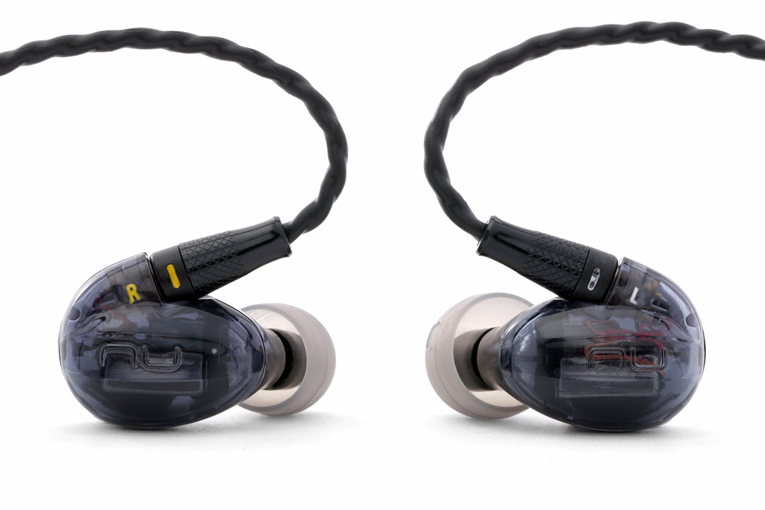 "Laughing Stock," from clarinetist Andy Biskin's wonderful Dogmental (320kbps Ogg Vorbis, GM/Spotify), showed that the EDC3 delivers remarkable sound quality for $99. With just clarinet, trumpet, trombone, double bass, and drums -- no chording instrument cluttering things up -- "Laughing Stock" lets you hear each instrument clearly, and through the EDC3s, they all sounded natural, uncolored, and realistic. The clarinet sounded full without squeak or edge, the trumpet clear without blare, and the trombone -- well, you know what trombones sound like, right? Best of all were drummer Matt Wilson's cymbals, which had the tonality of actual cymbals, a trick few earphones or headphones can pull off. The ride cymbal ticked rather than dinged, as a jazz ride should, and the crashes stood out clearly in the mix without sounding harsh or tinny. Bassist Ben Allison -- whose sound I'm now pretty familiar with, having heard him play in concert just a few days before writing this -- sounded almost exactly as I know he does, with a perfect mix of fullness in the low notes and growl in the upper register. The recording's lovely sense of space was, I'm sure, provided through a reverb unit, but still, the EDC3s gave me a clear sense of the horns echoing off the ceiling and walls of a midsized concert hall.
I find that voices are often a strong suit of balanced-armature earphones, and that was certainly the case with jazz singer Jon Hendricks's recording of "Quiet Nights (Corcovado)," from his ¡Salud! João Gilberto: Originator of the Bossa Nova, from 1963 (320kbps Ogg Vorbis, Cool Note/Spotify). Hendricks's voice sounded solidly centered in the mix and clear, with just a slight hint of sibilance (which may well be in the recording). More impressive was the huge sense of space I heard from the strings, piano, and flute, filled out with a bass sound that was full yet never boomy in the slightest.
And women's voices? When I played "Car on a Hill," from Joni Mitchell's Court and Spark (16-bit/44.1kHz WAV, Asylum), Mitchell's voice -- still light and airy in 1973, when this album was recorded -- sounded smooth and natural through the EDC3s, never strained, sibilant, or thin. Once again, I got a more convincing sense of space from the EDC3s than I've heard from most earphones I've tested. In comparison, the 1More Triple Drivers made Mitchell's voice sound a bit more sibilant and less clear, and their reproduction of the bass was more dynamic. In this case, the EDC3s sounded more like good open-back, planar-magnetic headphones with flat bass response; the Triple Drivers sounded more like Sony's MDR-7506 headphones, which have a slight bass boost that many people prefer.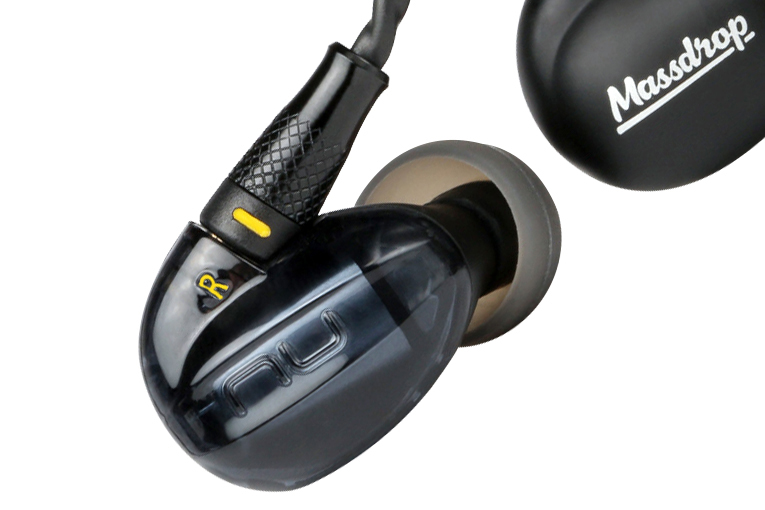 I thought "The Ocean," from Led Zeppelin's Houses of the Holy (16/44.1 WAV, Atlantic), sounded surprisingly smooth through the Massdrops, and the earphones' added spaciousness made the background vocals wonderfully ethereal. I have to say, though, that the Triple Drivers' sound revealed more of a "smile"-shaped response -- that is, with extra kicks in the bass and treble that made the snare drum sound boomier and more brittle. This gave "The Ocean" some extra kick in the kick drum and extra edge in the guitar that I felt were more appropriate for heavy rock.
The more neutral, audiophile-oriented sound of the EDC3s proved ideal for cellist Jean-Guihen Queyras's performance of the Adagio of Elgar's Cello Concerto, with Jiří Bělohlávek conducting the BBC Symphony Orchestra. Queyras's cello revealed a wonderful, woody fullness, with a nice bit of bite on top that helped his playing cut through the sound of the orchestra -- and thanks to the NuForces' excellent reproduction of space, I got a clear sense of the cello's notes echoing off the hall's ceiling and walls in passages where the orchestra didn't obscure the decays of the cello notes. The Triple Drivers gave the cello an edgier sound, and softened the attack of the double basses while raising their volume to what seemed to me an unnatural degree.
Conclusion
The Massdrop x NuForce EDC3s delivered the best sound I've heard for under $100 -- not just from earphones, but from any audio product I can think of. Their neutral tonal balance, smooth treble, well-defined bass, and colossal sense of space made them a real joy to listen to, even when I plugged them straight into my smartphone to get my music fix while working at Starbucks.
. . . Brent Butterworth
This email address is being protected from spambots. You need JavaScript enabled to view it.
Associated Equipment
Sources -- Apple iPod Touch music player, Samsung Galaxy S8 smartphone, Lenovo Ideapad Flex 5 laptop computer
Massdrop x NuForce EDC3 Earphones
Price: $99 USD.
Warranty: One year parts and labor.
Optoma NuForce North America
4316 Savaryn Drive SW
Edmonton, Alberta T6X 1Z9
Canada
Phone: (780) 439-3901
Website: www.massdrop.com