Sound:











Value:










Measurements can be found by clicking this link.
Although audiophiles haven't embraced Bluetooth wireless sound with much gusto, the technology is becoming the norm for mainstream users of headphones and earphones. That's partly because Apple has omitted headphone jacks from its latest iPhone models, and partly because when people experience the convenience of wireless listening, they usually don't want to go back to cords. Just one transit ride with the HD 1 Frees, from Sennheiser's latest Bluetooth line, might be enough to make the average user swear off cumbersome cords forever.
Technically, the HD 1 Frees ($199.95 USD) are part of Sennheiser's Momentum line, though Sennheiser seems to be downplaying that branding. The idea behind the Momentums was to create stylish headphones and earphones with a vivid but not grossly colored sound signature. Although I rarely care what my headphones look like, so far I've enjoyed the look and sound of most Momentum models.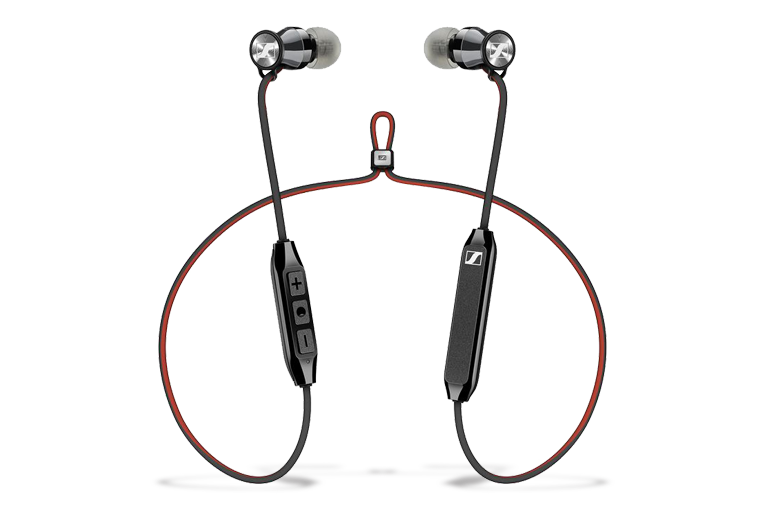 The HD 1 Frees might be considered "traditional" Bluetooth earphones because they lack the big neckband (and corresponding larger battery and longer battery life) of some current Bluetooth models. And unlike the "true wireless" models that are in vogue these days, a cable connects their two earpieces. They have conventional dynamic drivers of unspecified size.
Still, Sennheiser has taken pains to make the HD 1 Frees comfortable and convenient to use. The cord has an integral clip for bundling up any excess length so it doesn't flop around. The backs of the earpieces are magnetized, so they stick together in transit. The battery is built into a slim lump in the cord, which keeps the earpieces slimmer and lighter. Another lump, near the other end of the cable, contains an inline remote and microphone.
A full battery charge is claimed to last six hours. The Bluetooth functions include aptX, aptX Low Latency (so you don't get lip-sync problems when watching videos, provided your phone is compatible with aptX LL), and AAC (good for use with iTunes and Internet Radio stations that use AAC).
In the box
The HD 1 Frees come with silicone eartips in four sizes. Of course, four sizes are better than three, but with companies such as 1More packing their Triple Driver earphones ($99.99) with foam eartips in three sizes, plus five sizes of silicone tips, a selection of only silicone tips in four sizes begins to seem a bit paltry. The fit of in-ear 'phones is determined in large part by the tips, and the fit has a huge effect on their sound quality and tonal balance.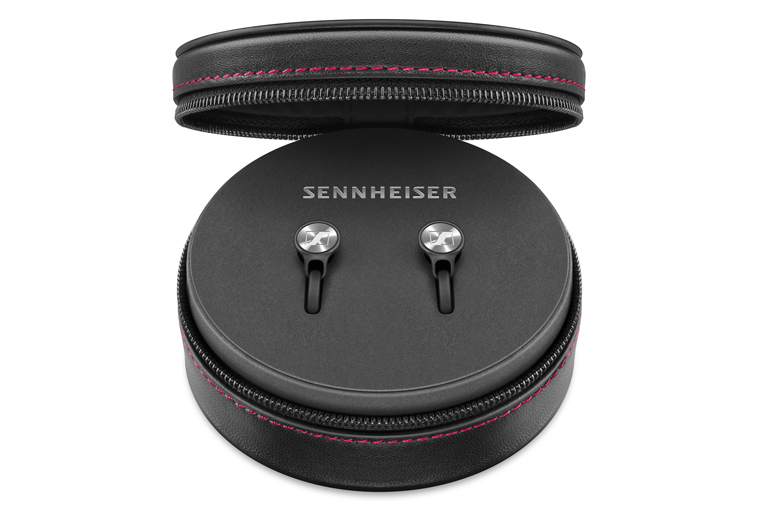 The HD 1 Frees also include a USB charging cable and a handsome leatherette carrying case that's way larger than it needs to be: about 3.8" diameter x 1.6" thick. It can't be slipped into anything smaller than a large coat pocket.
Use
My ear canals are extra large, and I got a decent seal with the largest of the HD 1 Frees' eartips. However, the fit wasn't super-secure; I ended up swapping out the silicones for some Comply SmartCore foam tips. Even so, the HD 1 Frees still weren't secure enough in my ears that I wanted to use them during any sort of physical activity, even walking around my neighborhood. You may have a different experience, but to me, this design is best suited to commuting, work, and airplane flights -- and, of course, for listening around the house without a cord getting in the way.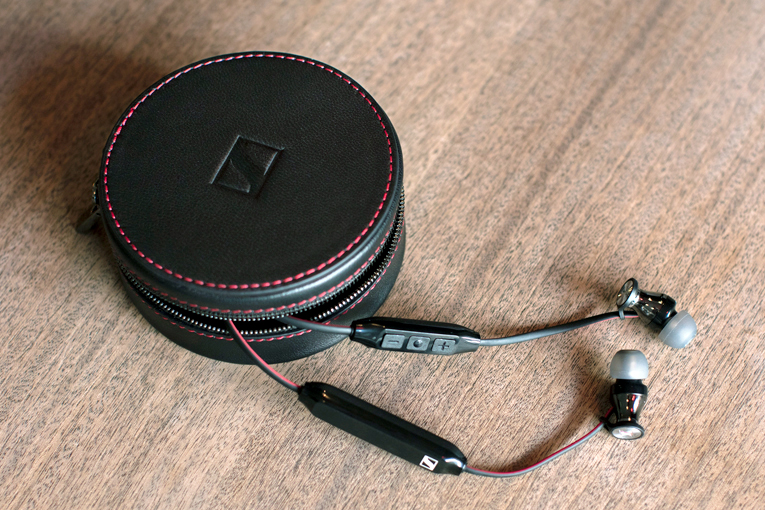 I haven't looked at the manual for the HD 1 Frees because I haven't had to. The Bluetooth pairing process is pretty instinctive, and the operation of the control's play/pause and next/previous track-skip buttons is straightforward and easy to do by feel.
Sound
Having spent some time with other Sennheiser Momentum headphones and earphones, I began my listening for this review expecting vivid if somewhat colored, hyped sound. On the other hand, I know from experience that manufacturers change their tuning targets all the time depending on who's in charge, how enthusiastic reviewers were about the last product, and how well that product sold.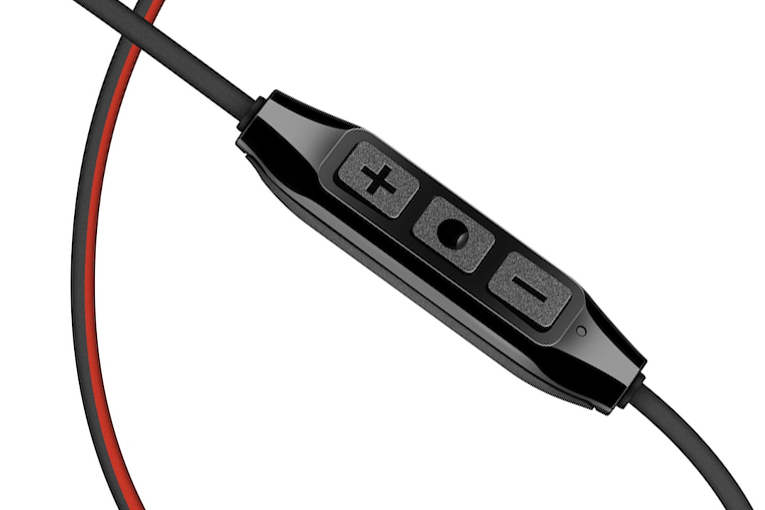 When I played "Alafia (Tributo a Joe Cuba)," from The Legendary Jimmy Sabater (320kbps Ogg Vorbis, Lugo Music/Spotify), a collection of the salsa timbalero and singer's greatest hits, I sure didn't hear the sound I'd expected to hear from a Momentum-branded product. This is a spacious recording with a huge soundstage, and through the HD 1 Frees, the spatial perspective sounded far more dramatic than I expected from a set of dynamic-driver Bluetooth earphones. Each instrument and voice occupied its own distinct place on the soundstage and was easy to pick out: the piano's montuno figure and the backing singers stretching from left to right, the timbales at far left, conga in the middle, cymbal and cowbell at far right. The bass was tight and defined, just ever so slightly light in the mix. Overall, the sound seemed subjectively flat and mostly neutral, not at all hyped or exaggerated.
When I played some straight-ahead jazz -- Days Gone By, by Sonny Greenwich, Terry Clarke, Don Thompson, and Ed Bickert (320kbps Ogg Vorbis, Sackville/Spotify) -- the sound seemed a bit more like what I'd expected. Their version of the standard "I Remember You" sounded nice overall, but the cymbals seemed a bit too bright even though the snare was not, leading me to guess that the HD 1 Frees have a larger-than-average peak in the high frequencies, between 5 and 10kHz. The bass also seemed a little pumped up, as if it had a broad emphasis between 50 and 250Hz.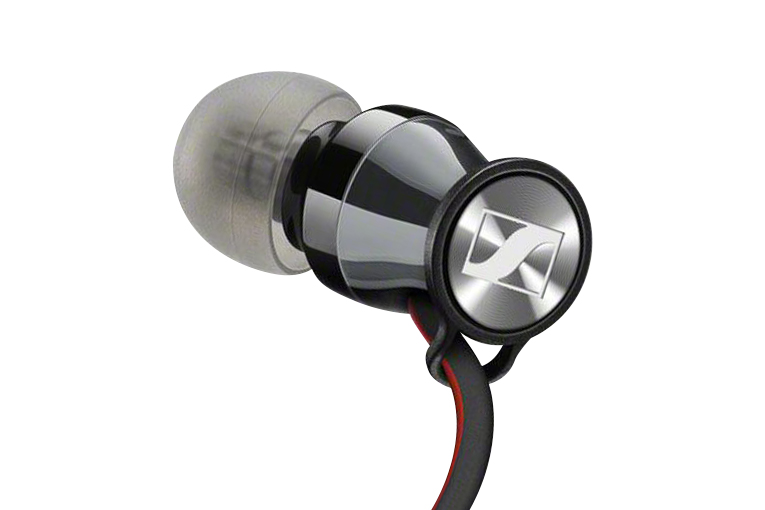 Somehow, I don't imagine people using Bluetooth earphones to listen to delicate classical fare such as Vivaldi's Flute Concerto No.2 in G Minor, RV 439, "La notte," performed by Emmanuel Pahud with Richard Tognetti conducting the Australian Chamber Orchestra (320kbps Ogg Vorbis, Warner Classics/Spotify). But how would I know how anyone plans to use these or any earphones? In the sprightly sixth movement, Allegro, the HD 1 Frees' response definitely sounded sculpted, highlighting Pahud's flute and the violins and viola while giving the cellos a little extra edge that made them cut through a bit more clearly. It was an exciting sound, but I wished for a bit more oomph in the lower notes.
In "Royal Orleans," from Led Zeppelin's fantastic but overlooked Presence (320kbps Ogg Vorbis, Atlantic/Spotify), I found the bass notes again. In the first verse, the electric bass was strong in the bottom octave and a half but didn't have a lot of bite in the upper bass. This squared with my impressions of the Vivaldi recording: most of the bass energy of an orchestra is in the upper bass, where the HD 1 Frees didn't sound as strong to me. The guitars, though, had a whole lot of bite, pointing to a somewhat "smiley" response -- i.e., a boosted bass and treble. It definitely sounded kick-ass, if different from what I'm used to hearing with this tune.
Competition
Bluetooth earphones are a packed category, with every mainstream headphone company offering at least a few models, so it's hard to say which are the HD 1 Frees' obvious competitors.
One model I had on hand was RBH Sound's EP-SB ($149). The EP-SBs are similar to the HD 1 Frees except that they have larger earpieces and no inline battery. The difference in the Sennheisers' and RBHs' sounds was obvious. The EP-SBs' subjectively flatter response brought out the midrange better, and their treble was substantially smoother than the HD 1 Frees' -- but the EP-SBs didn't deliver the excitement of the HD 1 Frees because their treble was softer and their bass flatter. Long term, I'd probably prefer the RBHs, but of course some people will prefer the more hyped, exciting sound of the HD 1 Frees.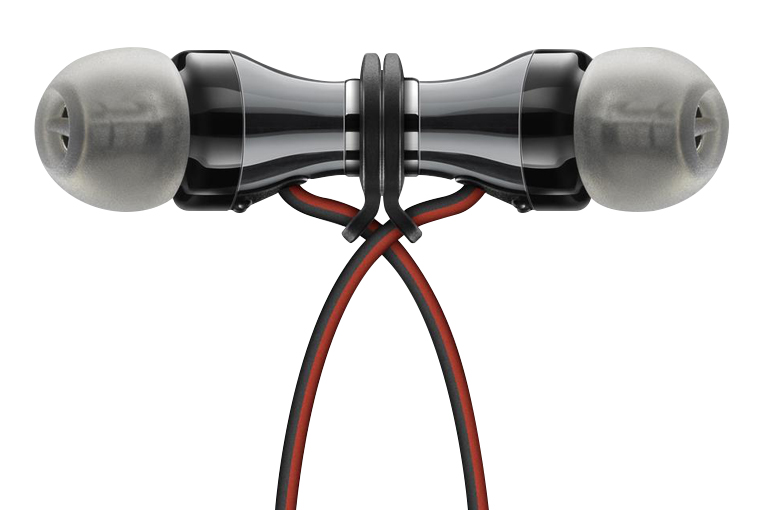 I also compared the HD 1 Frees to Phiaton's BT 100 NCs ($99), Bluetooth earphones, whose electronics and battery are incorporated into a necklace. Compared with the HD 1 Frees, the BT 100 NCs' treble was rather lo-fi, lacking detail and smoothness, but their bass was tighter, punchier, and better balanced with the mids and highs, for an overall more natural sound that was still a lot of fun to listen to.
Conclusion
In terms of ergonomics and design, Sennheiser's HD 1 Frees are a great choice, but I can't be as confident that you'll dig their sound. There's no denying that the sound is vivid and exciting, but there's also no denying that it deviates from accurate response. But the audio debate about the virtues of accurate response vs. going for whatever turns you on still rages, and we won't settle it here.
. . . Brent Butterworth
This email address is being protected from spambots. You need JavaScript enabled to view it.
Associated Equipment
Source -- Samsung Galaxy S8 smartphone
Sennheiser HD 1 Free Bluetooth Earphones
Price: $199.95 USD.
Warranty: Two years repair or replacement
Sennheiser Electronic Corporation
1 Enterprise Drive
Old Lyme, CT 06371
Phone: (800) 736-6434
Website:www.sennheiser.com