Sound:











Value:










Measurements can be found by clicking this link.
True wireless earphones like the PSB M4U TW1 ($149 USD) -- models in which the left and right earpieces communicate wirelessly with each other, and with your phone or tablet -- got hot all of a sudden when Apple launched the AirPods late last year. The true wireless category had already debuted a few months before, with a bunch of mostly clunky and fussy products that left me wondering why anyone would bother with them. But the AirPods showed the world how nice the true wireless concept can be if executed well; analysts expect Apple will sell 25 to 30 million sets of AirPods in 2018.
Many of the true wireless earphones have "smart" features such as access to a digital assistant (Apple Siri or Google Assistant), or heart-rate sensors and fitness trackers. The PSB M4U TW1s offer none of that. Their only really special feature is that there's no cable between them. Their unique appeal among true wireless earphones is that they come from PSB and were thus designed and voiced by PSB founder and chief engineer Paul Barton.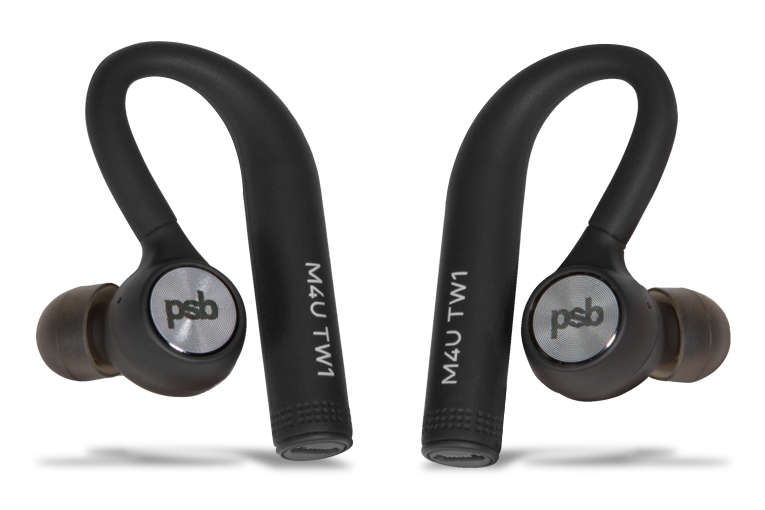 Besides their pedigree, the thing that most attracts me to the M4U TW1s is the integral earhooks. The other true wireless earphones I've tried either flop loosely in the ear, as the AirPods do, or they employ a confusing array of rubbery flanges intended to hook them into your earlobes. To me, they never feel secure; I always think one or both are about to fall out. The M4U TW1s' earhooks assure that won't happen.
The M4U TW1s do have some kind-of-smart features, though. An integral microphone lets you use them for phone calls. Tapping the right earpiece will stop or start the music or answer phone calls. Holding your finger on the right earpiece for a few seconds skips to the next track; holding your finger on the left earpiece skips back. Holding either for five seconds activates your phone's personal assistant.
One of the weaknesses of the current crop of true wireless earphones is short battery life; five hours is typical. All of the other models I've seen include a charging case with its own rechargeable battery that'll provide three or four charges for the earphones without having to plug it into a power supply. The M4U TW1s don't offer this convenience. Instead, each earpiece has a Micro-USB jack for charging. A special cable with a USB Type-A plug on one end and two Micro-USB plugs on the other end lets you charge both earpieces from a single USB jack.
Will the M4U TW1s be the first true wireless earphones an audio enthusiast can love? Let's find out.
In the box
The M4U TW1s come in a reasonably compact case a little bigger than a cigarette pack, with foam cutouts to keep the earpieces in place and a mesh holder for accessories. The charging cable has two cables sprouting from a single USB Type-A connector, and Micro-USB connectors on the other ends of the cables. Three sizes of silicone eartips are included.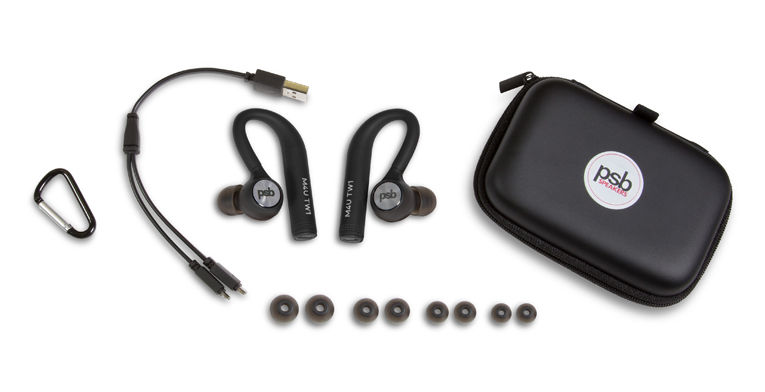 Use
The M4U TW1s presented one of the most complicated, frustrating Bluetooth pairing processes I've encountered, which says a lot considering I've tested more than 300 Bluetooth products.
The pairing process involves first pairing the left and right earpieces, then turning them off, then pairing the left one with the Bluetooth source, then turning on the right one, which should automatically pair with the left. The problems began when the instructions in the quick-start guide proved incorrect. Fortunately, the full manual on the website allowed me to get the left and right earphones paired with each other and then paired with my Samsung Galaxy S8 smartphone. Unfortunately, that was the only time I was able to get both earphones paired with the S8, despite a couple of 30-minute sessions re-reading the manual and attempting the process at least a dozen times over. (I also tried the M4U TW1s with a Galaxy S9, which I had to buy when I accidentally smashed my S8 after I started this review, but was never able to get the S9 to mate with both earpieces.)
I was able to get the M4U TW1s paired with my Apple iPod Touch, though, so that's the device I used for this review. With the iPod Touch, the M4U TW1s always paired instantly and reliably.
I could have called PSB to get tech assistance, but of those 300-plus Bluetooth products I've reviewed, I've found only two (a couple of Altec Lansing Bluetooth speakers) that required such assistance. Bluetooth is an extremely well-established standard, and Bluetooth chips have been through numerous generations of refinement. At this point, consumers should expect to be able to get their Bluetooth products working in less than a minute without hand-holding from the manufacturer. If they can't, it suggests the product needed more beta-testing or more care put into the preparation of its manual.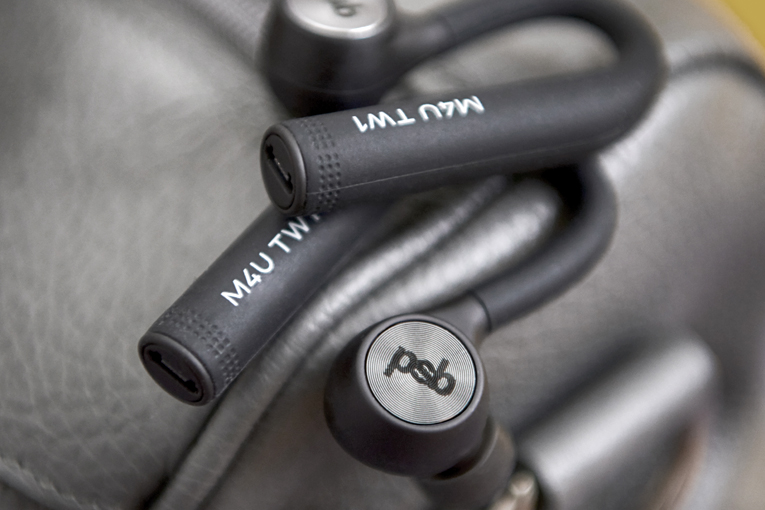 Otherwise, the M4U TW1s are easy to deal with, as long as you remember to power up the left one first. You'll have to read the manual to learn how the touch controls work, but the sensors do work reliably, and the control patterns (for example, tap twice on the right side to pause or resume playback, press the left side for three seconds to skip forward, etc.) are simple enough to learn quickly.
I mentioned before that other true wireless earphones didn't feel secure in my ear; it's hard to enjoy the music when you're worried about losing an earphone. The very best thing about the M4U TW1s is that they feel completely secure -- and comfortable, for that matter. I wore them on a hike through the Santa Monica mountains that was long enough to exhaust their battery power, but they never felt uncomfortable and I appreciated not having a cable flopping around and getting tangled with my hydration pack.
The need to charge both earpieces may seem like it would be annoying, but it's really no problem. Even if you misplace the special dual charging cable, you can just use two standard Micro-USB charging cables; at this point, most households have plenty of those lying around.
One downside is the inclusion of silicone tips in only three sizes, none of which was big enough to fit my roughly 10-percent-larger-than-normal ear canals. I ended up swiping a set of large tips from the Sennheiser HD 1 Free Bluetooth earphones I was also reviewing at the time. Fortunately, the M4U TW1s accommodate standard 4mm tips, so you can easily find other tips if needed. Because the soundtubes are a little on the short side, even with the larger tips I wasn't able to get an ideal seal, so I lost a little bit of bass response -- although I still found the tonal balance quite pleasing. A set of Comply foam tips would have given me a better seal and a little more bass.
Sound
I've often been frustrated when, out of desperation, I've had to buy a cheap set of dynamic-driver earphones at a truck stop or airport because I forgot to bring earphones or headphones with me -- only to find that the cheapies often sound better than many audiophile headphones. There's a lot to be said for a standard dynamic driver in a reasonably well-tuned enclosure, which is what the M4U TW1s are at heart.
Jazz pianist Burak Bedikyan's Awakening (320kbps Ogg Vorbis, Steeplechase/Spotify) is about as conventional as a set of dynamic-driver earphones, and just as pleasant. On "Idée Fixe," the balance of the acoustic instruments -- piano, tenor sax, double bass, and drum kit -- sounded just right, with every instrument distinct and easy to hear, with a subjectively flat, neutral tonal balance.
My most commonly used tune for testing midrange and treble clarity is a recording taken from the stereo soundtrack of James Taylor's Live at the Beacon Theatre DVD (256kbps MP3 recorded from 16-bit/44.1kHz WAV, Sony Legacy). Through good headphones, Taylor's voice is smooth and sibilance-free, but his acoustic guitar and the glockenspiel in the background sound clear and clean. The M4U TW1s managed this task well -- better, in fact, than generic dynamic-driver earphones would have. I did have to push the earphones in a bit to get enough bass, but with the bass brought into balance, the sound was impressively natural and uncolored. It did sound just slightly bright, although not even close to the point where it sounded too bright, and of course someone with smaller ears would likely get a better seal, and thus fuller bass and a flatter balance.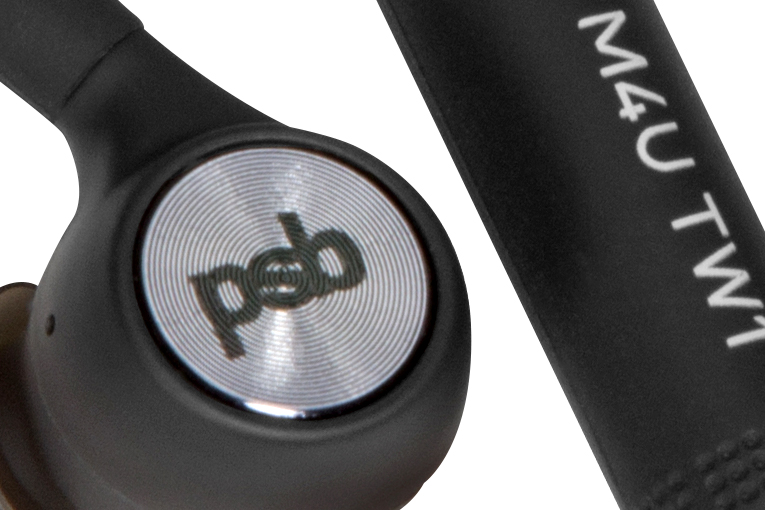 The same was true when I played another classic, Holly Cole's recording of the Tom Waits tune "Train Song" (Temptation, 256kbps MP3, Universal). Cole's voice sounded clean and free of sibilance, and the accompanying double bass and percussion were wonderfully clear and detailed, with a wraparound spaciousness that's rare with dynamic-driver earphones.
Through the M4U TW1s, all the instruments had a natural sound and negligible coloration, with just one exception: cymbals sometimes sounded a bit bright and lacked a sense of air. I noticed this especially on straight-ahead jazz recordings, such as Ornette Coleman's "Invisible" (Something Else!!!! The Music of Ornette Coleman, 320kbps Ogg Vorbis, Original Jazz Classics / Spotify), in which the cymbals are definitely not supposed to sound bright and edgy. But it's just something I noticed, not something that bothered me to any great extent. Also, most of the dynamic earphones I've tested have a similar simplicity to the treble; it's the main reason audio enthusiasts tend to gravitate toward ones with balanced armatures, such as PSB's M4U 4s.
Comparison
Switching to the Campfire Audio Comets ($199), a set of balanced-armature passive earphones I recently reviewed, gave me more detailed treble, but to me, the overall tonal balance is far more important than such small details, and the M4U TW1s definitely got the tonal balance right -- again, as long as I pushed the earphones into my ears slightly, which I assume most people will not have to do.
I also had a chance to compare the M4U TW1s with the RBH Sound EP-SBs ($149), a set of "traditional" Bluetooth earphones connected by a cable. The difference (besides the fact that the EP-SBs' longer soundtubes made it easier for me to get a good seal without having to push the earphones too far into my ears) is mainly one of tonal balance. The EP-SBs tilt slightly more toward the bass, with a fuller and mellower sound. The M4U TW1s have a more treble-focused sound with more apparent (although probably not actual) detail. Both are excellent dynamic-driver earphones tuned by engineers who know what they're doing; they just reflect slightly different philosophies in sound.
Conclusion
Without question, the M4U TW1s sound smoother and more detailed than most dynamic-driver Bluetooth earphones, and their over-the-ear design makes them more accessible -- i.e., less weird-feeling -- than other true wireless earphones. Whether you'll be able to manage mating them with your source device, and whether any of the included tips will give you an adequate fit, are questions you'll have to answer for yourself.
. . . Brent Butterworth
This email address is being protected from spambots. You need JavaScript enabled to view it.
Associated Equipment
Sources -- Apple iPod Touch music player, Samsung Galaxy S8 and S9 smartphones
PSB M4U TW1 Bluetooth Earphones
Price: $149 USD.
Warranty: Two years, replacement.
PSB Speakers
633 Granite Court
Pickering, ON L1W 3K1 Canada
Phone: (905) 831-6555
Website: www.psbspeakers.com