Sound:











Value:











(Read about our ratings)
Measurements can be found by clicking this link.
Through the years, I've come to believe it's almost impossible to build really good headphones that sell for less than $50. I've heard only a couple of them that I'd want to live with. But earphones are different, because they're smaller and use tiny drivers that don't seem to range as widely in performance as headphone drivers do. I've actually heard very listenable earphones that sell for as little as $10 (all prices USD). Of course, true wireless earphones cost more, but last year I found a great set for just $50: the EarFun Free earphones. This year, EarFun has introduced a new model: the EarFun Air earphones, which sell for $59.99. (And there's currently a coupon for $10 off on the Airs' Amazon page.)
The Air earphones differ quite a bit from the Frees, in that they have a little "stick" section that hangs down from your ear. In this respect, they somewhat resemble the Apple AirPods Pro earphones. The Airs come in a case that's much smaller and more pocketable than the one included with the Frees. The drivers in the Frees use what's billed as graphene diaphragms (graphene-coated plastic, I assume), while the Airs use diaphragms made from PEEK (polyether ethyl ketone) and PU (polyurethane) -- both of which are chemical terms for plastic.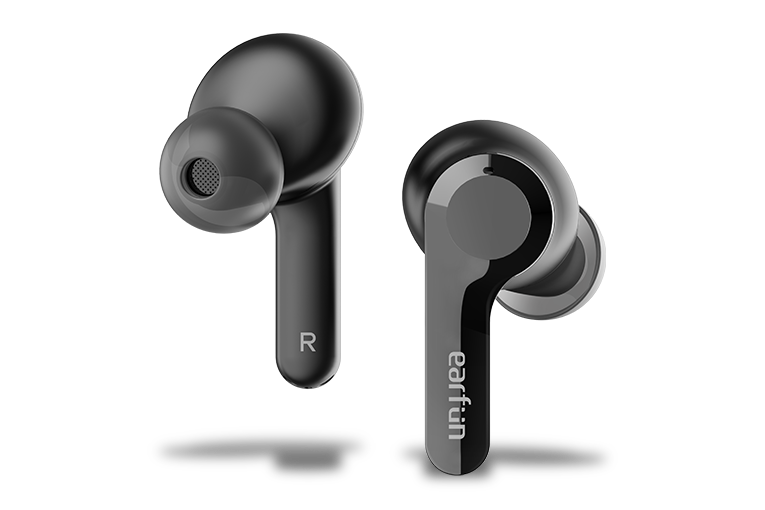 Besides the more compact case, my favorite thing about the Airs is that the case has wireless charging, so you can just plop it on top of a Qi wireless charger instead of connecting a USB-C cable for charging. They're rated to run about seven hours on a charge, and the case provides four additional charging cycles, for a total rated run time of 35 hours. If they run down and you feel a desperate need to hear Lil Baby, ten minutes of charging gets you two hours of run time.
They're IPX7-rated, so they should survive even fairly extreme exposure to water and sweat. They also incorporate a capacitive sensor that pauses the music when you take one of the earphones out of your ear, and starts it again when you put it back in.
As the Frees have been an almost daily companion for me on dog walks for the last nine months, I was curious to see if I'd like the Airs better.
In the box
The Airs include the charging case, a USB-C charging cable, and silicone tips in four sizes.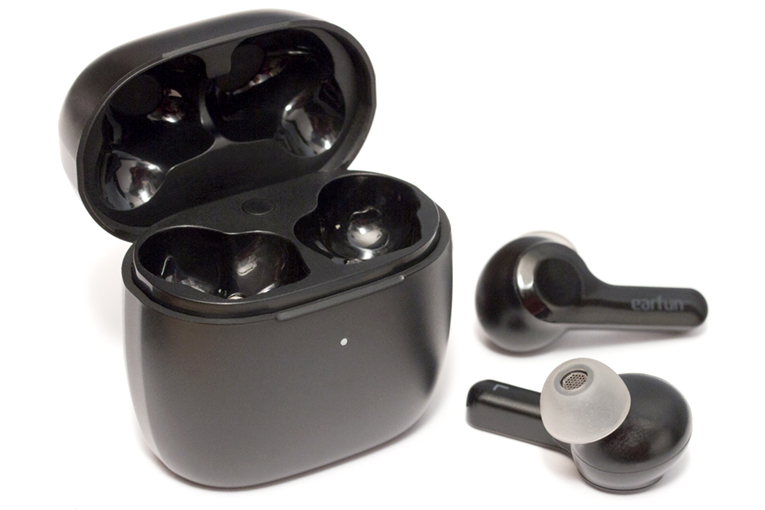 Use
I found the Air earphones easy to deal with. The largest supplied tips fit my capacious ear canals perfectly, and the earphones stayed put during my daily dog walks. However, I do have to say that the bulkier, more earlobe-filling design of the Frees just feels better to me.
Each earphone has microphones on top and bottom to provide noise canceling, and according to my Mom, my voice sounded very clear when I used them for phone calls.
The touch controls on the sides of the earphones control many functions, such as play/pause, track skip, and volume control. One thing I didn't like about them was that the touch controls weren't as responsive as the large, side-mounted pushbuttons on the Frees. I found that the Airs more often ignored my finger taps.
Sound
In my original review of the EarFun Frees, I liked them a lot but occasionally found them a little bassy. As I've gotten to know them better, and now can consistently get a tight seal, they're a little bassier still. So I was somewhat hoping the Airs would be more or less the same, but with about 3dB less bass.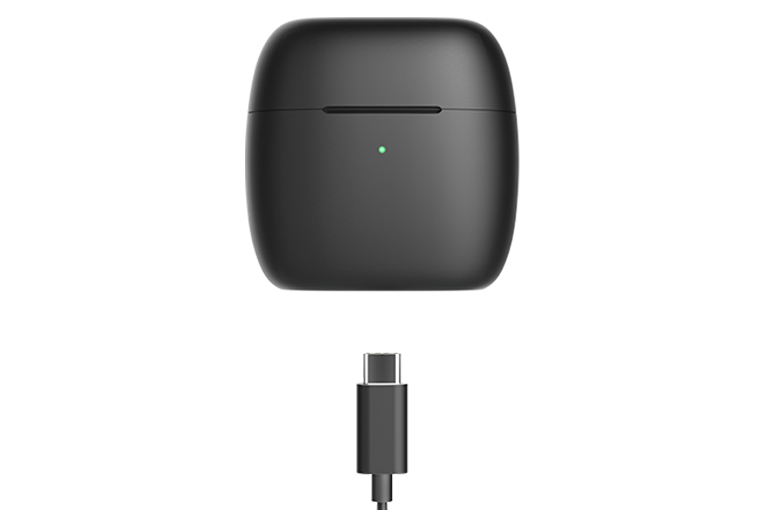 Singer Kurt Elling's jazzy version of the classic King Crimson ballad "Matte Kudasai" (The Gate, 16-bit/44.1kHz FLAC, Concord Jazz / Qobuz) made it easy to hear the differences between the two earphones. My immediate take was that the Frees had a fuller, mellower sound. I could hear the difference immediately in the double bass line that opens the tune. The Airs pretty much nailed it, fully capturing the low-frequency resonances in the body of the bass while also revealing some of the high-frequency details in the sounds of the strings hitting the fingerboard when plucked. There was just a hint of sibilance in Elling's voice; with the Frees, there was none, but there also wasn't as much detail in the voice. True to their name (which was obviously inspired by Apple's product, not by their sound), the Airs had more "air," creating a more ambient sound with a bigger soundstage.
I noted much the same differences when I played violinist Ray Chen's robust version of "II. Fuga. Allegro" from J.S. Bach's Violin Sonata No. 1 in G Minor (Solace, 24/48 FLAC, Decca Music Group / Qobuz). Both sounded good, but the Frees sounded much fuller, making Chen's axe sound more like a viola than a violin. With the Airs, the sound was more like a violin, with more detail, more sense of the notes resonating in the body of the instrument, and more sense of the horsehairs in the bow scraping across the strings. Both were enjoyable to listen to, but the Airs definitely pulled me in more.
One could get the impression from these comments that the Airs are a little bass-shy -- and maybe they are. On Carly Rae Jepsen's "Window" (Dedicated Side B, 24/44.1 FLAC, Schoolboy-Interscope/Qobuz), the Airs delivered a lot of upper-bass growl in the electric bass line, but not much lower-bass body and groove. This tilted the balance toward the treble, and made Jepsen's voice sound thinner and more little-girly. The upside of this is that with so little resonance, the Airs did a pretty good job of stopping on the tune's cool gated piano chords. The Frees, in comparison, had a fuller, more grooving sound on this tune, but their extra resonance in the bass kept those gated piano chords hanging on for what sounded like a couple dozen milliseconds longer.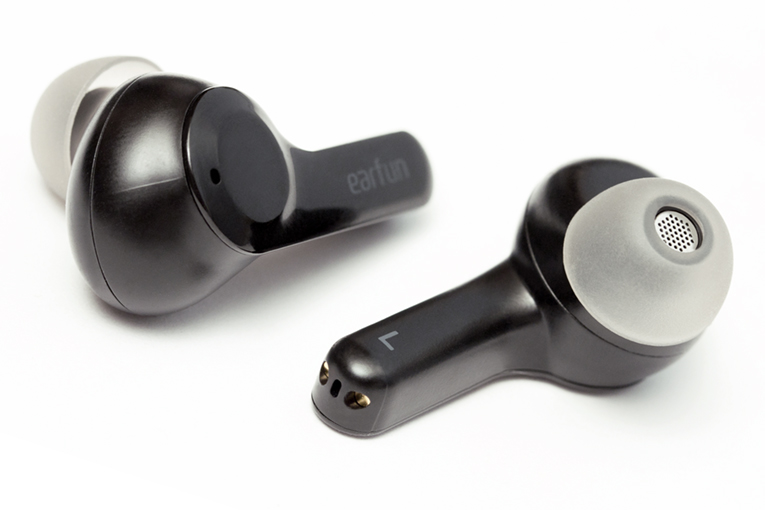 Overall, the Air earphones sound to me like what I hope a good set of inexpensive earphones will sound like. They don't exhibit any obvious or troubling colorations, so voices and most instruments sound fairly realistic through them, and no part of the audio spectrum obscures any other part of the audio spectrum. But they're definitely not for bassheads.
Comparison
In my work as a listening panelist for Wirecutter's headphone tests, I get to hear a lot of cheap true wireless earphones, and most of them I want to pull off after a minute or two of listening. The Frees were the first ones I found that I wanted to keep listening to, and the Airs, while different, seem to follow in that tradition. But how would they compare to more expensive models? To find out, I compared them with the Technics EAH-AX70W true wireless earphones ($249), which are much more sophisticated in that they include noise canceling and a dedicated app.
The title track of country rock singer Dusty Wright's Can Anyone Hear Me? (16/44.1 FLAC, Petrock Inc. / Qobuz) showed clearly what you can get by spending more money. "Can Anyone Hear Me?" incorporates what sounds like an intentionally murky mix, with a lot of instruments that tend to congeal together and only sporadically pop out, like a crab claw occasionally surfacing from a bowl of seafood gumbo.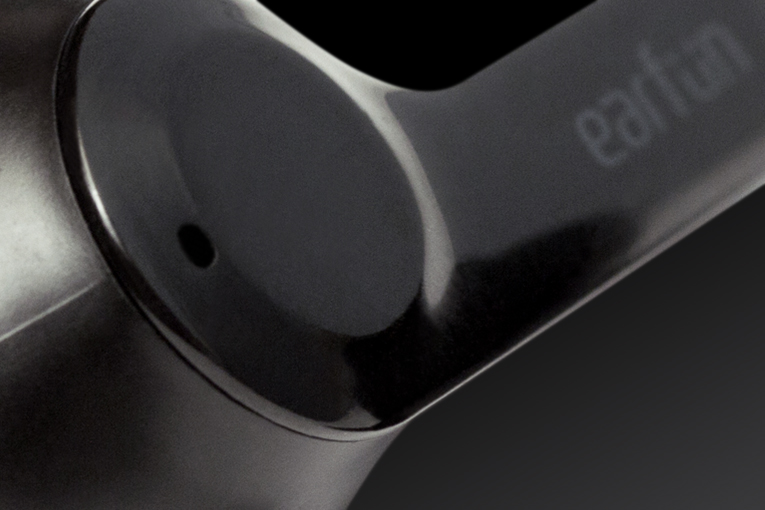 The Airs (and to an even greater degree, the Frees) just couldn't sort it all out. Worst was that through the Airs, the snare drum sounded like someone slapping their hand on top of a Quaker Oats box. With the EAH-AX70Ws, I could hear the "thwack" of the snare, and all of a sudden the tune had much more groove. Wright's voice and the backing vocals came out much more, too. For me, this gave the tune a lot more emotional impact.
But I give the Airs (and the EAH-AX70Ws) a lot of credit because they sound good right out of the box, and don't demand you mess around with an app to get decent sound -- something that's not true of the Sennheiser Momentum True Wireless earphones, which sound OK out of the box but really require the help of their dedicated app in order to get the best sound.
Conclusion
So where does this leave us? In a pretty good place, I think. The Airs aren't just a differently styled version of the Frees; they're a substantially different set of earphones. But they have much in common, in that both are comfortable, both sound quite good for casual use, and they're priced similarly.
Honestly, when I'm judging inexpensive true wireless earphones, I'm looking mostly for something I'll enjoy using on dog walks, and I think that makes me lean toward the Frees. For me the Frees are more comfortable, their pushbutton controls are much easier to use than the Airs' touch-sensitive controls, and that extra bass is actually a plus when I'm walking on a busy street with a lot of car noise. But I suspect many audio enthusiasts would prefer the Airs, with their greater apparent treble and upper-midrange presence, as their dog-walking true wireless earphones of choice.
. . . Brent Butterworth
This email address is being protected from spambots. You need JavaScript enabled to view it.
Associated Equipment
Smartphone -- Samsung Galaxy S10
EarFun Air True Wireless Earphones
Price: $59.99 USD.
Warranty: 18 months; 30-day money-back guarantee.
EarFun, Inc.
Phone: (323) 471-5868
E-mail: This email address is being protected from spambots. You need JavaScript enabled to view it.
Website: www.myearfun.com