Sound:











Value:











(Read about our ratings)
Measurements can be found by clicking this link.
Lots of companies make speakers and headphones, but with most, it's hard to see the connection between the two. That's certainly not the case with the KEF Mu3 true wireless earphones, which are styled by Ross Lovegrove, the same guy who did KEF's iconic, polished-metal Muon loudspeaker. The Mu3s have nothing in common with the Muon technically, but the products share a sleek, silvery style.
Once you get past the great styling, there's nothing all that unusual going on from a technical standpoint. The earphones use 8.2mm dynamic drivers, pretty typical for true wireless earphones. They include the AAC Bluetooth codec, which could give a slight sonic advantage if you're using an AAC-capable phone (e.g., all Apple models and many Androids). They offer non-adjustable active noise canceling. They're splash-proof, with an IPX5 water-resistance rating.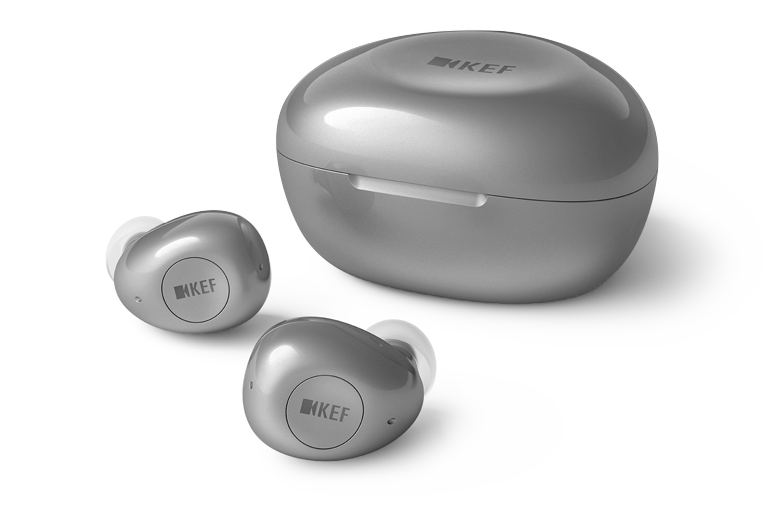 About the only thing really unusual is the battery life, which is rated at nine hours with ANC on. The charging case can provide enough charges for an extra 15 hours of run time. That's pretty good, because I'd normally expect about six hours of run time from true wireless earphones before they need charging again.
But they sure look cool . . .
In the box
The package includes the earphones and charging case, a USB-C charging cable, and silicone tips in four sizes.
Use
Because my ear canals are about 10% larger in diameter than average, I often have to fit true wireless earphones with third-party eartips, but the largest of the included eartips fit me well and gave me a good seal. Part of the secret of the seal is the Mu3s' compact design, which allows them to slip securely into your ears. I also found the design (and, perhaps, the slick, silvery sides) made them comfortable to put in and wear.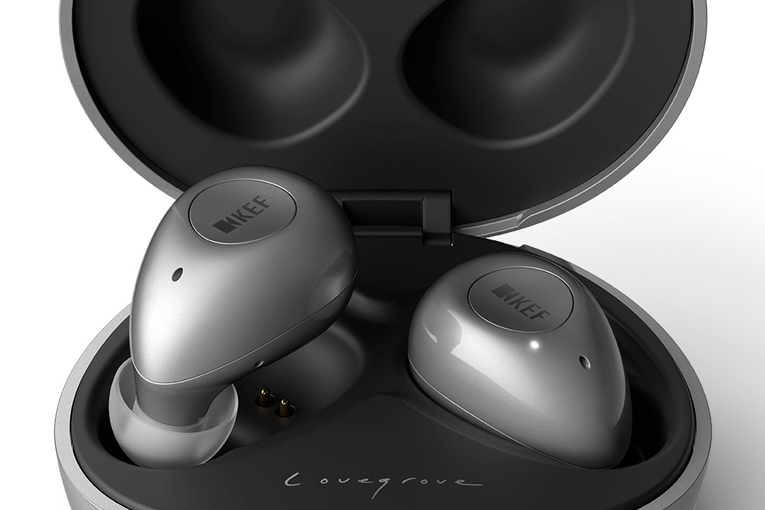 The pushbutton controls on the side—one per ear—make it pretty easy to control the Mu3s. You just have to memorize the ways you have to press the buttons in order to get functions such as volume up/down and track skip, turn active noise canceling on or off, or turn on a special mode called Ambient, which disables the noise canceling and uses the noise-canceling microphones to pick up and amplify outside sounds. Play/pause, the most important function, is just a push on the right-side button.
The noise canceling was a disappointment. According to my ears and my measurements, it didn't have much effect; the physical occlusion of the ear canal created by the earphones' secure fit seemed to block a lot more noise on its own.
Sound
Although I saw the initial announcement of the Mu3s, I wasn't sure if I was going to review them until my colleague Lauren Dragan, the headphone editor of Wirecutter, asked me to give them a listen. After working with me for years, she wouldn't bother asking me to listen to something that sucks (unless she's trying to solicit amusingly snarky comments), so I figured the Mu3s must be pretty decent sounding. It took only one walk around the block with my dog to confirm that they are, in fact, very good sounding. On first listen, I thought they had a near-perfect tonal balance, with a just-right blend of bass, midrange, and treble; no obvious colorations I could note; and a pretty decent amount of detail for relatively inexpensive dynamic-driver earphones. I also noticed that the noise canceling didn't seem to make an overt change in the tonal balance, so I did most of my listening in that mode; turning the NC off seemed to brighten the sound just a tad.
For example, on Aerosmith's "No More No More" (Toys in the Attic, 24-bit/96kHz FLAC, Columbia/Qobuz)—a packed mix with a spectrum somewhat like that of pink noise—it was easy to pick out the many parts. The Mu3s did a nice job of distinguishing the stereo acoustic guitars, the upright piano in the right channel, Brad Whitford's great electric guitar track mixed to dead center, and Steven Tyler's lead vocal flanked by two backing vocals. There was a decent amount of bass—not enough for bassheads, but enough to give the earphones a balanced sound.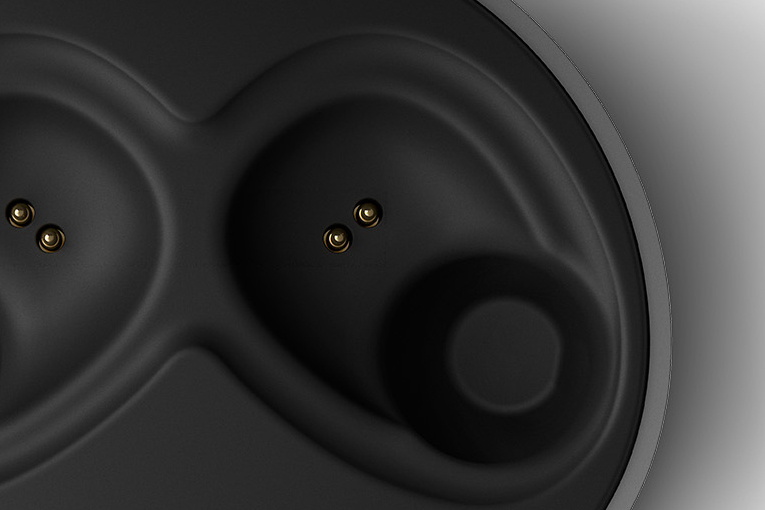 The one objection I had was that the sound seemed about 2dB boosted in the upper midrange and/or lower treble, which emphasized the lead vocals and electric guitar a bit and made the sound slightly brighter than I'd have preferred, although not near as bright as the audiophile-oriented earphones I often complain about. I also noted that the treble wasn't all that airy or delicate, but I haven't heard dynamic-driver true wireless earphones that are.
I noticed a somewhat more spacious sound when I played the delightful title track "Tone Poem" by Charles Lloyd & the Marvels (Tone Poem, 24/96 FLAC, Blue Note / Qobuz). I'd describe "Tone Poem" as busy, not packed like "No More No More." Lloyd's tenor sax floats above drums plus a tambourine, double bass, and an electric guitar in the left channel tossing notes back and forth with a steel guitar in the right channel. In this more sedate mix, that brightness I noticed disappeared. Meanwhile, the cymbals sounded super-present but not bright, and the saxophone had a just-right amount of breathiness. Again, the sound wasn't super-spacious, but I haven't heard comparable earphones that do sound super-spacious.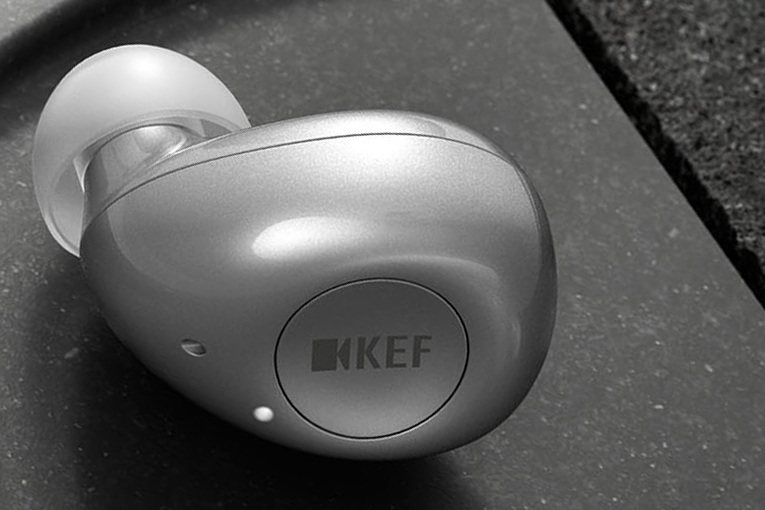 Wondering if I could find that slight brightness again, I put on "Window" by Carly Rae Jepsen (Dedicated Side B, 24/44.1 FLAC, Schoolboy/Interscope/Qobuz)—a typical pop production from 2019, full of samples and mixed to jump out of your car radio speakers. As before, the Mu3s did a very nice job of distinguishing among the various parts without obviously boosting any of them. Maybe I'd have liked a little more bass—it's a modern pop recording, after all—but the bass did sound balanced, deep, and full, so it's hard to complain. The vocals and handclaps sounded a little bit bright, but Jepsen's voice isn't what I'd call robust, and my guess is that the handclaps were EQ'ed to cut through the mix.
Out of curiosity, I tried using my Samsung phone's EQ to see if I could get the sound tuned more to my liking on this track. Turns out I could, but the correction was very small: just -2dB at 2kHz. For my taste, this balanced out the sound a bit better. I also tried boosting the bass, but the drivers and amps didn't have the muscle to do it. For the record, I think that this is the least I've ever EQ'ed a set of earphones during a review, and actually the smallest change possible on my phone's EQ. Not bad!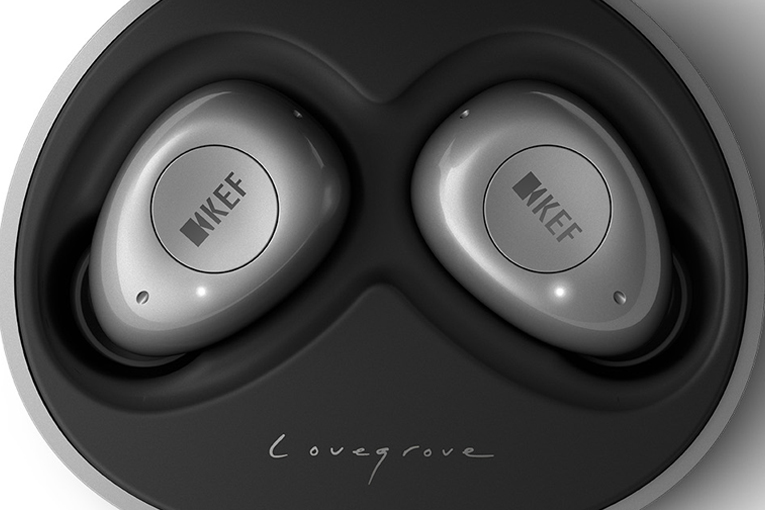 Sorry to bore you with yet another reference to the San Diego Symphony recording of Berlioz's Harold in Italy, Op. 16, conducted by Yoav Talmi, with violist Rivka Golani and violinist Igor Gruppman (16/44.1 FLAC, Naxos/Qobuz); I guess I'd better find another nice-sounding orchestral recording to use for earphone tests. (Suggestions welcome!) But I do know this one, so here we go. In my favorite part, the fourth movement, "Allegro Frenetico (Orgy of Brigands)," the Mu3s sounded nice from a tonal balance standpoint, with the double basses in ideal balance with the violin section and with Golani's viola. I can't say it gave me that sense of spaciousness—that feeling of the music "lighting up" the concert hall's acoustics that I get with higher-end earphones—but the instruments sounded natural. The only parts I didn't like were the crescendos, where the orchestra comes together on one loud note accented by a cymbal crash; the Mu3s internal circuitry simply wouldn't let the amps play loud enough to have any real impact. But of course, I doubt that orchestral crescendos are job number one for most users of true wireless earphones.
Comparison
I compared the Mu3s mainly with the only other really good true wireless earphones I had on hand: the Status Audio Between Pros (still available at the $99 introductory price last time I checked), in which each earpiece combines a single dynamic driver with two balanced armatures.
On the Harold In Italy recording, the Between Pros definitely had a fuller sound, with a little more sense of space and a lot more power on those crescendos. But on that classic tonal balance test, Tracy Chapman's "Fast Car" (Tracy Chapman, 16/44.1 FLAC, Epic/Qobuz), the Mu3s brought out Chapman's voice more, probably due to that subtle upper-mid/lower-treble boost; to some degree, the Between Pros buried her voice more in the mix. The Between Pros also sounded less balanced on Aerosmith's "No More No More," with a bit of coarseness in the mids and a somewhat looser sound in the bass. So I'd say if you're listening to a lot of audiophile-type recordings, the Between Pros might sound better, where for more mainstream fare, I'd probably prefer the KEFs.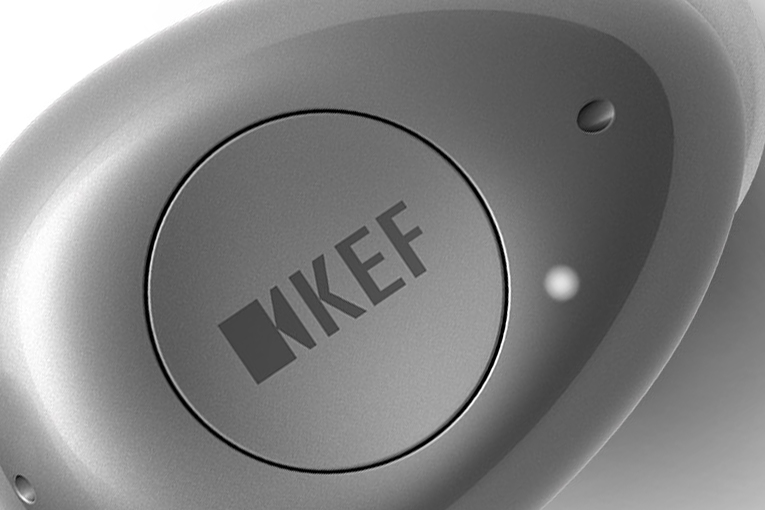 If you're going to be flying often and want good noise canceling in true wireless earphones, I'd recommend you check out the Technics EAH-AZ70W earphones—their noise canceling is much better, and they're somewhere in the range of the Mu3s' sonic performance, although I found the Technics model less comfortable.
Conclusion
The Mu3s rank among my favorite true wireless earphones because of their balanced tonality, their lack of annoying characteristics, and their user-friendly, comfortable design. There are reasons you might want to choose something else—better noise canceling or a somewhat fuller sound—but for most listening the Mu3s do a pretty great job at a very reasonable price.
. . . Brent Butterworth
This email address is being protected from spambots. You need JavaScript enabled to view it.
Associated Equipment
Smartphone: Samsung Galaxy S10
KEF Mu3 True Wireless Earphones
Price: $229 USD.
Warranty: One year.
KEF
10 Timber Ln.
Marlboro, NJ 07746
Phone: (732) 683-2356
E-mail: This email address is being protected from spambots. You need JavaScript enabled to view it.
Website: www.kef.com