Sound:











Value:










Measurements can be found by clicking this link.
For years there were essentially two classes of noise-canceling (NC) headphones. One was represented solely by Bose, whose headphones offered by far the most effective NC, as well as outstanding comfort. The other class was basically every other company offering NC headphones. Their products typically offered much less effective NC, but they sometimes sounded better than competing Bose models. Recently, some companies have come close to the NC performance of Bose products. These include Samsung, Sony, and Bang & Olufsen (B&O), the last of which recently launched two new NC headphone models in the B&O Play line: the on-ear Beoplay H8i ($399 USD) and the one reviewed here, the over-ear Beoplay H9i ($499).
B&O is known for high-style products usually priced a bit higher than those of its competitors. The company often comes up with unusual concepts intended to enhance ergonomics, such as a TV that automatically swivels to face whoever's using the remote control. Though not quite so innovative, the Beoplay H9i headphones are certainly advanced. Tapping or swiping the control disc on the right earpiece lets you skip tracks, pause and resume playback, activate NC, and adjust volume. Removing the headphones stops playback; put them back on and playback automatically resumes -- in theory, at least.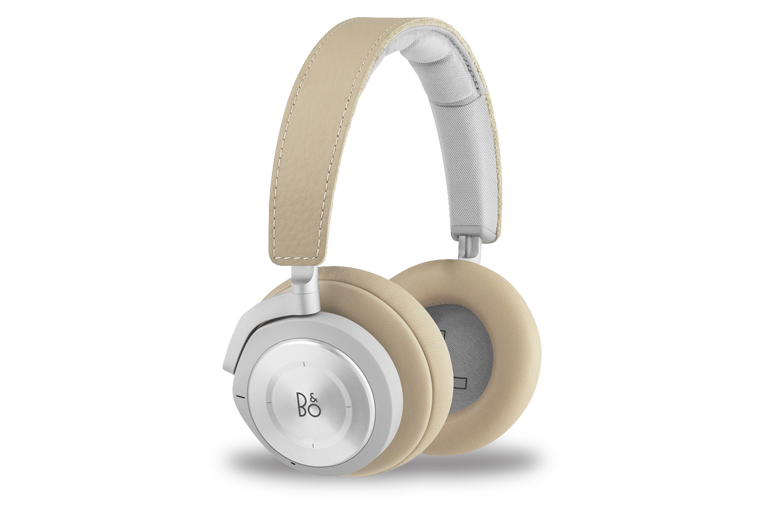 It's hard to deny the visual appeal of the H9i headphones. The combination of anodized aluminum and leather gives them a luxurious look and feel.
Inside each earpiece is a 40mm dynamic driver -- standard fare for headphones of this type. A full battery charge is claimed to last 18 hours when you're using Bluetooth and active noise canceling (ANC), or 23 hours with only Bluetooth. The Bluetooth function includes the AAC codec (which iTunes and many Internet Radio stations use), but not aptX.
In the box
The Beoplay H9i's come with a USB-to-USB-C charging cord, a 3.9' (1.2m) audio cord tipped on both ends with a 3.5mm plug, an adapter for airplane sound systems, a quick-start guide, and a soft carrying pouch that won't protect these 'phones from much besides minor scratches and dust. For an extra $99, B&O will sell you a deluxe leather carrying satchel. (Gee, thanks.) I recently reviewed Marshall's Mid A.N.C. headphones, which cost only $269 but come with a hard leather case that will protect the headphones from almost anything.
The quick-start guide contains just images with cryptic captions. Headphones as costly as the H9i's should include a decent printed manual, but B&O's full manual is available only online.
Use
The Beoplay H9i headphones fit me reasonably well. There was a little instability from front to back, but laterally they were very comfortable. The pinch was just about right -- my ears didn't get hot or sweaty when I wore them for long periods. The headband arms slide in and out, so you can adjust the fit to your head. There are no detents, but the action is firm, and once you find the optimal length the arms don't slip or slide. At 10.5 ounces, though, the H9i's are a little heavy for their class.
Using the control disc was exasperating -- I worked with it for ten days and never felt 100% comfortable. I'd swipe it, intending to skip to the next track, and the B&Os would go into pause. It took two or three swipes to get them to go into NC mode, and two or three more to get them out. It's not that I hate swipe controls -- I just prefer ones that control fewer functions. Requiring too few actions to control too many options doesn't seem to work well.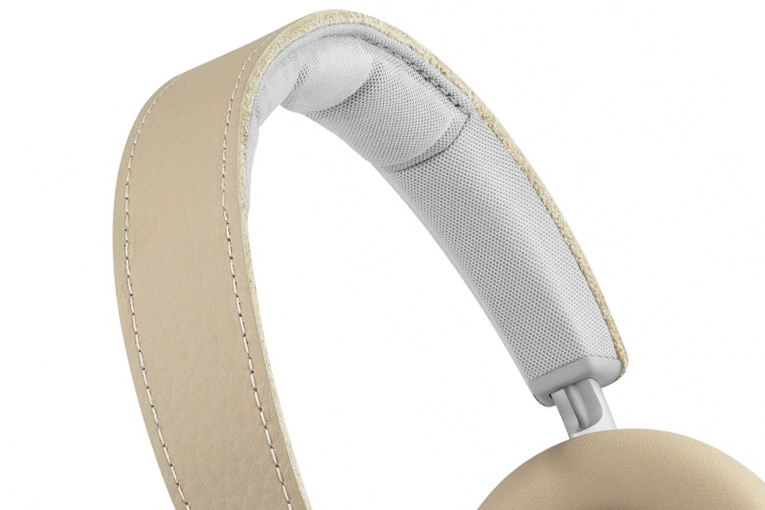 When I did get NC to work, it did a very good job of reducing noise without degrading the overall sound. Bluetooth reception was weak, though, with a reliable range of about 10'. Admittedly, my somewhat cluttered house presents a challenge to wireless headphones. But most have worked reliably as far as 20' from the Bluetooth source, and a few have exceeded that by a good margin.
As for the H9i's pausing play when removed and resuming play when donned again, in use this feature proved unreliable: the B&Os sometimes went mute or stuttered.
Sound
Overall, I found the sound of the Beoplay H9i's somewhat aggressive. It seemed as if the treble, midrange, and bass had all been boosted to create a more vivid sound. Some will revel in this; others won't like it. The bass was unusual: the mid- and upper bass seemed bumped to the fore, while the lower bass sounded rolled off. The result was that the bass sounded a bit unfocused overall.
All of those comments describe the sound in Bluetooth mode, in which the signal runs not only through Bluetooth but through amplifiers and a digital signal processor. In wired mode, these problems all but disappeared -- the entire audioband seemed more focused, with a more natural-sounding frequency response.
Whether or not this sort of sound will work well will of course depend on the recording played. If it's not too bright, the B&Os' elevation of the treble will give it more life. But if the recording is on the bright side, the already bright sound of the B&Os will make it harsh and glaring.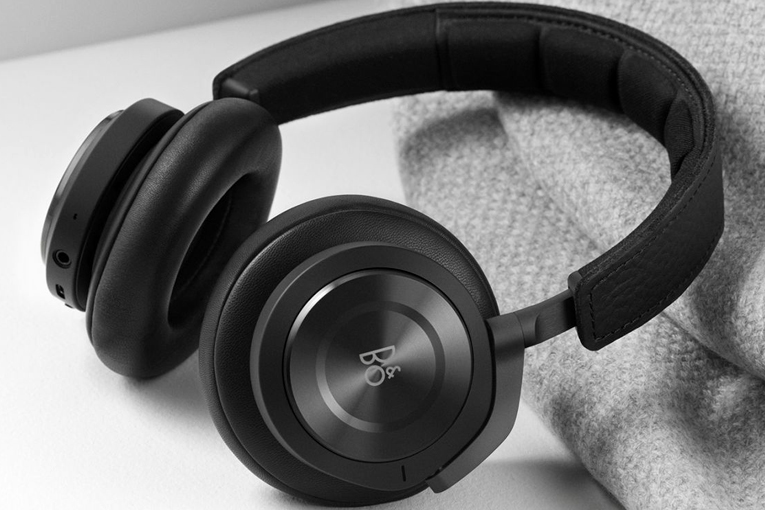 One thing that sounded good through the H9i's was a late-1950s recording of Borodin's Symphony No.2 by Ernest Ansermet conducting the Swiss Romande Orchestra (16-bit/44.1kHz ALAC, Decca/London). The solo woodwinds in the second movement, a scherzo, caught the B&Os' midrange bump at just the right place and were projected with good presence. Brightening up this somewhat woolly recording didn't hurt it, but its rich, full lower bass was trimmed a bit. Overall, though, this recording sounded as good as I've heard it through headphones.
The J. Geils Band's Freeze Frame (16/44.1 ALAC, EMI) didn't work as well. This recording is already bright and punchy, perhaps even a bit brittle. Through the H9i's, the highs bordered on shrill, the midrange moved to the fore, and the bass wasn't as focused as I've heard it through other headphones. I can only assume that the band got the "in your face" sound they wanted -- they produced the album themselves -- but the H9i's took it too far for me. I have to wonder if the J. Geils Band would agree -- maybe they'd have liked it.
Sometimes the results were unpredictable. The live album Ella Fitzgerald with the Tommy Flanagan Trio (16/44.1 ALAC, LaserLight) has a rather bright sound, but I like it -- it includes some of Fitzgerald's most virtuosic scatting, and Flanagan's trio sizzles with its own virtuosity, perfectly blending in with the singer's. I enjoyed listening to this album even through the rather hyped-up H9i's -- the mids and treble sounded so clear and present.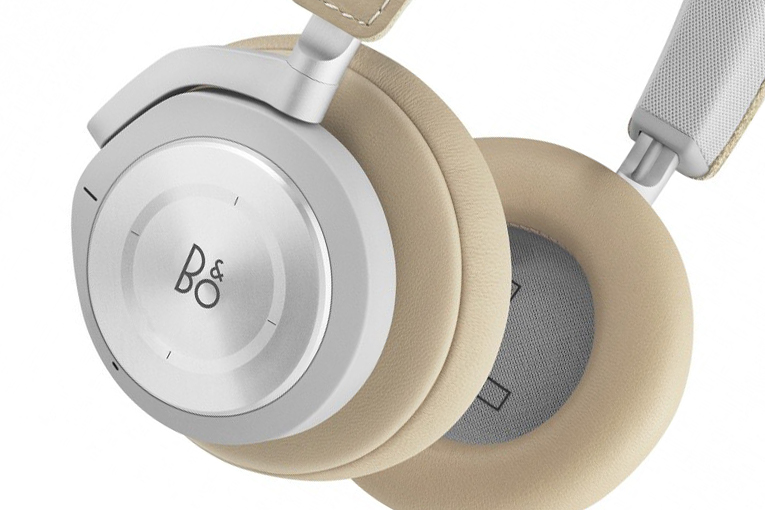 Turning to what I know is a natural-sounding recording, I checked out a few cuts from Alexis Cole's binaurally recorded Dazzling Blue: The Music of Paul Simon (24/192 AIFF, Chesky). "Something So Right," a laid-back blues tune, sounded so deliciously detailed yet mellow that I found myself forgetting the headphones' prior transgressions. Like most Chesky recordings, this one was made in a large space with lots of ambience, yet the music itself is intimate and small scale. The H9i's somewhat reduced the ample ambience, but still brought out lots of instrumental detail.
B&O offers a free app, available for iOS and Android devices, that has preset equalization options, as well as a not-so-great equalizer whose settings you can adjust and save as custom presets. I didn't find this app useful, and I felt I was better off staying with the factory settings.
Competition
PSB's M4U 8 headphones cost $100 less than the B&O Beoplay H9i's and have a more natural sound, but their NC isn't as good (see the Measurements section for more about this comparison). The Bowers & Wilkins PX NC headphones also cost $100 less than the B&Os -- and they also have some sonic idiosyncrasies -- but the PXes' NC is nowhere near as good. Bose's QC35 II headphones ($349) are more affordable, with NC roughly on a par with what the H9i's provide. And while they don't sound amazing, neither do they have any glaring colorations. Sony's WH-1000XM2 headphones ($349) aren't quite up there with the H9i's in NC capability, but they come close -- and sound more natural.
But none of these competitors has the luxurious look and feel of the Beoplay H9i headphones. To some that won't matter, but to others it will mean a lot.
Conclusion
B&O Play's Beoplay H9i headphones have a lot going for them, but they're a bit quirky for my tastes. The features, including the auto play/pause and the single navigation control, look good on paper but worked only intermittently. The forward sound the H9i's exhibit will please some and leave others cold, depending on what they listen to. On the plus side, their noise canceling works extremely well, their styling is super slick, and their build quality is outstanding. At $499, plus $99 for a decent case, the H9i headphones aren't the best value in this category -- but if styling and NC are important to you, they offer some of the best of both.
. . . Rad Bennett
This email address is being protected from spambots. You need JavaScript enabled to view it.
Associated Equipment
Portable music players -- Benjie Rocker, Apple iPod Touch (fifth generation), Apple iPod Nano (seventh generation)
B&O Play Beoplay H9i Bluetooth NC Headphones
Price: $499 USD.
Warranty: Two years, limited.
Bang & Olufsen
1751 Lake Cook Road
Deerfield, IL 60015
Phone: (844) 372-1050
Website: www.beoplay.com