Sound:











Value:











(Read about our ratings)
Measurements can be found by clicking this link.
The Drop + THX Pandas are radically different from any other headphones I've ever reviewed. According to Drop, while the company's worked for five years with numerous brands to create headphones tailored to the desires of Drop's audiophile community, the Pandas ($399.99 USD) are the first headphones whose design is based entirely on suggestions from the community. So in theory, at least, they represent not some company's idea of what audiophiles want, but precisely what audiophiles want.
They're also radically different in the way they were engineered. In the same manner that many boutique sports cars are built around an engine taken from an existing car, the Pandas are built around an existing driver -- the planar-magnetic driver from Oppo Digital's widely praised PM-3 closed-back headphones. The driver was essentially "orphaned" when Oppo Digital abruptly pulled out of the North American market a couple of years ago, but Drop was able to acquire the rights to the design. So audiophiles already had a good idea of what it sounded like.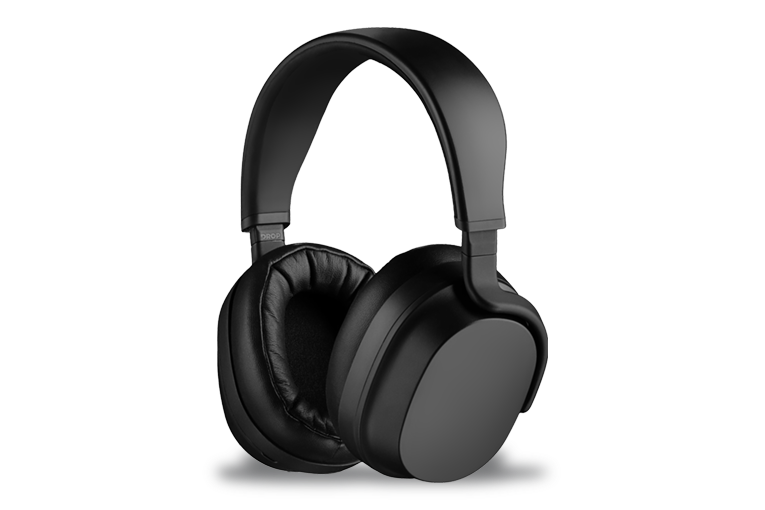 Surprisingly (or perhaps not surprisingly), the audiophiles in Drop's online community also wanted Bluetooth -- but they wanted it to be implemented with sound quality, rather than low cost, as the priority. Drop started by including pretty much every Bluetooth audio codec currently available, including aptX HD and Adaptive, AAC, and Sony's LDAC.
But instead of using a generic amp chip, or one built into a Bluetooth receiver, Drop used THX's AAA amplifier technology. THX AAA uses a feed-forward error-correction circuit that delivers the lowest measured distortion currently available in an amplifier, and it also reduces the power demands of the amplifier at low signal levels. This efficiency (and perhaps a relatively large battery, too) gives the Pandas a rated run time of more than 30 hours, despite the relative inefficiency of their planar-magnetic drivers.
What's most interesting to me about the Pandas, though, is that they were designed as passive audiophile headphones first and then had Bluetooth added. Normally, once a headphone has internal amplification and digital processing, manufacturers will use the digital signal processing to optimize the sound of the headphones, and they may or may not put much effort into making the headphones sound good in passive mode, with the amps and digital circuitry turned off. But the Pandas were tuned using traditional mechanical and acoustical methods; inserting an analog cable turns off the internal circuitry and bypasses it entirely.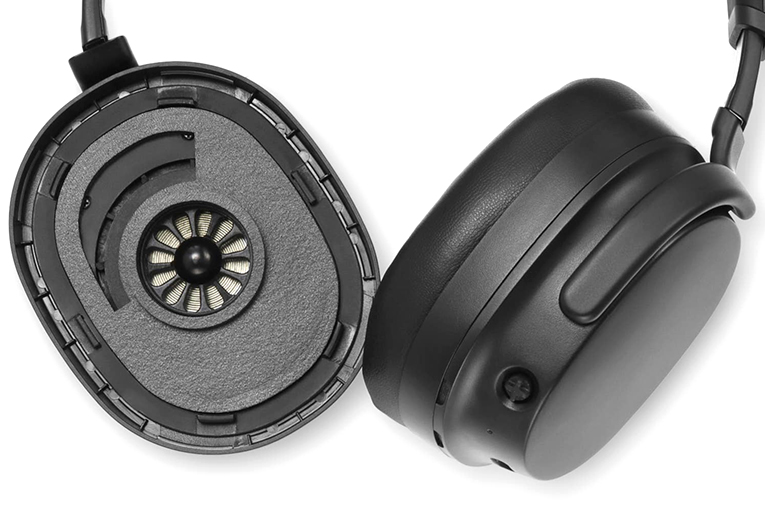 While there is DSP capability in the headphones, Drop doesn't use it. (At the time of this writing, the company was pondering the idea of an app that would allow different tuning modes and customization, but no decision had been made.) Thus, the headphones' tonal balance should be the same whether they're used in wired mode or Bluetooth.
Presently, the Pandas are available only through an Indiegogo campaign. Drop gave me this link that it says will give you an opportunity to buy the Pandas regardless of what decisions the company makes regarding future availability and distribution.
In the box
The Pandas include a semi-hardshell travel case. It's reasonably compact, but I preferred to simply fold the headphones flat and slip them into my laptop bag. Also included are a USB-C charging/data cable and a 39" (1m) analog cable with a 1/8" (3.5mm) stereo plug at each end.
Use
My panelists and I had the same opinion of the Pandas' design: comfortable, but a little heavy. "I think the padding's comfortable, and I like the look with no obvious branding, but for me they're too heavy for portable use," said panelist Joe Mariano, whose audio commentary can be seen on the Joe N Tell YouTube channel. Panelist LeRena Major, a music-industry professional and amateur saxophonist, largely agreed. The Pandas aren't as heavy as the big bruisers from companies such as Audeze, but they're definitely heavier than most of the portable models I've recently tested . . . or at least they feel heavier. I thought the clamping force was moderately high, and the baffles (which are flat, not angled), rubbed a bit against my earlobes.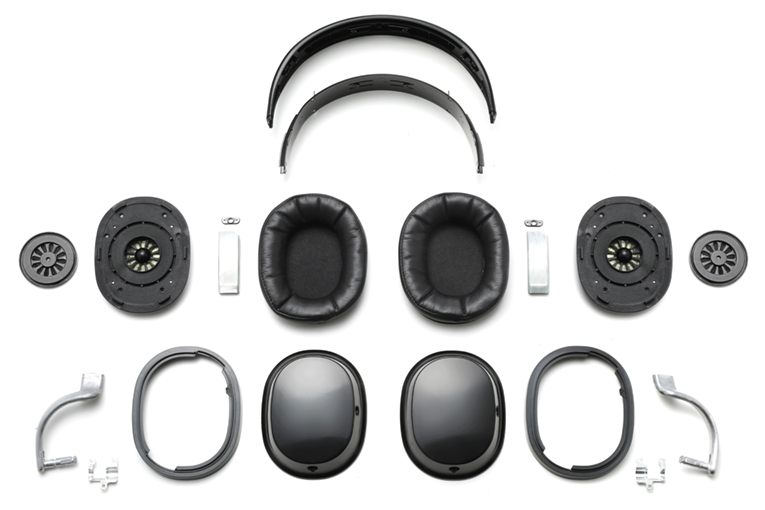 The Pandas have an unusual control system: just a single control that functions as a push button and joystick. It turns them on and off, and it controls volume and track skip. LeRena said that the controls weren't intuitive, but she quickly got used to them, and I felt the same way -- I think the single control works better than most swipe-style, touch-sensitive headphone controls, and it's a lot easier to work one control by feel than to remember which of several buttons to push and to pick out the right button by feel.
I didn't have any problem driving the Pandas to fairly high levels when I plugged them straight into my Samsung Galaxy S9 phone, but as we'll see, you don't want to go plugging these into just any old phone.
Drop promotes the Pandas as having excellent passive isolation and thus not needing active noise canceling. I didn't have a chance to fly with the Pandas to see how well they block airplane cabin noise, but my measurements tell the entire story. The Pandas won't ship until June of this year.
Sound
I did a lot of listening to the Pandas in passive mode, driven by an iFi xDSD DAC-headphone amp, and I also listened extensively in Bluetooth, using the SBC, LDAC, and aptX codecs (just the standard version of aptX, the only one my phone supports).
The sound quality did vary depending on how I had them connected, but the tonal balance stayed the same. I'd describe the Pandas as sounding uncolored and natural in the midrange, and a little soft in the treble, with a relatively light lower bass and a little extra punch in the upper bass.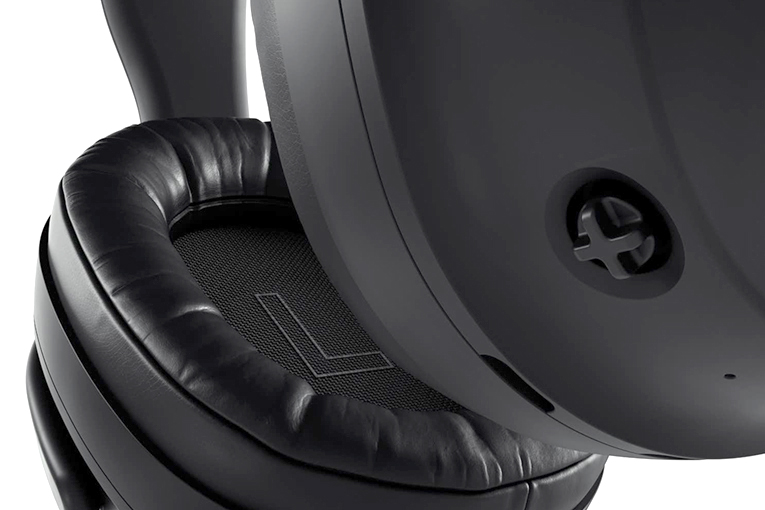 On trombonist Grachan Moncur III's classic Blue Note recording Evolution (16-bit/44.1kHz FLAC, Qobuz), I noticed right away that the Pandas conjured a nice sense of space around the trombone, the vibes, and the other instruments; they all seemed embodied rather than merely imaged. The mids and highs sounded very smooth, and I loved the realistic tonal balance on the ride cymbal. Ride cymbals in jazz are supposed to sound pretty mellow, not edgy, and that's what the Pandas reproduced. I also noticed some extra punch in the upper bass, around 80 or 100Hz, although the lower bass seemed somewhat muted.
Right away, I wanted to compare this sound to some headphones I knew well, so I pulled out the AKG K371s. The AKGs sounded a lot more lively, with less apparent bass overall (perhaps because there was more energy in the upper mids and a little more in the highs, giving the impression of less bass). I liked the smoother presentation of the Pandas on the cymbals and trombone, but listeners who want to hear a lot of detail would prefer the AKGs.
Peggy Lee's version of "Black Coffee" (Black Coffee, 16/44.1 FLAC Decca/Qobuz) came from roughly the same era as Evolution, and it sounded similarly good through the Pandas. Their smooth, mellow sound perfectly suited Lee's music. While the overall presentation was softer than it was through the AKGs, there was no lack of fidelity -- I got much the same sense of space and reverberance on Lee's voice, the piano, and the trombone as I heard on Evolution.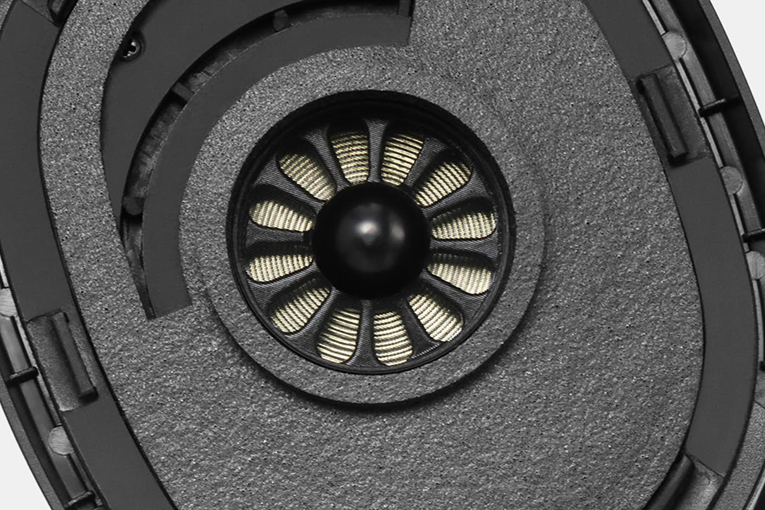 Craving a more lively recording, I put on "Thoughts and Prayers," a more or less country tune from the Drive-by Truckers' great new album The Unraveling (16/44.1 FLAC, ATO Records / Qobuz). The vocals sounded smooth and uncolored, and the guitars sounded detailed but fuller and softer, more like a blues-type acoustic sound than the brighter-sounding Martins, Gibsons, and Taylors more commonly used for country recordings. (I don't know what guitars were used or how they were miked, so I can't say what's "right.") With the AKGs, there was clearly more upper-midrange presence in the vocals and guitars, and the low bass had more kick. That last result surprised me, considering that the AKGs sounded bass-shy on the Grachan Moncur III recording; I guessed that the Drive-by Truckers' recording simply had more deep bass, which the Pandas seemed to largely ignore. "Both good, just the Pandas are softer," I noted.
Wanting to sort the bass thing out a bit more, I put on "Sum 2 Prove" by rapper Lil Baby (single, 16/44.1 FLAC, Quality Control / Motown / Qobuz). Again, the AKGs sounded brighter and more lively, but the Pandas seemed to reproduce the Roland TR-808-style hi-hat, the keyboards, and the sound effects with a greater sense of dimension -- much as I heard in the Grachan Moncur III recording. The really big bass on this track seemed to push both headphones past their limits and into distortion, and I thought the Pandas seemed to distort a bit more (this was in passive mode, so in this case the THX AAA amps weren't being used).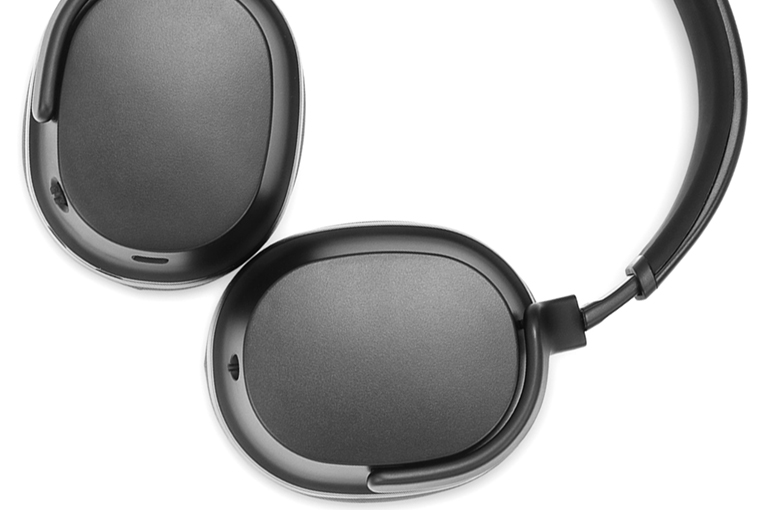 I wanted to get an idea of how the various Bluetooth codecs compared with the wired connection, so I put on Anton Bruckner's intense "Symphony No. 9 in D Minor, II. Scherzo, Bewegt, lebhaft," performed by the Pittsburgh Symphony Orchestra under the direction of Manfred Honeck (16/44.1 FLAC, Reference Recordings / Qobuz) and used the Developer Settings menu on my phone to audition the different Bluetooth options. When I used the SBC and standard aptX codecs, the sound seemed rather muddy and the headphones sounded overwhelmed -- no surprise when you've got timpanis roaring, brass at full blast, and the strings sawing deep into the forte range. In the wired mode, the tonal balance seemed the same, but the sound was a lot clearer and less muddy. Using Sony's LDAC at its maximum data rate of 990kbps (which requires a strong Bluetooth connection to work without glitching), I got a better result than with the other codecs. In the jaunty string section passage about four minutes in, the strings did sound slightly smoother, more spacious, and more embodied in wired mode, but LDAC sacrificed only a little bit of that quality.
Comparison
As usual, I brought in a couple of other listeners: saxophonist and music industry pro LeRena Major, and audio commentator Joe Mariano. Both compared the Pandas mostly in wired mode (I didn't have any high-end Bluetooth headphones on hand) against the AKG K371 and NAD Viso HP50 headphones. Neither of them knew anything about the Pandas.
"They have good low-end extension, and they sound smooth overall, but they're missing a bit of weight somewhere in the midrange; Frank Sinatra's voice didn't sound as full as I'm used to hearing," Joe said. "The NADs have a bigger soundstage."
I let LeRena plug the Pandas straight into her phone, which I assumed would be OK because I got good results with my Samsung. But when she reported that the Pandas sounded better in Bluetooth, with the wired connection lacking punch and dynamics, I checked out her phone -- it's a T-Mobile Revvl Plus, a low-budget Android model. But with Bluetooth, employing the THX AAA amp (which apparently was a lot better than the one built into her phone), she thought the sound of the Pandas in Bluetooth mode was very good, and comparable overall to what she heard from the AKG K371s, and the Pandas added an extra punch she liked. She did note that the NAD Viso HP50s had a more spacious sound than either one. So that's a clear case where the Pandas' internal electronics outshine the phone's own circuits.
Conclusion
There's a lot to like about the Pandas. They sound very smooth; unless you're insistent on maximum detail or ultra-deep bass power, you'll probably enjoy them. They are a little heavy, but they're comfortable and refreshingly easy to use. As I was comparing the Pandas' Bluetooth modes, it dawned on me: the Pandas aren't really "audiophile Bluetooth headphones." They're more like good passive audiophile headphones with Bluetooth added as a convenience when you want it. I think this is a great way to build a set of headphones.
. . . Brent Butterworth
This email address is being protected from spambots. You need JavaScript enabled to view it.
Associated Equipment
DAC-headphone amp -- iFi xDSD
Smartphone -- Samsung Galaxy S9
Drop + THX Panda Bluetooth Headphones
Price: $399.99 USD.
Warranty: One year parts and labor.
Drop
710 Sansome St.
San Francisco, CA 94111
E-mail: This email address is being protected from spambots. You need JavaScript enabled to view it.
Website: www.drop.com