Sound:











Value:











(Read about our ratings)
Measurements can be found by clicking this link.
Sometimes we can judge headphones by their brand name. I kind of know what to expect from HiFiMan and Focal, for example. But what should we expect from Sony? The company has created some of the world's most respected headphones, but it has also created some of the world's least respected headphones. When I encountered the WF-1000XM4 earphones ($279.99, all prices USD), I figured the noise canceling would be pretty solid—Sony and Bose have been the leaders there for years—but I had no idea what they might sound like.
Sony packed the WF-1000XM4s with tech. Besides the noise canceling, they have a bone-conduction sensor that aids the beam-forming microphones in picking up the user's voice. They have Sony's LDAC Bluetooth codec, which can as much as triple the maximum Bluetooth audio data rate compared to the standard SBC codec, provided you use them with an LDAC-capable Android phone. And they have Sony's new Noise Isolation Earbud Tips—a hollow, flexible design, like a silicone tip, except they're made of thin, closed-cell foam.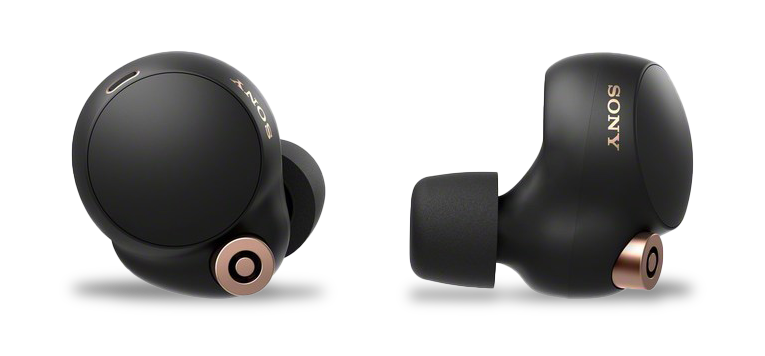 More tech is packed into a smartphone app, which includes an Ambient Sound Control function that senses when you're at home, walking, running, or on transit, and automatically activates noise canceling, wind noise reduction, and ambient sound pickup. It can also learn to adapt the sound for the locations you frequent. There's also Sony's 360 Reality Audio, which works with compatible music files (available on Amazon Music and Tidal) to create immersive sound—and the app can take pictures of your ears and analyze their shape to optimize the immersive effect.
The WF-1000XM4 earphones use one 6mm dynamic driver per earpiece. Battery life is rated at eight hours, and the charging case provides two extra charges for a total rated run time of 24 hours. The case charges via USB-C or a Qi wireless charger.
In the box
The WF-1000XM4s include the charging case, the proprietary eartips in three sizes, and a USB charging cable.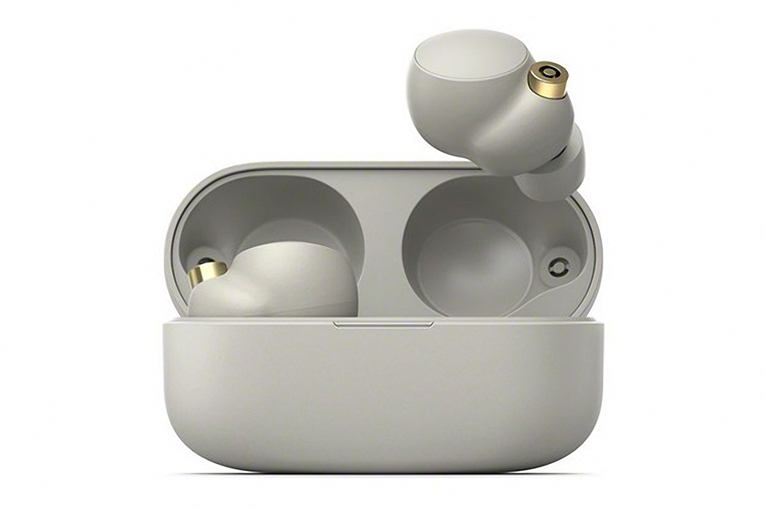 Use
For the most part, I found the WF-1000XM4s a pleasure to use—after I turned off all the automatic functions, and after Sony pushed out a firmware update that made it possible to disable the "feature" (or, perhaps more accurately stated, bug) that voice-announced whenever the Ambient Sound Control sensed a change in environment and switched modes. That wouldn't be such a big deal, except it also muted the sound momentarily . . . and it happened about eight times in the first half-block of my first dog walk with the earphones. Obviously, my environment hadn't changed at all, so the software's not as smart as it needs to be. But once I turned all that stuff off, I encountered no more ergonomic complications.
Except wait—there was one more app-related issue. The app has a very useful function that tests the seal of the earphone tips in your ear canals. That's important because, as with most earphones, the WF-1000XM4s can't give you good bass and a natural tonal balance unless there's a good seal. Unfortunately, even the largest of Sony's high-tech tips didn't provide a good-enough seal in my right ear canal to pass the test, so I had to switch to my favorite XL-size SpinFit tips. No big deal, because supplied tips rarely fit me. But if you're going to include a tip seal test in your app and tout the awesomeness of your high-tech tips, maybe make sure to supply tips in enough sizes to fit everybody. Just sayin'.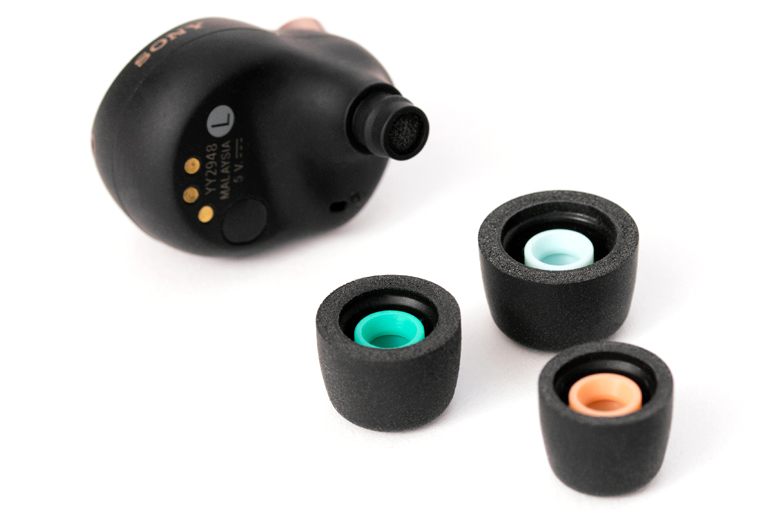 But once I got the right tips going, the earphones gave me a reliable seal and a comfortable, secure fit. I didn't have any complaints . . . until I tried to use the EQ function in the app. Bad enough that it only offers five bands of adjustment, but to make matters worse, the lowest frequency band is centered at 400Hz, giving you no real control over the bass—which, as it turns out, is exactly where the WF-1000XM4s need the help.
So basically, if you ignore the app except for setting up the controls and turning noise canceling and ambient sound on and off, you'll be fine.
Sound
I did most of my listening with the noise canceling on, because I figure if you're buying noise-canceling earphones, that's the mode you'll use most often. Fortunately, there wasn't a big difference in sound between the two modes, and I didn't experience eardrum suck when the noise canceling was on. Still not getting out much due to forgetting what I used to do for fun before the pandemic, I didn't have a chance to test the noise canceling on an airline flight, but the isolation measurements, which can be accessed through the Measurements link at the top of this article, will tell you everything you need to know about that.
I originally got my hands on the WF-1000XM4s not because I requested them from Sony (I'll refer you again to the mixed results of past encounters noted in the first paragraph), but because my Wirecutter colleague Lauren Dragan asked me to measure their noise canceling. Anticipating that she might ask me what I thought of the sound, I gave them a quick listen—and I literally gasped at what I heard. This wasn't what I expected to hear from true wireless earphones with noise canceling.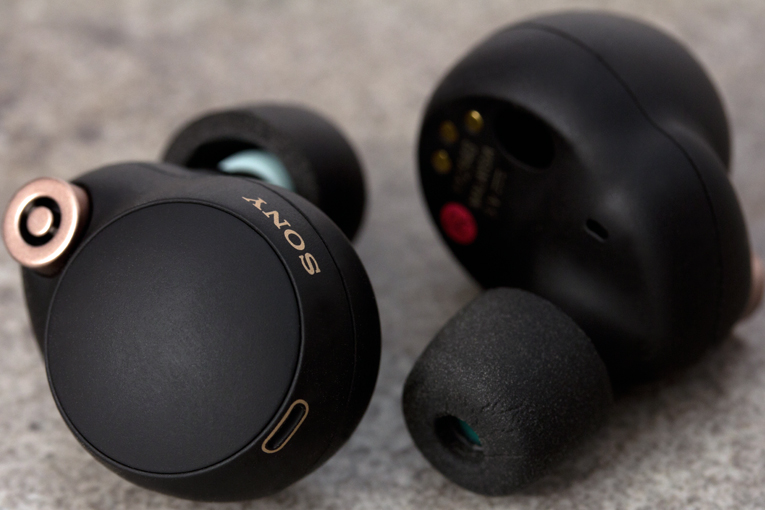 For example, when I played "V. Raillary: Vivace" from pianist Yeol Eum Son's energetic Kapustin (24-bit/88.2kHz FLAC, PM Classics Ltd. / Qobuz), her tribute to the recently deceased classical/jazz composer Nikolai Kapustin, I heard exactly what I really want to hear from a classical piano recording. And to my ears, that means a full sound with no booming or overhang of the low notes, clarity of the high notes without harshness, evenness from the top to the bottom of the instrument's range, and a realistic but not exaggerated sense of space. The only earphones in the WF-1000XM4s' category I've heard that wouldn't mangle Kapustin in some way are the KEF Mu3s and the Technics EAH-AZ70Ws.
Sadly, I didn't have either of those on hand for comparisons, but I will include a frequency-response comparison graph in the Measurements section. However, I went back to those reviews and tried the WF-1000XM4s with some of the same tracks I used in those evaluations.
When I listened to Aerosmith's "No More No More" (Toys in the Attic, 24/96 FLAC, Columbia/Qobuz) through the KEF Mu3 earphones, I liked the sound a lot but complained about a lack of bass and a small boost in the upper mids and lower treble. On this tune, the WF-1000XM4s sounded very subtly dull—the electric bass and kick drum sounded a dB or two too loud and seemed to lack a bit of definition. With the KEFs, a little bit of EQ got them just right. Sadly, the nearly useless five-band EQ in the Sony app couldn't help the sound much. Using the nine-band EQ built into my Samsung Galaxy S10, I was able to bring 63Hz down 2dB, but that left the upper mids and lower treble a little too prominent. Cutting the 2kHz and 4kHz bands by just 1dB got the WF-1000XM4s sounding just the way I wanted them to. That's much less EQ than I might normally use with true wireless earphones.
I didn't really complain about the sound of Nicole Zuraitis's "Sugar Spun Girl" (All Wandering Hearts, 16/44.1 FLAC, Dot Time / Qobuz) when I heard it through the Technics EAH-AZ70W earphones, but from my text I gather that I wasn't super impressed with the sense of space I heard from them. Even though the WF-1000XM4s still had a smidge of the bass bloat I heard with the Aerosmith cut, that wasn't enough to obscure the wonderful sense of space I heard on this cut. I loved the way the Sonys gave me a palpable sense of impact and dynamics with the cymbals and snare drum; I really got a sense of being just a few feet away from real instruments. Again, bringing the 63Hz slider down just a touch got the sound dialed in; I didn't feel the need to adjust any other bands.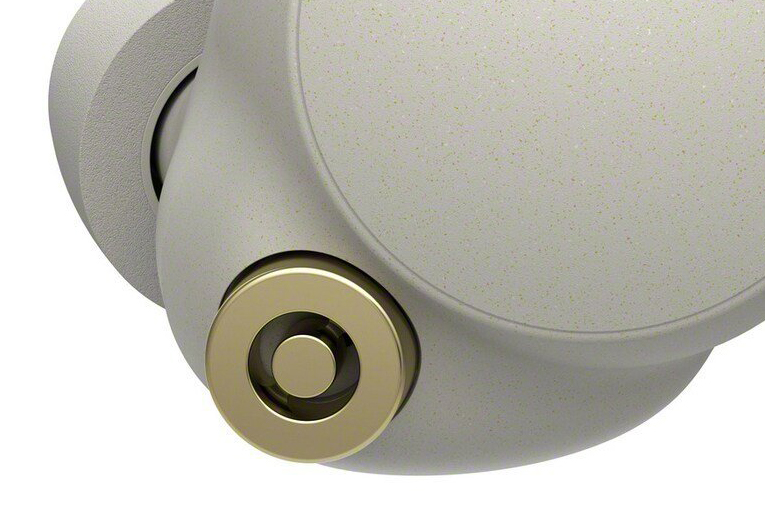 At this point, I needed to hear a recording I knew extremely well, so I put on the version of "Shower the People" from James Taylor's Live at the Beacon Theatre DVD (256kbps MP3, ripped from the DVD's 16/44.1 stereo mix), which I first heard in a home-theater demo way back in the mid-1990s. I've heard it on literally thousands of pieces of audio gear, including probably 20 top-of-the-line systems I encountered at audio dealers across the country during a tour I did with Krell when I was editor of Home Theater magazine. I could tell from the first few notes of Taylor's vocal that the WF-1000XM4s had some upper-bass boost—somewhere between 100 and 300Hz, I guessed—because it sounded a little bloated, and Leland Sklar's electric bass sounded a little too loud and a little less-defined than it should. But Taylor's voice and acoustic guitar, along with the electric guitar, glockenspiel, and drums, sounded pretty natural and spacious, and I didn't hear any colorations in the mids and highs that seemed worth noting.
Comparison
I compared the WF-1000XM4s to two other true wireless earphones I had on hand: the noise-canceling Bowers & Wilkins PI7s ($399) and the non-noise-canceling Status Audio Between Pros ($169).
On that time-tested chestnut, Tracy Chapman's "Fast Car" (Tracy Chapman, 16/44.1 FLAC, Elektra/Qobuz)—one of the most reliable tonal-balance tests you can find—the WF-1000XM4s sounded the most neutral and balanced of the three. The tonal balance of the Between Pros sounded similar to that of the WF-1000XM4s, but the bass was elevated even more, and the WF-1000XM4s sounded smoother and clearer on Chapman's voice. To my ears, the WF-1000XM4s sounded radically more lively, spacious, and natural than the very soft-sounding P17s.
Conclusion
I think the WF-1000XM4s easily rank among the best noise-canceling true wireless earphones you can buy. With just a bit of EQ to tame the bass, they sound at least as good as anything else I've heard in this category, and they get up into the same sound-quality range as the best low-two-figure, dynamic-driver passive earphones. They're a great choice as long as you remember to get in there and shut off all the automatic functions, and get some aftermarket tips if your ear canals are unusually small or large.
. . . Brent Butterworth
This email address is being protected from spambots. You need JavaScript enabled to view it.
Associated Equipment
Smartphone: Samsung Galaxy S10
Sony WF-1000XM4 True Wireless Earphones
Price: $279.99.
Warranty: One year.
Sony Electronics
16530 Via Esprillo
San Diego, CA 92127
Phone: (800) 646-SONY
Website: www.sony.com