Sound:











Value:











(Read about our ratings)
Measurements can be found by clicking this link.
Anyone who's been writing about technology for a couple of decades probably greeted the recent announcement that Philips is re-entering the North American market with "Again?" But while the brand's interest in selling things like speakers and TVs in the US seems to ebb and flow, I can't remember a time, at least since the late 1990s, when it didn't sell headphones in the US. The Fidelio L3 headphones ($349.99, all prices in USD) might get a little lost amid the company's numerous new SKUs in soundbars, wireless speakers, and headphones, but given my positive experience with the passive, open-back Fidelio X3 headphones, I wanted to give them a spin.
While the L3s share a few parts with the X3s—including the matte-finished metal ring that connects the earcups to the frame—they're completely different headphones. The L3s include Bluetooth and active noise canceling (ANC), and their functions can be controlled through a smartphone app—very unlike the passive, old-school X3s. Still, they do show some audiophile-approved touches, such as mounting the 40mm baffles at a slight angle to better fire into the listener's ears, and supplying soft Muirhead Scottish leather earpads that are a little fatter in the back to ensure a better seal.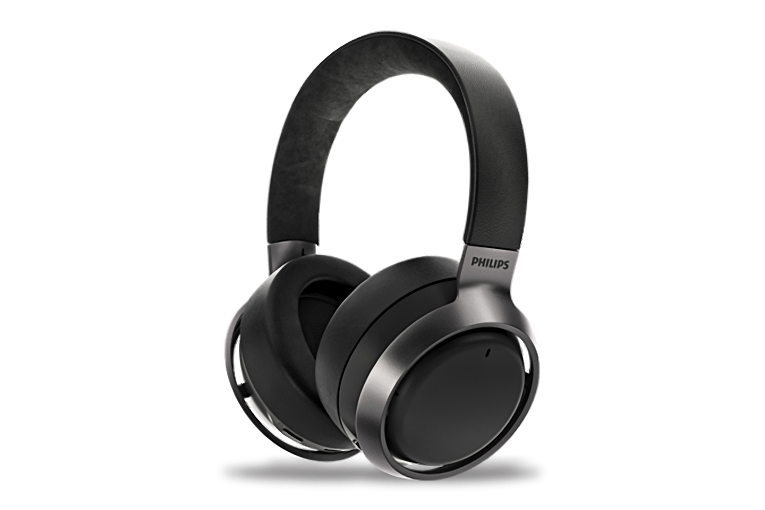 Also appealing to audiophiles will be the inclusion of the AAC Bluetooth codec, which can eliminate the need for transcoding to the SBC codec if an AAC-compatible source device (all iOS devices and many Androids) is used; and the aptX HD codec, which transmits at about double the rate of standard aptX and can, as my blind tests have shown, produce a noticeable improvement when used with an aptX HD-compatible device (some Androids, no iOS devices).
These are pretty straightforward biz-traveler headphones with active noise canceling, a nice travel case, and swipe-style controls on the right earpiece for volume and functions such as play/pause and track skip.
In the box
The box includes a very slim 50″ (1.3m) cable for a wired connection to devices without Bluetooth; it's tipped with a 2.5mm (3/32″) stereo plug on the headphone end and a 3.5mm (1/8″) stereo plug on the source end. There's also a stereo-to-dual-mono adapter for use with old-school inflight entertainment systems, and a USB-A-to-USB-C charging cable.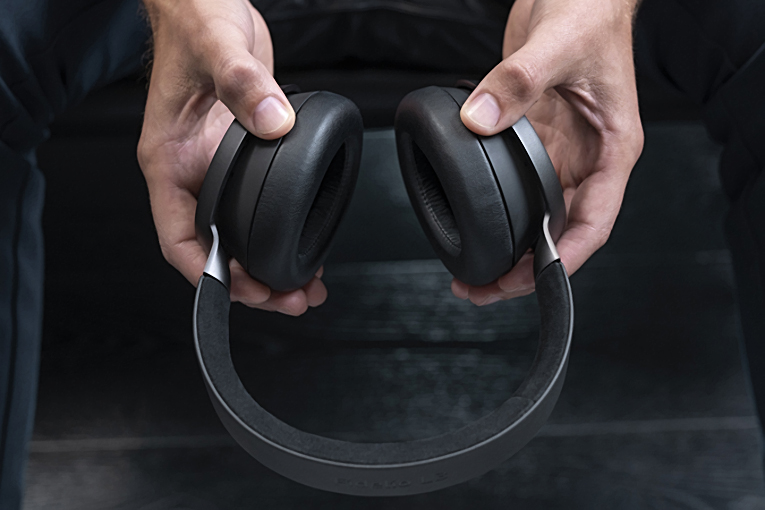 A case that's stiff on the sides but soft in the middle along the zipper provides more robust protection for traveling, and Philips also supplies a fabric carrying sack for times when you don't have space for the case.
Use
The Fidelio L3s are pretty easy to live with. For me, at least, they achieve something fairly close to an ideal mix of just-right clamping force and earpad softness. The swipe-style touch controls on the right earpiece work more dependably than most.
The noise canceling includes an Adaptive mode that's said to adjust automatically for your environment. I have never seen much use for such modes because the only time I really feel the need for noise canceling is on planes, and you pretty much always want the ANC running full-blast there. But when I ran my airplane noise simulator—playing a mix of recorded environmental sounds from four different jet airliner cabins through a six-speaker system with a subwoofer—the Adaptive mode did crank the ANC all the way up, so that's fine. The app makes it easy to access these modes, or you can also scroll among them using a button on the bottom of the right earpiece.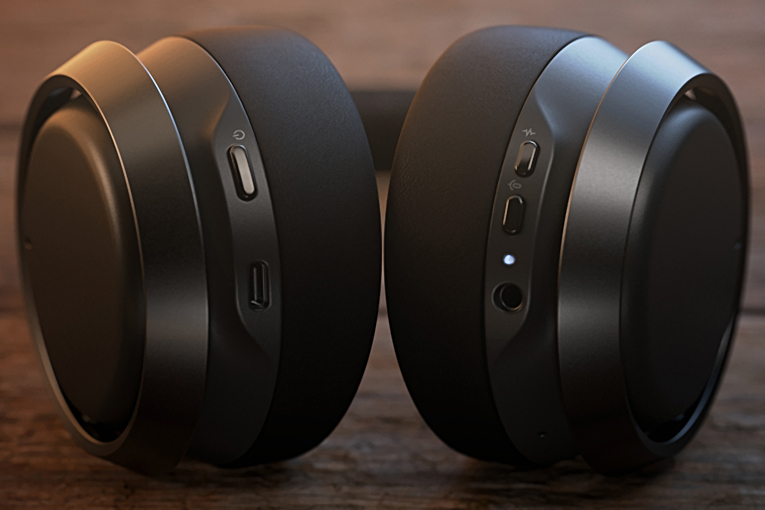 The noise canceling wasn't particularly impressive compared with what Bose, Sony, and Soundcore have achieved, but it was enough to make music a lot easier to hear with the airplane noise simulator going. It did seem to add some noise in the high frequencies, but I noticed this only when music wasn't playing. The noise canceling didn't radically change the sound, either, although it did seem to add a bit more bass.
Sound
Listening to Joni Mitchell's "Big Yellow Taxi" (Ladies of the Canyon, 16-bit/44.1kHz FLAC, Rhino/Qobuz), I could tell right off there was something a little different about the Fidelio L3s. The acoustic guitars that start the tune sounded fuller than usual, and their high frequencies seemed to be softened a bit. The simple bongo track at hard right sounded extra-insistent, almost as if a light breeze were blowing into my right ear in time with the music. Mitchell's voice sounded incredibly clear and uncolored—and hers isn't an easy voice to reproduce, because in her early years, there wasn't much body to it.
I've been listening to Van Dyke Parks Orchestrates Verónica Valerio: Only in America (24/48 FLAC, Modern Recordings / Qobuz) a few times a day since I read about it in the latest issue of Tape Op magazine. It's a remarkable and wild side, with vocalist/harpist Valerio set against Latin percussion, drums, bass, distorted electric guitar, flutes, and Parks's string orchestrations. It's a lot to sort out, and to my ears, the Fidelio L3s kind of did it, but in a different way than a typical set of high-end headphones would. The audiophile stuff would probably use sheer sound quality (i.e., a super-lightweight diaphragm, a decent amp) to dig out the details, but the Fidelio L3s seemed to do it with EQ.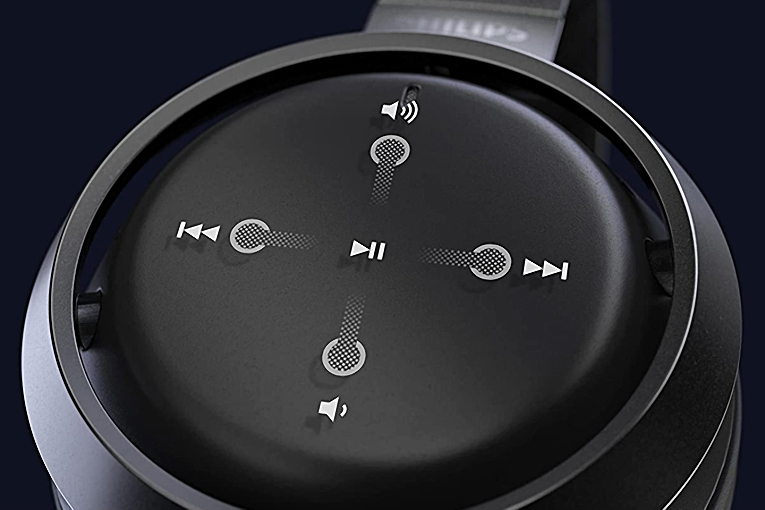 For example, on "Cielito Lindo," the double bass (whether bowed or plucked) swelled powerfully but without much character, in an almost Deadmau5-ish MIDI-bass kind of way. Few of the instruments on this tune play together; they all weave in and out with their own melodic comments and accents. It was easy to hear all the little parts—mostly on high-frequency instruments—through the Fidelio L3s, and Valerio's voice sounded clear, too. This made me think the L3s are what I refer to as "three peak" headphones, with boosts in the bass, the mid-midrange, and the mid- or high treble. Some of the headphones from about six or eight years ago—back in the era when endorsements by hip-hop artists were considered a must—sounded like this. Sometimes it sounded vivid and exciting (which is how I'd describe what I heard on this cut with the L3s), but sometimes it sounded maddeningly unnatural. For a quick comparison, I tried playing the same tune on the open-back Fidelio X3s, and the difference was obvious: the X3s sounded flatter, more natural, and much more spacious, but you could say the L3s sounded a lot more fun.
I needed to hear some male vocals, so I put on neo-soul singer Joshua Henry's fantastic new tune, "Possible" (Grow, 16/44.1 FLAC, BMG/Qobuz). Right away, I was struck by how powerful the bass was. It wasn't at all boomy; it just sounded like the band had a very good-sounding bass player who'd turned up about 5dB when no one was looking. But the big bass didn't in any way overshadow Henry's voice, the background vocals, or the drum machine tracks. I can't say it all sounded "high res" or natural or particularly spacious, but it did sound good: balanced, vivid, and fun.
Given the Fidelio L3s' "three peak" sound, I wondered if maybe they'd be a train wreck on classical music, so I put on my recent fave legit-music passage, "II. Scherzo: Vivacissimo" from Prokofiev's Violin Concerto No. 1 in D Major, Op. 19, performed by violinist Hilary Hahn with the Orchestre Philharmonique de Radio France, Mikko Franck conducting (Paris, 24/48 FLAC, Deutsche Grammophon / Qobuz). But wow—no train wreck at all, I really enjoyed the sound on this track. It wasn't as spacious-sounding as most of the audiophile-targeted headphones I review, but all the instruments were delineated, and the whole presentation sounded distinct and even a little amped-up—but amped-up in a delightful way, with a little more oomph in the double basses and in Hahn's violin.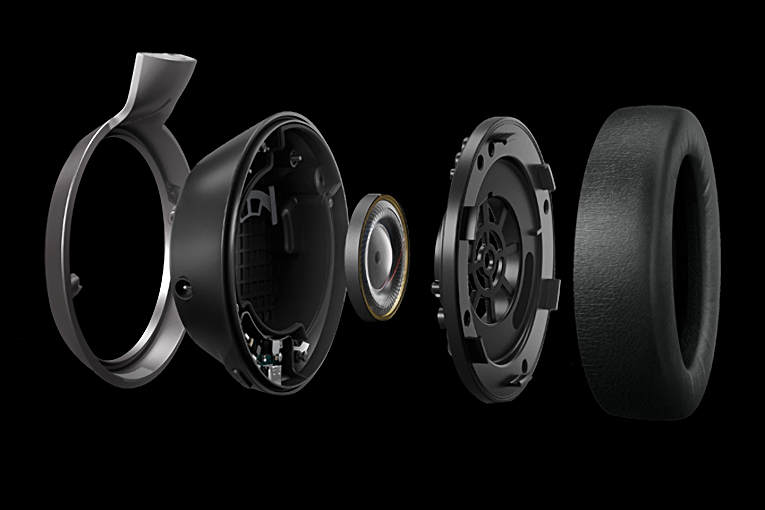 Because I pretty much got where Philips was going with these headphones, and I saw the appeal of it, I completely forgot to check out the Sound Effect option in the app. So I put on my favorite tonal balance test, Tracy Chapman's "Fast Car" (Tracy Chapman, 16/44.1 FLAC, Elektra/Qobuz). There's a Bass Booster mode—which, because there's no headroom left to boost the bass, actually cuts the treble, and substantially, so a hard no on that one. The Classical mode introduces a roughly 3dB midrange boost—yuck. The Jazz mode boosts the bass and treble, and I think I can speak for all jazz musicians who've ever lived when I say this tuning must have been created by someone who's never heard jazz. The Hip-Hop mode boosts the treble by as much as 8dB—so cut 'n' paste that last sentence and substitute "hip-hop" for "jazz." And the Custom mode lets you tune the six-band EQ however you like.
Comparison
I had only one set of Bluetooth noise-canceling cans on hand to compare with the Fidelio L3s: the Marshall Monitor II A.N.C. headphones. I also included a passive, closed-back model, the AKG K371s, so we'd have a "certified" Harman curve model in there.
Using the same Tracy Chapman cut, I found it easy to hear the differences among these models. The Monitor II A.N.C. headphones delivered a much flatter, more neutral response that made the Fidelio L3s sound much less natural in contrast. The Fidelio L3s sounded a lot bassier, and had what my Wirecutter colleague Lauren Dragan often describes as a "puh" character to the bass. That's probably descriptive enough, but I'd characterize it as excessive punch. Still, the Fidelio L3s brought out Chapman's voice more and, again, just seemed to amp up the whole vibe.
Not too surprisingly, the K371s delivered the most natural balance of the three, and a little more detail than the Monitor II A.N.C. headphones could muster.
Conclusion
The Fidelio L3s' tuning reminds me of the early '10s, when so many headphones tried to copy . . . well, something about Beats. A lot of those headphones had the "three peak" tuning I mentioned above, although the magnitude and frequency centers of the peaks varied a lot. I reviewed dozens of those headphones, and while most sounded bad, I really enjoyed a few of them.
That's the way I feel about the Fidelio L3s. I don't think this is a sound audiophiles will love, but I expect fans of hip-hop, pop, R&B, EDM, and rock will like the extra kick the Fidelio L3s will give to their favorite tunes.
. . . Brent Butterworth
This email address is being protected from spambots. You need JavaScript enabled to view it.
Associated Equipment
Smartphone: Samsung Galaxy S10
Philips Fidelio L3 Bluetooth Noise-Canceling Headphones
Price: $349.99.
Warranty: One year.
Koninklijke Philips N.V.
High Tech Campus 5
5656 AE, Eindhoven
The Netherlands
Website: philips.com/sound