Sound:











Value:











(Read about our ratings)
There's a pervasive mindset among certain enthusiasts that bass is bad. Bass is pedestrian. Bass is for plebes. Call me a plebe, then, because I like bass. Not all bass, mind you, but good bass.
What's good bass? It's not what you hear from a car driving by at 3:00 a.m. It's also not what those early generations of Beats headphones produced. I'm not talking about formless thump like your head is lodged inside a kettle drum. Good bass lets you hear the timbre of the instruments and the definition of the notes. It's just a little higher in level compared to the mids and the treble than is strictly "neutral."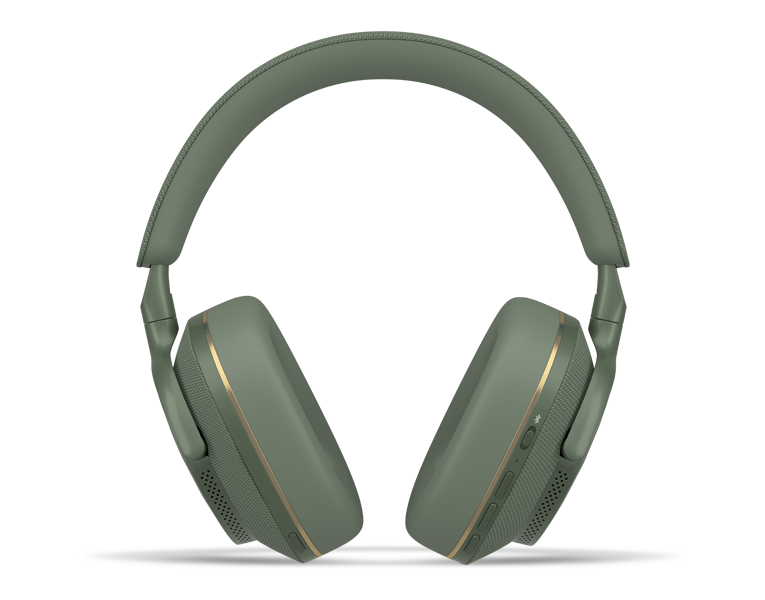 The Px7 S2e headphones are the second pair of B&Ws I've reviewed for SoundStage! Solo, and at least the fifth I've reviewed overall. I wouldn't go so far as to say the company has a "signature sound," but someone there definitely likes bass as much as I do. The Px7 S2es have the kind of "good bass" that made me really like the Pi7 S2 true wireless earphones and love the ancient C5 S2 earbuds enough to buy them three times (broken once, stolen once).
With 40mm drivers, noise canceling, and a $399 (all prices USD) price tag, the Px7 S2es are landing in an extremely competitive segment of the over-ear wireless headphone market. B&W claims these are "evolved" from last year's Px7 S2 model (hence the "e"), taking "inspiration and learnings" from the flagship Px8. Let's have a listen.
In the box
In the box is a hardshell carrying case with two cables. The first is a standard charging cable with USB-C on both ends. The other has USB-C on one end and a 3.5mm analog plug on the other. I like this addition, which lets you convert the Px7s to wired operation for situations where Bluetooth won't work, for example connecting to an airplane's in-flight entertainment system. This cable is 1.2m (47″), which feels short for many situations (seats recline, after all).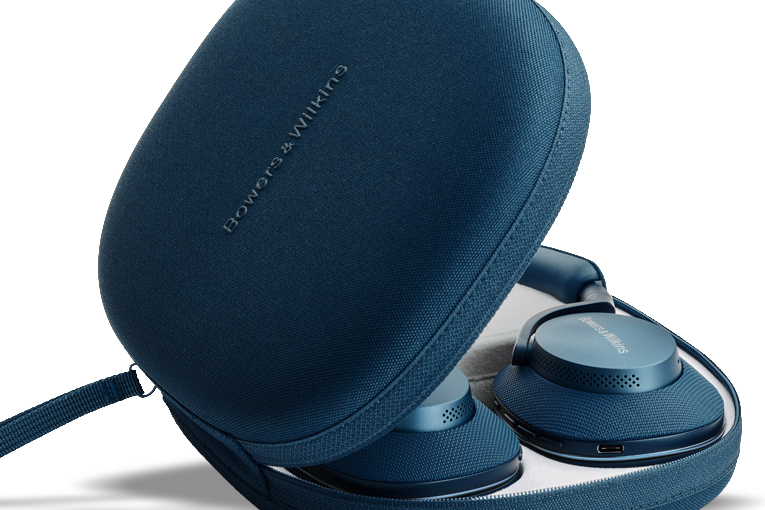 Use
The earcups on the Px7s are not large. I got a reasonable fit, but if you have larger ears, they might be tight. At 307gm, they're a little heavier than the Sennheiser Momentum 4 (293gm) and the Sony WH-1000XM5 (250gm) headphones. It's a little noticeable, at least when you have them side-by-side, especially with the Sonys. But on your head they don't feel particularly weighty.
On the back side of the right earcup, there's a switch for power and buttons for volume and play/pause. I like the speed and positive feedback you get from a switch. Many headphones I've reviewed recently required holding a button for several seconds to power off, and after a while it felt annoyingly long. The play/pause button is textured, so it's easy to get the correct button on your first try. It's technically a "multifunction" button that can also switch tracks, answer an incoming call, and so on. A single button on the left earcup toggles noise canceling, or in the app you can set it to activate your voice assistant.
The B&W Music app requires an account. I know most apps require this, but I'm still going to complain about it. If someone buys something, they shouldn't have to give the company their personal information just to use the product as advertised. Of course, this is a battle I will lose—so it goes.
The app found and connected to the headphones quickly, which is welcome. Its beige, brown, and black color scheme looks rather classy. You can switch the noise canceling between on, off, and pass-through, as well as adjust the bass and treble. There is no other EQ.
B&W claims 30 hours of playback, but you can get seven hours with just a 15-minute charge.
Sound
As expected, the Px7 S2e headphones have a bunch o' bass. It's not overwhelming, as you can still hear the mids and treble just fine. In fact, there's more treble here than I was expecting, offering more sparkle than some other bass-heavy headphones I've tested.
I recently went down a rabbit hole in finding bands like Chvrches (one of my faves). Fellow Angelenos Muna scratched that itch nicely. "I Know a Place," from their debut album About U (24-bit/96kHz FLAC, RCA Records / Qobuz), is solid synthpop with a strong beat and layers of sonic texture. Said beat is exactly the intensity I'm looking for in headphones. If you don't like bass, these aren't for you. Katie Gavin's vocals were strongly present, never getting lost in the mix. Many of the upper-midrange/lower-treble percussion and synth sounds had greater intensity than I was expecting. Despite the bass, these aren't dark or mellow headphones.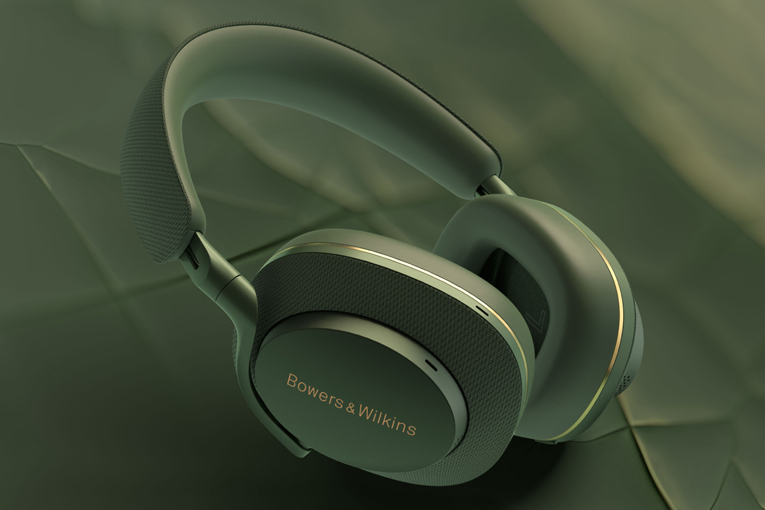 "Going to California" is one of my favorite Led Zeppelin songs (IV, 24/96 FLAC, Atlantic Records / Qobuz). The guitars had more bass and "weight" via the Px7 S2es. The individual notes from the guitars and mandolin all had a distinct timbre and precise attack. The soundstage wasn't constricted or narrow, as it seemed to extend at least a little past the earcups. But I've heard wider, even with other closed-back designs.
To go with a classic audio-review tune, on Tracy Chapman's "Fast Car" (Tracy Chapman, 16/44.1 FLAC, Elektra Records / Qobuz), the Px7 S2es highlighted Chapman's voice and guitar, and most noticeably Larry Klein's bass. It wasn't excessive, but there was unquestionably more bass than a pair of more balanced headphones would produce.
Comparison
I compared the Px7 S2es to the Sony WH-1000XM5 ($398) and Sennheiser Momentum 4 ($379.95) headphones. I didn't have last year's Px7 S2s to compare.
"Giving in to the Love" from Aurora's The Gods We Can Touch (24/48 FLAC, Glassnote Records / Qobuz) mixes Scandinavian vocal stylings and English lyrics with synths and a strong growly beat. This song sounded huge on both the Sonys and the B&Ws, but noticeably darker on the Sonys. There was a boost in the B&Ws' frequency response that corresponded to the upper registers of Aurora's voice and some of the percussion. This added a bit of excitement to the track that the Sonys lacked. I wouldn't call the B&Ws bright, but they're definitely brighter than the XM5s. The Sonys are bass-heavy in their own right, but less so than the B&Ws. The Sennheisers cut out most of that bass and accentuated the boost in the upper frequencies.
Continuing with the Sennheisers, I put on "A Running Start" from Sufjan Stevens's Javelin (24/96 FLAC, Asthmatic Kitty / Qobuz). It's a lighter track with mostly guitars and layered vocals. The bassier sound of the Px7 S2es didn't let this song be as light as it could be, perhaps accentuating the occasional bass notes more than necessary. With the Sennheisers, the delicate guitar work came through much more clearly, giving this song a jauntier feel that fit it much better.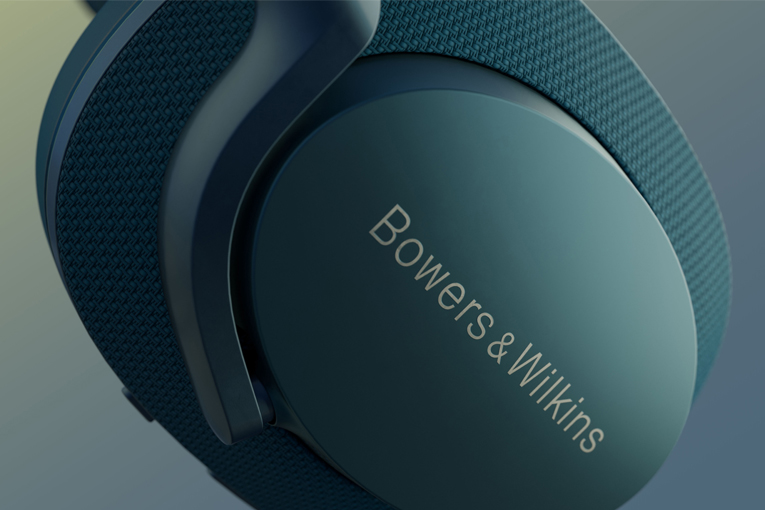 Hard to say which of these headphones are the most neutral, as they each have distinct sounds with their own pros and cons. The Sony and Sennheiser headphones are like opposite see-saws, the former boosting the bass and not the treble, the latter the treble and not the bass. The B&Ws have most of the treble of the Sennheisers, but more bass than the Sonys. Beyond the sound quality, the Sonys are definitely the most comfortable but look the cheapest.
As far as noise canceling goes, the B&Ws are far less effective than the Sony XM5s. More low-frequency rumble gets through. I'd say their NC performance is pretty average. If you fly or spend lots of time on a noisy train, the Sonys are a better option. They have a similar enough sound profile but better noise canceling.
Conclusion
The question is, do you like bass? I don't feel the word is a pejorative. Personally, I like a little extra bass in my headphones, but I understand not everyone feels the same way. The Px7 S2e headphones are a great example of the pros and cons of this type of tuning. On one hand, songs that benefit from some extra bass sound fantastic. Lighter, more acoustic songs, on the other hand, sound a little unbalanced, but not objectionably so. I never found a song that sounded bad through the Px7s, but if your particular music tastes don't feature bass-enthusiastic songs, then the Px7s probably aren't for you. If, like me, you enjoy some extra kick, the Px7s will do nicely.
. . . Geoffrey Morrison
This email address is being protected from spambots. You need JavaScript enabled to view it.
Associated Equipment
Smartphone: Google Pixel 7.
PC: Microsoft Surface Pro 8.
Bowers & Wilkins Px7 S2e Headphones
Price: $399.
Warranty: Two years parts and labor.
Bowers & Wilkins
B&W Group, Ltd.
Dale Road, Worthing
West Sussex BN11 2BH
England, UK
Phone: +44 (0)1903-221-800
Bowers & Wilkins North America
5541 Fermi Ct. N.
Carlsbad, CA
92008
Phone: (800) 370-3740
Email: This email address is being protected from spambots. You need JavaScript enabled to view it.
Website: www.bowers-wilkins.com