Sound:











Value:











(Read about our ratings)
Measurements can be found by clicking this link.
I can tell we're deep into the headphone boom because so many hot brands that emerged a decade ago have—well, not necessarily fallen, but certainly ceded the spotlight to others. I can think of a bunch, such as SOL Republic, Skullcandy, Soul Electronics . . . and Phiaton, a brand I remember liking the last time I reviewed one of its products . . . seven years ago. So when I got a PR pitch for the new 900 Legacy, a set of noise-canceling Bluetooth headphones, I was eager to see what Phiaton's been up to—and whether the brand had retained the safe'n'sane, neutral-sounding voicings I remember it for.
The 900 Legacy headphones ($249.99, all prices USD) don't look like anything special—just a rather generic design loosely modeled on the look of Bose's QC-series noise-canceling headphones. Their feature set is pretty much standard-issue for higher-end noise-canceling 'cans, with "digital hybrid active noise canceling." This means that the noise canceling employs feed-forward and feedback circuits with digital signal processing, which my measurements (available from the link at the top of this review) suggest are the best way to get highly effective noise canceling.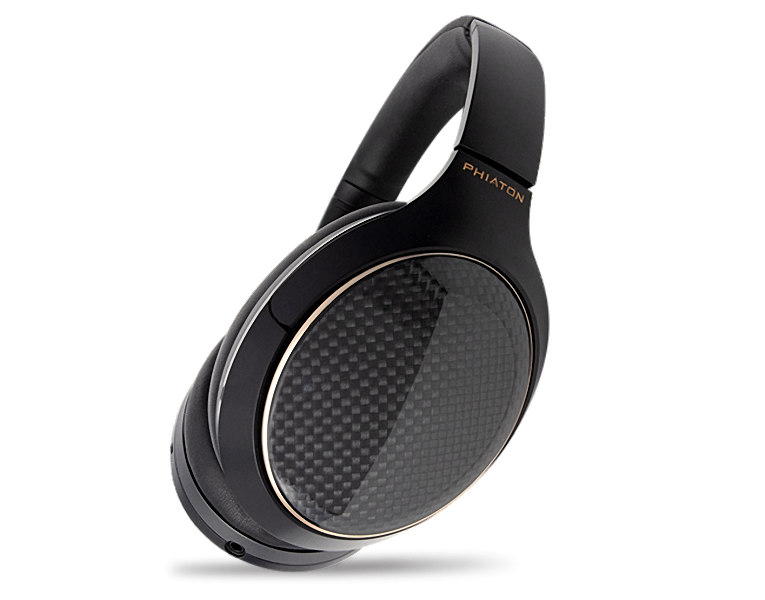 The headphones also employ the aptX HD codec, which my blind tests indicate can deliver a noticeable improvement in sound quality over standard aptX, SBC, and AAC (which are also included in these headphones). However, it can be hard to find phones or tablets that support aptX HD. Apple phones don't support any variant of aptX, and current Samsung phones don't seem to, either. (I can't find the option in either my Samsung Galaxy S10 or A52 smartphones.)
Let's see, what else? The 900 Legacy 'phones also carry an IPX4 moisture-resistance rating, which means they should withstand splashes and sweat. That's unusual for headphones designed primarily for making cross-country flights slightly more tolerable—but then, are you really going to work out in your biz-travel 'cans?
OK, so there's nothing outwardly sexy about the specs of Phiaton's latest offering—but maybe the sound's as good as I remember?
In the box
The package includes the headphones; a slim, semi-hardshell travel case; a 1m (39″) cable for connecting the headphones to non-Bluetooth devices (such as inflight entertainment systems); and a USB-A-to-USB-C charging cable.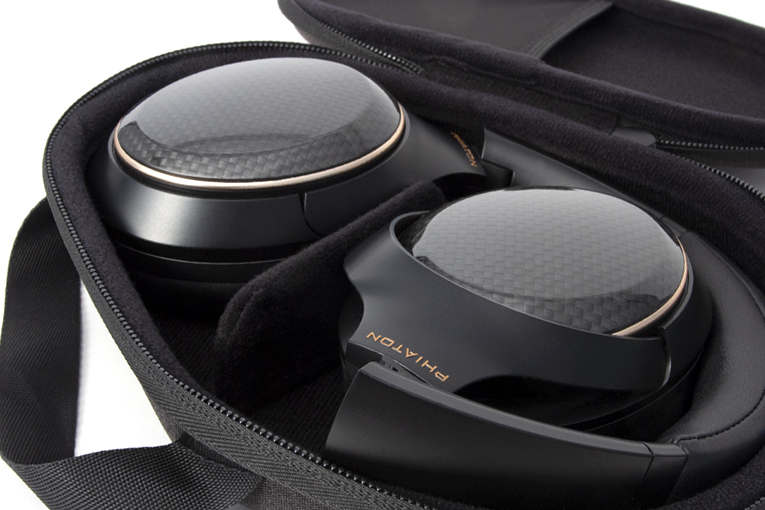 Use
If you told me to close my eyes, then put the 900 Legacy headphones on my head and asked me to guess which headphones I was wearing, I'd have probably guessed the Bose QC45s, set with the noise canceling up only halfway. The Phiatons have that same soft-around-the-ears feeling as the Bose model, but for me, they didn't produce the strong eardrum suck sensation I get with the QC45s when their noise canceling is turned up to full—I got only a hint of eardrum suck with the Phiatons. There's also a Transparency mode that allows you to hear outside sounds, but no "normal" mode for listening with noise canceling and Transparency both deactivated.
The headphones use a touch-sensitive panel on the right-side earpiece to control volume, play/pause, and track skip. The controls worked more reliably than most—but only when I pressed my thumb firmly against the touch panel as I swiped up, down, right, or left. Considering that my hands are big enough to palm a basketball, I wonder if most people will have enough flesh on their digits to get reliable operation from these headphones.
Also, the music stops automatically when you remove the headphones, and starts again when you put them back on. I expect most people will like this feature, but those who don't will have no way to deactivate it; unlike most companies offering noise-canceling headphones in this price range, Phiaton doesn't offer an app that lets you control more advanced features. However, you can restart the music when the headphones are off by double-tapping the right-side earpiece.
My comments above suggest that the 900 Legacy headphones might have subpar noise canceling, but that wasn't the case. I'm not sure, from my subjective experience, that their noise canceling is competitive with the best that Bose, Sony, and Soundcore offer (the measurements will tell us for sure), but in my opinion, the level of noise canceling the Phiatons offer is more than enough to reduce airplane cabin noise to where it's barely, if at all, noticeable. It's also worth noting that all the best-in-class noise-canceling headphones I've tried produce eardrum suck for me when noise canceling is set to maximum.
Sound
I could tell from the first notes of Poll Winners Three! (16-bit/44.1kHz FLAC, Contemporary/Qobuz)—one of the fantastic trio recordings by guitarist Barney Kessel, bassist Ray Brown, and drummer Shelly Manne—that the 900 Legacy headphones were definitely somewhere in that "safe'n'sane" range I liked in previous Phiatons. For example, on the trio's rendition of "Mack the Knife," all the instruments sounded pretty close to perfect; "clarity" is the descriptor that kept popping into my head, although that clarity wasn't the result of a treble boost. I especially loved the sound of Brown's double bass, which was gratifyingly full and grooving, but also well-defined—which is pretty much the sound most double-bass players dream of getting. I also loved the sound of Manne's drums, which sounded detailed and solidly imaged, like I was standing about ten feet from the kit.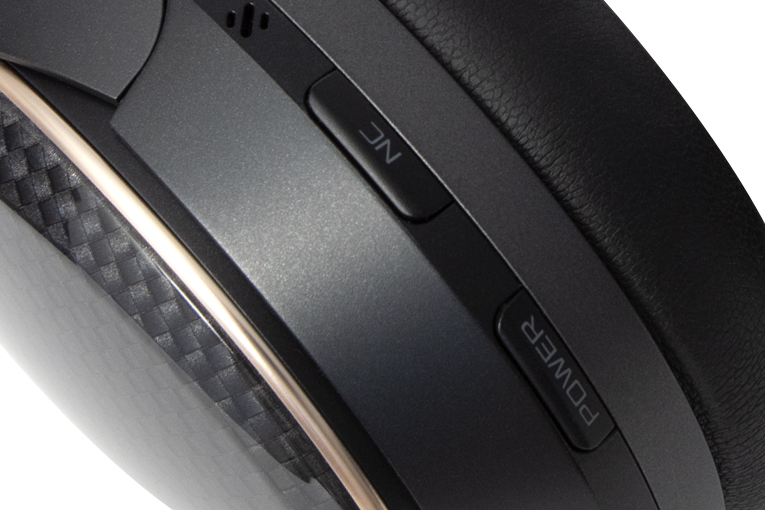 Poll Winners Three! is about as straightforward and natural a music recording as I can imagine, but Reset (24/96 FLAC, Domino Recording / Qobuz), by Animal Collective drummer/vocalist Panda Bear (otherwise known as Noah Lennox), is about as different a recording as I can imagine. It's all done in a digital audio workstation, creating new songs based on sampled and looped snippets from vinyl albums of the 1950s and '60s, with vocals and percussion overdubbed. Of course, the old samples were originally recorded with microphones, and I think the new percussion was, too (rather than using samples). The end result incorporates a lot of layered tracks and studio effects. Yet the 900 Legacy headphones were able to sort all this out, too. Again, all the parts of the recording sounded clear, with nothing emphasized or sticking out. After hearing the second cut, "Go On," I was starting to think maybe the headphones' treble was just a little muted, but I knew I'd need to call up some treblier tunes to figure that out.
And when I think of trebly recordings, I think of recordings that focus on acoustic guitar. Among my all-time favorites is 'Ohana (16/44.1 FLAC, Dancing Cat / Qobuz), by Hawaiian slack key guitarist Dennis Kamakahi and his uke virtuoso son, David. The very first cut, "'Ūlili E," features a gorgeous vocal duet with the two trading licks on their instruments. I've used this as a test track since it first came out in 1999. All that clarity I heard in the previous tracks was there—in particular, the vocals sounded exceptionally natural, and the detuned low strings on the guitar didn't boom as they do on many headphones. To my surprise, nothing seemed softened in the treble at all. However, I did note that there seemed to be a subtle bit of upper-bass bloat—nowhere near the annoying levels I've complained about with other models, but enough to, I suspect, psychoacoustically soften up the tonal balance a bit.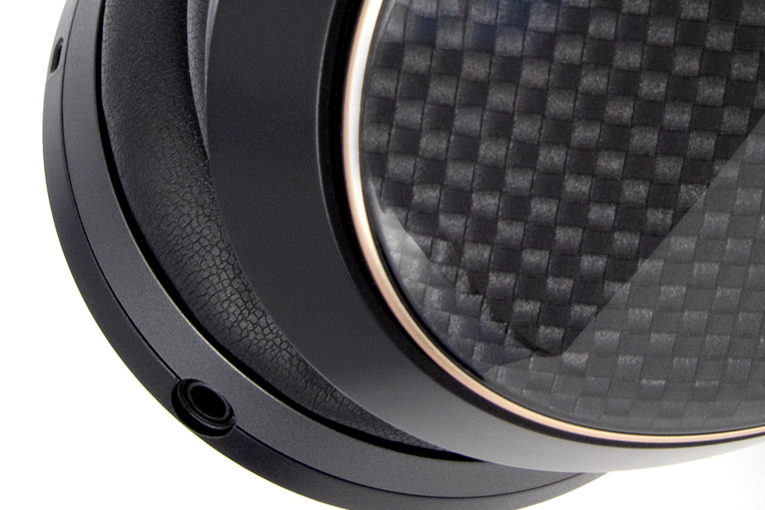 A week's worth of listening on Qobuz and Spotify didn't uncover any material that really tripped up the 900 Legacy headphones, but it dawned on me that I hadn't played anything really "audiophile" through them, so I put on saxophonist/vocalist Camille Thurman's Inside the Moment (320kbps Ogg Vorbis, Chesky/Spotify), which was recorded binaurally (using microphones in the ears of a dummy head) at Manhattan's intimate Rockwood Music Hall—which I was finally able to visit during a recent trip to New York City. From the name, I'd had the impression that the "hall" might be a much larger space, but really, it's a small club that would probably struggle to hold more than 50 patrons. The Phiatons certainly captured the acoustical vibe of the venue, and their detailed portrayal of Thurman's vocals and Billy Drummond's brushwork on "Detour Ahead" dissuaded any lingering doubts I might have had about the headphones' treble response. I did note, though, that Ben Allison's double bass showed a bit of upper-bass bloat compared with the best renditions I've heard of this album.
Comparison
I compared the 900 Legacy headphones with two other noise-canceling designs—the Technics EAH-A800 ($349.99) and the Bose QC45 ($329) headphones—and to my passive AKG K371 headphones, connected straight to the output of my Samsung Galaxy S10 phone.
Using the same Camille Thurman cut, which I found to be especially revealing of the Phiatons' character, I found the QC45s to be less appealing to my ears. The balance of bass to mids to treble seemed somewhat similar to that of the Phiatons, and I have to say the QC45s had better definition in the bass. However, the cymbals and brushed snare sounded too sizzly for my taste, and Thurman's voice seemed to have a bit of extra edge in the upper mids.
The K371s probably got "Detour Ahead" the most correct. As I noted in my review of the AKGs, they have a slight upward tilt in the treble, but that didn't make them sound bright, or sizzly like the QC45s did—and the K371s also got Ben Allison's bass sounding better-defined. I can't say they gave me a more convincing sense of space than the 900 Legacy headphones did, though; in fact, based on what I heard during my visit to Rockwood Music Hall, I'd guess that the 900s came a little closer to the ideal spatial presentation for this recording.
Conclusion
I'm pleasantly surprised by the Legacy 900 headphones. Not by the voicing, which basically carries on the things I liked about the Phiaton brand when I used to review lots of the company's products. But more for the fact that these headphones are competitive—in terms of sonics, comfort, and noise canceling—with the best models in the business, and at a price that's typically $100 to $150 less.
. . . Brent Butterworth
This email address is being protected from spambots. You need JavaScript enabled to view it.
Associated Equipment
Smartphone: Samsung Galaxy S10
Phiaton 900 Legacy Bluetooth Headphones
Price: $249.99.
Warranty: One year.
Phiaton Corporation
10231 Slater Ave., Suite 211
Fountain Valley, CA 92708
Phone: (657) 464-9572
Email: This email address is being protected from spambots. You need JavaScript enabled to view it.
Website: www.phiaton.com