Sound:











Value:











(Read about our ratings)
And now for something completely different—well, at least for SoundStage! Solo. Not completely different. Mostly different. They're still headphones, but they're aimed at a different market than we normally cover. However, being Bluetooth and noise canceling, they're not that far removed from what we normally test.
To be honest, I've long had a fairly negative opinion about the gaming-headphone category. More often than not, manufacturers will slap ostentatious stickers on some mediocre hardware and charge outrageous amounts for it. "Ha ha," I'd imagine them saying, "gamers are just dumb kids with more money than taste." Well, the "average" gamer is 35 years old. This is a hobby for all ages, and "gamer gear" deserves to be judged against any other piece of gear. It should hold its own.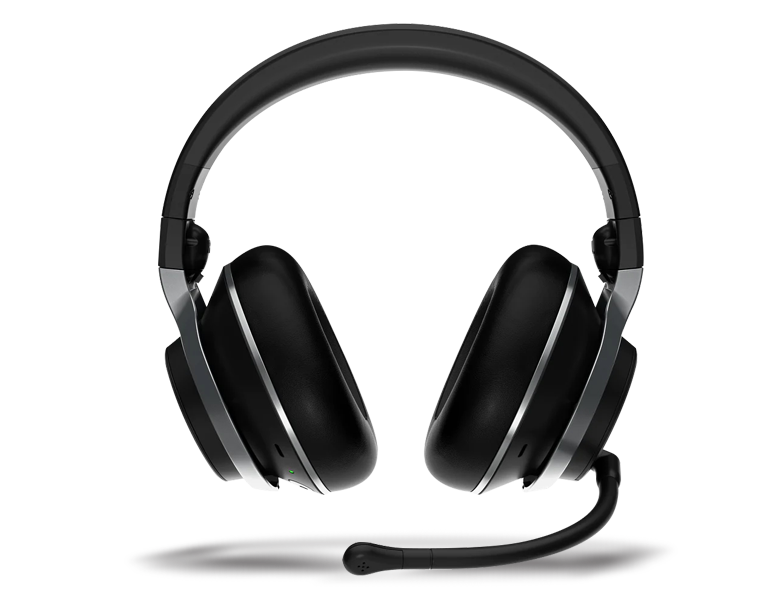 Which brings us to the Turtle Beach Stealth Pro gaming headphones. Their feature list reads like many other Bluetooth noise-canceling headphones: 50mm drivers, long battery life, and cushy memory-foam earpads. Of course, they add a few gaming-centric features, like a boom mike and removable battery. At $329 (all prices USD), they are definitely not cheap. For that money you could get a pair of Sony WH-1000XM5, Sennheiser Momentum 4, or Edifier WH950NB headphones, with money left over for games. I'm a gamer myself. Multiplayer games are a way for me to hang out with my adult friends despite busy schedules and families, I think it could be worth spending money on headphones that sound good, are comfortable to wear for several hours at a stretch, and have a decent mike so my friends can hear me. That's the theory at least. Let's have a look.
In the box
There's a fair amount in the box, beyond the headset itself and the removable mike. There's a Bluetooth transmitter puck that connects via USB-C and doubles as a battery charger. There are two batteries, each rated for 12 hours of playback, plus 3′ and 6.5′ USB-C cables. There's also a carrying pouch and the all-important Turtle Beach sticker. I'm currently wearing it on my forehead.
Use
There are two versions of the Stealth Pro, one marketed for the Xbox, the other for the PlayStation. However, both are apparently compatible with PCs and the PlayStation, as well as Macs, the Nintendo Switch, and any other Bluetooth device. So basically, if you have an Xbox, get the Xbox version. Otherwise, it doesn't matter. I tested the Xbox version, but I'm almost exclusively a PC gamer, so I used them with my PC.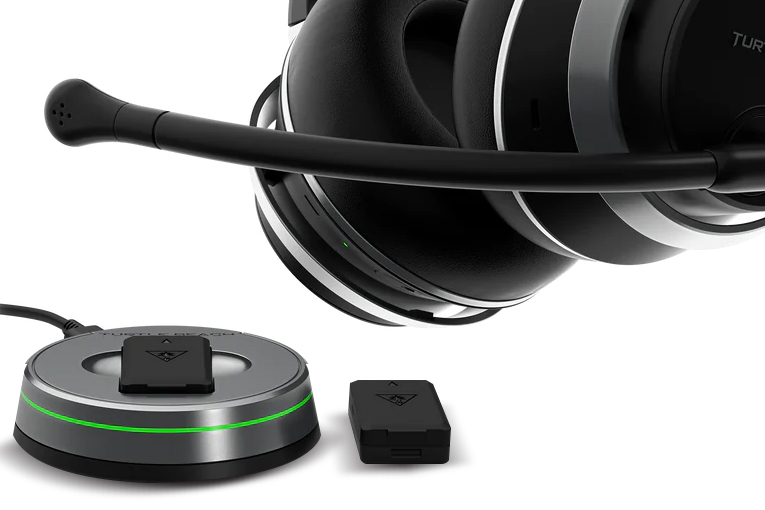 Setup with my Windows 10 PC was easy, I just connected the transmitter via USB, and the computer autodetected it and it started working. The transmitter has an LED ring that glows blue when it's connected to the headset. Fortunately, it's not blindingly bright like some device LEDs. It also keeps one of the included batteries charged. I think having two batteries is ideal for a product like this, but I never had a gaming session long enough to feel the need to swap batteries. It depends how much you play, of course, but I got several days' worth of gaming before I needed to swap. You don't need to use the transmitter, as the Stealth Pros can work like other Bluetooth headphones.
There's software available, the Turtle Beach Audio Hub. This isn't strictly necessary, but it is required if you want to tweak any settings, remap buttons, or adjust the EQ. The software occasionally refused to load, requiring a restart of my PC. After an update during the writing of this review, it now refuses to load at all, claiming there are issues with "USB resources." I've never seen an error like that with this PC before.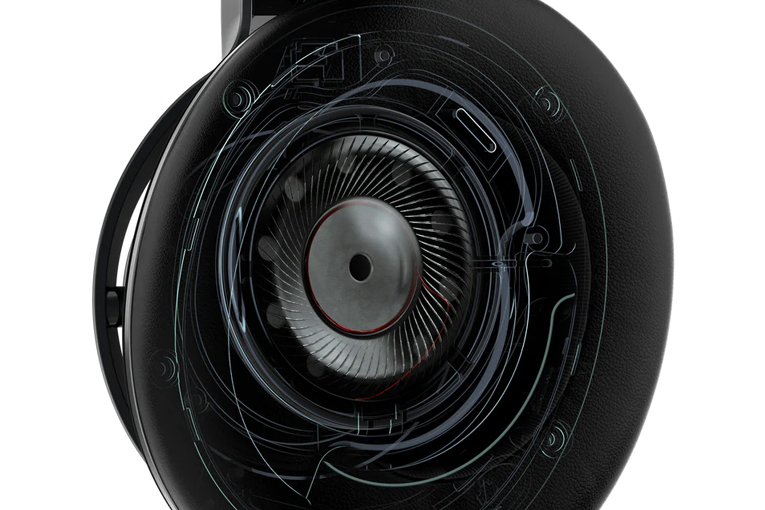 One immediately noticeable negative for the Stealth Pros is their weight: 417gm. That's basically the same as the big planar Audeze LCD-5 headphones. To put that in perspective, Sony's 1000XM5 noise-canceling headphones weigh 250gm. For something intended to be worn for extended gaming sessions, I'm surprised more effort wasn't put into making them lighter, especially given the price. After a few hours of playing, I was relieved to take them off, but they never gave me any neck pain. The earpads and headband are leatherette-covered memory foam and are very soft. The clamping force is enough for them to feel quite secure, but also enough that, with their heft, you'll never forget you're wearing them. Over long gaming sessions, my ears got fairly hot, too. Which is all to say, they're comfortable in the short term but can be fatiguing during long sessions.
Perhaps Turtle Beach called these headphones "Stealth" because of the design of the volume control. The outside of the right earcup spins, but it's unlabeled, and if you don't read the quick-start guide, you could miss it. It has no audible feedback like the other controls, except at max volume. It also makes very fine adjustments, so it takes many spins to get much of a result. Which is to say, I must have knocked it at some point and cut my volume in half, and I couldn't figure out why. Now you know, so you don't have to be like me.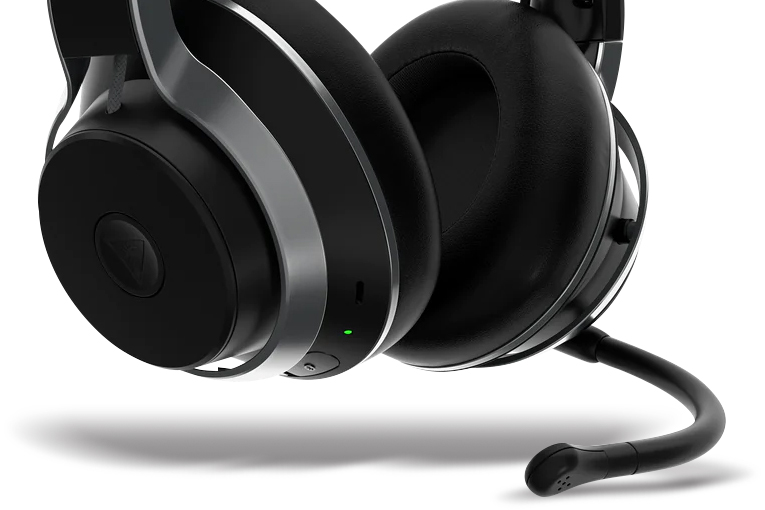 A large button in the center of the right earcup turns noise canceling on and off. On the bottom of the same earcup are three buttons for power, Bluetooth, and the pretty cool "Superhuman Hearing Mode" I'll talk about in the next section. The left earcup holds the battery behind a cover held in by magnets. The boom mike attaches here as well and is easily removable if you want to use the Stealth Pros like traditional headphones.
Lastly, if you want to charge both batteries at once, there's a USB-C connection on the headset.
Sound
I played a variety of games with the Stealth Pros, including Jedi: Survivor, the System Shock remake, Diablo IV, and most impressively sound-wise, Valheim. They sounded significantly better than my previous, admittedly budget, gaming headset, though I rarely used those other than for multiplayer. With single-player games, the Stealth Pros had a more balanced sound than my PC's decent, but not ultra-high-end, 2.1 speaker system. However, for comparison's sake I don't think games like this are the best way to judge headphones, so I switched to music for the real testing.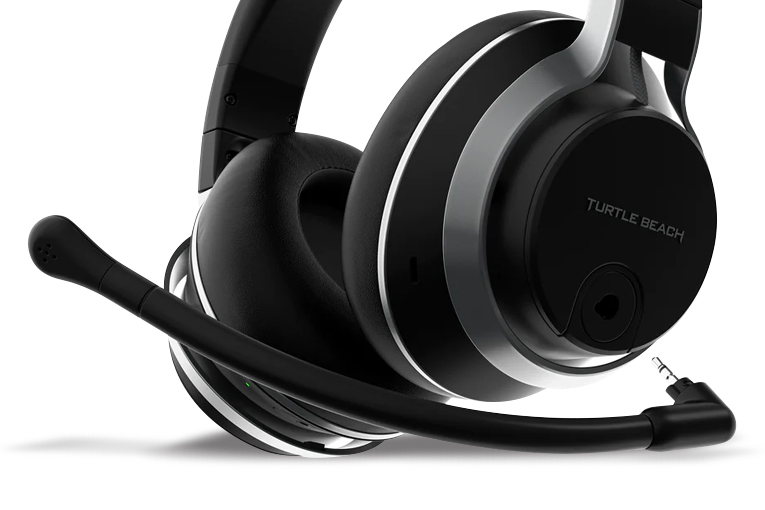 Overall, I'd describe the sound profile of the Stealth Pros as a smile: a bit of a boost in the bass, a bit of extra treble. Fortunately, perhaps surprisingly, the sound is not severely boosted at either end. I wouldn't call them balanced exactly, but I've tried some gaming headsets that seem to think all gamers really want is to stick their head inside a particularly shoddy subwoofer. There's also not a ton of low bass, which is a bit of a bummer, and not too much high treble, which is probably a good thing given that these are meant to be worn for long gaming sessions.
For instance, with "Late Last Night" by Hans Theessink (Call Me, 16-bit/44.1 kHz FLAC, Blue Groove / Qobuz), the tuba was a little higher in the mix than I've heard on other headphones, but it was also a little muddy. There was more snare drum too, though not so much that it was objectionable. Overall, though, they sounded pretty good, with no serious issues.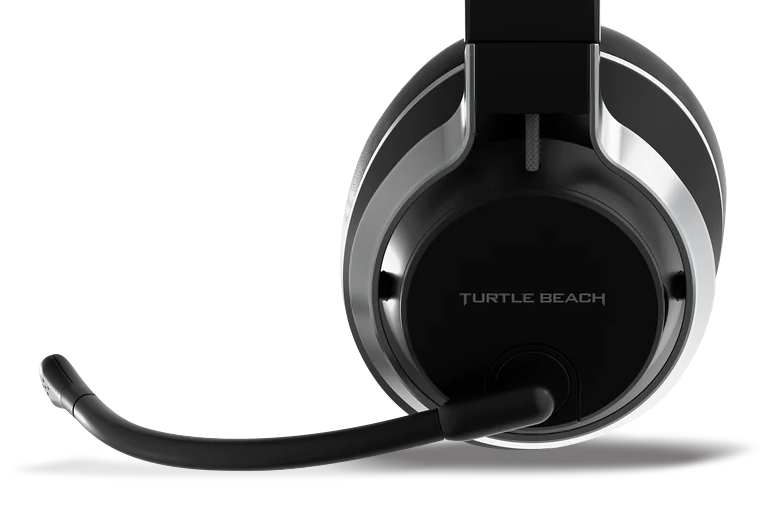 The "Superhuman Hearing Mode," accessible via a button on the bottom of the right earcup, boosts treble frequencies so you can, as Turtle Beach describes, "pinpoint quiet audio cues like enemy footsteps and weapon reloads." I like this feature, and I can think of some situations where it might be helpful. Don't listen to music with it on, though, as it ruins the balance and adds a fair amount of sibilance.
Comparison
The HyperX headset I use for multiplayer gaming was a cheap purchase early in the pandemic to replace an even older, worse gaming headset. It's not very fair to compare the two headsets, since HyperX 'phones were on sale for about 10 percent of the price of the Stealth Pros. Instead, it seemed fair to compare the Stealth Pros to some like-priced Bluetooth noise-canceling headphones—specifically, the Sony WH-1000XM5s I recently reviewed. If your computer has Bluetooth built in, you can theoretically use any Bluetooth headphones. The main issue will be latency, but if you're able to watch movies with the headphones and not have lip-sync issues, you should be fine with gaming. There's always going to be some latency with any Bluetooth product, which is why you'll rarely see competitive gamers use Bluetooth gear.
Mostly, I wanted to see if the Stealth Pro headset's "Unidirectional Noise Cancelling" on the microphone offered any benefits or was just marketing. So I recorded my voice through each headset while standing next to my annoyingly noisy air conditioner. The results were interesting. The Sonys had noticeably less background noise. As in, the noise of the AC was far less audible in the recording. My voice, however, was far more digitized and artificial. If I had to guess, whatever processing Sony is using to mask background noise is also encroaching on vocal frequencies.
In the Turtle Beach recording, the noise was more noticeable, but still well in the background (keep in mind my face was about a foot from the AC). Certainly not podcast-worthy, but enough in the background to be largely ignorable. My voice, however, sounded significantly better compared to the Sonys. Like a night-and-day difference. More "this was recorded with an actual microphone" than "you sound like you're talking on the phone . . . in the Matrix . . . in a toilet."
If one of my teammates had the choice between the two, I'd greatly prefer them using the Turtle Beach headset. The background noise wasn't objectionable, and many games and software only activate the mike when you're speaking anyway. Listening to a voice through the Turtle Beach is far more pleasant than the voice through the XM5s.
The noise canceling in the way we usually talk about it here, i.e., how well the headphones reduce ambient noise while you're wearing them, was significantly better with the Sonys. The Turtle Beach Stealth Pros did decrease some noise, but they largely just changed the timbre of it. Sort of like changing a "brrrr" to a "whirrr." Not a huge surprise there, since Sony excels at noise canceling. The Turtle Beach headphones were merely average.
Sound-wise, the Turtle Beaches had more treble than the Sonys, which sounded a little dark in comparison. The Sonys had a more balanced bass, with better definition and an overall smoother, more pleasant sound.
Conclusion
The Turtle Beach Stealth Pros are good gaming headphones, but unfortunately that caveat is still a thing. Companies still market to gamers in peculiar ways, largely assuming they'll pay extra for something "designed for gaming" that is really just mediocre performance wrapped in an overly flashy package. The Stealth Pros are good by that "gamer" standard, but overpriced by 30 or 40 percent based on their performance. They're also fairly heavy and, subjectively, not particularly attractive (to this middle-aged gamer at least).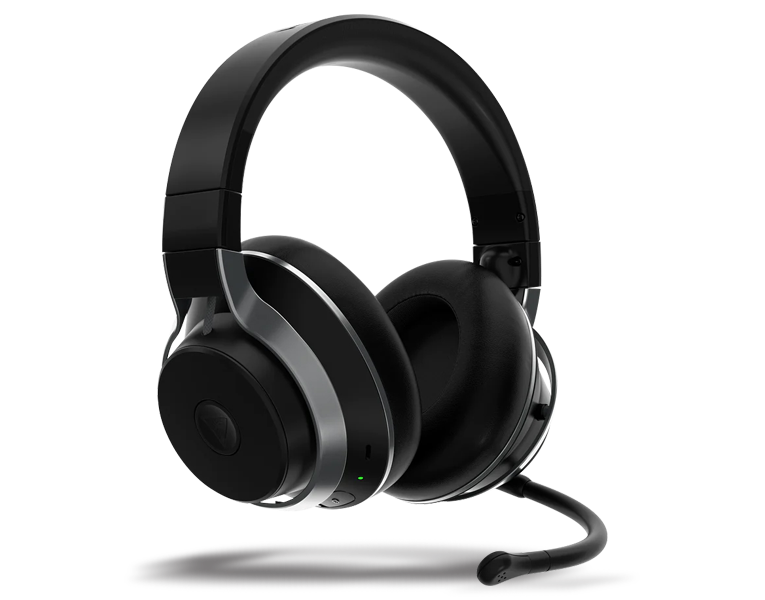 However, I'm still going to use them as my go-to gaming headset, at least for now. The boom mike has great fidelity, and I don't want to be the one in the group who sounds like he's phoning in from the ISS on dial-up. Judged from that perspective, the Stealth Pros are a good microphone attached to a decent set of reasonably comfortable headphones. If they cost $200, I'd probably recommend them outright.
. . . Geoffrey Morrison
This email address is being protected from spambots. You need JavaScript enabled to view it.
Associated Equipment
Turtle Beach Stealth Pro Gaming Headphones
Price: $329.
Warranty: One year.
Turtle Beach
15822 Bernardo Center Dr.
San Diego, CA 92127
Phone: (914) 345-2255
Email: This email address is being protected from spambots. You need JavaScript enabled to view it.
Website: www.turtlebeach.com